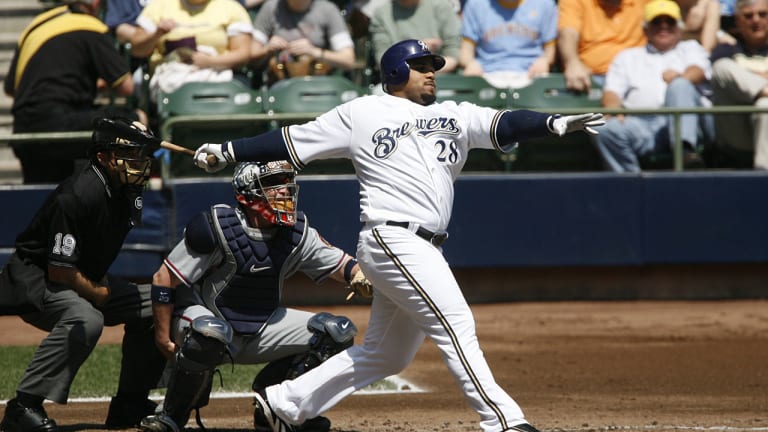 Turbulent Heir
Brewers first baseman Prince Fielder may look like a chunk off the old block, but he's determined to prove that any resemblance to his father, Cecil, ends with his prodigious home runs
Almost every night the father watches the boy on television, cheering every home run, cursing every strikeout. He studies the boy--the massive, tattooed arms, the prodigious midsection, the mighty swing--and it's as if he's seeing a younger version of himself. He hears the broadcasters hail the boy as one of the game's next great sluggers, and the father roars back at the TV, "He's got 40 career homers!Take it easy!" The father watches the boy wave at a fastball on the outside corner, and he's ready to pick up the phone and scream, "Now, what the hell were you doing so far off the plate?"

But he can't. Everything between the father and son has gone horribly wrong.The two haven't spoken in three years. The son wants nothing to do with the father. "I raised him. I gave him everything," says the father, Cecil Fielder, sitting in an empty baseball dugout on a sultry afternoon in Aiken,S.C. "He's never had a f------ job! The only job the boy's ever had is playing baseball."
The boy is 23-year-old Prince Fielder of the Milwaukee Brewers, who has followed in Cecil's footsteps as a first baseman. In the eighth inning of a May 15 game in Philadelphia, Prince pulled a sinker below the knees into the rightfield seats at Citizens Bank Park. It was his sixth homer in 11 games and 12th of the year,tying him then for tops in the National League. Cecil, who had started working as a roving hitting instructor for a nascent independent league earlier this month, missed the moment because he was at a scrimmage in South Carolina with Kash Beauchamp, a former teammate in the Toronto Blue Jays' minor league system and the South Coast League's VP for baseball operations. "I see Cec later,and I can tell he's checked a Brewers box score because he's got that glow on his face," says Beauchamp, who recruited Fielder. "'Kid got him another one,' he says to me."
They were once inseparable, the father and the son. During the 1990s Cecil was one of baseball's most recognizable figures: the man they called Big Daddy, a sumo-sized first baseman with a big smile and devastating swing. Cecil mashed 51 home runs for the Detroit Tigers in 1990—when 50 was still a magical number—played in three All-Star Games and won a World Series with the '96 New York Yankees. And beefy, dimpled Prince was there every step of the way. He joined Cecil on road trips during the summer and was a fixture in his father's clubhouses, where players wrestled with him, stuffed him in laundry baskets and loaded him up with candy. Prince took batting practice with major leaguers. He appeared in commercials alongside his dad. He chilled with superstars like Derek Jeter and Ken Griffey Jr. "I'd go over to Griffey's house [in Seattle] and play video games with him," Prince says. "He beat me in everything, but it was cool—like he was one of my friends. It was like that with everyone. Those were fun days."
But soon after Cecil retired in 1998, it all began to unravel for the Fielders. Cecil became engulfed in a number of lawsuits, and despite his $47 million in career earnings, he and his wife, Stacey, ultimately lost their dream home, a 50-room,$3.7 million palace on the biggest estate in Florida's Brevard County. An acrimonious divorce tore the family apart. For five years Cecil eluded creditors and ducked reporters, but now he is back in baseball for the first time since his playing days, traveling from one Southern hamlet to another, teaching minor league kids to hit. He lives in Atlanta with his new wife, Angie; their two-year-old son, Grant; and Cecil's daughter, Ceclynn, 15, from his previous marriage. "Everything's good," says Cecil, who is silver-goateed and weighs 260 pounds, his weight for most of his career. He looks fit in that Big Daddy way, as if he could step into a batting cage and still beat the hell out of the ball.
Sitting in front of his locker before a game in Philadelphia, Prince, who is married with two kids,says the same thing about his life: "Everything's good." In just his second season he is establishing himself as one of the NL's top lefthanded hitters: At week's end he ranked in the league's top six in homers (12),slugging percentage (.574) and RBIs (33). His Brewers were in first place in the NL Central and off to the best start (27--17) in the franchise's history."For the first time in a long time everything is calm in Prince's life," says Brewers outfielder Tony Gwynn Jr., a close friend of Prince's."He can focus on baseball. And he can focus on his family, raising his kids. He wants to be a great father. He doesn't want to make the same mistakes that he perceived his dad made."
The boy was always big—nearly 50 pounds when he was just a year old--and always had a mammoth appetite. "You'd see the kid running around holding a package of raw hotdogs," says Beauchamp, who lived with the Fielders in a trailer in the early 1980s, when he and Cecil played for the Class A Kinston Blue Jays."He'd eat every one of them, then still eat a meal." By the time Prince was a sophomore swatting tape-measure shots at Eau Gallie High in Melbourne,Fla.—he once launched a ball that shattered the window of a gas station across the street from the ballpark—he had ballooned to over 300 pounds. "I realized I had to lose some weight to be a serious baseball player," says Prince, who as a youngster heard all the fat jokes showered upon his father."With reporters there was always something negative with my dad, no matter how well he did. He didn't seem to care about what was said, but it angered me.I didn't want people to ever say I was lazy or didn't work hard. So I decided that they weren't going to be able to say that about me."
Prince dropped 50 pounds between his sophomore and senior years, but major league teams that drooled over his raw power still worried about his weight. It was a concern for the Brewers, whose scout Tom McNamara visited the Fielders' home just before the 2002 draft. McNamara asked Prince to get on a scale; he refused and instead invited McNamara to one of his workouts at a local gym. "I sat there amazed by his work ethic," says McNamara. "He really showed his hunger to succeed."
Milwaukee took Prince seventh in the draft and, with Cecil serving as his agent, inked him to a $2.4 million signing bonus. That summer at Ogden, Utah, Prince roughed up pitchers in the rookie league—he hit .390 with 10 home runs in just 41 games—and by August was promoted to Class A Beloit (Wis.). He was walking off the field after a game there when a man emerged from the bleachers and confronted him. It was a process server who'd been trying to track down Cecil for months. In front of his team Prince was given papers that named his father as defendant in a lawsuit. The case had nothing to do with Prince, but still, says Gwynn, "he was embarrassed."
Just as Prince's baseball career was starting, his family was unraveling. Several other creditors, it turned out, were also after Cecil, who owed millions due to failed business ventures—from classic cars to real estate—and gambling losses. "We spent two to three years trying to track him down all across the country, at All-Star Games, through his son," says Robert Fleischacker,the attorney who sent the process server to Beloit on behalf of a trailer company that claimed Cecil owed $909,000 for defaulting on a lease agreement.He had guaranteed the leases for a Detroit-area trucking company. "We'd spent enough time and resources trying to find him," says Fleischacker."It just wasn't worth it anymore, so we stopped." Another creditor is Trump Plaza casino in Atlantic City, which successfully sued Cecil for more than $580,000 that, according to court papers, he lost during a gambling binge in 1999.
Cecil's financial woes came to light in 2004, during his divorce proceedings with Stacey. Each blamed the other for the family's financial ruin: Stacey pointed to Cecil's gambling; he cited her extravagant spending. Prince took Stacey's side,engaging in shouting matches with Cecil in the courtroom and over the phone."Prince felt like he needed to protect his mother and become the man of the house, so we had some heated conversations," says Cecil. "Some bad things were said." Prince also accused his father of taking $200,000 of his signing bonus without permission. "My father is dead to me," he told The Detroit News in 2004.
Through it all Prince tried to stay focused on reaching the majors. "I was worried about him," says Gwynn. "He was a wreck. He could easily have gone the other way, but somehow he channeled all those emotions positively into baseball. You should have seen him in the weight room—he was an animal." In August 2005 Prince was hitting .291 with 28 homers at Triple A Nashville when Milwaukee called him up. He has never looked back. "All that stuff that happened, it went away when I was on the field," says Prince. "Out there everything was easy. I just got to play baseball every day and not think about that other stuff. And it's kind of the same way now."
Of course the father has regrets. He wishes that he had handled the divorce differently, that he was smarter with some of his business deals. But he will not apologize for the gambling. "How many athletes do you know who go to Las Vegas?" he asks. "It was never a problem. Never." And he will not apologize for taking a cut of his son's signing bonus. "Any other agent would have gotten five percent, and it wouldn't have been a big deal," he says. "So what's the problem?"
He refuses to divulge how much he still owes, saying only, "Yes, I have debts, and I'm going to take care of them over time. I'll make everything right." He thinks his latest venture—he and Evander Holyfield are partners in a broadband network, the Black Family Channel, which recently merged with the Gospel Music Channel—will be a big success. He is on good terms with his ex-wife, who has remarried and lives in Houston. He also tried last summer to break the two-year silence that existed between him and Prince. After sitting in the stands at a Brewers-Braves game in Atlanta, Cecil and his wife and two kids lingered outside the visitors' clubhouse, waiting for Prince. Cecil spotted Prince's wife, Chanel, and their two children, Jadyn and Haven. It was the first time Cecil had seen his grandsons, whose names are tattooed on his left arm. But Cecil never saw Prince that night. A clubhouse attendant had notified Prince that his father was outside; minutes later a security guard asked Cecil to leave the area.
The father says he won't try to reach out to his son again soon. "Look, I'm not going to go chasing after him," he says. "I've got my own thing. And he's at a stage where he wants to be Prince. That's cool, that's not a bad gig, but if you're Prince, you can't downplay the fact that I was ..."—he corrects himself—"I am your father, and I was in the game before you were. You gotto know that without me kind of setting the table, it might have turned out different for you. I just don't think he sees that right now. Of course I'm proud of him and all that he's done. He's worked so hard. He's on his way. But he's also got to grow up and understand that at the end of the day, no matter what, I'm still his father."
When Prince is asked if he often wonders how his father is doing, he says, "I don't really worry about it. I got a season to play. I got my own career. I got my own kids." Will there be a time when he's ready to speak to his father again? "I don't know," he says. "We'll see. If anything, probably not until my career is over."
After living most of his life as Big Daddy's big kid, it's clear that Prince is ready to be his own man. "He wishes that the shadow would go away," says Chanel.
Says Prince, "I've always been getting compared, which is fine, but—not to say there's anything wrong with my dad—I'm a much different player. I'm a different person. Hopefully people see that."
Prince wants to be known for more than belting gargantuan home runs, for more than being the 12-year-old who drove a ball into the upper deck at Tiger Stadium during batting practice. His father was a career .255 hitter who never batted higher than .277 in his 13-year, 319-home run career. He was an all-or-nothing slugger, strikeout-prone, clumsy with the glove. Prince, who was batting .290 through Sunday and continues to improve defensively, was a .297 hitter over four years in the minors. Scouts believe that he could ultimately become that rare type of player, like Albert Pujols or Manny Ramirez, who perennially bats above .300 with 35 or more homers.
"He's a very disciplined hitter—he's not always trying to hit home runs," says Mets closer Billy Wagner. "He may have some strikeouts, but he swings at good pitches. He can hit lefties and righties. He doesn't give in any to either one. He's disciplined about the strike zone. He knows his pitch, he recognizes it and puts a good swing on it."
Even though the Brewers often use the words teddy bear in describing Prince, he is—unlike his mild-mannered father—an unbridled, fiery player on the field. Prince has leveled San Francisco Giants catcher Todd Greene in a home-plate collision and been chastised by the Los Angeles Dodgers' Jeff Kent for going too hard into second base. On May 6 against the Pirates, a day after he was hit in the head with a pitch from Pittsburgh reliever Matt Capps, Prince responded by homering twice in the early innings. Then, after scoring the go-ahead run with Capps on the mound, he jumped up and down on home plate, pumped his fist and, facing the pitcher, hollered like a linebacker after a sack. Pirates catcher Ryan Doumit called Prince's reaction "bush league." Replied Fielder, "Freedom of speech."
Prince is growing into his own in Milwaukee's clubhouse as well; slowly he is developing into a leader. "You can see that happen day by day," says manager Ned Yost. Prince kept a low profile as a rookie, but now it's not unusual to see the Brewers—veterans and youngsters alike—converge on the leather swivel chairs around Fielder's locker, where he entertains with his spot-on impersonations.(His best are Al Pacino from Scarface and Ice-T from Law & Order: SVU.)"We leave it to him to crack us all up," says second baseman Rickie Weeks. "He can remember every quote from every movie."
At home Prince is also a goofball, horsing around with his sons and spoiling them with junk food. The kids are big like their dad and grand-dad: Two-year-old Jadyn weighs 43 pounds, and one-year-old Haven checks in at 34. "The older one is like Prince's Mini-Me," says Chanel. "He's got the same face, the same dimples." Prince, however, doesn't see either of his sons becoming a major leaguer. "He says that baseball is too hard a sport—that the schedule is too long and grueling," says Chanel. "He wants to push them to play football or go to the NBA. He says that he always wanted to play basketball, that was the sport for him. But I don't think so. Prince was meant for baseball."
His father, of course, agrees. "The game is in his blood," says Cecil. "Since he was one year old, wearing a diaper, he had a bat in his hand. Even back then I already knew what he was going to do. He was going to be a baseball player."
The father is certain of this, too: No matter what his son says now, no matter how badly he wants to prove that he is his own man, no matter what has divided them, one day soon the boy will come back to him. "It'll happen," says Cecil. One day soon they'll be talking baseball again, ragging on each other, remembering the good old days on the road, as if no time has passed. Until then, the father will be waiting and—like everyone else—watching.