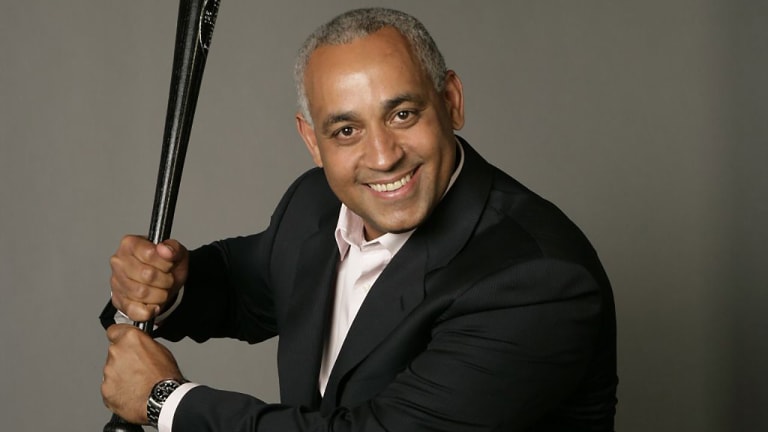 The Story of O
How did Omar Minaya, the major leagues' first Hispanic general manager, turn the Mets back into contenders? By welcoming one and all into his ever-expanding circle
Once upon a time, in a castle he had rebuilt from ruins, there lived the most fortunate of men. At dusk on spring and summer days, he could be found gazing from its ramparts. From there he could see what other men surrendered in order to reach such heights. He could see himself.
His castle was a baseball stadium. As the sun sank, he would walk up a ramp instead of the elevator that others of his rank preferred, pause and see his whole life unfurled. He could see the wonderful team he'd assembled, men from faraway lands who played with togetherness and joy. He could see the neighborhood he had grown up in as an immigrant, the fields on which he'd played, the wall he used to sneak over to slip into the castle as a boy. He could see the metallic orb rising from the World's Fair grounds, the vast globe he'd traveled in search of a treasure that turned out to have been right here, in front of him, all along.
He could see the train rumbling into the station just beyond the castle wall and the masses spilling from it, people whose sweat he'd smelled and breath he'd breathed when he was crushed against them on that train all his life. Now they called out to him, "Thank you! Thank you for giving us back our pride!" and were astounded at how familiarly he waved and called back, at how clearly, unlike other kings and moguls, he saw himself in them.
No one called him king, or even the regal name that he was born with: Omar Teodoro Antonio Minaya y Sanchez. He was too humble for that. His family and friends—even the President of the United States—called him O.
It was the perfect name for the major leagues' first Hispanic general manager, the perfect letter. Round. An opening. A circle that invited outsiders in and made them feel there was room for them. It was much of the reason that Pedro Martinez had left a world championship team and an adoring public in Boston to join the New York Mets, why other stars had soon followed, why Moises Alou had virtually begged to be included this year. It was why his team looked like the mélange of cultures inside that number 7 train beyond rightfield, and the soundtrack at Shea Stadium pulsed like a festival of music from all their native lands.
But then, everyone was born an o, with a lifetime of chances and choices that widened or shrank it. This is the story of O.
His bedroom wall had one. A tiny circle, bored by a bullet in the early 1960s, a warning shot meant for his father that had hissed past the bed where little O slept. The peephole fascinated the boy. But the bullet hadn't hushed O's father any more than had the two years in jail.
For years Lolo Minaya had pedaled his rickety bike through the Dominican town of Valverde Mao, happy to pull over and let anyone know what a bastard Rafael Trujillo was, not to mention the lapdogs who'd taken the slain dictator's place. It was in Lolo's blood. His brother had been imprisoned for refusing to fight for the regime, an insurgent nephew had been executed, and his father, Zoilo, had died after being slashed with a machete in a dispute that some believed was rooted in Zoilo's outspoken politics.
Shhhhh, O's nervous mother, Antonia, kept begging her husband. He'd dismiss her with a wave as he creaked on his rocking chair, perusing his beloved World Almanac and spinning dreams—"Do you know how many kilometers from here to the Himalayas? Thirteen thousand, two hundred and twenty-five! We could leave today and be there tomorrow! Let's go!" Never sweating the details, because O's mother was drenched in them.
She'd stunned the men at a property auction at city hall back in the '30s—what was a young woman, a vendor of meat pies and sweets, doing in this males' den, bidding to become a landowner? Antonia won the property and had a house built, turned her backyard into a school for poor children and a soup kitchen for beggars, cripples and starving Haitians. So respected grew O's mother that she became permanent secretary to the mayors of Valverde Mao, invulnerable to the wind shear of politics ... almost.
Dios mío, could she, her daughters, Adelina and Sixta, and the son she'd named for the Persian poet Omar Khayyam survive her husband's loose tongue? A decade earlier, when Trujillo ordered every Dominican household to post his picture and the words IN THIS HOUSE TRUJILLO IS CHIEF, Lolo had barked, "In this house I am chief!" and crumpled the portrait. Garbagemen who found it in the trash had tattled, and Lolo had rotted for two years in prison.
Now it was 1965, four years after Trujillo's assassination, and O's father was loading another empty casket onto a truck bed and going off to play once more with fire. Two of O's cousins had melted into the mountains with guerrillas planning to overthrow Trujillo's successors. Within weeks the rebels had been routed by the army, one cousin imprisoned and the name of the other, Joseito Crespo, on the government's list of the dead. So every day for a week Lolo headed for the hills with a coffin to retrieve Joseito, only to return with the corpse of some other insurgent instead. O peered into his backyard, so much bigger than it seemed. Big enough for a school that had educated a Haitian orphan who would become mayor of Santo Domingo, for a weekly beggars' banquet ... and now for a freedom fighters' mortuary. Lolo left the bodies there to await their next of kin, shoved a fresh wooden box onto the truck, bid farewell to his terrified wife and set out again.
News flashed in the midst of the family's nine-day wake for Joseito: He had been captured ... alive. Rather than surrender with fellow rebels, he had exchanged I.D.'s with one of them who had ended up being executed, then gone into hiding. Now both of O's cousins had been plucked, and Lolo hung on the vine, overripe. It was time, Antonia told her husband, to blow the smoke off one of his pipe dreams.
O watched his father pack and leave for America.
Lolo relished the freedom but couldn't bear the loneliness. If his wife and children wouldn't join him in Queens, he warned, he'd return and take his chances. And thus, one sunny October day in 1967, a bony, brown eight-year-old without two words of English appeared in the shadows of Shea.
His family's new neighborhood, Corona, was America compressed into a couple of dozen square blocks, a babel of tongues, a stewpot of nations--a threat to his identity or, if he had room enough inside, an infinity of possibilities. It was a choice everyone faced: clinging to the smaller, safer circle of his own kind or embracing the wider, wilder one.
The embrace began on the steps of an Orthodox church, with a pink rubber ball and a Greek boy named Gus. Then came a Cuban named Fidel and a Dominican named Johnny. Then a Jew named Peter, an Irish-Italian named Dave, an African-American named Freddy. Whenever a newcomer showed up--another awkward outsider--O seemed to recall his backyard in Valverde Mao and picked that kid for his team.
The Gents, a Latino gang, wanted O to join them. Fat chance. He didn't say it that way, of course. He'd grown up breathing the tension that trailed a man who didn't care whose hackles he raised; O would make sure to smooth every feather. But something in him recoiled from clubs, from anything that suggested exclusion. Give him public school, not the parochial one his sister Sixta attended. Give him the shiny blue National League jacket, spangled with every team logo, not the Mets jacket. Sure, he'd use police barricades as planks to scale the fence at Shea, but he was there to root for players--Roberto Clemente, Willie Mays and Juan Marichal--not the home team. Too tight a circle. Too small an o.
Better to include the gang members in his circle. Better, after a couple of hours of stickball on 99th Street, to jaunt down Junction Boulevard talking baseball with his one-of-every-kind crew, grinning and greeting Caribbean vendors and Mediterranean deli owners, grabbing guava-jelly pastries at the Cuban bakery, a couple of slices to go at the Argentine pizza joint, some goat stew at the Dominican greasy spoon, then heading to Spaghetti Park, his shoelaces and shirttail forever flapping, to watch the old Sicilians knock bocce balls while he sucked Italian ice till his lips and tongue turned neon cherry.
A neurologist could tell you what was happening inside O's cranium. The wiring in his forebrain's limbic system--the cockpit for a man's emotional relationship with the world--was thickening and spreading, new neural pathways developing in response to all his happy new connections; his inner circuitry multiplying with his outer. His dad kept upping the ante. Every year or two Lolo would get an itch or the rent would rise, and the family would move a few blocks or a few miles to another apartment where O slept on a rollaway in the living room. He never asked for his own bedroom, closet or dresser, never needed to define his own space.
His family moved again when he was 16, to neighboring Elmhurst—identified by National Geographic as the most ethnically diverse zip code in America—and O's circle grew wider still. His new school, Newtown High, boasted children from 67 countries, offered him what he calls his first public girlfriend—a Korean—and elected him sophomore president. But O was underdog, not ruling class. He served his term and never ran again; it interfered with his obsession, the one exception to his no-club rule. His ball clubs.
The Corona Redwings--he'd play on two or three of their age-division teams at a time--consumed his summers, and Newtown High's nine owned his springs. O was ringleader of a half-dozen kids who played for both programs, conductor of their dugout ditties and all-city by his sophomore year. Newtown coach Warren Albert had the only team in the league that sang during games and the only player who demanded more suicide sprints after practice. O wore it all over his face like cherry Italian ice: He was going to play in the bigs.
He'd sit over his schoolbooks with firm intentions, then bounce to his feet to channel Clemente, slashing imaginary high-and-away fastballs to right, then grab his gym bag and fly out the door. As long as he could cram that bag with a few dirty uniforms and smelly socks, squeeze into the 7 train or jam into the back of Redwings manager Bob Rywick's big green station wagon with a dozen teammates to go to games, O had plenty of space.
But what if he didn't make the bigs? He'd watched his dad, wracked with asthma exacerbated by the fumes from the hot rubber in the Brooklyn sneaker factory where he worked, unable to breathe if he lay down, sitting all night on his bed with his arms and head draped over the back of a chair, then being strapped onto stretchers and hauled away in ambulances. And still O turned down a scholarship from Mississippi State and a college education. He seized the $13,500 offered by the Oakland A's to sign as a 14th-round draft choice in 1978, gave half the money to his parents so they could move back to the Dominican Republic—a democracy at last—and so Lolo might breathe again. O stayed behind with his sisters and staked everything on his dream.
The A's released him after little more than a season in Class A. The Seattle Mariners didn't wait even that long to decide that he didn't have the stick for the Show. It staggered O. He had no Plan B. He'd been a bodega gofer, a Manhattan messenger boy, a Chinese-food deliveryman, an apartment-building custodian, a mail-room clerk, a nightclub bouncer. He'd hauled beef on his shoulder to butcher shops in the mornings and sprayed perfume samples on Bloomingdale's shoppers in the afternoons. What future did America offer a Dominican with a high school diploma and a few bucks to his name?
He turned to God for ballast, was baptized as a born-again Christian at a Pentecostal church in Queens in 1982. Maybe it was time at last to hunker down, tighten the circle, join a group.
The phone rang. It was an old Corona Redwings teammate, Greg Sabat, who'd just been offered a job coaching in Italy. Would O like to play for the Cogeta Jolly Rogers in the seaside Tuscan town of Castiglione della Pescaia? Hot damn, yes!
He'd awaken each morning, throw on his clothes and jog past the fruit and vegetable vendors, waving and smiling and kicking soccer balls with the children as he ran. He'd sip a cappuccino at an outdoor café table, poring over four newspapers in order to learn Italian and Italy so he could connect with the old men screaming and laughing over politics at the next table. He began to discover just how much room there was inside him, more than a born-again son of a Dominican dissident could dream. Room for the Communists' truths in l'Unità, the businessmen's in La Repubblica, the socialists' in Avanti!, the church's in L'Osservatore Romano. Soon he was screaming and laughing with those men, in debates that would've put his relatives in prisons or tombs. Then he'd run to the ball field on the edge of town, sweat there for a few hours and slip into the Mediterranean, where the sun played on the bare breasts and stomachs of the young women lying on the sand near the fish restaurant, where the owners hugged him at the door, filled his wineglass and forbade him to pay.
Soon the locals would call out to the only black man in town—"Omi! Omi! Va bene, Omi?"—pull him into their homes to sample their tortelle, their olive oil, their fresh bread and cheese and their private stock of wine, and O would make each one of them feel that his or hers was the finest in Castiglione della Pescaia, and very likely the world. This was him, he came to realize in these moments of connection in faraway places, him at his finest.
He boarded a flight back to America after two seasons, born again again. Flushed with the power of perchè?—what can unfold when you learn to ask a man why? in his own tongue. Steeped in the beauty of benessere, the sense of well-being around a table when the atmosphere, the company and the cuisine are right. But what had they to do with baseball? O filled out an application to become a flight attendant.
His sister​ Sixta greeted him upon his return with a message: Ralph DiLullo, the old scout who'd signed him with the A's, had just called. Here's how the circle worked, it began to dawn on O: Those ripples you sent out from the center, some so long ago that you'd almost forgotten ... one day, out of nowhere, they rippled back! Even someone you'd failed—a guy like Ralph, who'd thought O could play in the bigs—might remember something about you, your real strength, and materialize when you needed him most.
The wrinkled bird dog met O outside Shea Stadium and took him to meet Bryan Lambe, DiLullo's boss at the Major League Scouting Bureau. Would O, they wondered, like to become one of them? Lambe could offer him a part-time job for $3,500, but he liked the kid so much that he offered to call a friend who'd become the Texas Rangers' director of scouting. A scout? O had never thought of that, but heck, yes, it was a foot inside a door he thought had shut.
O hopped a flight to Dallas that December of 1984, met Rangers scouting director Sandy Johnson and was rushed on to a red-eye for a 16-day blitz through Venezuela, Puerto Rico and the Dominican Republic escorted by Rangers scout John Young, to see if the kid could handle life on baseball's frontier. The kid could. "He's a dynamo," Young reported to the home office. "He connects with people at every level, from the owners to the batboys."
O's task: Stake a Rangers beachhead in Latin America, land long ago claimed by other teams. The Giants and the Pirates had been mining the Dominican Republic for years; the Blue Jays and the Dodgers had baseball academies there. But O was a bird dog of a different color. He, unlike most scouts, had command of both English and Spanish. He could walk into the poorest prospect's home, wash down the oxtail and goat stew with a tall glass of boiled roots without a blink, infect the fathers with his easy smile, convince the mothers with his eyes. He could vouch for their 17-year-olds' soft landing in the U.S.; why, O himself, who soon doubled as manager of the Rangers' Florida Instructional League team, would be their shepherd on the other side. His networks, like fungi, sprouted overnight. The Mayor, visiting Rangers officials soon dubbed him. They learned to cop their own rides to the hotel bar after a ball game; you could nurse four Presidentes in the time it took O to part with the pay phone and the third baseman's third cousin.
He loved the chase. He flourished in flux. He lived out of a duffel bag, half the year in Santo Domingo, a few months back in New York scouting his old turf, a few months in Florida managing the Rangers' rawest prospects, flying to Central and South America at the drop of a tip, always the last one on the plane. He'd awaken at 5:30 in his Santo Domingo apartment, bang out his sit-ups and push-ups, then jump into his old red jeep to catch two ball games and try out five kids, ready for anything to happen, because everything did. Ready to hit fly balls over the goat grazing in shallow center, and mercy grounders to the ragamuffins who begged to be tried out along with the local stud. Ready for the blackouts, the candlelight negotiations, the red jeep's crummy carburetor dying again at midnight in the middle of dangerous countryside; thank God for that fungo bat. Ready for the coiling mountain dirt roads and the fleabag hotels in Venezuela, the threat of kidnapping during the cocaine wars in Medellín, Colombia. Ready, with the help of his network, to shanghai 16-year-old Sammy Sosa off a weekend bus ride home from the Blue Jays' academy, just before Toronto was likely to sign him, and turn him into a Ranger. Ready to shift emotional gears without grinding, to sit at a table to sign a poor second baseman to a $2,500 contract, only to discover that the box on the table was a small casket containing the second baseman's dead baby brother.
He renovated a ratty old field in a tiny sugar-mill town and procured a house, a generator, a set of weights, 15 prospects to move in and a woman to cook and clean for them. That freelance writer from the U.S., a former high school ballplayer named Loren Feldman, interviewing him about Dominican baseball for a travel story in GQ? Suddenly Feldman was the first base coach, and his wife, Jill, the English teacher. Bingo, the Rangers had a baseball academy.
Relax, guys, everything'll work out. O would convince everyone of that ... because he believed it. And lived it. He and his old childhood pal from Queens, former Mariners catcher Dave Valle, partnered in 1994 to form Esperanza, a foundation that established AIDS clinics across the Dominican Republic and provided poor women with loans to start small businesses. By then O was director of professional and international scouting for the Rangers, spending more time in the home office in Texas and discovering, just as he had everywhere else, that he loved it. "Love the rodeo and the rednecks!" he'd gush. "Know what I'm sayin'? I talk Texas, I get ex-cited! Texas gets a-hold of you! Love those wide-open spaces! Love it, man!"
That was all he needed, that one link with the Rangers' chairman, the future U.S. president, and all the differences between them—life experience, politics, philosophy—washed away, and they'd be friends for life, even sharing dinner at the White House. You took people by what they had to offer, not by what they didn't. That's how W entered the ever-widening circle.
One day in 1989 O was getting a haircut in a Manhattan unisex salon. Nearby reclined a female customer, long, lithe and olive-skinned. Part Irish, part African: O's kind of cocktail.
Dilemma. Richard, the hairstylist, was looking at O the way O was looking at her. "Lay low, Richard," he'd had to murmur. "Just a haircut." How, now, could O ask him to ask her for her phone number? Easy—he's O. Richard sighed and returned with Rachel Albright's number.
Within a year O had her on Via dell'Amore in Castiglione della Pescaia, requesting her hand in marriage, and three years later they were raising a toddler named Teddy in Texas. But she was a Jersey girl, so it was bliss for them both that day in 1997 when O was shown to his new office, in the stadium he'd once stolen into, as the assistant general manager of the New York Mets.
O was the triggerman, the one who would urge G.M. Steve Phillips to make a deal whenever he hesitated. The Mets missed the playoffs by a game in '98, made it to the National League Championship Series in '99 and the World Series in 2000. By then, with the explosion of Latino playing talent, it had become an embarrassment to Major League Baseball that no Hispanic had ever been a general manager and that black G.M.'s remained nearly as scarce. O's name emerged: a double fix. He, after all, was the only Hispanic near the gates of power. He had Len Coleman, the National League president from '94 through '99, twisting owners' arms on his behalf, and everyone in baseball loved O. But....
"Omar, c'mon, do you think any rich man would trust a Dominican with his money?" chided Ramon Peña, his old Dominican scouting competitor and pal. "You've got to be dreaming."
A rich man would have to look past more than the color of O's skin to let him in the club. He would have to imagine an executive who didn't keep to-do lists, whose desktop was barren of paper, whose expense accounts were filed by emptying months of crumpled receipts from his pocket onto an assistant's desk. To trust a commander who carried no crackling air of authority, whose shoelaces might be untied, who transferred his cellphone from his ear to his mouth and back, as if it were a walkie-talkie, to make sure of the hookup. Know what I'm sayin'? That's what O asked after nearly everything he said. That's what mattered most: that you knew what he was sayin' and he knew what you were sayin', that he was connecting with people, not controlling them. Could rich men and baseball lifers grasp the power of the circle? "It's going to happen," O told Peña.
He flew to Los Angeles in the autumn of 1998 to interview for the Dodgers' G.M. job. Didn't get it, but then every candidate needs a warmup or two under his belt. The Milwaukee Brewers called him in '99, then the Colorado Rockies. Great interview, great nose for talent, extraordinary interpersonal skills, they'd say. Lacks administrative skills, they'd whisper, and let what O didn't have eclipse what he did.
He interviewed for the Mariners' and the Anaheim Angels' jobs that same year. O was becoming O-fer. O for 3 ... 4 ... 5. The Pittsburgh Pirates called a year later. Now he was trapped, risking a reputation as a serial runner-up if he accepted every interview offer, risking the future for all minorities if he didn't. O went to Pittsburgh. O for 6.
The tide had shifted. Teams were hiring Ivy League grads to be their G.M.'s, lawyers and businessmen and statmongers who'd never hit fungoes to a flock of skinny 16-year-olds and picked out the weed that would bloom five years later. O's frustration grew. "Look, if you want paperwork, I'm not your guy," he'd tell his inquisitors. "I see the job in bigger terms. Paperwork, that's false hustle. It takes away creativity. People who are into paperwork are into covering their asses, so if things go wrong they can point to all the work they did. They're thinking more about failure than success. The more paperwork the opposition does, the better my chances are. Know what I'm sayin'?"
His old team, the Rangers, called. Their management had changed, but this couldn't be a token interview. Someone there had to know what he brought to the table. He never made it to the table, intercepted at the airport by the team's headhunter, Bob Beaudine. A half hour into the interview, Beaudine found himself thinking, Wow! He carries a room. He's got dignity, character. You know it, you feel it right away. You feel good with him. He's a great listener. He hears the heart of the question. G.M.? Sure, but this man's a senator. He could facilitate change at the international level. He's a possibility opener. He's a community.
He didn't get the Rangers job. The headhunter became another dear friend. O for 7.
How many contortions would it take for MLB to find space for O? This many: In December 2001 the Boston Red Sox would have to be sold to the owner of the Florida Marlins, John W. Henry, who would have to sell the Marlins to the owner of the Montreal Expos, Jeffrey Loria, who would have to sell the Expos to Major League Baseball—in order for MLB to erase them from existence. It would probably take a year or two of planning, like any deft murder, but in the meantime, someone would have to be the general manager of the Expos ... no?
O got the phone call during a family vacation in the Dominican Republic. It was Bud Selig, commissioner of Major League Baseball, the new owner of the Expos, eager to cover two corporate black eyes with one powder puff. The team was miserable, its payroll and fan base a farce, the job likely brief, but—pssst, hurry!—the backdoor was open to the kitchen of the club.
No, wait. It was worse than that. O flew home from the Dominican Republic, reported to MLB's offices in New York City and discovered—three days before pitchers and catchers were to report—that he had six people on his staff. In the entire organization, including his five minor league teams. Loria had stripped the franchise and hauled off the parts—humans, computers, scouting reports, radar guns—to Miami.
"What is this?" O asked his administrative assistant, Marcia Schnaar, when she faxed him the employee list from Montreal. "A joke?" He heard no laughter. He reached for the telephone in his office. O.K., so it was the umpire's video room at MLB headquarters. He reached for his Rolodex. O.K., so it was a pile of paper scraps stuffed in a manila folder. But no one in baseball had a circle of friends the size of O's.
Hey, Tony, got a job for you, how 'bout it?
What's the job, O?
What job you want?
He arrived at the Expos' training camp in Jupiter, Fla., looked at his crew of orphans and felt right at home. He saw his backyard in Valverde Mao. He smelled history refried. Hadn't Jackie Robinson, baseball's first black player, and Clemente, its first Latino superstar, been farmed out to Montreal to prove they were worthy of breaking barriers in America? He and his new assistant G.M., Tony Siegle, set to work.
O awoke at four each morning, arrived at five, worked till 10 at night. Lunch? Wolf down a salad from the players' spread. Dinner? Order in sandwiches. The phones sizzled, O looking for help, help looking for O. The office buzzed like mayflies with 24 hours to live. But O trusted tomorrow. The trust spread. "He energized everyone," says his farm director, Adam Wogan. "You wanted to do it for Omar. You'd run through a wall for him." Suddenly it was July and the Expos, 68–94 the previous season, were in second place, their dark, once-empty coffin of a stadium rattling to life.
What was the G.M. of a team on the verge of liquidation, impaled on the spike of a $38 million payroll—half what his opponents averaged—doing pestering his MLB masters every day to cobble long-term megadollar deals with Vlad Guerrero and Jose Vidro? What was he doing trading for stars such as Bartolo Colon and Cliff Floyd? What was he doing drafting a Cal State–Fullerton relief pitcher, Chad Cordero, in the first round in 2003 and using him to patch the Expos' leaky bullpen a few months later, after Cordero had pitched 26 1/3 innings of Class A ball? O was operating outside the box, way outside it, and most of it was working. Montreal finished second in '02 and was tied for the NL wild card with a month left in '03 before finishing in fourth place, four games over .500 for the second straight year.
But it wasn't just O's trading trigger finger that was itchy. He was a reflexive redeemer, his mother's son. The leftfielder who'd pleaded guilty to assaulting his first wife, Wil Cordero? The cancer survivor, Andres Galarraga? The over-the-hill, self-absorbed rightfielder, Jose Canseco? The surly switch-hitter who didn't believe in dinosaurs or the moon landing, Carl Everett? Sign 'em up! cried O, and he did, convinced that the good in any man would emerge once O bathed him in benessere.
Any man? Even the pitcher who slandered the train that clacked straight through O's heart, the one suspended for saying, "Imagine having to take the 7 train to the ballpark, looking like you're riding through Beirut next to some kid with purple hair, next to some queer with AIDS, right next to some dude who just got out of jail for the fourth time, right next to some 20-year-old mom with four kids. It's depressing"? Yes, O had room even for John Rocker, the anti-O.
He called Rocker's agent to see if he could sign him. He wrote Rocker's parents. "I felt for them," he said. "I felt that my son could make that mistake someday."
"But he's a notorious bigot!" howled Siegle. "You want to get us fired?" O wavered, then finally caved when his own wife called him crazy.
Maybe it was safe, at last—after those two surprising seasons in Canada—to make him a real G.M., a true member of the club. The Cincinnati Reds interviewed him, then the Mariners for a second time. O for 9. The Mets, weary of eating their guy's dust, had an idea. Make O a half member, a 50-50 split of their G.M. job with Jim Duquette—you know, Jim being more an administrator and all.
O agonized. Big salary jump. No more long separations from his wife, two sons and Jersey home, which they hadn't sold because of the Expos' any-day-now demise. But what message would it send about dark-skinned men from other lands? "You're better than half a G.M.," his wife told him.
O twitched and turned down the job. It took one more year of misery for Mets owner Fred Wilpon—his team's clubhouse divided, its credibility with fans and free agents shredded—to call back. "We've become irrelevant in New York City," Wilpon told O in September 2004. "You've got to come home."
"What's the job?" asked O, wary.
"Everything," said Wilpon. "I just want Omar to be Omar."
O's heart raced. "Let's talk as soon as the season's over," he said.
"No," said Wilpon, "let's talk now."
What does it look like when an uncommon man's deepest essence plays out on a major league meadow in the country's largest city? When his inner world, his vast neural web of pathways and connectors, is free to fan out across a franchise with revenues of hundreds of millions of dollars?
It all begins in darkness each day, the man tending first to the core of the circle. It begins at five without an alarm clock, with gospel singer Shirley Caesar wailing You're Next in Line for a Miracle from his iPod in the kitchen. He reads a few pages of the Bible as he listens—but why read just one book? A few more pages, on this day, from Elie Wiesel's Night, a few from Immaculée Ilibagiza's Left to Tell: Discovering God Amidst the Rwandan Holocaust and a few from Joel Osteen's Your Best Life Now. Then O's off to the gym at sunrise each day to run and lift weights while his iPod finger whirls from merengue to blues to big band to rock to country to mariachi. Love it, man! Mariachi on a treadmill.
Now he's ready, open for business. He enters the Mets' clubhouse wearing a ball cap on which is stitched one word--relax--and begins touching and tapping coaches and players and attendants, patting their bellies and their backs or putting both hands on their shoulders, looking each in the eye and asking, "How you doin'? How you feelin'? Anything I can do to make things better?" Asking that of Ray Ramirez, the only MLB trainer raised in Latin America, even before he inquires about the star player's injury. And really meaning it when he asks, unlike most people, says first baseman Carlos Delgado.
"A lot of players fear playing in New York, but he makes it human," says closer Billy Wagner.
"I can look in his eyes," says centerfielder Carlos Beltran, "and tell that he's not hiding anything."
A maître d' more than a G.M., one who knows that feeling and atmosphere are everything. Checking on everyone's kids and wife so he can call or e-mail the sick or pregnant ones after their husbands leave on the next road trip. Engaging his players in long conversations about their former teammates, so he'll know who has the sort of character he might want to add to this room--or who might be lacking only this room to blossom. "We create environment," says O, "then bring a player here and let the environment work on him." Getting his hair shaved to the scalp, right along with his team, to help young star David Wright bust his slump. Asking players out to dinner, keeping all 10 fingers on the pulse. "In a clubhouse people know and see everything but usually keep it to themselves. They'll tell you what they know if they trust." Making everyone, even the clubhouse kid banging dirt from the superstars' cleats, feel that this whole production couldn't happen without him.
Making sure that the team's Dominican mom-and-daughter cooking tandem have all the ingredients they need to serve the team arepas today because it's Venezuelan Day, and mangú tomorrow because it's Puerto Rican Day, and barbecued pork the day after because it's Southerner Day.
Making sure that his white-haired instructors and coaches, such as Ozzie Virgil and Sandy Alomar, and even his pinch-hitting Methuselah, Julio Franco—who besides O signs a 47-year-old to a two-year contract?—are mingling with the young guys. "Why," asks O, "did our culture stop looking to old people for wisdom, the way other ones do?"
Huddling with his African-American manager, Willie Randolph, hired by O after 12 failed interviews with other teams, along with his four Anglo and three Latino coaches. "Constantly talking to us about the person, not the player," says Alomar, whose son Roberto felt so isolated playing for the Mets five years ago that he asked the front office to hire a liaison for Hispanic players. "Always bringing up the player's family and personal background, reminding us how to find the right way to say things to that player. Other teams were afraid to bring in this many Latinos [13]. They were afraid of the fans' reaction and clubhouse chemistry. He's showing you can collect people from all over the world and make them click."
Delighting as traditional language barriers between Latin American and U.S. players crumble, as the Virginian third baseman, Wright, and the Dominican shortstop, Jose Reyes, bear-hug and tussle like puppies. "It's just different here," says pitcher Tom Glavine. "Most teams, you have a couple of guys laughing and joking. Here's it's all 25 guys, from all countries, goofing around with each other all the time. Sure, talent prevails in the short term over personality and chemistry, but long term they play a much bigger part than people think."
Mingling with the media on the field before the game, O making the writers and broadcasters, just like his players, feel good about themselves: "That's a verrry good question.... That's a verrry good observation...." High-fiving opposing players who flock to him during batting practice. Touching fingers with fans through the mesh behind home plate. Heading upstairs, asking the security guards and janitor what they think of the Mets' latest personnel move, then conferring with his front-office guys on their next one.
Here, around this conference table, is the dynamic that all the moguls who wouldn't hire O hadn't understood. Here's the yin unthreatened by the yang. Too wide-eyed, too trusting? Well, here's his narrow eyes, Tony Bernazard, the vice president of player development from Puerto Rico who squinted down O two years ago when he wanted to bring Sosa to the Mets. Who besides O in baseball management would hire union chief Donald Fehr's special assistant?
A little sketchy on contract and labor-relations nuances? O.K., turn it over to the man who'd been MLB's wonk on such matters for eight years, assistant G.M. John Ricco. A little green at taking $53 million risks, such as the one in signing injury-prone All-Star pitcher Pedro Martinez to a four-year deal? There's 66-year-old vice president of scouting Sandy Johnson, who helped the Padres, Rangers and Diamondbacks make those decisions for a quarter century, the guy who gave O his first big league job. Unschooled in the statistical-analysis approach to talent evaluation that the young Moneyball G.M.'s love? Meet Ben Baumer and Adam Fisher, O's young numbers geeks. "Don't choose one or the other—field guys or stat guys," cries O. "Choose both! Listen to what the church and the Commies say! Know what I'm sayin'?"
Wait, something's missing from the circle—a woman! He summons Leonor Barua, his executive assistant, to the table. "Because there's just too much testosterone and strong opinions in a roomful of baseball men," he says. "I'm amazed by people who talk negatively of others. I just listen and think, Why do they need to do that? A lot of that comes from insecurity, people's fears. Gimme a woman. She'll subdue that testosterone. She'll see the big picture. Before every big decision I make, I call my wife. Before every trade, I ask Leonor."
Then O looks to the far edges of the circle, making sure the Mets' Latino prospects are being taught English, and their Anglo prospects are being taught Spanish. That they're all taking turns cooking in six-man teams for the rest of the minor leaguers in training camp, learning about nutrition and doing community service. That old Mets uniforms are being shipped to teens in Ghana, and two Ghanaian teens are being shipped to the U.S. to work out with Mets minor leaguers. That the team's expensive new Dominican academy will have classrooms and computer labs and instruction in plumbing and electrical work so that all the kids who never make it to the bigs will have a diploma, a vocation, a life.
Game time. Time to watch his guys play. The stars O wooed to New York by traveling to their homes and looking in their eyes rather than negotiating through agents: Beltran, Wagner and, when he returns later this summer from shoulder rehab, Martinez. The surprising contributors that O excavates from other rosters, role players such as outfielder Endy Chavez whom other teams judge by what they can't do but O welcomes for what they can. It's the team that has been lurking in his limbic forebrain since O was a child, the team that he wanted the Mets to be when he sneaked in to root for their more multiethnic foes. "What do you think of when you think of the Mets in their early years?" he asks. "Power pitching and non-athletes. This is the team the Mets were supposed to be back then, the inheritors of the legacy of the New York Giants and the Brooklyn Dodgers. Guys who stole bases and hit for power. A true centerfielder. A slick shortstop. Athletes. Guys of different colors and nationalities.
"But what happened? George Weiss, a Yankees guy, an American League guy, ran the Mets at the beginning. That's what happened. The National League stood for inclusion. It's where Robinson broke ground for blacks, Clemente for Hispanics. I see the Mets that way. Sure, I knew there'd be criticism about the ethnic makeup of the team. When you're the first Latino G.M., you know it's coming. But I don't care about players' color, religion, heritage or even sexual preference. I care about winning today. I'll go to sleep tonight thinking, How can we make this team better?"
The Mets win again, tightening a grip on first place in the National League East that they've held virtually every day for the last two seasons. Fans cluster around O as he leaves the stadium. "It's like he's the cleanup hitter," marvels a friend. They're shouting to him, "Doing a great job, Omar! Awesome job! Best G.M. I've ever seen! You saved us!"
O's turning to make eye contact, calling "How ya doin'?" to the Anglo fans, "¿Están bien?" to the Hispanic immigrants and even "Va bene? Tutto bene!" to one with italia on his T-shirt. Explaining to a reporter, as he goes, that as much as he loves being on top, he's lost if all this isn't about the people on the bottom. About the good the Mets can do around the world, the AIDS clinics he's helping to open in the Dominican Republic, the thousand bags of Christmas meals that he and his sisters buy for the poor people around Valverde Mao in memory of his deceased parents. "I'm the underdog," he says. "That's still how I see myself. My father and my cousins went to jail over a principle. We came here because of oppression. That's what I'm about. But you've got to have an exit strategy to stay principled. If not, you'll compromise principle for materialism and comfort."
His exit strategy, if the circle ever feels like a noose? "The Peace Corps," he says.
It's late. He hops into his car. A reporter asks for his address and zip code so he can use MapQuest to find O's house the next morning. "Whoo, my zip code...." he says. He begins searching the car for an envelope or document that might show it. "Hmmm ... you'd think I'd know that since I've lived in that house for eight, nine years now. My zip code.... That's a verrry good question.... Look, if I find it, I'll call you. Know what I'm sayin'?"
He waves and drives away, into the great wide open.