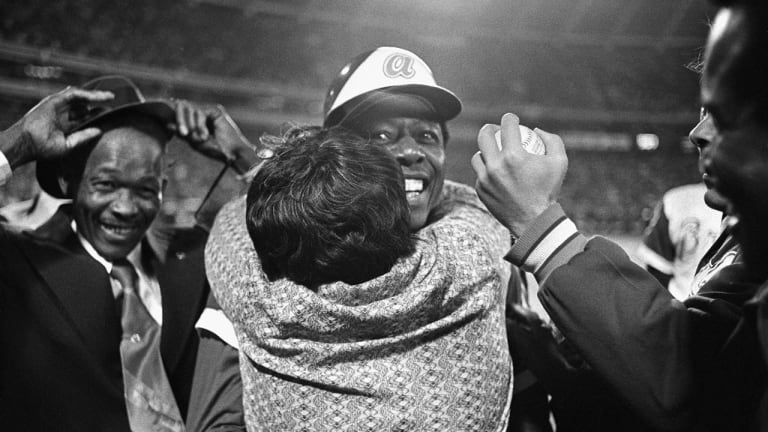 The People's King
Henry Aaron is about to be displaced from his spot atop the alltime home run list, but 755 will endure as one of baseball's magical numbers, a lasting monument to an underappreciated star and to the courage and integrity with which the Hammer attained his crown
In a black sea of hot asphalt, hard by Area 10 of the Turner Field parking lot, a fittingly modest monument to a people's king rises from rivulets of Georgia heat. On this spot, in what was the Braves' bullpen at old Atlanta-Fulton County Stadium, landed the 715th home run in the career of Henry Louis Aaron. Here too stand facsimiles of the outfield fence and the bullpen wall, on which there is a sign that makes no mention of the major league home run record or Babe Ruth, whose 53-year claim as the alltime home run king passed that night to a poor dry-dock laborer's son. Or as Vin Scully so eloquently told his radio listeners, "A black man is getting a standing ovation in the Deep South for breaking the record of an alltime baseball idol."
HANK AARON
HOME RUN
715
APRIL 8, 1974
The inscription is enough. The significance of the home run will be understood, even--no, wait, especially--in the coming days and beyond when Aaron, who retired two years later with 755 home runs, no longer owns the record. In simple mathematical terms Barry Bonds will have outhomered Aaron and every other player who has swung a bat in the majors. Everything else about the new record, however, dissolves into the murkiness of interpretation. Bonds's ties to BALCO, the steroid factory busted by the feds, and Greg Anderson, his convicted, incarcerated friend and onetime personal trainer, have created the ugly impression of a bastard prince without true claim to the throne.
Bonds's ascent to756 has been (outside of his safe house in San Francisco) not only a joyless affair but, far worse for baseball, a public exercise in mockery and ridicule, with CHEATER banners, oversized syringes and "ster-roids" chants the derigueur accoutrements of a traveling freak show. The commissioner of baseball doesn't want to personally witness the record-breaking home run (Bud Selig still hasn't said whether he'll be in attendance), and Aaron has been adamant in his refusal to be there. Corporate America too wants nothing to do with it, and a majority of fans (52%, according to a May poll by ABC News and ESPN) are rooting against Bonds.
Against that backdrop, Aaron and 755 have acquired the immutability of granite. It may have taken setting the record for Aaron, who was a consummate ballplayer and remains a quiet gentleman with a fierce social conscience, to be properly noticed. Ashe wrote in his 1991 autobiography, I Had a Hammer, with Lonnie Wheeler,"The most basic motivation was the pure ambition to break such an important and long-standing barrier. Along with that would come the recognition that I thought was long overdue me: I would be out of the shadows."
Thirty-three years later it may take losing the record for Aaron to be sufficiently appreciated.Like Roger Bannister and the sub-four-minute mile, Bob Beamon and 29.2 feet, and Roger Maris and 61, Aaron and 755 are partners in posterity, not by defying belief, as Bonds has done, but by encouraging it. Aaron's record may be broken by Bonds, but it won't be eclipsed.
"I guess,"says Hall of Fame slugger Reggie Jackson, "you can call him the people's home run king."
The home run king never did majesty well. His home runs left the park in a hurry and with an economy of scale, rarely bothering to travel much farther or higher than needed. Aaron could do everything on a baseball field with ease, but because his game and his words lacked unnecessary ornamentation, he never invited attention to himself.
They called him Hammerin' Hank, an encomium to his bluntly effective hitting but one that works just as well as a tribute to his overall ethos. Hammering is the life's work of commoners, not kings. It is generally not a pursuit to which heroic movies, elegiac poems or, apparently, magazine covers are dedicated. (Aaron appeared on three Sports Illustrated covers in his 23-year career.) In hammering as inAaron, however, there is an understated nobility that only the passage of time adequately reveals.
For instance, not one of Aaron's single-season home run totals is among the 68 highest of all time, yet he pounded more in his career than any other player in history--and without suspicion of chemical enhancement. None of his single-season RBI totals rank among the top 100 of all time, but he's the career leader in that category as well. His best season for extra-base hits cannot be found in the top 40 alltime, but he leads that career list too. What he did was build the Egyptian pyramids of a baseball career, the finished product a monument as much to man's persistence as to his reach.
Aaron was such a masterly hitter that he would have passed 3,000 hits even if he had never hit a home run. Pick any star who ever played the game and give him 180 additional homers, and Aaron still would have more total bases. He won three Gold Gloves, received MVP votes for 19 straight years and stole bases at a 76% success rate.He did as much for the racial integration of the sport as any man who followedJackie Robinson. Yet Aaron, in the pantheon of baseball gods and in the fabric of American culture, is an underrated and underappreciated presence. It must have been the monotony of all that hammering.
"As a [teen] Iwas watching a game in Milwaukee from the seats behind the third base dugout," says Yankees manager Joe Torre, who would become Aaron's teammate with the Braves from 1960 through '68. "Henry was batting, and I distinctly remember watching the pitch pass behind him and he still hit it out of the park. He hit it that late and still hit a home run. He was the most amazing wrist hitter I ever saw."
Brewers broadcasterBob Uecker, who also played with Aaron, recently began a conversation about the home run record with a disclaimer, apropos of the times: "I don't really want to talk about Bonds at all." But Uecker said it was important to recognize that Aaron's generation of hitters faced more duress than the current one.
"I think you're talking about a whole different scenario with players back then knowing knockdown pitches were as common as guys taking batting practice," he explained. "Throwing at people's heads was part of the game. Somebody hit a home run? The next guy coming up was going down. Hitters today don't have to worry about guys throwing at them all the time. And they still wear armor like policemen wear."
But 755 is, even byAaron's estimation, an incomplete measure of the ballplayer and the man. Aaron said in his autobiography that he regarded the total bases record as more representative of "what I was all about as a hitter. . . . It also tells me something that the record had been [Stan] Musial's, because I consider myself to be much more like Musial than Ruth, both as a hitter and as a person."
Even more monumental than what Aaron accomplished is what he endured. In 1953, at age 19, only one year removed from hitting cross-handed for the Indianapolis Clowns of the Negro leagues, he was one of five players thrust into the integration of the Class A South Atlantic League, in the heart of Dixie. (The major leagues, which Robinson had integrated six years earlier, still played no farther south than St. Louis and Cincinnati.) Aaron could not eat in the same restaurants, sleep in the same hotels or drink from the same fountains as his white teammates. Fans heaped racially charged insults at the teenager. A white teammate, Joe Andrews, bat in hand, would escort him out of the ballpark after games. And lo, Aaron hit .362 and was named the league's MVP.
Two decades later, as he chased and ultimately passed Ruth, Aaron received thousands of racially charged hate letters. There were threats on his life, and an Atlanta policeman, Calvin Wardlaw, was assigned to provide him with round-the-clock protection, keeping a snub-nosed .45 handgun in a binocular case. Aaron refused to ride in convertibles for fear of his own safety, a precautionary habit he has kept to this day. Though Aaron drew large, supportive crowds on the road, he often was ignored at home. When he hit home run number 711, for instance, there were only 1,362 people at Fulton County Stadium, a record low for the franchise.Many who did come to the ballpark in those years heckled him. There was real fear that it might have been much worse.
In September 1998,Aaron watched wistfully as Mark McGwire crossed home plate following his record-breaking 62nd home run and hugged his son, Matthew, dressed in aCardinals uniform as a team batboy. When Aaron hit 715, his daughter, Gaile, a student at Fisk University in Tennessee, had to watch on television while under the protection of FBI agents because of a kidnapping plot against her. His mother, Estella, was at the game and threw a hug around her son after he crossed home plate. It seemed a touching scene, though the truth, she later explained, was that she had done so out of fear that Hank might be assassinated by someone in the crowd. The first words spoken into the stadium microphone by the new home run king were these: "Thank God it's over."
"Hank is genuinely a soft-spoken, private guy, and he truly doesn't want to relive 1972,'73, '74," says Terence Moore, a columnist for the AtlantaJournal-Constitution and an Aaron confidant. (Aaron has declined all interview requests, including several from SI, on the subject of the home run chase.)"Those are bad memories for him. With Barry Bonds going through the chase, it's like it's putting him back in that era. And he doesn't want to go back there."
Despite the hatred for him, Aaron played with a cool dignity. "Grace in a gray flannel suit," as the great sportswriter Jim Murray observed. But Aaron also spoke out against injustice when he saw it, whether as a player, baseball executive or businessman. Indeed, he considered it his duty after Robinson died in 1972to carry on Jackie's cause.
In this world,Longfellow wrote, a man must be either anvil or hammer. Hank Aaron left no doubt about which he was.
In an editorial the day after he hit 715, The Washington Post said of Aaron, "Here is a person who is authentic, whose acclaim is based on the results of his self-confidence and not self-promotion, who has been faithful to his vocation whether noticed or not." Authenticity. It is what elevates Aaron and 755 even more now than in 1974.
"HankAaron," says Selig, his friend for more than 40 years, "is one of the most principled persons you will ever know."
Aaron wants nothing to do with Bonds, not because Bonds is breaking his record, but because he doesn't want to get dragged into the conversation about Bonds and steroids and, as several friends have said, he does not find Bonds to be a likable person.One friend, for instance, says that Aaron was crestfallen to hear Bonds question whether the Hall of Fame is entitled to any memorabilia from his record chase. (Bonds has since relented slightly, saying he might share an artifact.) Said Bonds, in a self-styled epitaph worthy of his tombstone, "I take care of me."
At a June 7ceremony in Milwaukee, where he dedicated a plaque to commemorate home run number 755, Aaron told reporters that virtually all of his memorabilia are in the Hall of Fame, explaining, "I think what I did belongs to the public." When asked about Bonds, Aaron replied, "I don't even know how to spell his name." He laughed after he said it, more dismissive of the question than of the Giants left fielder, but news outlets portrayed an edge toAaron's comments that he had not intended. According to friends, Aaron was chagrined at such a portrayal, the episode confirming his belief that he's better off having nothing to do with what has become a no-win drag on the game.
A window intoAaron's position on steroids can be found in his autobiography, in which he said of 300-game winner Gaylord Perry, "I regarded a spitball as cheating, and because of it I have serious doubts as to whether Perry belongs in the Hall of Fame. . . . I had always taken a strong stand against anything that wasn't within the spirit and rules of the game--like spitballs. I believed in the integrity of the game as strongly as anybody."
At 73, Aaron has said that he is at a stage in his life where he need not jet around the country in anticipation of Bonds breaking his record. Aaron did travel to Los Angeles for a mid-April celebration of Robinson, and he made the trip to Milwaukee for the unveiling of the 755 plaque. He lives in the Atlanta area, where he owns a car dealership and recently, upon the ownership transfer of the Braves fromTime Warner to Liberty Media, agreed to resume an active role as a team vice president after several years of having little involvement in the baseball operations of the club.
"Hank pretty much keeps to himself," Braves manager Bobby Cox says. "In the winterI'll see him [at Turner Field] if I come in early. Hank will come in to workout at five-thirty, six in the morning and leave."
Bonds, by contrast, is desperate for the blessing from Aaron that will not come. He wanted Aaron sitting next to Willie Mays, Bonds's godfather and Aaron's charismatic contemporary, on the night he hit 756. Bonds so covets Aaron's acceptance that on several occasions he has reached out to Selig, far from a Bonds ally himself, for help in obtaining Aaron's support, if only to get Aaron to call him. Aaron, however, has no plans to talk to Bonds. "No matter what BarryBonds does, Hank Aaron will be looked at as the home run king," says Moore, who then cited a quote from a conversation he had on that subject with HarryEdwards, the noted sports psychologist and sociologist. "You'll have the standard and the standard bearer. Then you'll have the record and the record holder. For the first time ever, they broadly will be acknowledged to be totally different people."
In the same conversation, Moore said, Edwards compared Bonds to O.J. Simpson: a free man, but a prisoner of the widely accepted circumstantial evidence against him. The home run record is whatever you wish to make of it.
Andrew Papanicolau is standing in the same location that Aaron stood in when he hit 715. Well, those are brick pavers, not dirt, beneath the 10-year-old Andrew's feet. WhenFulton County Stadium was turned into a parking lot, the Braves placed pavers where once there was dirt, forming the entire infield, pitching mound, foul lines and warning track. You can stand in this reconstructed batter's box, gaze upon the commemorative sign in left center and imagine the flight of 715 asAaron saw it. This spot is the Kitty Hawk of home run records.
"Hank Aaron should still be considered the home run king," says Andrew, who is fromQueens, white and here with his father, Michael, and friends as part of their quest to visit all the major league ballparks. "My friends and I start talking about baseball, and the conversation gets around to Barry Bonds. We don't think he should have the record. I think they should take away his home runs because he got so big using steroids. It's cheating."
Walking across the paved infield is Ervin Ross, who is 18, black and not on any sort of pilgrimage. He is a concessions employee at Turner Field. He knows about Aaron from history books, video of home run 715 and a story from his supervisor at work, a white man who told him Aaron once refused to give him an autograph."But that's when [Aaron] was going through those tough times," saysErvin, in Aaron's defense. "It was understandable."
Ervin says he believes it is true that Bonds used steroids, but the teenager does not seem troubled by that. "He's a professional athlete," Ervin says by way of explanation. "I would have to consider him the home run king, just because he did it. It's good for black people. They can't take his home runs away, so he's got the record."
How can two people look at the same number and assign it a different value? Math isn't supposed to be this ambiguous. The home run record isn't supposed to be this complicated.Even when Barry Bonds holds the record, Hank Aaron can still be the people's home run king--and 755 can still be the number in which we believe.