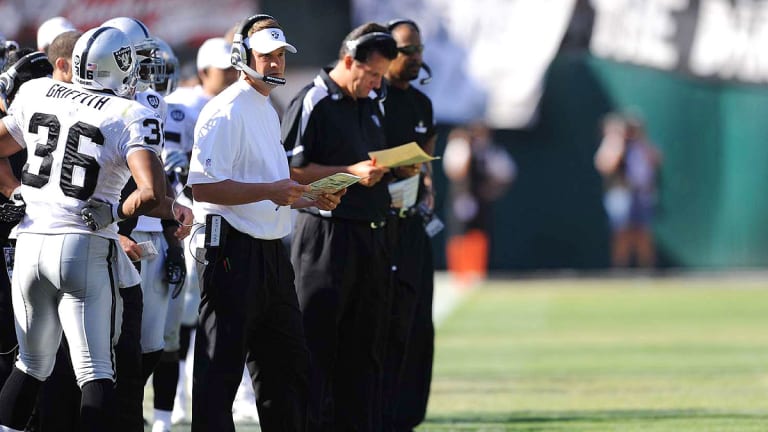 Just Win, Baby
The NFL's youngest head coach takes over a pitiful team with a meddling owner. But at 32, Lane Kiffin might actually be up to rebuilding the Raiders
In a team meeting at the Oakland Raiders' training camp a couple of weeks ago, coach Lane Kiffin turned down the lights and showed a grainy piece of nighttime footage on the big screen. The clip opened with a shot panning five cars, their headlights dimly illuminating the team's summer practice field in Napa, Calif. The camera then shifted to two 300-pound men in shorts and T-shirts, doing football drills in the shadows. What, the players wondered, could this nonsense be? Kiffin explained in full afterward: Two offensive linemen had been scheduled to arrive in Napa for tryouts earlier in the day, but their flights had been delayed, and they didn't get to the hotel until late in the evening. Because the Raiders were short a body on the O-line, they needed to sign one of the two prospects before practice the next morning. Kiffin and offensive line coach Tom Cable told the players upon their arrival, "We're going to work you out."
Now, they meant. At 11:15 p.m.
Because it takes more than a half hour for the lights on the field to reach full power—time Kiffin didn't have—he lined up the cars so that the coaches could see the players run through their paces. And when the workout was over, at around 11:30, Oakland agreed to terms with one of the night owls, center Jesse Boone,who played in NFL Europa this spring. Nine hours later he was back on the practice field with his new team.
"Remember the movie Invincible?" says veteran cornerback Nnamdi Asomugha. "The scene in there of guys playing on the sandlot at night, with the cars lighting the field? When Coach showed us that [clip], it left an impression."
Kiffin has left a lot of impressions. Until camp opened, he was just the latest strange hire by owner Al Davis, having left USC, where he was offensive coordinator under Pete Carroll, to become the youngest head coach in modern history. As a 32-year-old first-time boss under the domineering Davis, Kiffin could easily end up overseeing a debacle in Oakland like Joe Bugel (4-12 in 1997), Norv Turner (9-23 in 2004 and '05) and Art Shell (2-14 in '06) did. But based on his performance in camp this summer, it's hard not to think Kiffin, who looks as if he started shaving two weeks ago, has a chance to be something special.
He has a chance, too, because Davis is giving him a chance. That's what a league-worst 15-49 record over the last four years—and one of the most anemic offensive seasons ever, a 12-touchdown, 46-turnover nightmare in 2006—will do to the owner of a three-time Super Bowl-winning franchise. After being hired last January, Kiffin wanted to overhaul the staff and replace some Raiders lifers, like receivers coach Fred Biletnikoff. Davis said yes. Twelve assistants were out, 14 new ones were in, and the average age of the Oakland coaches dropped from 48.7 years to 42.2. Of the 87 players in camp last week, 43 weren't on the team the day Kiffin was hired, with several longtime favorites axed by the new regime."There are no more scholarship players here," Kiffin says.
There hasn't been this kind of energy around the franchise since February 2002, when another young, blond, precocious and loud coach—Jon Gruden—left Oakland.
"Hey, let's go to work, Doug!" Kiffin, in a long-sleeve white T-shirt and white cap, takes a football, twirls it, then whizzes a pass at receiver Doug Gabriel's feet during the prepractice stretch. He fires another through the hands of startled safety Hiram Eugene, then throws a behind-the-back pass to cornerback Chris Carr. And look out, quarterback Andrew Walter—pffft!—here comes a line drive right at your helmet.
"This is gonna be a good day!" Kiffin yells as the stretch ends, and he begins to jog downfield for punt-team work. He's not profane or sarcastic like Gruden, but the look, the volume, the energy all scream Chucky Jr. "Sounds just like him," says left tackle Barry Sims, a Raider for three of Gruden's four seasons in Oakland. "Sometimes I have flashbacks."
But while Gruden was all offense, Kiffin dips into special teams and defensive drills. He learned the defensive side of the ball from hanging around his father, Monte, a 25th-year NFL assistant and now Gruden's defensive coordinator in Tampa Bay. And in six years under Carroll he learned that the head coach has to inject himself into every aspect of the team. Many of the Raiders assistants are NFL rookies with no significant ties to Kiffin, and while he gives them the freedom to coach, they feel his presence. He wanted coaches who were willing to teach and had the courage of their convictions; coaches who were hungry and had something to prove. Like offensive coordinator Greg Knapp, 44, blistered in the middle of a game by Terrell Owens during his time in San Francisco and deemed a failure in Atlanta when Michael Vick's development stalled. Like receivers coach Charles Coe, 55, whose last job was head coach at Division I-AA Alabama State.
The two most important aides are 36-year-old Brian Schneider, who joined the Raiders after serving as Iowa State's special teams coach last year, and Cable, 42, who was ousted from the Falcons along with Knapp. Oakland's special teams were abysmal last year—30th in punt coverage, 31st in punt-return average, 31st in kickoff coverage—and Kiffin went looking for the best kicking-game instructor he could find. "He's one of your three coordinators, so he better be good," Kiffin says. Last week Schneider jumped in and out of drills, lighting a fire under the outside pursuit people in punt coverage. At one point Kiffin didn't like the stance of punt rusher Carlos Francis, so he put his hand forcefully on Francis's back, pushing him lower.
The offensive line allowed a league-high 72 sacks last year. "Things changed every week,"says center Jake Grove. "There were a lot of things that weren't explained. Nobody really understood what we were trying to do. Ever. From Day One, that has not been the case this year. Things have been set in stone." Cable is working on making the line physical and mean. Last week he ran a cut-blocking drill in which players exploded with low blocks into a padded high-jump pit.
"I've got guys on this staff who've got a lot to work for, and I like that," Kiffin says. "Sometimes you have assistant coaches teaching the same thing for 10, 12 years in a row, almost going through the motions. I've got guys whose livelihoods depend on how they coach and how we play. That's a good thing."
One night last week Kiffin canceled team meetings and had each position coach take his group out to dinner in Napa. "Don't talk football," he told the coaches. "Get to know who they are as people. Get to know what motivates them. It's good for players and coaches sometimes to just be normal."
Make no mistake, though: This isn't Camp Touchy-Feely. Kiffin has made a habit of announcing in team meetings that the uniform numbers of newly cut players are available to veterans in order of seniority. This serves two purposes: 1) to let players know the team is constantly shuffling the roster in search of the right combination; and 2) to let them know it's not the same old Raiders. On Aug. 4 Kiffin said that number 86 was available. It had belonged to Randal Williams, a Davis favorite who struggled to make the transition from wideout to tight end after coming to Oakland in 2005. "It got quiet," Asomugha says. "For him to be cut, and a few others, like [10-year Raider and long snapper] Adam Treu, it got our attention."
As did the signing of veteran Daunte Culpepper, which seemed to cloud the picture at quarterback. Culpepper is clearly not Oakland's QB of the future—that would be the No. 1 pick in the draft, JaMarcus Russell of LSU, who had yet to sign at week's end. But Kiffin was probably going to redshirt Russell for much of this season, and if Culpepper was one of the three best quarterbacks the Raiders could find, then Kiffin wanted him. "We'll sign anyone to give us better competition at a position," Kiffin says. "I don't want people to be comfortable."
Kiffin's honeymoon period began with a 27-23 win over the Arizona Cardinals last Saturday in the preseason opener—a nice but unimportant victory. Other than an AFC title five years ago, the Raiders have been thoroughly disappointing since returning to Oakland in 1995. They have had only three winning seasons in 12 years and rank 25th in the NFL in winning percentage since the beginning of '94, when free agency with a salary cap came into play.
Kiffin and Davis are getting along famously now, but the kid's not naive enough to think that that will continue if the Raiders lay an egg through a relatively soft early schedule. Oakland hosts the Detroit Lions and the Cleveland Browns among its first three games, with matchups against the Kansas City Chiefs, Tennessee Titans and Houston Texans in Weeks 7 through 9.
"Lane has done an excellent job of getting this team to a point," Davis said during a visit to camp two weeks ago. "But . . . he's got to win."
To which Kiffin says, "I don't know when we're going to win. But I do know we will win."
Better hurry, son.