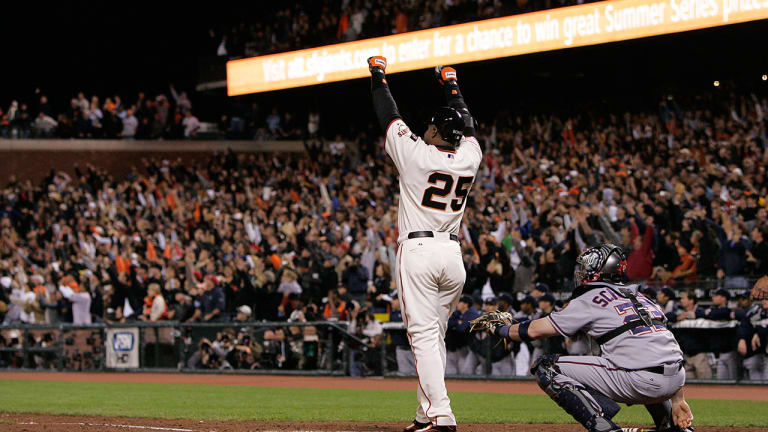 That's Done, So... ...On to the Pennant Races
With the Bonds watch over, baseball shifted its spotlight to a group of first-year stars--one a teenager--helping to shape tight playoff battles
The end came at 8:51 p.m. Pacific Daylight Time on Aug. 7 in that shimmering jewel of a ballpark by the Bay that has been for Barry Bonds what the Vegas strip is to Wayne Newton. Career home run 756, the one that broke the alltime record of Hank Aaron, carried the glamorous familiarity of 500, 565 (the single-season-record 71st in 2001), 600, 661 (surpassing Willie Mays's career mark), 700 and 715, all of which occurred at AT&T Park: the ferociously efficient whip of the maple bat, the soaring five-ounce sphere of history and commerce and the bloody scramble to claim it, and the noisy adoration of San Franciscans pleased that baseball's greatest home run hitter, like cable cars and the blanket of cottony fog over the Golden Gate Bridge, is theirs, helping to define their sense of place and selves. Rarely, if ever, has such a marvelous player been such a parochial one.
The beginning came at 8:01 p.m. PDT on Aug. 7, just 50 minutes before the end of Bonds as the most relevant player in baseball. Justin Upton, a 19-year-old rightfielder for the Arizona Diamondbacks playing the first home game of his major league career, walloped an 0-and-1 pitch from Pittsburgh Pirates lefthander Tom Gorzelanny into the leftfield seats at Chase Field. It was the first home run for Upton, the No. 1 pick in the 2005 draft and, by dint of his extraordinary skills, manners and maturity, the welcome face of what's next for baseball. Largely unnoticed, like so much else lost this summer to the gaudy carnival that was Bonds, it was not even the most important home run of the hour, let alone the night. Only the most symbolic. The game was ready to move on.
Baseball woke up on Aug. 8 and discovered a sunny life after Bonds: exciting pennant races--15 teams hung within three games of a playoff spot at week's end, including seven coming off losing seasons--and fresh faces who will help decide them. The impact rookies include Upton; third baseman Ryan Braun, 23, and pitcher Yovani Gallardo, 21, of the Milwaukee Brewers; outfielder Adam Jones, 22, of the Seattle Mariners; shortstop Yunel Escobar, 24, of the Atlanta Braves; and pitchers Phil Hughes, 21, and Joba Chamberlain, 21, of the New York Yankees.
"I think this year a lot of clubs looked at what was available on the trade market," says Brewers general manager Doug Melvin, "and decided the same thing: They were better off with players in their own system and giving them a shot."
The supernova that is Bonds--the man, the record, the controversy--for months had blotted out much of what was happening in the rest of baseball. Would commissioner Bud Selig be there for the record? (He wasn't; he was in New York City to keep an appointment that had been booked three weeks earlier with, of all people, steroid investigator George Mitchell.) What would Aaron do? (He was home asleep, but he did, on the advice of Selig, tape a congratulatory message to Bonds that played on the AT&T Park video board.) Would people outside San Francisco embrace it? (The game, a late-hour one for much of the country, drew an 0.9 rating on ESPN, below the network's season average.)
Like a Rorschach blot or The Sopranos finale, 756 settled nothing. It invited interpretation more than it provided certainty, making for an awkward kind of history. Bonds still faces the possibility of a federal perjury indictment as well as repercussions from the Mitchell report, which one baseball source says could be delivered after the World Series and include "new information" on Bonds and many others.
"This record is not tainted," Bonds protested to reporters in his post-756 news conference. "At all. At all. Period. You guys can say whatever you want."
With the chase over, Bonds suddenly was taking now-meaningless at bats for a last-place team that over the past three seasons has lost more games than every other National League franchise except Pittsburgh. Make way for Upton, the anti-Bonds by way of his youth and respectful manner, and the emerging, first-place Diamondbacks. Arizona, coming off three straight losing seasons and featuring six rookies, had roared to the NL West lead with a 17-3 run at week's end, including a 6-1 record since Upton entered the starting lineup on Aug. 3.
"Write it down: Put him on the same level with Griffey and A-Rod at 19," says Diamondbacks second baseman Orlando Hudson. "He belongs right there with them. He's that special."
It took Upton just 10 games to blast seven extra-base hits, to become the only teenager in the past 50 years to have three extra-base hits in the same game, to become the first teenager in 33 years with three triples in a season and to join Ken Griffey Jr. and Robin Yount as the only teenagers since 1970 to draw two intentional walks in a season.
Two years after graduating from Great Bridge High in Chesapeake, Va., Upton is hitting fifth for a first-place team. Since 1945 only three other teenagers have regularly batted that high in the lineup in a pennant race: Mickey Mantle (1951 Yankees), Claudell Washington (1974 Oakland A's) and Andruw Jones (1996 Braves).
"He's as good as advertised," says Arizona G.M. Josh Byrnes. "He's probably as good an athlete as you'll see in this game."
Indeed, the Diamondbacks gave Upton, the younger brother of Tampa Bay Devil Rays outfielder B.J. Upton, a $6.1 million signing bonus payable over five years, reflecting a premium that ball clubs offer players who have the ability to be a professional in two sports--even though Upton had not played football since breaking a collarbone as a quarterback during his sophomore year of high school.
"I asked [Upton's agent] Larry Reynolds to send documentation about his football ability," Byrnes says, "and right away he sent back about 40 letters to Justin from the biggest football programs in the country saying how much they wanted him, even though he basically just played as a freshman."
Arizona believes that Upton, who tore through A and Double A ball this year (.319, 18 homers, 70 RBIs in 103 games), can be a high-average, 40-home-run hitter and among the fastest base runners in the game. What further excites the Diamondbacks is that Upton, who is a solid 6' 1 1/2", 205 pounds, has the maturity and makeup to be a franchise player in the manner of Derek Jeter, one of the players he grew up admiring.
"Derek Jeter is all about leadership and winning," Upton says, "and that's the kind of player I'd like to be."
The NL West, with four teams separated by six games at week's end, could be the wildest of several dramatic races. Among the most pressing questions in baseball, all of which now have nothing to do with Bonds, are these.
> Can the Yankees pull off a historic comeback? By week's end New York had cut a 14 1/2-game deficit to Boston on May 29 to four. Only two teams in history have ever finished in first place after trailing by so many games: the 1914 Boston Braves (15 games behind the New York Giants) and the 1978 Yankees (14 1/2 games behind the Red Sox).
New York pulled into a virtual tie with Seattle for the wild card with a 23-8 run in which it scored more runs over 31 games than any Yankees team since 1939. Meanwhile righthanders Hughes, a starter, and Chamberlain, a setup reliever, helped stabilize the pitching staff largely with high-octane fastballs.
> Are the Mariners for real? They've endured three losing streaks of at least six games and the sudden resignation on July 1 of manager Mike Hargrove, but are looking at their first meaningful September in four years. Jones, whom scouts consider a five-tool player, has been playing part time in leftfield, but manager John McLaren says, "One day he will be an every-day player, and I think he will be a star. He's got it all."
> Can Milwaukee, which hasn't sniffed the playoffs since 1982 or a winning season since 1992, hang on to win the NL Central? Even with the emergence of Gallardo in the Brewers' rotation and Braun (.348 average, 22 home runs and 59 RBIs in 70 games through Sunday) as a Rookie of the Year front-runner, Milwaukee was 38-46 after a 24-10 start, giving life to the Chicago Cubs and the St. Louis Cardinals.
> Who is this year's Cinderella? The Braves, Brewers, Cubs, Diamondbacks, Indians, Mariners and Rockies are all contending the year after a losing season. Arizona, though, may be the unlikeliest of the bunch because of its youth--its lineup last Saturday included eight players in their 20s and 31-year-old outfielder Eric Byrnes--and underwhelming offense. The Diamondbacks ranked next-to-last in the league in hitting at week's end and had been outscored for the season. Scoffs one veteran executive, "Colorado and Los Angeles scare you more than Arizona. There's no one dominant team, but if you asked me to pick one team in the NL, I'd pick the Braves. I think they'll catch the Mets."
Still, Arizona is playing with an insouciance that cannot be discounted. Ace Brandon Webb, for instance, prepped for his start on Saturday against Washington by strumming a guitar at his locker--then stretched a club-record scoreless-innings streak to 33 with a five-hit, 1-0 shutout. Upton drove in the only run with a stand-up triple.
"It's a different guy every day," Upton said afterward, explaining the Diamondbacks' improbable success. "That's how we've been living lately. Today it was my turn."
Written across the smile of this teenager at his locker was the obvious message: Baseball had moved on from 756. Here stood a new man of the hour.