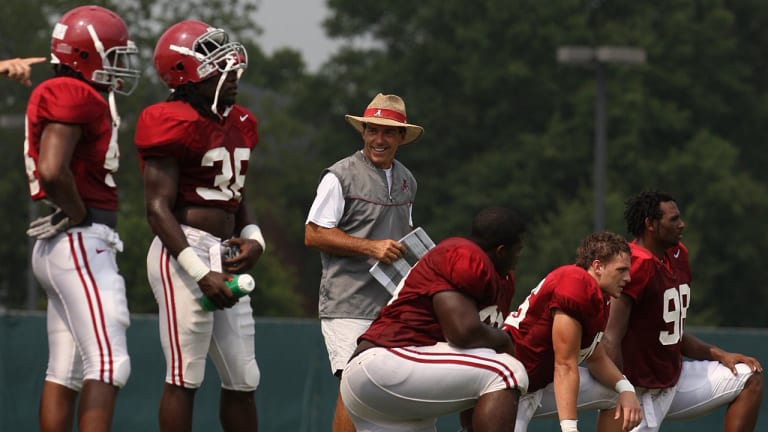 In the Nick of Time
Fed up with mediocrity and losing to Auburn, the Alabama faithful welcome Nick Saban as a coach tough enough to bring back the glory of the Bear
They say college football is religion in the Deep South, but it's not. Only religion is religion. Anyone who has seen an old man rise from his baptism, his soul all on fire, knows as much, though it is easy to see how people might get confused. But if football were a faith anywhere, it would be here on the Black Warrior River in Tuscaloosa, Ala. And now has come a great revival.
The stadium strained with expectation. The people who could not find a seat stood on the ramps or squatted in the aisles, as if it were Auburn down there, or Tennessee, and when the crowd roared, the sound really did roll like thunder across the sky. A few blocks away 73-year-old Ken Fowler climbed to his second-story terrace so he could hear it better and stood in the sunlight as that lovely roar fell all around him. He believes in the goodness and rightness of the Crimson Tide the way people who handle snakes believe in the power of God, but in his long lifetime of unconditional love, of Rose Bowl trains, Bobby Marlow up the middle and the Goal Line Stand, he never heard anything like this. His Alabama was playing before the largest football crowd in state history, and playing only itself. "We had 92,000," he said, "for a scrimmage."
It felt good. It felt like it used to feel.
They came from Sand Mountain, the wire grass, the Black Belt, the Gulf Coast and just wide places in the road. They came in motor homes, private jets, $30,000 pickup trucks, $400 cars and dime-store flip-flops to see Nick Saban walk the sideline of Bryant-Denny Stadium in April.
They have welcomed him as Caesar, as pharaoh, and paid him enough money to burn a wet dog. Now he will take them forward by taking them back to the glory of their past—the 21 Southeastern Conference championships, the 12 national championships, the Team of the 20th Century (as The Wall Street Journal called the Crimson Tide in 2000).
Saban has not promised them so much—"I don't believe in predictions," he says—but they believe. It may take two years, three, more, to be in the discussion again when people talk about the best teams in college football. But they know he will take them home.
"I've been on this roller coaster for a long time," says Fowler, a self-made businessman who could live a lot of places but settled on a house so close to the campus that he can all but see his reflection in the go-go boots of the Crimsonettes as they strut down University Boulevard before the homecoming game. "In the '50s, under coach J.B. (Ears) Whitworth, we went 14 games without a win, and I watched grown men cry. People said then there would never be another coach here as good as Wallace Wade [who won national championships in 1925, '26 and '30] or Frank Thomas [1934, '41]. They said it was over.
"Then in '58 we hired a coach who could do the things we needed to put us in a position to win SEC championships again and national championships again. People used to stare at him as he stood on the sideline, too, like he was about to turn a stick into a snake."
His name was Paul Bryant, and he was popular here. They named an animal after him. How people loved that man. But it is time, past time, to love again.
"There is never anything wrong with remembering the past, but you can't live in it," says Mal Moore, the Alabama athletic director who was all but dragged through saw briars when it appeared that Saban and other marquee names—most notably West Virginia coach Rich Rodriguez—were passing Alabama by. Then on Jan. 3 he brought Saban home with him on the school jet from Miami, where Saban had been coaching the Dolphins. People who had been calling for Moore's resignation praised his leadership.
There is no nice way to say it: The Alabama faithful are done with waiting, with mediocrity and with disappointment. They are sick of Auburn, which has beaten them five years in a row; bone weary of NCAA investigations and probations reaching back to 1993; and finished with coaches who cannot gut out the expectations here, or who might have done well, someday, with more time or a railroad car full of luck.
"We wanted a man who had won a championship, and Nick Saban is that and more," says Moore. "Saban brings a sense of command, a sense of toughness and discipline."
Saban is no rainmaker, no snake oil salesman. The way to his mountaintop is hard and paved with woe. "We can be part of something, build something all these people can be proud of and excited about again," says the 55-year-old coach, who can look intense even when he is not mad and probably looks that way holding a kitten. "I got on our guys in a team meeting. I said, 'I'm tired of hearing all this talk about a national championship when you guys don't know how to get in out of the rain, don't know what to do in the classroom.' It's like you've got little kids in the backseat, saying, 'Are we there yet?'
"The journey itself is important, not just the destination. You have to follow direction. Discipline, off-season recruiting, conditioning, practice, more recruiting, player development, classroom development. I'm not interested in what should be, could be, was. I'm interested in what is, what we control. And when we lose—and we will, one game, two, or more—we have to have a trust that what we are doing will work, trust and belief in who we are. And you get where you're going, one mile marker at a time."
People here believe Saban is tough and smart and do not care that he can seem impatient, if not angry, when dealing with the media or hangers-on or just about anybody else, as if he has more important things to do. Like coaching football. In a state where some old men still test their truck's electrical system by grabbing hold of a hot coil wire, football coaches are not supposed to be in touch with their inner child. Saban won a national championship at LSU in 2003, out of a conference where every game can feel like a knife fight in a ditch. No one cares how he did in charm school.
One LSU fan told Alabama fan Sammy Maze that Saban could be, well, a little difficult. "You know he's a son of a bitch?" the LSU fan said.
"Well," Maze said, "he's our son of a bitch now."
Never assume that Alabamans give a damn what others think. "People can write and say that this exemplifies a fanaticism that needs to be curbed," says Fowler, who would have gone to the Tide's intrasquad scrimmage himself if it had not been broadcast live on television. "All Alabama proved, with 92,000 people at a practice, is that nobody loves football better. I don't see how that somehow makes us subhuman. I mean, in some countries they kill soccer players, don't they?"
Saban has yet to coach a down for the Crimson Tide, but people are already naming their children for him. Tim and Hannah Witt of Hartselle, Ala., named their baby boy, born March 20, Saban Hardin Witt. They already had a son named Tyde. "At first I thought my husband was crazy," says Hannah, "but it grew on me."
In these parts you do not name a child for a coach you expect to go 8–5. The Witts had talked at first about naming their second son Bear.
Hank Williams once said he could throw his cowboy hat onto the stage of the Grand Ole Opry after he finished Lovesick Blues and it would get at least one curtain call. It has been that way for decades in Tuscaloosa, except the hat is houndstooth.
Will Nevin, a first-year law student, places an offering the night before every game at the feet of Bryant's statue in front of the football stadium. He and his friends leave a bag of Golden Flake potato chips and an old-fashioned glass bottle of Coca-Cola, the sponsors of Bryant's old TV show. Nevin, 21, never saw the show, never saw Bryant on the sideline. But the image of the Bear is alive in his mind's eye. He just knows how it must have been, like hearing someone tell you how sweet an old Mustang used to run, before it was put up on blocks in the barn and covered with a tarp. The most you can do is run your hand over the paint and imagine.
It seems like a dream now: From 1958 through 1982 there were six national championships, 13 SEC titles, a 232-46-9 overall record, a 19–6 mark against Auburn and a stable of immortals that included Billy Neighbors, Lee Roy Jordan, Joe Namath, Kenny Stabler, John Hannah, Ozzie Newsome, many others. But the Bryant magic was about more than numbers, more than X's and O's and big ol' boys who would have blocked a pulpwood truck if he'd asked them to. It was about how he could draw every eye in the stadium to him as he leaned against that goalpost during warmups, a growling, mumbling golem glued together out of legend, gristle and a little bit of mean. It was almost cheating, having him on the sideline, like filling your trunk full of cement blocks before a demolition derby.
After a quarter century of dominance Bryant retired after the 1982 season with a 21–15 win over Illinois at the Liberty Bowl in Memphis, in the freezing cold. Less than a month later he was dead, as if his life was hard-wired to the game. One paper sent reporters to interview the grave digger, and on Bryant's burial day people stood on the overpasses and the roadside, hands over their hearts, to watch a hearse take away one of the best parts of their history.
At any flea market in Dixie, you can still find Bryant commemorative plates. At every roadside bar, church basement rec room or courthouse café, you can hear this joke:
Guy gets into heaven. Sees an old man in a houndstooth hat walking on water.
"Hey," he asks Saint Peter, "is that Bear Bryant?"
"Naw," Pete says, "that's God. He just thinks he's Bear Bryant."
Nevin will always love the idea of Bear and always honor his legend, but it is clear that praying to a memory, however fine, has not worked amid so many missing elements. "We want something to celebrate," says Nevin. "By God, it's our right."
In one of the most storied, demanding and impatient programs in college football, the comparison with Bryant has smothered the coaches who've come after him. With the exception of his protégé, Gene Stallings, who delivered a national championship in '92, schooling trash-talking Miami 34–13 in the Sugar Bowl, men have perished in the shadow of Bear. It is his taped voice, God-like, that still booms across Bryant-Denny Stadium at the start of every home game: "I ain't never been nothin' but a winner."
But Saban totes his own national championship prestige into Tuscaloosa—the first Bryant successor to do so—and a résumé that Alabama was willing to spend a reported $32 million over eight years to procure. "I don't think Saban's afraid of the past," says Kirk McNair, founder and editor of 'Bama magazine, who has covered Crimson Tide football across five decades. "I don't think he cares."
Saban is 91-42-1 as a college coach, in stops at Toledo, Michigan State and LSU—all rebuilding jobs. LSU had had only three winning seasons in 11 years when he took over in November 1999. Four years later he coached the Tigers to the pinnacle of college football. His 48 wins from 2000 through '04 ranked third among major college coaches over that span. The Tigers were SEC champs in '01 and again in '03, when they went on to beat Oklahoma 21–14 to win the BCS national title. Saban builds his teams methodically, on a backbone of conditioning, rigid discipline and a swarming, ball-stealing defense.
He leads like a tough-minded CEO. Listening to him, you get the feeling you would not want him to decide your fate if your job production was down and your equipment obsolete. The lore of football, the poetry of it, does not complicate his language. But he knows that before the kickoff of Alabama's season opener with Western Carolina on Sept. 1, thousands of Crimson Tide fans, especially the ones who remember, will look to the goalpost and miss the coach who led them so grandly for so long. It should be that way.
"[Bryant] accomplished as much as anybody ever has," says Saban. "He is someone you respect, admire and appreciate. He established the standard of excellence, him and the players who gave their blood, sweat and tears.
"That, in itself, has no effect on the future," says Saban, who knows that no ghost, or alumnus, has ever thrown a halfback for a loss. "We have to do the work now."
Saban will not go into great detail about his team, any more than he will discuss his opponents. There is no profit in it. But it is clear that 2007 is a true rebuilding year, with a typically tough SEC schedule. Alabama goes against Vanderbilt, Arkansas, Georgia and Ole Miss in the first half of its SEC schedule, then Tennessee, LSU, Mississippi State and Auburn. A Sept. 29 game against Florida State in Jacksonville is not exactly a nonconference breather.
It may be a team unfamiliar to fans used to seeing the Tide carried by a talented defense. Alabama lost too many big, fast, scary people. "If you can't stop the run in the SEC, you're in trouble," says Mitch Dobbs, the assistant editor of 'Bama magazine, and a lot of the middle is just gone.
But instead of an offense that was too often effective only between the 20s, Alabama may show off a little with junior quarterback John Parker Wilson and a corps of game-breaking receivers. The offensive line, which bore criticism—well, let's face it, scorn—is expected to be less porous. And a redshirt freshman named Terry Grant, a former Mr. Football from Mississippi, runs like something bad is after him.
Concerns that Alabama's defense would be leaner this year materialized in summer practices, but the offense moved the ball smoothly in scrimmages on days when the temperature reached 106° and 107°. No matter how hot it got, however, Alabama players did not complain. Saban and his coaches would not allow their players to even use the word hot or heat in conversation.
Alabama's athletes could have made Saban's summer a little cooler if they had behaved better off the field. Simeon Castille, an all-SEC cornerback, was arrested early last Sunday in an entertainment district near campus and charged with disorderly conduct. The police were not talking about precisely what Castille had done, and Saban indicated that he will handle the matter internally. Three other players—defensive linemen Brandon Deaderick and Brandon Fanney and running back Roy Upchurch, all reserves—were charged after a disturbance in July.
Saban might not coach the Tide to improbable wins, say Alabama fans. But he will not lose the handle on the games that are winnable and leave Alabama at the ugly end of a soul-killing upset. That is what they want from him, at least right now. In any event, it is unlikely any booster will look into Saban's drill-bit eyes and tell him, "That ain't the way Bear did it."
From the moment Saban was hired, there has been an electricity, a high-stakes poker feel to his every move. In Miami and on the national talk-show circuit he was bad mouthed and lambasted for adamantly denying, as the Dolphins' season wound to its 6–10 conclusion, that he would be the Alabama coach, then turning around and taking the job. He was called a liar, a snake and other pleasantries. Of the firestorm he says, "We gave up a little bit to be here."
Then on April 21 Saban walked onto the field for the intrasquad game to that thunder, the pure and positive manifestation of the expectations at Alabama. "There is something special about this place," he says. It is the only time in almost an hour and a half of discussion about football that Saban does not talk about work ethic, goals, discipline. "It was ... emotional."
Saban is not surprised that Alabamans agree with his ideas on what it takes to win. He grew up in coal mining country in West Virginia, pumped gas and broke down tires at a filling station his father owned. "The worst I could ever do is go back to West Virginia and pump gas again," he says. "Life's been pretty good to me."
He understands that in Alabama people believe you have to work for what you get. "The best thing about winning the championship at LSU was that it gave people hope, something to be proud of," he says. "I don't wear the ring. It wasn't a personal accomplishment. But I think the people of Alabama understand what it takes to be successful, understand persistence, overcoming adversity, mental and physical toughness."
Saban does not see himself as mean, brusque or distant: "I think most people who get to know me don't have that feeling." His wife, Terry, told him there might be a slight gap between how he sees himself and how others see him. That, she told him, "is your blind spot. And it's as wide as the Grand Canyon."
"And she wasn't even mad at me," Saban says.
There is no gap between what he wants and what Alabama wants. While "the name of the stadium's not going to change," says McNair, smiling, he believes that Saban, one Saturday at a time, will realign the program with its rich past. "It's been a long, long time since I had this good a feeling."
To find the source of Alabama's hunger, you have to go back further than the Bear. You have to go by train.
*****
It was always a tough room.
Alabama's first coach, E.B. Beaumont, went 2–2 in 1892. "We therefore got rid of him," says the 1894 school yearbook.
It was hard-nosed Wallace Wade who took Alabama to its first recognized national championship, in 1925, when his undefeated team beat Washington 20–19 in the Rose Bowl, the first time a Southern team had ever played in the game. Alabama won more national titles—and Rose Bowls—under Wade in '26 and '30. His successor, Frank Thomas, who had learned his football as a quarterback for Knute Rockne at Notre Dame, took Alabama to Pasadena three more times, won a widely recognized national title in '34—with Paul Bryant playing end—and a still-debated title in '41. Some fans say Thomas's best team was the undefeated Rose Bowl-winning squad in '45.
They were college boys in suits, but on the trips home from California, across Texas and the lower South, people stood beside the railroad tracks, waving and cheering. It was Faulkner's South, Huey P. Long's and the Klan's. Night riders in sheets still enforced their doomed ideals, and mill workers spun cotton all week for pocket change. Writers from the North and the West would question if it was wise to open the nation's premier bowl game quite so often to the unsophisticated South.
"Columbia or Pennsylvania would make a much better game with the Pacific Coast Conference representative for the 1946 Rose Bowl than would Alabama and, in addition, such a game would have that intangible thing called 'class,' something it can never have with a southern club being one of the participants," wrote Dick Hyland in the Los Angeles Times. "Me, I'm kinda tired of hillbillies and swamp students in the Rose Bowl."
But from beside the tracks, people waved and waved. Reconstruction had faded into the Depression, and not much had changed. "It became our culture," says Doug Jones, the former U.S. attorney who successfully prosecuted two Klansmen for the infamous 1963 bombing of the 16th Street Baptist Church in Birmingham. "We were a poor state, with a great darkness in our history, but we took a team by train across the nation and played the best and beat the best."
From 1947 through '54 Harold (Red) Drew kept winning at Alabama, but it is a testament to the expectations here that a coach who went 45-28-7 with berths in the Sugar, Orange and Cotton bowls would be considered subpar. Over the next three years, under J.B. Whitworth, it got much worse. He was a nice man, people said, but he was 4-24-2. They needed something else.
Bryant always said his impetus for winning was the fear that he'd have to go home to a plow in Fordyce, Ark. In December '57, after having coached at Maryland, Kentucky and Texas A&M, he came to Alabama. "One year [my family and I] were in Miami, and Auburn happened to be playing the Hurricanes," says Fowler. "I walked out on the beach, and there were all these Auburn people. It was terrible. I looked up as one of these little planes went by pulling a banner, EAT AT JOE'S STONE CRABS, or something, and I got to thinking. The next day the Auburn people were still there, and a plane flies over, and it says ATTENTION AUBURN, THE BEAR LIVES. I don't remember what it cost, but it was pittance for what I got for it."
There was a swagger then. "I had an Auburn friend, Spiro Gregory (Speedy) Mastoras," Fowler says. "He would tell me, after another Auburn loss [to Alabama], 'Wait till year after next.' He knew that next year was out of reach."
What a shame it couldn't last forever.
Except for Stallings, no coach after Bryant lasted more than four years. Bear's successor was Ray Perkins, a wideout on the 1964 and '65 national championship teams, who went 32-15-1 and forever angered fans when he pulled down the tower from which Bryant would watch practice. It went back up after Perkins left. Bill Curry went 26–10 and was never beloved. (An 0–3 record against Auburn didn't help.) Stallings won his title and 70 games, but the record book reads 62–25 after the NCAA stripped eight wins and a tie from the '93 season, when a player was found to have had improper dealings with an agent.
Then came everything but locusts. Mike Dubose, mired in a harassment scandal that the university would settle, went 24–23 as the NCAA investigated booster Logan Young's involvement in the recruitment of a Memphis tackle named Albert Means. Dubose resigned under pressure after he lost homecoming to Central Florida.
Dennis Franchione fled after two years (17–8) as NCAA sanctions became a crippling reality. He left for Texas A&M, and one Alabama fan, Morgan Plott, felt so betrayed that he went to Norman, Okla., to see A&M get whipped 77–0 by the Sooners in 2003. "I wanted to see Coach Fran get beat," says Plott, "but I didn't know it would be that good." Alabama brought in Mike Price, who forgot he was in the Bible Belt and was let go after a visit to a topless bar, having never coached a game for the Tide. Then, in a hurry, Mike Shula was hired.
People liked Shula, who had won a lot of games as a Tide quarterback in the '80s. But, again, this is no business for a nice young man. Hamstrung by probation that was an earlier regime's doing, Shula went 26–23 in four years. He was fired last November, after his fourth straight loss to Auburn. As it became clear that the program was losing ground, fans grew weary of players who talked big and did not do much, talked about realizing their potential and showcasing their talents, and then got beat on the line of scrimmage by Mississippi State.
The expectations are cemented into the architecture. Four bronze giants watch over the promenade in front of Bryant-Denny Stadium. Here stand Wade, Thomas, Stallings and, of course, Bryant. But because this is Alabama, there is space left for a fifth pedestal. "How could it not be?" says Moore.
Fans expect Saban to take that place. "The brick masons are probably already getting started," says Jim Fuller, who won two national titles as an offensive lineman for Bryant and another as an assistant under Stallings. He has never seen the Alabama legions hungrier or more unified. Why else would 92,000 attend a glorified practice?
"Just so long as he knows that 91,000 of them will be kicking his ass" if things go wrong, Fuller says.
Does he really believe there are 1,000 benevolent Alabama fans? "Naw, I was being gracious."
They say college football is a matter of life and death down here, but it's not. Winning only makes life sweeter, and, once in a blue moon, losing can, too. Last winter Will Nevin and his father, Randy, who was dying of cancer, took a road trip to Shreveport, La., to see Alabama play Oklahoma State in the Independence Bowl. "He got cold, and he coughed some, and we lost," Nevin says. "It didn't matter. It was one of the best times we ever had." Randy Nevin died on March 28. At his funeral it was noted that he loved deer hunting, his family, Moundville Nazarene Church and one football team.
A Pulitzer Prizewinner and a best-selling author, Rick Bragg is a professor of writing at the University of Alabama.