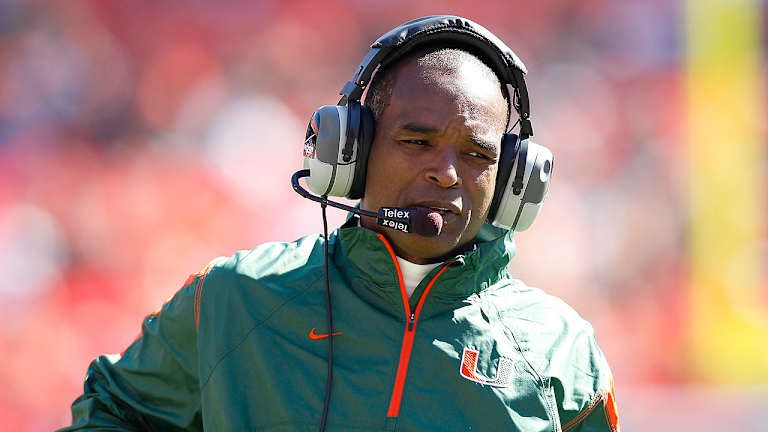 Hiding in Plain Sight
Miami's exhaustive search for a football coach ended with a man who'd been there all along: assistant Randy Shannon, a loner with a mysterious, tragic past
The athletic director gazed across the coffee table. In his hand were the keys to college football's most dominant and most vilified program of the past quarter century. In his suite sat a head-coaching candidate unlike any he'd ever seen.
The man had never packed his bags to climb the coaching ladder. He'd never attended a coaching clinic or read a coaching book. He had no mottos to sell. He had no sell in him at all.
He was something else that few big-time college football coaches—and none at Florida's three empires—had ever been. He was black.
No one knew much about the man's earlier life. That's how he'd kept it. But the AD was a lawyer, and he knew how to craft the question that had to be asked to cover him and his university. He called it the Eagleton Question, the one that George McGovern hadn't posed to Tom Eagleton before naming him as his running mate on the 1972 Democratic presidential ticket, only to learn later that Eagleton had been hospitalized for psychiatric treatment and undergone electroshock therapy.
"Is there anything about your past, Randy," the AD asked, "that we should know?"
The past was the problem. It wasn't the problem of Miami athletic director Paul Dee alone, of course. It was the sport's problem. It was the culture's problem. Even the strongest and fastest athletes in the country, being taught on the most privileged campuses by the finest coaches, couldn't seem to shed it. Just when they seemed free of the troubled homes and streets they'd come from, their pasts would catch them from behind, drag them, their teams and universities to their knees. Guns, drugs, robberies, assaults. All the old and easy answers had vanished. Paul Dee was staring at a new one.
For a century football coaches had taken kids through the tunnel from boyhood to manhood. The Pop Warners and Knute Rocknes in the game's first generation, the Bear Bryants and Woody Hayeses of the second wave. White men who as boys had chopped wood and pushed plows to help their families survive, who'd endured wars and economic calamity, who could drop a bucket into the well of personal experience and drench a boy in the ethic of git-yer-ass-back-north-o'-yer-heels when he'd been laid flat by linebacker or life.
The third wave of coaches was mostly middle-class, the sons of Depression fathers. Glibber men with better haircuts, no longer pouring out personal truths but borrowing them from the Bears and the Woodys, constructing the persona of Coach rather than having it seared into them.
A strange thing began to occur at football's highest levels. The slicker the game and its coaches became, the rougher became many of the boys who played it best, the products of pasts that the coaches couldn't possibly know. A sharp crack! was heard across the land, as if something were snapping.
Or was that gunfire?
The bullet entered the back of Bryan Pata's skull and ripped through his brain. Such a big, lovable kid the Miami senior defensive end was, the kind who would drape his arm around a coach who was having a bad day or gallop into the offensive huddle at a critical moment to exhort his teammates. But something had begun haunting him last year, sending his eyes over his shoulder and up to his rearview mirror, and he'd ended up murdered in midseason outside his apartment by an assailant still unknown.
Pata's death came less than four months after one of his teammates, defensive back Willie Cooper, was shot in the buttocks outside his apartment, provoking yet another teammate, safety Brandon Meriweather, to pull a handgun from his pants and return fire at the attacker.
The Hurricanes had closed out 2005 in a postgame melee with LSU players in the stadium tunnel at the Peach Bowl, then stormed the field at Louisville last September and stomped on the Cardinals' logo, then engaged in a helmet-swinging brawl with Florida International players a few weeks later. And still, after all that tragedy and chaos, would Miami have fired Larry Coker had the Hurricanes finished 12–1 instead of 7–6? Or argued, truthfully, that they'd been victims of mayhem last year nearly as often as they'd been its perpetrators, that they'd wrought far less of it than many rivals in recent years, that their eight players on the ACC All-Academic team last season were the most of any team in the conference?
But who would listen? From the day the Hurricanes arrived in camouflage gear at the 1987 Fiesta Bowl, they were tagged Thug U. Their two most famous alumni, Michael Irvin and Ray Lewis, had both been in deep trouble with the law, the former arrested three times on drug-related charges, the latter plea-bargaining out of a murder charge after a night of partying with friends at the Super Bowl led to a double killing. Miami, perhaps more than any other elite program, harvested kids from poverty-racked neighborhoods not far from its campus, just too short a trip for many to leave behind their baggage.
The stakes had grown steep, tens of millions of dollars ... and so much that's dearer than money. Everyone needed to solve the problem. But the Hurricanes needed to solve it now.
They'd tried white coaches blazing fire, ones dripping charisma, ones spewing slogans and even, most recently, the graying, grandfatherly sort. That was Coach Coker, who'd won a national title in his first season, 2001, and been pickpocketed of another by a ref's delayed call in overtime of the championship game against Ohio State the following year, but in the end was perhaps too nice a man to yank enough leash on his players.
The first name on Dee's list, after Coker was fired last November, was Greg Schiano, a former Hurricanes defensive coordinator who had transformed lowly Rutgers into a top 15 team. The sexy name was Steve Spurrier. Neither was interested. Then Dee blinked and saw the man hiding right in front of his eyes.
Randy Shannon had played for the Hurricanes from 1984 to '88, and been one of their assistant coaches for another 13 years, the last six as coordinator of a hornet's-nest defense that was perennially among the country's top 10. He'd strayed but briefly, and barely, to be a defensive assistant for the Miami Dolphins from 1998 to 2000, then returned the next season to win the Frank Broyles Award as the finest assistant in college football, and to contribute to his third of Miami's five national titles. Yet no one knew him. What if he, too, was carrying baggage that would blow up in the school's face?
His secretary would be certain that he was working in his office—why, she'd just seen him in there—but, poof, he'd be gone, having slipped past her like a cat. His players and colleagues noticed how swiftly he would shift the subject if his past or his family came up. His high school coach was sure Randy was an only child and was shocked to find out, not long before Randy turned 41 last February, that he had four siblings. His best friends had never been to his current apartment in the decade he'd lived there. In all those years of staff photos in the Hurricanes' media guide, of head coaches and assistants posed next to their beaming wives and children, there stood Randy, always alone. "A monk," former Miami defensive end Javon Nanton had once called him. "A Hurricane monk."
It maddened many of his defensive players. He knew everything about them, and they nothing of him; such privacy among them was rare. They were a different kind of clan, the Hurricanes, forged by triumph and sorrow more dramatic than their foes', a brotherhood whose graduated warriors returned en masse to train with them and mentor them. Where do you live? Where do you hang out? Who do you date? his players would pester him. It was too much, finally, for defensive backs Antrel Rolle and Marcus Maxey. A few years ago they slipped out of the locker room after practice and into a car, lay in wait for their defensive coordinator and then followed him when he pulled out of the parking lot. Randy spied them at once, toyed with them for a few minutes, then yanked his wheel in a last-second turn and ditched them.
And yet, over all those years, it wasn't to the charismatic or sloganeering coaches, the gung-ho or the grandfatherly, that Miami's African-American players turned. It was to the office of the sternest coach that they flocked, to the lair of the mystery man. The coach who'd materialize in the lecture hall where they were whispering and giggling in the back, confiscate their cellphones and march them to the front, spreading them a seat or two apart and sitting behind them the rest of the class, watching every move, notifying them afterward they they'd pay a terrible price if they didn't stay in those same seats, with that same focus, the rest of the semester. The coach who'd instruct players on the scout team to punch and late-hit his starters, to prepare them for opponents who might do the same. The coach who wouldn't just threaten to sit a fourth-year all-conference player for a sloppy practice and start the raw sub in his place, like all coaches did. The one who'd do it, with a shrug.
It would take nearly a year for freshmen to overcome their fear of his intimidating silence and angry explosions—his hurling those 15 play cards across a meeting room, busting the blackboard, or chasing and screaming the defensive captain right off the practice field. Nearly a year to get past their confusion at being called chivos, Spanish for "goats," if they made mistakes, or JAGs, for Just A Guy, if they were merely occupying the field, not dominating it. One day the freshmen would chip in a few bucks and join the 35 or 40 other players who'd eat pancakes and eggs and catfish that he'd pick up at 5 a.m. at Jackson Soul Food to fill their bellies before their 6:30 meetings, and they'd begin to see another side of him. Then they'd risk entering Randy's office with an upperclassman and find their teammates, seven or eight at a time—often the players who'd come from the harshest circumstances—lounging about as if it were their rec room. Some rifling through his desk drawers, closet and refrigerator for snack bars, muffins or peanut butter and jelly that they'd pitched in for him to buy. Some dozing in a chair. Some watching TV or game film, or talking life with him.
Somehow he'd sense what was troubling them, sometimes before even they could. They took things to him that they wouldn't drag into white coaches' offices, not in a million years, nor even the offices of those black assistants who'd been raised by schoolteachers and ministers. Because those guys wouldn't get it, man, couldn't possibly know what it was like for Nanton to have grown up with a mother on crack and a dad missing from his life, or for safety Kenny Phillips to have three buddies who were shot and killed in separate incidents, all within a few weeks. They'd tiptoe around the raw stuff, those assistants, trying to say the correct thing, or spoon out something straight from the coaches' can. Not Randy. Players could take the worst to him, and the worst from him. They could talk to him in shorthand. They wanted what they could smell all over him: survival.
He was the one all of them turned to every time another Hurricane died—and, God, they just kept dying. Randy would be the athletic department's liaison with the devastated family, the community and former Hurricanes, the one behind the scenes who gathered and calmed all those who were crazy with grief when Pata was gunned down last fall. When safety Al Blades, one day past his 26th birthday, plunged into a Miami canal in his car in 2003. When linebacker Chris Campbell, just two months before the '02 NFL draft, died in a car crash with a blood-alcohol level exceeding the legal limit. When cancer took Randy's old college roommate, defensive tackle Derwin Jones, in 1999. When linebacker Marlin Barnes was bludgeoned to death in '96 by the jealous ex-boyfriend of a woman he was friends with and guard Robert Woodus went down in a plane crash the same year. When two of Randy's former teammates, Jerome Brown and Shane Curry, died in '92, one in a car accident and the other from gunfire outside a nightclub.
Randy's eyes would grow wide when he received such heartbreaking news, the team's security chief, Coral Gables police major Ed Hudak, noticed. Then, in a flash, they'd narrow to a squint, and he'd become so ... so businesslike, so calculating, as if he'd rehearsed for this all his life. So discreet, materializing like a funeral director when he was needed to utter just a few well-chosen words, then dissolving into the background. So skillful at nudging players from the ledge of despair to the next assignment, the next opponent. So cool in the wake of Pata's murder that finally linebacker Jon Beason went to him, burning. "Half the team doesn't even seem like it bothers them!" he cried, both of them knowing that he meant Randy as well.
"Jon, you can't judge people by how they react to death," he replied. "Everyone deals with it differently. You'll never see me crying, but I hurt inside. I recruited Bryan. He was always in my office. I loved him. But if we dwell on it, this season will go down the drain. You've got too much to finish here, too many people depending on you."
Beason swallowed hard ... and agreed. A few weeks later Coker was fired and word spread through the team: Coach Shannon was a candidate for the job, right up there with those hotshot names. They'd watch him rise from his desk at 9 p.m., almost always the last coach to leave, reminding them to cut the lights and the TV in his office when they were done, then heading off God knows where. They'd wonder aloud about the coaching rumors and come to the same conclusion: They didn't want some stranger to walk in and take charge of the brotherhood. They wanted the stranger who'd just walked out that door.
Who needed to know that drugs and sex and despair had annihilated his family? Nobody. Not his players. Not his fishing buddies. Not even that well-meaning athletic director, fishing too, casting that big net with the Eagleton Question.
Nobody on the Dolphins staff had needed to know, one day seven years ago, that Randy even had an older brother named Ronald, let alone that Ronald had AIDS, let alone that his funeral would commence in an hour. Randy just slipped away from his office, slipped into the back of the church, stood by the door with his arms folded, slipped the money into the proper hands for the burial—but never went near it—then slipped back to work.
Nobody needed to know what it was like in grade school to see both your big brothers, twins Ronald and Donald, out on the street fried on cocaine, thrown out of your house by your mother. What it was like to see the needle tracks climb their arms, to tell them to stop and be told, "You ain't none of my daddy, squirt." To watch Ronald stop peeing when AIDS shut down his kidneys, then start gasping when it choked his lungs, then leave the world when it went after his heart.
Nobody needed to know what it was like to wear a mask to visit your brothers, to watch them both become infants, their skin going all wrinkled and gray, their bottoms in Pampers. Nobody needed to know that AIDS had done away with Donald a decade earlier. Pity—that's all it would bring. Damn near as deadly a disease.
Nobody needed to know about JoJo, the sister who'd raised Randy while his mom worked two shifts. The sister who doted on him, taught him hopscotch, took him to the park, the movies, the beach ... then moved into Pork 'n' Beans, the projects near the ones Randy grew up in, and started overdosing on 8-balls—heroin laced with cocaine. Nobody needed to know how her hair turned so spooky red and soft and her body wasted away when AIDS spat at the 21 pills she was taking a day and swept her away too. Ten days before the April 1989 day that should've been the shiniest of his life, when the Dallas Cowboys drafted him.
He'd learned as a boy to hit the floor each time there was a bang! and his mother cut the lights in Miami's Liberty City projects. He'd learned as he grew older to sit with his back to restaurant walls, eyes on the door, to check his watch and suddenly remember somewhere he needed to be when someone unknown and unsettling showed up. He could take no misstep in a world where a lover's fluids carried death and a cocktail with friends could get your head blown off.
So nobody needed to know what happened, a few months before Randy's third birthday, to the dad he was glued to almost every minute the man wasn't working. A.J. Shannon was just stopping at Frontier Bar for a drink after knocking off at a construction site back in '68 when a fight broke out between two of his buddies. Just trying to break it up when he got hit and got hot too, tumbling outside the bar in a brawl that ended with him being shot dead.
He hung around for a half-dozen years more, haunting the project his family lived in. Bed covers would mysteriously be turned back, a book would topple off a shelf or the kitchen would suddenly reek of A.J.'s eau de cologne. "Your daddy's just been here," Randy's mother, Dorleatha, would tell her youngest son.
Randy began backpedaling from death, depersonalizing it. The first one, he'd wanted to take in all of it, pestering his mom to let him see if Daddy had his shoes on, to let him see all of him, not just the upper part exposed by the half-opened coffin. At the next funeral, his sister's, he sat in the front of the church beside his mother—his Adam's apple bobbing like crazy, his eyes never turning toward the pink casket—then stayed in his car at the cemetery, sobbing and waving away relatives who tried to console him and escort him to the burial site. That was it for him. Tears? How could a man cry at funerals when his mother didn't? Coffins? He wouldn't go near them. At his brothers' funerals, then at his players', he became the ghost, wafting in and out of the back of the church, some mourners claiming to have seen him, others insisting they hadn't.
Nobody needed to see his face when the cameras swiveled to show the world the brains behind that howling Hurricanes defense. He secreted himself in the far corner of his press-box booth, stationing an assistant coach beside him to block the lens's view. He telephoned his 24-year-old daughter, Tyquitah, before her recent wedding and begged out of the spotlight moment when the father dances with the bride. He bought and studied hundreds of war movies—it was always the guy with the swollen head or loose lips, he realized, who brought destruction upon himself or the whole platoon. He stashed his three national championship rings in an old briefcase. He removed the Frank Broyles Award plaque from his office wall the day after his secretary, Aileen Lopez, hung it up. He sent a defensive assistant to the White House in his place when the 'Canes won it all in 2001. He deflected most reporters' questions to the head coach.
So what did the athletic director need to know about his past? That all four of his siblings were drug addicts? No. That he'd failed to heed his mother's warning about sex, the plea of a woman who would work four years in an AIDS ward as a nurse's aide and watch the disease take three of her children? No. Did the AD need to know the particulars of the four children he'd had by three women, the first one at age 17 and the second at 20? To hear Randy try to explain the unexplainable, that the same dizzying instant that could bring death was the only one that made a man forget death? To hear about his brief marriage in college and his current one, also to a woman he didn't live with, a marriage that many friends and colleagues didn't know existed? No.
What about all the charges filed against him over the past 20 years, for trespassing, burglary, driving with a suspended license, loitering, petty larceny, grand theft, drug possession and assaulting a police officer? Yeah. Maybe he'd better tell the AD about those.
He'd put sugar in the salt shaker of his high school and college teammates, hot sauce in their fruit juice, baby powder in their helmets. But no, he wouldn't go this far, would he? He wouldn't, for the sake of a guffaw and his renown as a prankster, invent a criminal past. His freshman teammates at Miami had learned not to fall asleep in team meetings. He'd shave their heads. How delicious, for a change, to be the ambusher instead of the ambushed.
Funny, you could never get him back. You'd wait for him in the showers with a bucket of cold water, but he'd anticipate the plot, peer around the corner and duck away. "Like an arsonist," recalls Miami Norland High teammate John Eaford. "Mr. Elusive. He'd be there, but he wouldn't be there. He'd come to my house, but I never went in his. He'd tell me to honk the horn and he'd come outside."
See, that would be the only way to reach air so thin from asphalt so cracked. Compartmentalize. Segregate past from present, like colors from whites in the laundry, just in case they bled. Divvy the personal and professional into separate boxes, lock 'em up, gulp the key. You don't live with loved ones. They're sorrow waiting to happen. You drop by to see your children and their mothers, watch some TV together, play some hoops, cards or Scrabble, take them out to eat. You call them from the office at the crack of dawn, before any of the coaches or secretaries arrive. You visit your diabetic mother on Saturdays, make sure she's taking her meds, pay some of her bills, after your team's on-field business is done.
You forbid your eldest son, Xavier, to play at Miami. That's blurring lines. You tell your guys to hit him in the mouth when you play against his team, Florida International, so they don't blur them either.
You teach your players the compartment trick. "You don't tell anyone what we do here," you order them. "Not your mother, your father, your sisters, your brothers, your girlfriends." Nor drag their addictions, their pregnancies, their unemployment, diseases or despair to the practice field or study hall.
But, Coach, they'd protest, it's so hard to focus when....
No, he'd insist, pitiless as pavement. Dead surer than any other football coach alive that this was life and death. Go see and support your family members, he'd tell them. Don't hoard your pain, as he had. "Only a few," he'd say, "can handle that pressure." Talk it out with him or someone else you trusted. But you can't think about your sick, dead or troubled loved ones when it's time to focus on books and ball because that's the only way you really can help them: Build a mind and a career and become your family's rock.
How? You will it to happen. That's what he'd learned when he'd hit puberty, when the sheer heft of his life project, the enormity of self-creation it would require, began to reveal itself. God, he'd nearly blown it, gorging himself with pancakes and grits and eggs and macaroni and cheese and wondrous coconut cakes that he painstakingly baked from scratch—anything to fill the hole inside him in that empty house after his two eldest brothers were banished, his sister moved out and his mom was working double shifts to afford the house they'd moved into, having fled the projects in Liberty City just before the riots that engulfed them in the '80s. That's when Randy—40 pounds over the Pop Warner weight limit, growing too large to squeeze through his one escape route—learned that you can't have your dream and eat your coconut cake too. That's when he discovered the muscularity of will.
He had one summer, three months, to lose those 40 pounds. He scissored holes for his head and arms in a black plastic trash bag, pulled it over his sweats and ran for miles each day beneath the merciless Miami sun. He slashed 38 pounds and still found himself, on the eve of games, a pound or two over, starving himself that night and the next day, then sweating in the trash bag in his coach's car with the windows up and the heater blasting to make the pregame weigh-in.
He willed himself to wake up every school morning at six, without an alarm, in that empty house. To wash and fold and iron his clothes on Saturdays, to polish his shoes and clean the house, to impose order on chaos. To study game film while his high school teammates were in study hall, to compile folders of notes on their opponents' tendencies, to offset his deficiencies in speed and size as a linebacker through anticipation, technique and cunning. To become so adept at seeing things before they happened, in order to avert the next calamity—one had to be coming—that he became the smartest player on every field, the one everyone turned to when things were spiraling out of control, the one telling teammates what was coming next and how to counter it, the one always on the headsets with coaches upstairs, the one whom Jimmy Johnson drafted in the 11th round—after Johnson made the jump from the Hurricanes to the Cowboys following Randy's senior season—in order to teach his bigger, faster pro linebackers how to play the position.
He spent his summer after college sleeping in front of a refrigerator. He moved into an apartment with an overweight Miami defensive tackle named Cortez Kennedy, cut off Kennedy's cake and nocturnal raids on the icebox the way he once had his own, drove him through three workouts a day and helped sculpt him into the No. 3 pick in the 1990 draft, the dawn of a dominating NFL career. That's when Randy began to discover that his survival tactics, his will, could be transferred to other boys groping toward manhood.
All those clinics and books that other young coaches scrambled for, Randy had no interest in them when the Cowboys released him a year later and his alma mater hired him as a grad assistant. He trusted only himself, and the radar that had taken him alone, among his mother's five children, through the combat zone.
When the flashbacks came, he'd start scribbling plays, spring from his seat and go jogging, sweat the damn things out, turn on a ball game or a movie—but, oh, be careful of movies! Out of the blue somebody's loved one could die, set that Adam's apple bobbing like a yo-yo. Anticipate! He'd up-tempo everything when tragedy befell the Hurricanes, change game film faster in defensive meetings, pepper players with questions and jokes so none of them would have lag time to think. He'd focus on the sound of his breath moving through his nostrils in bed at night so his crouched mind would uncoil and grant him five hours' sleep.
Who knew when the next 55-gallon drum might fall from the sky and land on him? At a football game! Just one lapse of his hypervigilant eyes as he walked off the field at West Virginia a decade ago, and a trash can full of bottles heaved by a peeved fan from the second tier smashed into his head, inflicting nerve damage to his neck that still requires an occasional injection of muscle relaxant.
Who knew at what hour, what instant, the compartments might collapse, the cross-contamination might ruin him? Like that evening after practice, a few days before a game in his junior year, when a cop pulled him over for speeding, took his driver's license back to the patrol car for an eternity, then returned and informed him that there was a bench warrant out for his arrest for drug trafficking, breaking and entering, and theft of machinery parts.
What? "I didn't do it!" Randy protested. "You've got to let me go. You don't know Coach Johnson. If I miss practice tomorrow, I'll get kicked off the team!"
A second police car arrived, the officer inside recognizing Randy as a Hurricane and permitting him to go if he promised to report to Miami Dade police to get to the bottom of this. Pee Wee! His other brother—his only surviving sibling, Clifford, four years older than Randy—he and his drug addiction were at the bottom of this.
Another nightmare had begun. The arrest charges and the trips to court kept coming. Look, Randy pleaded to the district attorney, it's my brother—he's stolen my identity. Couldn't they see the difference in their pictures? Randy was the one with the scar, the dent Pee Wee had put in his head swinging a curtain rod when they were kids. At last Randy received a blue document with all 10 of his fingerprints to verify his identity, one he must carry everywhere to this day and have renewed every three years ... and still the charges poured in. Seventeen in one bench warrant that arrived in the mail just as he was about to leave for his second and final training camp with the Cowboys, forcing him to arrive late, infuriating Johnson. And still, whenever Pee Wee got out of jail, Randy would take him shopping, deck him out in new clothes and shoes for a fresh start ... then retreat behind the firewall that had saved him, the one he'd teach his players to erect.
"I've got two choices," he says. "I can sit back and say everything's against me, I'm going in the tank. Or I can accept the hand that's been dealt me and move forward. I never think about why? or why me? I never second-guess it. I forget about what happened three seconds ago. People ask me what I did last night. I can't remember. They think I'm joking. Every second you think about the past is a second when you can't think about the future, about controlling what you can control. That gives other people an opportunity to control your life. You control your life. You have to control the world. You can never let it control you.
"Nobody ever knew about my life. I just didn't tell them. The less they know, the better off you are. I'm a loner, and I've been successful being a loner. People will interfere in your life if you let them. I confuse people. It's an advantage when people can't figure you out. A lot of people think I'm cold. I care. I just don't show it. I knew that if I got too involved with my siblings' problems, I could fall apart too. People have to live with the decisions they made. Sports saved my life. It was the only light.
"I don't get mad at myself. I don't beat myself up. I don't feel remorse or regret. Death is death. It's normal where I come from. Nothing fazes me anymore. I saw it all as a kid. But I don't use the past to motivate me. I just move on. I just think of something I've got to do. I just want to sleep good at night. I tell players, 'Don't tell me, I can't. I hate that. Don't tell me, I'm tired. Everyone's tired. Everything has to be done right. There are no little things. Little things add up to one big pile of crap. Do what you got to do to sleep right.'"
His message simplified a world that bewildered many of his players. His words were authentic, and players such as Clint Hurtt—who heard them as a Hurricanes defensive lineman and now as an assistant coach—sensed it. "It's just a different deal, growing up as an African-American male," Hurtt says. "The only one who can really teach you what you need to know is an African-American male, but you don't get a chance to hear life experiences from older black men. They get closed off and don't communicate. Randy doesn't go into many details about himself with his players, but he doesn't have to. He gets it across. The relationship is deeper, and the passion's different, playing for someone who's been through the same fire that we have."
Paul Dee watched Randy depart from the interview. Never had he heard the tunnel from boyhood to manhood charted so narrowly or efficiently. Rarely had he seen a candidate so well prepared. But, damn, could he fill a position of such prominence with a man from that past? A player might arise from such turmoil—he could bottle it and use it as fuel to explode on a field. But a big-time head coach, who had to be a corporate executive officer, a tactician and a recruiter, an alumni-massager, a marketer and media manipulator? Could Dee give the job to an assistant of the head coach he'd just axed, when such chaff usually got flung to the wind with the wheat and when some might ask, Where was Randy Shannon last season when those 13 Miami players—six of them defensive players—were swinging helmets and fists and kicking during the melee with Florida International?
Well, he was 100 feet above ground zero, in the defensive coaches' booth, and wasn't allowed to partake in the disciplinary decisions that ended up on the desk of university president Donna Shalala and resulted—to howls from all across the culture—in only one-game suspensions for virtually all the Hurricanes involved. "I wanted to come downstairs from the booth and start telling the guys involved, 'You're done, you're done, you're gone,'" Randy says. "But I couldn't."
Jimmy Johnson began pounding the drum behind the scenes, insisting that no coach in the country, not Schiano or Spurrier, was better suited to Miami than Shannon. Shalala, an underdog's best friend, and Dee agreed. But the trustees—the bankers and land developers and big donors for whom campus buildings were named—would they go for this?
Randy stepped before them, began to introduce himself ... and halted. A trustee's cellphone was ringing. "O.K., whose is it?" he demanded. "Give me your cellphones. That's one thing we won't have."
The room fell silent. Holy cow, the coaching candidate was dressing down Miami's movers and shakers as if they were 18-year-old bench warmers.
Then Randy realized where he was, smiled, and the trustees relaxed. But they loved what they'd just glimpsed. They yearned to root for good, disciplined kids on autumn Saturdays. One awed trustee approached Shalala after the meeting. "Is there any other job Randy would like to have?" he asked.
The Hurricanes knew, by the second Thursday of Randy's reign, that they were somewhere new and strange. Their breathing told them. It had stopped the first time their new head coach had entered the meeting room. Their heartbeats told them. They could hear them. How could that be? They'd seen this man on the practice field, in the locker room and the football offices nearly every day of their college lives. The first words out of the loner's mouth had been curious as well: "We're going to be a team. We're going to be a family." He'd begun changing their seats, interspersing offensive linemen with defensive backs, running backs with linebackers, dismantling the two-division army they'd become over the past two years—defense going one way, offense another—and promising the same upheaval in the locker room.
Then he'd distributed documents for them to sign, commitments to the new laws. No firearms, or you're banished from the team. No phone calls to the head coach after midnight, because anything that happens after 12, you asked for it. No classes missed, or you're benched. No running through the door at 6:31 a.m. for 6:30 meetings, because the door will be locked. No freshmen or sophomores living in apartments. No GPAs beneath 2.5 for juniors or seniors, or they'd have to move back into the dorms. No cellphones or hats in the football offices or meeting rooms, or they'd gather dust in his desk. No walking past anyone in the athletic center hallways—even secretaries and ticket-sellers—without greeting them and respecting them as if they were coaches. No one unaccountable for anything, even for the 300 locker-room towels, which would be counted each week.
The Hurricanes knew they were in a new and narrower place; they just hadn't understood that there was no wiggle room in it, none—until now. Now, as they stood in line to pass through a security checkpoint, coaches rifling through their backpacks because someone's cellphone had vibrated. Now, as Coach Shannon ordered 18 of them to report immediately to the practice field for failing to turn in the first-semester schoolbooks they'd received as part of their scholarships, along with a few other offenses that they'd considered just little things. Now, in the rain, in the clothes they were wearing—no changing into sweats.
Their teammates bolted to the weight room, whose windows overlooked the practice field, to watch. The new coach lifted his stopwatch. The defensive end likely to be a multimillionaire after being picked in the top five in next April's NFL draft looked down at his sweater and expensive sneakers. The walk-on kicker coming straight from his internship at a nearby business wondered how, in his dress shirt and slacks, he could finish the long series of sprints within the mandatory time. The 331-pound defensive tackle yanked off his pants and shoes.
The Hurricanes at the window looked at the new coach, the sky soaking his blue suit, yellow tie and black dress shoes. They turned to each other. "This guy's crazy!" they howled. "This guy's nuts!" They turned to their 18 teammates outside—in their Sunday best, in their boxers, in their bare feet—sprinting off through the mud and rain ... vanishing into the tunnel.
The athletic director relished that story. "A man of action!" he chortled. Paul Dee had opened a new door, made a choice that no other football power—not Ohio State or Southern Cal or Michigan or Texas or Florida or Florida State or LSU or Alabama or Auburn—had been willing to. He'd handed the keys to a black man who'd beaten the past out of himself, to see if the man could do it to a team.
"I consider him a friend, and I'd never known what he'd been through until he got the head-coaching job," says former Hurricanes center Don Bailey, now a radio analyst. "It made me cry. It made him super-human in my eyes. He's lived through every headline in The Miami Herald and come out on top.
"He'll win a national championship. It's a matter of when, not if. It'll be a different team. He'll have them hitting like they've never hit before. He's the quiet storm. He'll create an intensity, a desire, a fever. Because he'll make everyone ante up. But he'll win a million battles more important than a national championship along the way. He'll change lives. He'll save lives."
The new coach told his players, at that first meeting, that he still wants his office to be their living room, still wants to help them sort out their lives. But could a head coach at this level, with all the demands on his time, have players lounging in the control room? Could he create a tunnel that large and see everything outside of it that a CEO needed to see? If he changed lives and went 8–4, would that be enough?
On the other side of Randy Shannon's tunnel, the culture waited. The one that wanted to have its coconut cake and eat it too.