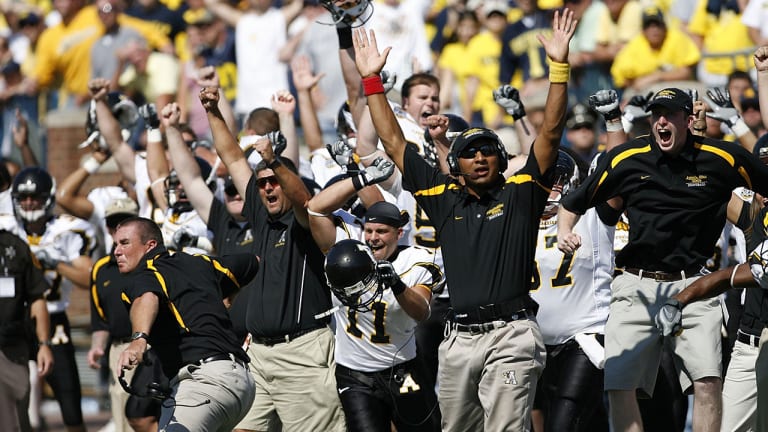 Silence in the Big House
Using its speed and spread-option attack to run circles around the bewildered defense of No. 5 Michigan, Division I-AA Appalachian State kicked off an otherwise uneventful opening week with one of the biggest upsets in the history of the game
Lying on his back, gazing up at a bluebird sky framed by the oval of Michigan Stadium, Corey Lynch wondered if any of this was really happening. It was Lynch who moments earlier had come slicing off the edge to block Michigan's potential game-winning, 37-yard field goal attempt. It was Lynch, a four-year starter at free safety for Appalachian State, who scooped the ball in one fluid motion and set sail for the far end zone. "I wanted to take it to the house in the Big House," he said a few hours later. Instead, he was run down by Wolverines kicker Jason Gingell. ¶ Maybe you're thinking that's the difference between Division I-A (which the NCAA has renamed the Bowl Subdivision) and Division I-AA (now the Championship Subdivision): A Division I-A safety doesn't get caught by a kicker. Wrong. Lynch was chased down because he'd played more snaps than anyone on the field last Saturday, and he'd been cramping since the third quarter. As he strained for the goal line, "I had knots in my calves," Lynch recalled, "and my legs started shivering."
Lynch's failure to score made no difference to the bottom line. By blocking that kick on the game's last play, the physics major from Cape Coral, Fla., sealed one of the most kinetic upsets in modern college football history: Appalachian State 34, No. 5 Michigan 32. Since the AP expanded its rankings to 25 teams in 1989, no I-AA team had ever beaten a ranked I-A squad—let alone a Top 5 team and the winningest program in the history of the game.
The outcome was all the more bracing because it went against the theme of college football's opening week, which, for most of the elite teams, serves as a truncated exhibition season. But on a day when Florida held off Western Kentucky 49–3, Penn State edged Florida International 59-0 and Oklahoma survived North Texas 79--10, one designated sacrificial lamb sprouted talons and fangs. Someone put wasabi in Michigan's cupcake. "Watching them on film, we thought, This is a great team, but not invincible," said Lynch. "We respected them a lot, but we knew we could play with them."
That assessment turned out to be slightly off the mark. The Mountaineers, who've won the Division I-AA title the past two years, didn't just prove they could play with the Wolverines. For long stretches they ran circles around them.
The kicker brought down Lynch, but his teammates kept him there, dog-piling on and pummeling him ecstatically. Then they rose, some to hoist coach Jerry Moore on their shoulders, some to pose for pictures on the Block M at midfield, some to high-five members of the Mountaineers band. Junior cornerback Jerome Touchstone joined a conga line with the cheerleaders. Lynch stayed on his back "for a couple of minutes," partly because he wanted to bask in the moment, and partly because his teammates had knocked the wind out of him. "I was looking around, at 109,000 people, all quiet," he said. "I couldn't believe what I was seeing."
It's a good question, a fair question, and here is the answer: Appalachian State is in Boone, N.C., tucked away in the Blue Ridge Mountains, a stone's throw from the Tennessee border. The Mountaineers are members of the overachieving Southern Conference, whose teams have beaten 24 I-A opponents since 1982. (Eight of those victories belong to Appalachian State.) App State, as it's known in conference, play in picturesque, inhospitable, 16,500-seat Kid Brewer Stadium, a.k.a. the Rock, where students tore down the goalposts last Saturday night, then deposited one of them on the front lawn of chancellor Kenneth Peacock. The school's fight song; Hi-Hi-yike-us/Nobody like us/We are the Mountaineers.
They made some new friends on Saturday. The Columbus Dispatch ran a poll on its website in which Ohio State fans were asked which gave them greater joy: the Buckeyes' 38-6 win over Youngstown State, or Michigan's loss? Schadenfreude won in a landslide. In East Lansing, after plowing for four touchdowns in Michigan State's 55--18 beatdown of Alabama-Birmingham, Spartans running back Jeehu Caulcrick said, "It felt like we won two games today."
In 2005 the Mountaineers were coming off of a 6--5 season and had missed the I-AA postseason for two straight years, but then Moore made a bold move. Long a believer in the I formation, the coach added a no-huddle, spread-option look to give the offense a change of pace. The spread worked so well that he junked the old system. "We haven't been in a huddle since the spring of 2005," says the 68-year-old Moore. Later that year App State beat Northern Iowa for the I-AA national championship.
Three games into last season, Moore entrusted the offense to freshman quarterback Armanti Edwards. A quicksilver lefty who's deft at reading defenses, Edwards got more comfortable each week. By season's end he'd thrown for 2,251 yards and rushed for 1,153, and the Mountaineers had defended their national title. "His greatest asset is his poise," says quarterbacks coach Scott Satterfield. "He has ice water in his veins."
Certainly the 19-year-old did not tremble upon taking the field at the Big House. None of the Mountaineers did. As Moore told the squad on the eve of the trip to Ann Arbor, "It's not like we haven't played in big games. The only difference is there's gonna be a lot more concrete."
To the surprise of no one, Michigan marched down the field for a touchdown on its opening drive. But what happened next quieted—and disquieted—the crowd. On its third play App State lined up in a five-wideout, no-back set. Dexter Jackson, the Southern Conference's reigning 200-meter sprint champion, took two steps, cut hard to the inside, snagged a bullet from Edwards and darted 68 yards for a touchdown.
Michigan defended the spread exactly as the underdogs hoped they would. "They brought two safeties down, one on the right slot receiver, one on the left," says Satterfield. When those receivers cleared out, "it left the middle wide open." Edwards's second touchdown pass, to Hans Batichon, exploited the same coverage.
Facing a second-and-eight from the Michigan 20 on his next possession, Edwards read an all-out blitz and fired his third touchdown pass of the day. By then it was obvious to everyone that the Wolverines had no answer for the spread. The halftime score: 28--17. Satterfield described the intermission as "kind of surreal. Because they hadn't really slowed us down. We put up 28 points in the first half, in the Big House. I was thinking, How are we going to finish this up?"
Not without high anxiety. The Wolverines adjusted on defense; by keeping an extra linebacker in the box, they slowed running back Kevin Richardson and clogged the passing lanes in the middle. And the offense awakened. That is, tailback Mike Hart limped back into the game. Having suffered a thigh bruise in the first quarter, the Heisman candidate spent much of the next two periods pedaling an exercise bike. With his team trailing 31--20 late in the third quarter he returned to score two touchdowns: a prosaic four-yarder and a 54-yard masterpiece, which put Michigan up 32-31 with 4:36 to play.
Edwards was promptly intercepted. It appeared that Wolverine Nation would have to postpone its outrage toward its preferred piñata, coach Lloyd Carr, for at least one more week. Michigan's national title hopes would survive past sunset of Sept. 1.
But Gingell missed a 43-yarder. The Mountaineers took over on their own 26 with no timeouts and 1:37 left. Edwards scrambled for 18, then connected on four straight passes, driving his team to the Wolverines' five with 30 seconds to play. On first down Moore sent out the field goal unit, even though it meant leaving the Wolverines time to run a couple of plays. "If we can't defend [the lead] with 20 seconds left," he recalls thinking, "we don't deserve to win."
Julian's Rauch's 24-yard chip shot was a bit ungainly, but it tumbled between the uprights nonetheless. Two plays later an alarm interrupted App State's pleasant dream. Chad Henne flung a 46-yard rainbow to wideout Mario Manningham, and Gingell trotted onto the field with six seconds left.
With 22 fewer scholarship players, the Mountaineers had nowhere near Michigan's depth, and Lynch was at his limit. "I was in for pretty much every [defensive] play," he says. That's no accident: Lynch has 24 takeaways—including 18 -interceptions—in 41 career games. His ball hawking carries over to special teams. Since the beginning of training camp, he, Touchstone and safety Cortez Gilbert have been locked in a competition to see who can block the most kicks in practice.
Lynch lined up on the right side of the App State line, outside the Michigan tight end, with Touchstone to his right. The tight end crashed down, the wingback mistakenly released outside to stop Touchstone and, recalls Lynch, "I was gone." He leaped and blocked the kick with his chest, then reeled in the ball without breaking stride.
"We should go to the Rose Bowl!" shouted App State linebacker Pierre Banks on the field after the game. Such talk brought a smile to Moore's face. "When we get home tonight," the coach predicted, accurately, "it'll be like a volcano erupting in Boone."
The Mountaineers would enjoy the fuss for a day or so, he said, then buckle down: "We've got Lenoir-Rhyme coming into our place."