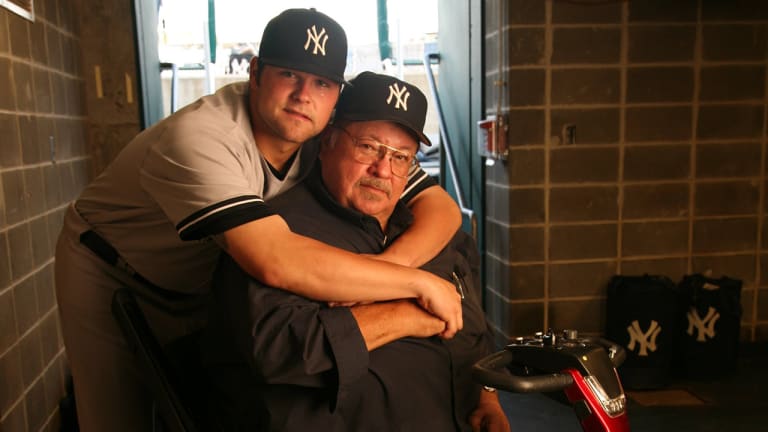 What Love's Got to Do with It
Joba Chamberlain has taken New York in a blaze of glory, his success traced to a nurturing father who used his own tortured youth, Native American roots and some lessons in humility to fan the flame inside his son
It began somewhere. In one throat. It had to, as every wave must begin with one molecule of water and every fire with a single spark. JO-BA! . . .Who was the first to cry it out that August night, and what made it leap to the next throat and the next until 54,000 people at Yankee Stadium were crying it as one?
This never happened when Joe D first appeared. JO-BA! . . .Not for Mickey or Yogi. JO-BA! . . . Not for Guidry or Mattingly or Derek. JO-BA! . . . Why each evening thereafter, when the Native American kid trotted toward the mound for an inning or two of work, did that word rise and roar again like a yearning? JO-BA. . .? What did it mean?
Why here, in this cathedral to achievement, where the kid had achieved nothing? Here, where the assembly manual had been read long ago, where everyone knew how to build dynasties and superstars no matter how unsatisfying the final product turned out, how many championships they'd failed to win in recent years or how many superstars seemed smug or flawed. JO-BA! . . .
Here, in the house of the team with no patience for weakness, the team that ate its young, trading them for established stars and giving away draft picks to sign the best free agents money could buy because dominance was its entitlement, and the future always had to be now. JO-BA! . . .
Here, welling up from all these people whose fondest dream was for their sons to be that kid, all convinced that the only way was to sign them up for year-round travel teams and private instruction, to make them elite at each level of development.
JO-BA! Two syllables that meant it was time to tear up the old assembly manual and distribute a new one.
Caution: Please read all instructions carefully before operating.
I. Parts List
One pudgy Winnebago Indian boy
One father with polio
One three-wheel motorized scooter
One tiny white house
One bed, shared by boy and father
One big cardboard box full of used bats, gloves, bases and catcher's gear, purchased from the Sacred Heart yard sale for $3
II. Getting Started
Place the father on a chair on the front stoop of the tiny white house in Lincoln, Nebraska.
Place the pudgy boy on the gravel road. Have him throw baseballs to the father, who catches them with a glove on his right hand, tucks the ball beneath his chin, whisks off the glove, grabs the ball and throws it back with the same hand because his left one is gnarled and useless.
The boy must throw with accuracy. Otherwise he must chase the ball because his father's left leg is dead.
Repeat, hour after hour, day after day. See if the boy's passion is as big as his big league dream. See, when he's five, if he'll suit up in the catcher's gear and let the father bounce baseballs off his body. He does. See if he stops playing catch when it starts snowing. He doesn't.
Anoint the boy with a nifty nickname when he's a toddler. Something that makes him feel special even though his home is motherless and his family just scrapes by. Doesn't matter that the kid doesn't know the nickname's meaning. Tell him it was just a sound uttered by his cousin, a two-year-old Winnebago girl who was trying to pronounce the name of her older brother, Joshua, 20 years ago. Joba. Pronounced JAH-buh. So much more dynamic, Joba Chamberlain, than Justin Chamberlain, decides the dad, Harlan. So befitting his dynamic little boy.
Test the boy's legs. See if he keeps his balance through all the tremors at home—his parents' breakup when he's one, the nearly two years of bouncing from apartment to apartment with his mother and then the ricochet to his father's care thereafter.
Let the son become the father's arms and legs. Have him do the laundry in the basement, where it's difficult for his father to maneuver on crutches, and run to the kitchen for ingredients when Dad fries pork chops and potatoes in an electric skillet next to his living-room chair. Have him and his sister, Tasha, four years older, pull off the father's boots, socks and pants at bedtime, then get the cream, basin and saline water for the venous ulcers on his old man's leg.
Let him grow intimate with weakness so the strength he gains won't be hollow. Here's plenty more opportunity, when the six-year-old boy's father trips over a sidewalk crack at the state penitentiary where he works as a unit manager overseeing security, discipline and sanitation for more than 100 prisoners. Now the problem's not just the polio that Harlan contracted as a nine-month-old, when the 1952 epidemic swept through the Winnebago reservation and left him with a deaf left ear, paralysis in his left arm and leg, and a sunken left shoulder. Now begins the onslaught of post-polio syndrome that often afflicts polio victims later in life, the wholesale atrophying of muscles that knocks Harlan off his feet for good and into a gray three-wheel motorized scooter that he calls Humphrey. A scooter instead of a wheelchair because... well, a wheelchair would make Harlan feel handicapped.
Put the boy in charge of Humphrey. Have him charge its batteries at night. Jump from the van when they arrive at ball fields, pull out the scooter and bring it to his father's side before laying a finger on his bag of baseball gear.
Have him fetch the bases, bats and gloves while Dad motors down the street after dinner, calling to the neighborhood children, "We're playing ball!" and leading them to the field at Sacred Heart elementary, where he'll umpire and coach. Let the boy see his father tip over on curbs and hit the ground without bitterness.
Surround the boy and his sister with disabled people whom the father befriends. Mr. Patocka, a quadriplegic. Mr. Eisenbarth, with bones so brittle they've fractured 50 times. Assign the two children to the booth at the state fair that educates the handicapped on new technologies that might make their lives a little easier.
Tell the boy about the orthopedic hospital in Lincoln where his dad lived for six years, five months and 11 days of his childhood, fighting for his life at first and then enduring the misery of 15 residual surgeries. One in which doctors shattered his good leg in an attempt to keep its growth from outpacing his ravaged left leg's, and a few more when, playing football at age nine, his left knee and hip were so pulverized by a tackle that he ended up in a full-body cast and hospitalized for nearly a year.
Show the boy some of the five foster homes that Harlan tumbled through when the disease orphaned him, overwhelming his struggling parents and a reservation with no medical facilities to treat it. Let the boy know, without a lick of self-pity, what it's like to keep walking into new places, thinking this one's going to be home, then having to leave because your replacement mother grows ill, or you're the one child too many in a foster home lacking the proper square footage, or someone there dislikes your ornery streak, or you explode and beat up a foster brother for mistreating a foster sister.
Take the boy to the worst place: the children's home in Lincoln where that explosion landed Harlan at age 13. An institution in which the boy with the crutches and gnarled hand was repeatedly beaten by two bullies and robbed until at last, as he packed up once more and crossed the athletic field to run away, a football player stopped him and said, "Where are you going to go? At some point, you've got to fight back."
Tell the boy what it took: waiting for months until the day Harlan found one of the bullies in a vulnerable place—seated in a toilet stall with no door. Cornering him and pounding out his fury with his one good fist and arm, then waiting for the bully's cohort to land in the identical trap, and meting out the same. They left Harlan alone after that.
Show the son how to create what his father didn't have—family—wherever he goes. How to bellow, "How the heck you doin', darlin'?" as soon as you roll through a restaurant or shop door, then ask how darlin's sister and dad are faring as well, until half of Lincoln knows you, and the kid gets the hang of it too.
Make sure he never, ever feels the loneliness his dad once did when he had no parent to pick him up after school. Rush from work to be first in the car-pool line to pick up him and his sister at Sacred Heart, and don't, for an instant, waver when they howl, "But, Dad, we live right across the street!"
Lay love on the kid so thick that he bounces right back even when the father growls too loud over a lapse of effort on the ball field. Remember, the way Harlan eventually does, that all the boy really needs is his dad's presence on that scooter, and a quiet "Don't you realize what you have, son?" for him to get it, and give all he's got.
Start a ritual, every night as the boy drowses off to sleep at the father's side.
"I love you," says Harlan.
"I love you," says Joba.
"Good night!"
"Good night!"
"Sweet dreams!"
"Sweet dreams!"
"Don't forget your prayers, Joba."
"Don't forget your prayers, Dad."
III. Important Safeguards
Don't panic! Don't worry about the delayed growth spurt. Not a word about the kid growing more sideways than upward. Chortle when his pals call him Jabba the Hutt, the bloated alien Star Wars gangster. Laugh with everyone else when his summer teammate on the Lincoln Rebels, Matt Coatman, triples him home from first, and 14-year-old Joba bends over and gasps after crossing the plate, "Don't you ever do that to me again, Matt!"
Don't lose patience when boys whom he was better than, back when he was a Little League All-Star at 12, pass him by at 15 and he doesn't even make his high school jayvee team as a sophomore. Stare the kid down when he vows not to accept that reserve-team jersey and say, "This is an opportunity to be a leader for those younger kids. You either take the jersey or we quit altogether. We play no more."
Of course, not making your jayvee team two years in a row is a sure sign that it's time for a kid to audition for the school musical. So ... have him audition for the school musical. Whoop it up when he's a Shark in West Side Story, when he dances and sings in Fiddler on the Roof, Grease and Footloose. Kid's a ham! Let a side of him unfold that most jocks never discover. Deck him out in moccasins, feathers and Native American clothes and teach him the steps to Round Dance, the one the Winnebagos do that symbolizes the circle of life.
Don't let him get severed from his heritage, the way Dad was as a foster child. Cut adrift from a tribe cut adrift from itself, one that was long ago fragmented and flushed—from Wisconsin to Iowa to Minnesota to South Dakota to Nebraska—by enemy tribes and white men and starvation. A tribe afflicted with a name given to it by another tribe, the Fox, who called it Ouinipegouek, "the people of the Stinking Water," because of the smell of a nearby lake and river.
Take the boy to the Winnebago reservation north of Lincoln, where the father only lived a few years of his childhood—in a two-room shack alongside six siblings and his parents, all sleeping in one room with tin-can lids nailed over the holes to keep out the mice and a Spiegel catalog in the outhouse for toilet paper—before he became a ward of the state.
Take the kid to powwows. Steep him in the tribe's values of giving and gratitude that his father began learning as a 19-year-old when he returned to visit the reservation in search of himself. Spend weekends there with aunts, uncles and cousins in a place where every door's open and everyone's family. Make sure he maintains a connection with his mother—whose privacy father and son fiercely protect to this day. Take the boy by her place, let him run to her door for a visit, even if it's just to say hello.
Have the boy learn the beauty of sports from the bottom up, the way the father did when he became team manager of his high school's basketball and gymnastics squads, and finally found a place to belong. Have him mop the star's sweat and pick up the star's towels. Motor Humphrey right into basketball practice unannounced one day at Northeast High, the father's alma mater. Have the boy chase every out-of-bounds ball with such fervor that the coach gives him a locker and makes him the ballboy, and look what can happen: The father on the scooter selling programs—"Quarter apiece or three for a dollar!"—and the fist-pumping roly-poly kid with Rockets shaved into his hair become courtside fixtures through four straight state titles.
Don't let peer pressure peel the son apart from his pop. Even when puberty hits and the two of them are together on date night or mall night and they bump into Joba's pals, who look at him like he's nuts. Even when it's the prom and after-prom party at 3:45 a.m., and Harlan's there horsing around with Joba's friends because he doesn't want to miss a moment of what a childhood's supposed to look like. Even when coaches wonder at first why Harlan and his 2,000 decibels show up at every practice ... then discover, over time, that his bark is worse than his bite, and he doesn't stick his nose in the coach's business, and he ends up the team father, welcome wagon and Tootsie Pops dispenser for every new player, parent and tagalong sibling.
Start another ritual. Father-and-son duets. How about "Dance with My Father" by Luther Vandross, the song that Joba and Harlan throw back their heads and belt out in malls, on street corners, in restaurants? A cry of love that describes something neither of them, for different reasons, could experience with their dads.
If I could get another chance
Another walk, another dance with him
I'd play a song that would never, ever end
How I'd love, love, love to dance with my father again
IV. Care and Maintenance
O.K., the kid's going to have to shed those extra 70 pounds. No way around it. He's going to have to stop eating all those three-burgers-for-a-buck and family fries at Sam's that he and his father wolf down on the fly between games and practices and dress rehearsals. But not yet. He makes the varsity his junior year, hoping to pitch as well as play first base and catcher, but his body's still in his way, and his fastball's still moseying at 75, and his coach still doesn't want him going anywhere near the mound, even to say "Attababy" to the pitcher.
Patience. The boy's finally starting to grow. Five-ten ... 5'11".... Applaud him for wrestling his junior year. Watch his work habits start to catch up with his passion.
Nurture that passion. It's everything. All those fist thrusts and joy leaps and funky dugout dances Joba does. Let him sit on the bench and stare into forever after a grim game. Then motor up quietly and say, "All right, let's move on." Something's burning deep inside him—cup that flame! How many kids would etch in the dirt the number of a teammate who died of brain cancer back when they were 12, the way Joba does for Nate Raun? How many would ink that kid's name and a big crucifix on the bill of their ball caps, along with the initials of teammates' deceased parents and a friend of his father's, Wally Gant, who contributed money so the boy could afford to play ball, and a list of all his family members, and the words Believe and Have Faith?
Watch the flame begin to emerge and flicker his senior year, when he reaches six feet and his fastball hits 82 mph on the radar gun. Just enough to persuade his new coach at Northeast High, Bill Fagler, to remove his name from the mound embargo list, and watch him respond with a 3–2 record and a 3.35 ERA. Nice but nothing spectacular, nothing to make Mike Anderson—the coach of Joba's hometown idols, the Nebraska Cornhuskers—or any other Division I coach give him a call. Still too slow and chunky, he and his fastball both.
Finish the big lessons about the little things. Hand the boy a Weed Eater, a rake and a mop after he graduates high school. Give him a summer and autumn of grooming ball fields and swabbing ballpark toilets for the Lincoln Parks and Rec Department, and chipping in to pay the family's bills, when he still can't locate the pathway to his dream.
Patience. This is a torsion spring-loaded device, still being wound. Even now, when the boy's manicuring ball fields instead of tearing 'em up, keep telling him, "You're one of the best, son. You're going to do it when you're ready. You have the talent and the love—you've just got to believe it." Even when the son's saying, "Dad, be real! You're going to say that, you're my dad. That's your job."
Even when he shows up a semester late, in 2004, at Division II Nebraska-Kearney after its new coach, Damon Day—desperate for pitchers—sees a 272-pound kid throwing 84 mph at a baseball camp and offers him a scholarship ... and Joba disintegrates, surrendering four walks in a third of an inning in his first start, and 11 runs in an inning and a third in his second one. Because....
"If you just believe in something enough," the man on the motor scooter keeps telling him, "if you endure the trials and tribulations and learn from them, nothing is insurmountable. Nothing."
And how can that boy tell that man it's not true?
V. Operation
Stand back now. Everything's assembled. The humility. The hunger. The perspective. The ability to stay relaxed when everyone else is in a knot. The arm that's been saved from throwing too many innings and too many curves—as so many of his peers have—ripe to soon begin throwing the slider. The body that's been melting off pounds ... 20, 30, 40 ... as he runs every day in private workouts and then again with the team, and growing two inches, to 6'2".
His third collegiate start, against powerhouse Wayne State, Coach Day notices a first-inning flutter from his radar gunner. "Coach," he reports, "we've got him throwing 92!"
Eureka! He's finally adjusting to his new body. Finding a repeatable delivery. Hitting the mitt as if he'll have to chase the ball if he doesn't. Allowing just five hits and losing 2–1 on two unearned runs.
Now comes the confidence. Ninety-three . . . 94. . . .Now comes the glimmer in his eye, the bite in his curve. Now comes the shock at how suddenly everything starts happening, because no one has read the new assembly manual yet. No one knows about the torsion. Now comes the transfer to Nebraska and his stunning 2005 sophomore season when he takes the Huskers to the College World Series with a 10–2 record and a 2.81 ERA, the wildest ride the man on the scooter ever took. Ninety-five . . . 96. . . .
Now come the glowing scouting reports containing the beautiful paradox: The Big 12 Newcomer of the Year is the same guy volunteering to drag the L-screens and carry the ball buckets. Now comes the knee surgery, when the father becomes the boy's legs, awaking in the dead of night every few hours to get on crutches and changeJoba's ice bags.
Now comes his first-round selection as a supplemental pick in the 2006 draft—41st overall, the second-highest a Native American has ever been chosen—and the $1.1 million signing bonus. Then the final touches to the mechanics, the control becoming laserlike. Ninety-seven . . . 98. . . .
Now the other major league teams come sniffing around, waiting for the Yanks to be the Yanks and to trade tomorrow for today. To trade another kid who might be good for another aging star who has to be good, with the paycheck and reputation he lugs into town. But their impatient, aging owner, George Steinbrenner, has relaxed his grip on the team, and their newly empowered, sager general manager, Brian Cashman, digs in when fans demand the instant fix, and the sniffers are all sent, Joba-less, away.
Now comes the biggest surprise of all this summer, the 21-year-old kid's four-level leap in one season, accomplished by few players in modern baseball: from Class A Tampa to Double A Trenton to Triple A Scranton/Wilkes Barre, where he astonishes with an 18-to-1 strikeout-to-walk ratio, followed by the August call-up to the Yankees.
Now comes one more jump. For just these last two months of the season, the Yanks ask, can they switch him to the bullpen? Hell, yes. The kid's majored all his life in adapting.
Now comes that first step, that long step, from Cornhusker Highway into the house of gods: the Yankees clubhouse. He approaches Jason Giambi, whom he met when the first baseman had a rehab assignment in Trenton, and bear-hugs him. Then he starts picking Roger Clemens's brain with the deference of a freshman . . . and busting on him as if they were high school teammates. Soon he's greeting Johnny Damon, "Hey, Beautiful!" because, well, that's who Damon is, and advising teammates as they enter the clubhouse door, "Team meeting at 5:45, boys!" as if he's the grizzled captain, and leaping and tapping the top of the door as he leaves like you do at home when you're 12 and first realize you can reach it. Going from 12 to 32 and back, justlikethat, which is what the Yanks find more remarkable than his fastball. Because they've seen plenty of kids come through who were older than their years and plenty who were younger, but never one who knew when to be each, and how to be both.
He strikes out 20 in his first 15 1/3 major league innings, all scoreless. Ninety-nine . . . 100! He finishes the regular season 2–0 with a 0.38 ERA, handing the ball to Mariano Rivera with ninth-inning leads again and again and fueling New York's late surge to the wild card. "The best slider I've ever seen," mutters Angels shortstop Orlando Cabrera to Yankees third base coach Larry Bowa, after Cabrera flails at a third strike last month in Anaheim. Just one more American Leaguer grateful for the Joba Rules issued by the Yankees front office, the decree demanding one day's rest for each inning the rookie pitches, to protect his arm and projected starting role next season.
But all that still can't explain how a kid, a stranger, becomes an overnight savior to a city that's seen everything. It can't just be the velocity of his fastball, the snap of his slider and his first name. Can't just be the speed of his ascent and the emotion of his fist pumps and the desperation of the Yanks for a late-inning arm to flog them through the dog days and dry lips of August and September. There's something else too, something the crowd has scented in the hasty, bare-bones sketch of Joba's life in the tabloids before his Yankee Stadium debut, something in the crossing of paths between this kid and this franchise, something. . . .
He can't explain that something. "I don't really know what's going on," he says. "People keep saying to me, 'Do you realize what this is?' No. I don't. Fifty-four thousand people chanting your name every time you go out there? I got nothing for you on that one. All I know is that everything's getting real fast."
And the reason that it doesn't sweep him away is that his gaze isn't up there in the crowd. His hat's tugged low, and his eyes, after he walks off the field and strips off his pinstripes, are on the words on his body, the ones he took from the bills of his old ball caps and had tattooed to his chest and arms. All those references to his tribe and his gratitude and his dad and his sister and now, too, his baby son, Karter, the one born 17 months ago to him and the girlfriend he met at Nebraska-Kearney, Alicia Mueller. The child that it kills him to be absent from, in this summer of leaps that Karter and Alicia couldn't possibly make with him, the baby that he's planning to have on his hip next season in New York so that he can begin his attempt at the biggest leap of all: the bar his father set.
"I'll settle for being half the dad he's been," says Joba. "I'm excited. There are so many ways I want to take this thing. I'm going to be able to help kids on the reservation. I want them to realize you don't have to be from the best to be one of the best. I want to teach them to live with their head in the clouds and to reach for the stars, that you have to, or what is your purpose?
"I wake up with two purposes each day: Make at least one person smile and have fun. If I can make a wisecrack or give someone a hug, that day's been worthwhile, even if I give up 15 runs. No matter how bad it is, it'll get better. I mean, look at this."
His hand sweeps across a beautiful ballyard—Comerica in Detroit—shimmering beneath a cloudless August sky. "This is what I do for a living. I get to come here on a weekend day and watch a major league game for free—and maybe even get to pitch in it. What could be better than that?"
One thing could make it better. Just one thing, still missing. . . .
VI. Limited Warranty
Of course it's limited. How long can it last? Not Joba's arm or his success. What really matters: his time left with his dad. That's all the boy could think of when he got that call just after last season, a weak voice on the phone rasping, "Help me . . . help me. . . ." He raced home from a nearby restaurant to find his father shaking from the pain of an appendix that would burst minutes later on the operating table, setting off a series of complications that stemmed from the polio and came within a whisker of ending his life.
They made it through, together. Through nine days on a ventilator, two weeks in intensive care, five months in the hospital. Through the staph infection and the abscessed ulcer. Scared the hell out of the kid, seeing his dad scared for the first time in his life.
And so, after a life of never missing even the tiniest moments, his 56-year-old dad has to miss the biggest moments. Has to remain at home, still unable to travel a year after the surgery, watching his son fulfill the dream a thousand miles away, on a TV screen.
Finally, no matter how many times Joba calls him on their cellphone walkie-talkies for their good-night ritual, or text-messages it from a faraway hotel and tries to update him even on takeoffs of the Yankees team plane—Wheels up. Love!—the distance grows too much to bear. Harlan gets a doctor's clearance, packs up on the first Friday of September and drives the three hours of cornfields to Kansas City. . . .
Place the crippled Native American orphan on his new candy-red scooter in the on-deck circle of a major league ballpark during batting practice, his cellphone jangling with calls from media across the country, and one Yankees star after the next—A-Rod, Jeter, Rivera, Pettitte, Torre—introducing himself and praising him for the job he did raising his son.
Place the son on the grass nearby, loving every minute of it.
Place the father in the handicapped section in Level 3 of Kauffman Stadium two hours later, his extended family and friends seated just in front of him, watching the Yankees enter the seventh inning with a 3–2 lead over the Royals.
Place the son in the outfield grass, jogging toward the mound as the P.A. announcer booms, "Your attention, please! Now pitching for the Yankees. . . ."
Place the father's hands on the scooter's handlebars, squeezing them tighter and tighter, as if the thing's hurtling backward a hundred miles an hour. Watch his daughter, Tasha, hug him and say, "This is it, Dad," as his family and friends leap and scream.
Watch the son turn his back to the plate, look to the sky and hold his Yankees cap over his heart. Watch the father remove his Yankees cap and do the same as the tears stream down his cheeks. . . .
You know by now, of course, what it is that has been assembled and what JO-BA! really means. It's the thing hammered into the father all his life, and thundering now in these late-summer skies over Yankee Stadium. The glory of hope at the death of expectation.