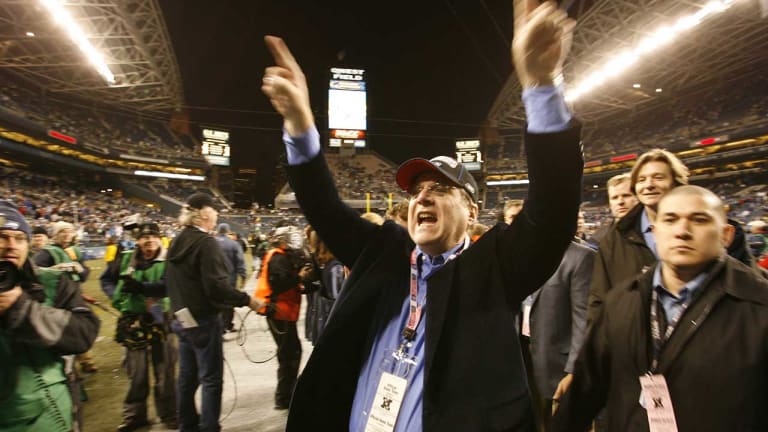 MARK CUBAN'S PASSION + HOWARD HUGHES'S VISIBILITY = Paul Allen
The understated owner of the Trail Blazers and the Seahawks doesn't do Dancing with the Stars, doesn't throw public tantrums and doesn't constantly threaten to move his teams. So why is he considered the weird one?
It was only a preseason game between the Portland Trail Blazers and the Seattle SuperSonics. But the doughy Blazers fan in the catacombs of the Rose Garden was walking excitedly toward the courtside entrance. Though he was a couple of months from turning 55, he resembled nothing so much as an awestruck boy lucky enough to have scored sweet seats to his first game. Wearing wire-rimmed glasses, a tight-fitting blue corduroy jacket, black slacks and black loafers, he smiled as he made his way out of the tunnel. When he shuffled past the Blazers' bench three minutes into the first quarter, he stared for several seconds at the tall men before settling into his front-row seat behind the baseline.
He was flanked by his new buddy Kevin and his old college roommate Bert. Even as they conversed, the fan didn't divert his strikingly blue eyes from the action on the court. He smiled when the Blazers scored and grimaced when they didn't. After a sensational play he'd jerk his head up and look eagerly at the replay. When Gary Glitter's Rock 'n' Roll Part II came on the P.A. system after a Blazers run, the man sang along—da-na-na ... HEY!—with a tentative fist pump. When a courtside waitress approached during a timeout, he requested a burger and a Coke. Let the Brahmins in the corporate suites order salmon cakes and bottled water. The fan chomped on his junk food and absentmindedly fiddled with the straw in his soda. He wasn't above swiping some fries off Bert's cardboard tray when Bert wasn't looking.
The Blazers pulled out a two-point win, and the fan glowed as he made his way back into the courtside tunnel. "Oh, boy!" he said, looking wide-eyed at some of the players as they sprinted past him toward the locker room. Oh, boy! He made no attempt to stop any of them as they went by.
But he could have. The boyish fan, Paul Allen, owns the Blazers. He also owns the Rose Garden. And he owns the NFL team up the road, the Seattle Seahawks, which makes him the only individual to solely own two teams in the U.S.'s big three sports. A high-tech demigod, Allen cofounded the world's largest computer technology corporation. He is one of the richest men in history, a figure of such dizzying wealth and eclectic tastes that he recently donated $100 million to brain research and $25 million to the search for extraterrestrial life. One could safely assume that his net worth eclipses that of all the other fans in the Rose Garden combined.
Shortly after the Blazers-Sonics game ended, instead of palling around with his players, Allen hopped on his jet and returned to his sprawling estate on Mercer Island, Wash., declining to stay at the Austin Powers--style apartment he'd built for himself and his mother in the Rose Garden rafters. He was soaring high above the Cascade Mountains and Douglas firs when, back in the Blazers' postgame locker room, another NBA owner became the topic of conversation.
"Hey!" Blazers guard Brandon Roy yelled. "You hear Cuban got kicked off Dancing with the Stars last night?"
Is there a job classification that covers a wider range of personalities than pro sports team owner? After establishing that all owners possess enormous wealth, the similarities end. The omnium gatherum includes casino mogul party dudes (Gavin and Joe Maloof), irrepressible New Economy tycoons (Mark Cuban), former car salesmen (Larry Miller) and aging hipsters known to entertain company by setting their chest hair afire (Jerry Buss). And this is only the NBA's Western Conference!
Even against this relief, Paul Allen cuts a singularly eccentric figure.
Here is a man who combines Cuban's passion with Howard Hughes's instinct for publicity. Allen is, unmistakably, fanatical about his teams, the Blazers in particular. He attends nearly every home game and knows every stat and requests video on the most obscure draft prospects. Blazers general manager Kevin Pritchard—his seatmate at most games—was speaking with a guest recently when he excused himself to respond to the 12th text message Allen had sent him by BlackBerry that day. It was 10:42 in the morning.
Oh, boy!
Yet Allen is so modest that, according to one former executive, Rose Garden personnel are under instructions not to show him on the arena scoreboard. He seldom addresses fans. He rarely grants interviews. He agreed to speak with SPORTS ILLUSTRATED by phone but asked to meet the writer in person first. While Allen is gentle and thoroughly pleasant in conversation, he is almost aggressively unforthcoming. What, specifically, draws him to sports? "Sports are events the community can rally around and get excited about, and that's a wonderful thing to experience," he replies blandly. Is he surprised how big a role team ownership plays in his life? "Football and basketball are different games, but they both have their interesting points, and they're both enjoyable for the fans." Does he perceive himself, as others do, as being such an introvert? "There are other owners in sports who do more interviews or are more, well ... acting in different ways. But I see my role as trying to put everything in place behind the scenes to make things successful."
Allen is similarly impenetrable to his players. Steve Blake, Portland's point guard, is in his second season playing for Allen but claims, "I've never really met the man." Greg Oden, the team's gilded rookie, out for the season with a knee injury but nevertheless the face of the franchise, describes his relationship with Allen this way: "He's the dude who signs my checks." Center Joel Przybilla says of Allen, "He's courteous but sort of shy and self-protective." The team recently held a practice on the full-size NBA court at Allen's estate on Mercer Island. (According to one Blazers employee, the court is ringed with Monets and Renoirs encased in protective glass, lest a multimillion-dollar masterpiece get dinged by an errant pass.) Allen, however, was away on his yacht at the time.
Last season, the Blazers unexpectedly won a big game, and their coach, Nate McMillan, asked the owner if he wanted to address his minions. The locker room went quiet, and players leaned in to hear what the boss had to say. Allen avoided eye contact with them, and his words were slow in coming. But then the omnipotent owner finally spoke. "Guys," he said in a barely audible voice, "great game."
This parable begins in a faraway kingdom called the Emerald City. It was the late 1960s, and Paul Allen was a quiet, studious, relentlessly curious kid at Seattle's Lakeside High, the son of two educators. He'd played some recreational basketball and gone with his father to Washington Huskies football games, but as far as his talents went, it was brains over brawn in a blowout. He had a nimble imagination and interests that ranged from rocket ships to rock music.
It was at Lakeside that Allen discovered computers. He envisioned a day when the personal computer would transform lives. He had a buddy in the computer club who shared his passion, a scrawny lawyer's son two years his junior named Bill Gates. The two boys may have gotten strange looks from classmates when they spoke enthusiastically about "laptops" and "memory chips," but they were convinced that they were glimpsing the future. Allen foresaw a vast computer network that would one day connect the citizens of the world, and even newspapers would be available on screens!
After graduation Allen headed to Washington State, while Gates would enroll at Harvard (though, according to lore, Allen got the higher SAT scores). Allen dropped out of college and moved to Boston, in part to be closer to Gates so they could work on their computer code. Soon Gates dropped out of school as well. They formed a company to develop computer language and named it Micro-Soft.
Often working through the night, Allen and Gates wrote a version of BASIC software that provided the programming language for the new Altair computer and sold it to Altair's manufacturer. Then they sold a similar version to IBM. After a stint in Albuquerque, where the makers of Altairs were based, the two moved their growing company home to suburban Seattle. While Gates was an aggressive marketer and a savvy businessman, Allen was perceived by many as the brains of the operation. In The Accidental Zillionaire, Laura Rich's unauthorized biography of Allen, the CEO of the company that made Altair computers recalled, "Paul was much more important ... because Gates was hard to deal with. He assumed everyone was stupid, but Paul would listen to what was being said."
In the precious few hours that Allen wasn't at work staring at an electronic box, he'd cruise Seattle in his Porsche, frequent Dick's hamburger joint, take his dad to Sonics games and mess around on his guitar. He wasn't even 30 years old, and as far as he was concerned, he was living the good life.
But in the fall of 1982 he went to Europe on business for Microsoft (they'd dropped the hyphen) and felt ill and lethargic midway through the trip. When he returned to Seattle, he was told he had lymphoma, an often fatal cancer of the lymph nodes. The following morning the diagnosis was downgraded to Hodgkin's disease, which is far more treatable. Allen underwent radiation treatment; the cancer went into remission. Still, this encounter with mortality—and his father's death at around the same time—got him thinking: enough with the all-nighters and the cubicles with fluorescent lighting overhead. He wanted to live.
To Gates's surprise, Allen took a leave of absence in 1983 to travel and scuba dive and watch takeoffs at Cape Canaveral. Though he never returned to Microsoft, he retained a 28% share in the company. He founded a new technology company he called Asymetrix that hemorrhaged money, but ultimately it didn't matter. On March 13, 1986, Microsoft went public. By the end of the day Allen was worth $134 million. And that was just the beginning.
It was Dostoyevsky who observed that "money is coined liberty." Well, Allen was now free. After deploying a fail-safe strategy to gradually cash out his ever-burgeoning Microsoft stock, he accumulated the world's biggest toy collection. His heroic spending binge encompassed cars and yachts and so much fine art that trade magazines were calling Allen one of the world's top-spending collectors. He'd always thought World War II fighter planes were cool, so he bought a bunch of those. A lifelong music fan, he began amassing the world's largest collection of rock and roll memorabilia: Original lyric sheets. Costumes. Guitars. Particularly fond of another Seattle native, Jimi Hendrix, Allen paid an undisclosed fortune for the Stratocaster the rock star played at Woodstock.
Oh, boy!
He also bought a sports team. Though Allen had never been much of an athlete, basketball had always fed something in him. He spoke to friends about the "poetry of a slam dunk" and impressed them with his knowledge of the NBA. He first tried to purchase the Sonics, but when the team's owners declined, Allen ventured 170 miles south on I-5 to Portland. Few people even knew the Blazers were for sale, but in 1988 Allen snapped them up for $70 million.
The Portland community was initially skeptical of this reticent high-tech tycoon, this interloper from the rival kingdom to the north. But the citizenry quickly warmed to Allen. In a precinct that prides itself on its lack of pretentiousness, there was something undeniably cool about an owner who wore unfashionable clothes and a beard that was a long weekend away from ZZ Top length. Here was a man who would unabashedly cheer courtside but then, after the game, quietly repair—sometimes with his mom in tow—to Powell's World of Books and cruise the science fiction shelves. Keep Portland weird, the slogan goes. The Blazers' owner did his part. Never accused of being arrogant or overbearing or unreasonable, he was simply ... idiosyncratic. "The way he carried himself, you'd never know he owned the team," says Mark Bryant, a Blazer from 1988 to '95. "People in Portland relate to that."
In a one-team town, residents also related to Allen's passion for the Blazers. Fans noticed how often he flew down from Seattle to attend games. Allen was never particularly opinionated, but he called and e-mailed his executives to pepper them with questions. "We'd see that Microsoft would drop four points and think, Paul must have lost millions today, bet he's going crazy," recalls Brad Greenberg, a Blazers front-office executive from 1989 to '94. "Then the phone would ring, and it would be Paul calling about some second-round prospect from Dayton."
In the mid-'90s a few Blazers home games weren't televised. Allen would pay for a full broadcast, replete with stats and replays, for an audience of one. The player of the game, Paul, is Clyde Drexler! Sometimes Allen would be traveling during the telecasts. No problem. He would pay for them to be beamed to a satellite and then, in the manner of a crisp bounce pass, back down to his yacht. "The more I realized the challenges and opportunities," says Allen, "the more I got into it."
It was natural to wonder why a man of the mind and a fierce introvert would want to insinuate himself into the back-slapping, towel-snapping culture of big-time sports, especially as team owners were becoming increasingly public figures. The armchair psychoanalysis went like this: Here was Allen's chance to buy membership in the popular clique he couldn't penetrate as an adolescent. "He finally got to be a jock, be in the cool crowd," says a former Blazers executive who, like many ex-employees of Allen's, will speak about him only on condition of anonymity. "It was a Revenge of the Nerds thing."
That explanation may bear some truth, but it's inadequate. If Allen simply wanted to buy his way into the cool crowd, wouldn't he be a more conspicuous presence, living La Vida Jerry Buss? Instead he's always operated at a remove. And if this were simply about ego and social status, would he really be memorizing reams of data about obscure draft prospects?
"It was like a high-tech puzzle to him," says Greenberg, now the men's basketball coach at Radford University in Virginia. "I think he was fascinated by whether he could figure out the data. He'd accumulate all this information. He'd crunch it and sort it and see if he could make the right decisions. I think the whole process of basketball—the combinations on the court, the decisions, the personnel—really intrigued part of his brain."
Allen also appeared to be entranced by the players themselves. He is a lifelong bachelor—he shares the Mercer Island compound with his mother, sister and brother-in-law—and has never had children. Many current and former Allen employees claim it's no stretch to suggest that these tall men in jerseys become like offspring to him. He may rarely communicate with them, but, Lord, does he ever provide for them. When private planes became the preferred mode of travel, the Blazers' was the most lavish. He made sure the club had a nice home: Without any public funding or even naming-rights revenue, Allen spent $262 million to build the Rose Garden, which was the NBA's premier arena at the time of its opening, in 1995. He conferred all kinds of amenities on the players and gave them contracts akin to fat allowances. "I've come to learn that he really thinks of these guys as his players," says McMillan. "When he talks about the Blazers, it's like a fantasy."
Paul Allen is not Bill Gates. Long ago he resigned himself to this reality: He was destined to be known as Garfunkel to Gates's Simon, particularly in Seattle. As Gates was becoming the world's richest man and launching the world's largest charitable foundation and seeking to conquer famine and genocide and improve world health, Allen was, inevitably, "the other Microsoft founder." That was fine by him. But in 1997 he had the opportunity to do something for Seattle and boost his image, if not his profile, in the process.
The Seahawks were on the verge of leaving town. Their owner, Ken Behring, had already moved the team's training camp to Anaheim. A friend of Allen's suggested that he buy the franchise. Allen, shrewdly, secured an option, contingent on Washington voters' approving a referendum to finance a new stadium. Allen offered to put up $100 million of his money for construction and then contributed millions more to the lobbying effort.
Allen appeared at a press conference to announce his interest and, thrust into the public domain, cut as uncomfortable a figure at the podium as ever. He agreed to be interviewed afterward, at his offices in suburban Bellevue. When the reporters arrived, he had already removed his tie and untucked his shirt; he answered questions in his stocking feet. Eventually the referendum did pass. Allen bought the club for $200 million, and pro football continued to exist in the Pacific Northwest
Allen now attends most Seahawks home games at the team's luxe downtown stadium, Qwest Field. He cheers from a suite and sometimes stands on the field during the waning moments of games, but he will never be confused with, say, Dallas Cowboys owner Jerry Jones or the New York Yankees' George Steinbrenner. Watching Allen at a Seahawks game, one gets the sense that he is less a football freak than a casual season-ticket holder who—oh, what the hell—bought the team. Nobody suggests that the football players are his. The notion of him telling his coaches to, say, "Give Shaun Alexander more touches," is inconceivable.
The NFL's hard salary cap took away some of his "puzzle fun" too. "Over the years I've tried to educate him and get him excited about football, and I think I've been somewhat successful," says Seahawks coach Mike Holmgren. "But from my perspective I think his buying the team was a civic responsibility kind of thing."
You know you've done well when you're worth $1 billion and then you really make it big. Hard as Allen sometimes appeared to be working to spend it, his fortune kept swelling. Microsoft's stock steadily gained altitude, eventually splitting nine times, and by the year 2000 Allen was, according to Forbes, worth $36 billion, making him the third-richest man in the world. He could have invested his fortune in a savings account and, on the interest income alone, still have made the Forbes list of the world's 400 richest people.
His spending habits didn't change. All that rock and roll paraphernalia? It grew into the Experience Music Project, a $240 million, Frank Gehry--designed complex that sits near the Seattle Space Needle. Allen collected residences—38 in all, according to a friend—as if they were Hummel figurines. He invested in scores of corporations, but, to traffic in understatement, his investment strategy was unconventional. In one case he pumped more than $500 million into a wireless data company, long before wi-fi hotspots made such a thing practical. Likewise, Allen made philanthropic gifts in an eclectic mix of fields (space travel and documentary films and brain research) for which he had a personal passion.
He also bought yachts. Not standard-issue rich-guy yachts but megayachts flush with trappings that befit a kid with a hyperactive imagination. The largest of the three ships, Octopus, measures 413 feet and is fully loaded with a basketball court, a glass-bottom lounge, a concert space seating 260, a submarine and helicopter landing pads. The yacht has a full-time staff of 60 that includes—potential pirates take note!—several former Navy Seals. It reportedly costs upward of $4 million just to paint.
Having invested an estimated $500 million in the DreamWorks movie studio, Allen often attended the Cannes Film Festival. He would dock Octopus offshore and host parties that quickly became part of Hollywood lore. "It would be easier to name which stars weren't there than which ones were," says Niall Harbison, who did a recent stint as Allen's personal chef aboard the yacht and now runs the website ifoods.tv. "It was no expense spared. Best music, best wine, fresh fish flown in from Japan. But you wouldn't see much of [Allen]. I'd finally find him watching sports, and he'd ask me to make him a cheeseburger."
This was typical Allen. His burgeoning wealth had a perverse effect: As it gave him entrée to the most high-profile clubs—he's played guitar with Jagger and taken meetings with Spielberg and partied with Hanks—it made him more reclusive and protective of his privacy. A membrane of guards and handlers enveloped him wherever he went. His employees were asked to sign nondisclosure agreements. Media requests were, almost uniformly, turned down. "Writers for other teams ask me, 'How often do you talk to your owner? Once a week? Once a month?'" says Clare Farnsworth, longtime Seahawks beat reporter for the Seattle Post-Intelligencer. "I say, 'How about once. Period.'"
Much in the same way he pimped his yacht, Allen pampered his beloved Blazers. As Holmgren puts it, "All sports team owners are wealthy, but Paul's in another league." Urged on by his consigliere in the late 1990s, team president Bob Whitsitt, Allen made a transparent attempt to buy an NBA title. He lavished on players contracts that were wildly disproportionate to the players' value.
An out-of-shape, drug-addled Shawn Kemp commanded $12.7 million a year. Undersized point guard Damon Stoudamire checked in at $12.4 million. An aging Scottie Pippen came to Portland with four years left on a contract which would pay him $54 million. Despite playing in one of the NBA's smallest markets, the Blazers had the league's highest payroll. The luxury tax was merely an annoyance. Inasmuch as these were his kids, Allen was a sugar daddy, spoiling them rotten. It wasn't uncommon for them to emerge from practice and discover that "Mr. Allen" had hired someone to wax and buff their Hummers and Escalades.
The wild spending trickled down to the Blazers' offices, where employees created the acronym SPAM: Spending Paul Allen's Money.
"Should we buy the functional copier or the color copier with the bells and whistles?' "Let's get the color one."
SPAM!
By the middle of this decade, times were tough, relatively speaking, for the House of Allen. On paper, anyway, his vast fortune had declined by more than half as the tech bubble burst. Few of his quixotic investments had paid off. He had sold some of his valuable assets too soon and kept duds for too long. Executive turnover at many of his companies was high. His big bet on Charter Communications, one of the country's largest cable operators, was costing him billions. The Blazers alone were losing $100 million a year.
While a net worth of $16 billion doesn't exactly reduce a man to eating Top Ramen, Allen may well have lost more money than anyone in the history of humankind. Wall Street had a laugh at the eccentric "accidental zillionaire," noting that had he simply held on to his Microsoft stock—that is, had he adopted no investment strategy whatsoever—his net worth would have exceeded $80 billion.
But perhaps even more distressing to Allen than his financial losses was the fate of the Blazers. His attempt to buy an NBA championship had backfired spectacularly. The most impressive collection of athletes, unlike one of World War II planes or rock and roll memorabilia, isn't always the best. The Blazers may have had the highest-paid talent, but they had no cohesion. With Allen looking on like an eager stage parent, his high-priced teams ritually failed in the postseason.
Worse, the spoiled players found new and creative ways to embarrass the franchise. From J.R. Rider and Rasheed Wallace to Ruben Patterson and Qyntel Woods, they appeared often enough on police blotters to be known as the Jail Blazers. Last season Zach Randolph, the highest-paid player in Blazers history, missed a game because he was granted a bereavement leave to attend the funeral of his girlfriend's cousin. The night of the game, however, Randolph was hardly the picture of grief as he stopped by a strip club and allegedly left without paying his tab. The fans had become alienated long before that. The team that holds the longest consecutive sellout streak in big league sports history—814 straight games between 1977 and '95—was playing to pastures of empty seats. Time was, NBA officials would dispatch prospective expansion-franchise buyers to Portland to see how a model organization was run. Suddenly, under Allen, Portland had become the NBA's Exhibit A for how not to run a team.
Allen, friends say, felt betrayed. These, after all, were his players. "The Jail Blazers were distasteful to [the point] you didn't want to be associated with them. He felt it as much as anyone," says Maurice Lucas, who played 330 games with Portland and is now an assistant coach under McMillan. As Allen himself says with unmistakable anguish, "I feel like I went [with] the theory of talent over character. I was like, 'O.K., let's try that.' [But] when you go down that road, it's easy to go way too far down, and in the end it was a mistake."
Compounding matters, when Allen built the Rose Garden, he financed it in large part with promissory notes, and because he wouldn't personally guarantee them, they had a high interest rate. As the team lost money and seats went unfilled, Allen's boyish enthusiasm turned into boyish petulance. He complained about a "broken economic model" and tried to renegotiate the loan. When the creditors refused, Allen put the Rose Garden in bankruptcy, a maneuver that didn't sit well with populist Portland.
After the Sonics were sold to a group that threatened to relocate the team to Oklahoma City if Seattle didn't build a new arena, conspiracy theorists in Portland began suggesting that Allen might relocate the Blazers to his hometown. In a letter to the editor of The Oregonian, Harry Glickman, the Blazers' president emeritus, wrote, "I want to live to see the Blazers restored to respectability and become, once again, a team our community can be proud to support. The best solution for all concerned would be for Paul Allen to sell the team to people who understand that owning Portland's only major league team is a privilege."
Except that Allen couldn't bring himself to sell the team. Sure, he entertained offers, but with a strong draft in 2006 having renewed excitement in Portland, who was he fooling? It's an age-old theme, of course: A championship team was one of the few things in the world the rich man couldn't buy, and that only made it more seductive. "What do you get for the man who has everything?" says Holmgren. "It turns out the answer is a trophy."
Allen reached an agreement to buy back the Rose Garden and is currently soliciting buyers of arena naming rights to ease the financial burden. He and the brass purged the roster of players from the Pacman Jones School of Social Comportment, including Randolph, who is now a member of the New York Knicks. The Blazers whittled their payroll from $109 million to roughly $60 million. This was in keeping with a new philosophy of financial responsibility—parsimony, even!—that one might call Allen 2.0. He recently pared his portfolio and sold a number of his more whimsical investments. He even cashed in his stake in DreamWorks. Allen turned more than $1 billion over to the same hedge-fund manager who runs Stanford's endowment and has invested heavily in Seattle real estate. While he still cruises the world aboard Octopus, he reportedly rents it out for $700,000 a week. And while Allen may be no Bill Gates, there's that damn comparison again, his philanthropy has increased in recent years. Allen has contributed more than $1 billion in his lifetime, and according to The Foundation Center, the Paul G. Allen Family Foundation is the 190th largest in the country.
Allen's faith in sports has been rewarded by both franchises. When the Seahawks hosted the NFC Championship Game in January 2006, Allen hoisted the twelfth man banner to a rousing standing ovation from the crowd. When Seattle won the game, reaching the Super Bowl for the first time in franchise history, Allen cradled the George Halas Trophy. A blown-up photo of the occasion adorns the Seahawks' corporate offices. "He's obviously a smart guy, and he cares, but he doesn't cross the meddling line," says Tod Leiweke, CEO of Vulcan Sports & Entertainment, which runs the Seahawks and the Blazers. "The root of Paul is that he thinks like a fan." While the NFL team is a modest 7--4 this year, it's perceived as a model franchise. In Forbes' most recent ranking of sports franchises, the team was valued at $921 million. Funny how the club Allen didn't obsess over or corrupt with money has been largely free of the drama and growing pains that enveloped his other sports property. Allen goes so far as to say his emotional investment in the Seahawks is now "equal" to that of his attachment to the Blazers.
As for the Blazers, against considerable odds the team landed the top pick in last summer's NBA draft. Though Oden won't suit up until next season, Blazermania is back. The season-ticket base has more than doubled, and the team has added 57 sponsors. "You can tell right away," says Lucas, "people are reengaged."
Perhaps no one more than the owner. Allen is back in his front-row perch, back to memorizing stats and bombarding his employees with questions. "He's always challenging you," says Pritchard. "He'll ask you something about the state of the franchise. Then the next question is, Why did Martell [Webster] not finish that layup last night with his left hand?" Allen speaks confidently about the Blazers' future, and if he sounds excessively optimistic given the team's record of 5--8 through Sunday, it might be wise to remember that this is the man who saw the Internet coming when much of the world was still watching black-and-white television.
If Allen still isn't comfortable in the public domain, if he remains the rare owner in contemporary sports who'd just as soon be invisible, so be it. "Does he want the business to make financial sense? Yeah. But more than that, he wants to win a championship," says Leiweke. "We can find someone else to give the big Rotary Club speech."