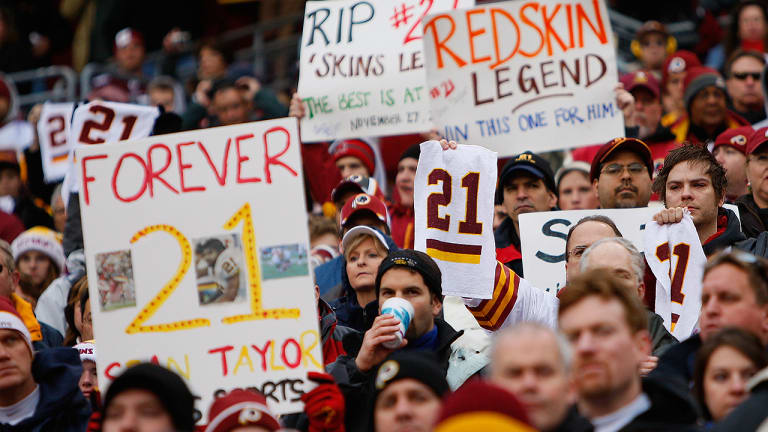 The Message Of Sean Taylor
HE HAD been dead for less than nine hours, the victim of an apparent break-in gone awry at his $900,000 home in a Miami suburb, when The Washington Post put up a column on its website under the headline TAYLOR'S DEATH IS TRAGIC BUT NOT SURPRISING. Portions of the Nov. 27 column were as jarring as the headline, particularly the passage, "Could anyone honestly say they never saw this coming? You'd have to be blind not to consider Taylor's checkered past."
So much for resting in peace.
SEAN TAYLOR, who was the fifth pick in the 2004 NFL draft and arguably the Redskins' best player this season, did have various run-ins with the law and the league during his first two pro seasons. But, even before Taylor's death, teammates, family and friends regarded those incidents as the actions of a young adult coping with the demands that come with sudden fame, fortune and celebrity. They were aware that over the last year and a half Taylor had matured and taken steps to change his ways, prompted by the birth of his daughter, Jackie, in May 2006.
That Taylor was somehow culpable in his own death, as the Post column suggested, struck a nerve with readers. At best the column was insensitive and premature, some wrote. At worst it was incendiary and racist, considering police had found no evidence of a link between Taylor's past and his death. Yet the Post was far from being the only media outlet to raise the possibility that the death of the 24-year-old Pro Bowl safety was directly tied to his past. Numerous others, including SPORTS ILLUSTRATED, had speculated that once the dots were connected, the story of a violent young man who had failed to escape his past would emerge.
Last Friday, however, three days after Taylor died from a single bullet wound to the leg, Miami-Dade County police director Robert Parker provided a different account when he announced the arrest of four males—three of them teenagers—from the Fort Myers, Fla., area and charged them with unpremeditated murder, home invasion with a deadly weapon and armed burglary.
"They were expecting a residence that was not occupied," Parker said of the assailants, "so murder or shooting someone was not their initial motive."
Two of the four men arrested—Jason Mitchell, 19, and Charles Wardlow, 18—appear to have been familiar with Taylor's house and loosely acquainted with the family. Mitchell, according to a report in The Miami Herald, had attended a birthday party for Taylor's half sister, Sasha Johnson, at Taylor's Palmetto Bay home, where Mitchell later mowed the lawn. Wardlow is the cousin of Johnson's boyfriend. Mitchell, Wardlow and the two other men charged, Venjah Hunte, 20, and Eric Rivera, 17, have prior arrest records.
According to police, the assailants broke into the home around 1:30 a.m. on Nov. 26.On many nights during the football season the house would have been unoccupied. But Taylor, recovering from a knee injury, had not accompanied the Redskins to Tampa Bay for their game against the Buccaneers the previous afternoon. Instead, he had spent the day in Palmetto Bay with his fiancée, Jackie Garcia,and their daughter. All three were sleeping in the same bedroom when they were awakened by a noise inside the house. Taylor reportedly grabbed a machete from under his bed, and started for the bedroom door. He never made it out of the room. One of the robbers shot Taylor in the groin—the bullet ripped open his femoral artery, which resulted in so much blood loss that Taylor died the following morning despite seven hours of surgery.
"What does Sean's past have to do with what happened here?'' Redskins tackle Chris Samuels told SI's Peter King two days later. "Sean was in bed by nine o'clock that night with his family, knowing he had to get up the next day to get treatment on his knee. I am telling you Sean was not a thug. He was a victim in his own bedroom. That's what we need to focus on. How in this great country can a man be asleep in his own bedroom, get shot, and in the media it's like he did something wrong to deserve this?''
IN THE age of the 24-hour news cycle, there is pressure to advance a story even when there are no new facts to report. Consequently, speculation too often replaces actual reporting, and truth occasionally takes a backseat to supposition.
Leonard Shapiro, who wrote the column on the Post's website, acknowledged on Monday that he wishes he'd had more time to cull information and that the aforementioned passage was "a little bit harsh." He said he received a call at 8:30 the morning that Taylor died asking if he could pull together something for the website. He filed his column roughly four hours later, then watched a news conference at which Redskins coach Joe Gibbs and team owner Dan Snyder spoke of how Taylor had been changing his life. Shapiro said he saw players echo that sentiment in other news reports. "I wish, in retrospect, I had toned [the column] down a little bit," said Shapiro. "In the responses [from readers of the column], people are saying, 'You're writing that he deserves this.' That's the furthest thing from the truth. That bothers me."
To be sure, Taylor had an enigmatic personality. Those close to him described a fun-loving, polite, even shy individual while acknowledging that he could be hot-tempered and emotional—behavior that plagued his first couple of years in the league. His name popped up on a police blotter twice: in October 2004, when he was arrested for suspicion of drunken driving (the charge was dismissed for lack of probable cause); and in June '05, when he was charged with aggravated assault, a felony, and misdemeanor battery after he allegedly pulled a gun during a fight over two ATVs that he claimed had been stolen from him (he pleaded no contest and the charges were reduced to misdemeanor counts of assault and battery). He also was disciplined by the NFL at least six times for illegal hits, uniform violations, skipping a portion of the mandatory rookie symposium and spitting in the face of an opponent.
Since then he had reduced his already tight inner circle to an even smaller group of family and friends, and, according to Gibbs, "had a growing relationship with the Lord." But Taylor rarely granted interviews to the media, which could partially explain why people viewed him through a prism that was as narrow as it was jaded.
Before the Redskins played the Cardinals on Oct. 21, there was talk in the Arizona locker room that Taylor could be baited into penalties. Cardinals cornerback Antrel Rolle (page 100), who played youth football with Taylor and teamed with him in the secondary at the University of Miami for two seasons, cautioned them that they were thinking of the old Sean. The new Sean, Rolle insisted, was smarter than that, more levelheaded. Taylor showed as much, with five tackles, one pass defensed and an interception that he returned 48 yards to set up Washington's first score in a 21--19 victory.
This, however, was not the predominant image of Taylor that was presented to the public in the days following his death.
IN THE media's haste to connect the dots in the Taylor case, comparisons with Atlanta Falcons quarterback Michael Vick were invoked on more than one occasion. Vick, who in August pleaded guilty to conspiracy to operate a dogfighting enterprise and is presently in prison while awaiting sentencing, is a young, black football star who stiff-armed the efforts of outsiders to distance him from questionable friends and associates, many of whom he had grown up with. Vick was, several leading voices in the African-American community offered, the victim of "ghetto loyalty" (SI, Nov. 26), taken down by obligations he felt toward his friends from the 'hood. In truth, besides their youth, race and profession, Taylor and Vick had little in common.
Vick grew up in the projects of Newport News, Va., attended a public high school and has cited his mother, Brenda, who worked at Kmart and drove a school bus, as the primary parental influence during his childhood. Taylor grew up in a middle-class neighborhood of Miami, attended a private school and grew up in the home of his father, Pedro, a police officer who is now the chief of police in Florida City. (Vick's parents married when their son was five, but have since separated and Michael has long had a frosty relationship with his father. Taylor's parents divorced when he was three, but Sean was in regular contact with his mother and her family.)
"Sean has never been a thug a day in his life—far, very, very far from it," says Rolle. "Of course he did some dumb things in his past, everyone knows that. But he also paid his dues for those things and grew up, so let it go."
When it comes to the coverage of African-American professional athletes, particularly those who are found to have broken the law or league rules, race is never far from the discussion. Early accounts of Taylor's death were no exception. Did some media outlets jump to conclusions simply because he was a young black athlete who had gotten into trouble in the past? Did Taylor simply fit a convenient, race-based template that says that when a black athlete gets into trouble, he must be a thug?
"The problem with the media is, we always want to blend everything and make everything connect, and sometimes things just don't connect," says Ryan McNeil, who was a cornerback in the NFL for 11 years and now publishes OverTime Magazine, a lifestyle and business publication for current and former pro athletes."Sometimes it is what it is, and that's hard to accept for the ESPNs of the world who want to be first [with the story]. They're the 800-pound gorilla, and they want to keep putting it out there, putting it out there.
"Many of the people who made opinions and made statements about Sean Taylor," added McNeil, "didn't know Sean Taylor."
Complicating matters was the fact that one of the most controversial statements about Taylor's death came from someone who did know Taylor. Rolle threw chum in the water the day after Taylor died by saying there was more at play than a botched burglary. He identified Taylor as a target and said his boyhood friend was"scared" whenever he returned to Miami over the last three years. Two days later Rolle backtracked, telling SI that what he meant to say was that, because of his success, Taylor was always under a microscope when he returned to South Florida. "I'm not saying that people were actually targeting him to kill him," said Rolle, who hadn't spoken to Taylor in about a year."I'm not saying he had enemies, because I don't know whether he had enemies or not."
THE NEGATIVE portrayal of Taylor and the innuendo surrounding his murder almost certainly wasn't malicious, but rather another example of the media's rush to explain what had yet to be explained, the desperate need to be quicker and louder thanthe next news outlet.
Didn't we learn anything from the Duke lacrosse case about rushing to judgment?
"I looked at this from a lot of different angles—from being an alumnus of the University of Miami, from being a former professional football player, from being a publisher of a media property," says McNeil. "And I think that because there wasn't a lot of information being shared, everybody's imagination was allowed to run free.
"But at the end of the day, we have to remember that his family is at a loss, I'm at a loss because I knew him, his friends and his teammates are at a loss, and the NFL is at a loss. To me, this hurts on a number of different levels because this kid had so much potential, not only as a player but as a person."
"How in this great country," said Samuels,"can a man be asleep in his own bedroom, get shot, and in the media it's like he did SOMETHING WRONG to deserve this."
The assailants "were expecting a residence that wasn't occupied. MURDER or shooting someone wasn't their initialmotive."
PHOTO
Photograph by Win McNamee/Getty
ImagesPHOTOSIMONBRUTYTRIBUTE On Sunday the Skins honored Taylor at FedEx Field, then sent only 10 men into the game for their first defensive play.PHOTOANDREW CAMERON/REUTERS (PORTIS)D.C. UNITED Teammates mourned Taylor's passing at practice; Clinton Portis (below) flashed Sean's image in the end zone.PHOTOPABLO MARTINEZ MONSIVAIS/AP[See caption above]PHOTOHANS DERYK/REUTERS (GARCIA)MEMORIAL Fans flocked to FedEx Field; in Miami, his fiancée and daughter were among 3,000 mourners at the funeral.PHOTOSIMON BRUTY[See caption above]PHOTOMIAMI-DADE POLICE DEPARTMENT/REUTERS (HUNTE)HUNTEPHOTOMIAMI-DADE POLICE DEPARTMENT/REUTERS (MITCHELL)MITCHELLPHOTOMIAMI-DADE POLICE DEPARTMENT/REUTERS (RIVERA)RIVERAPHOTOMIAMI-DADE POLICE DEPARTMENT/REUTERS (WARDLOW)WARDLOW