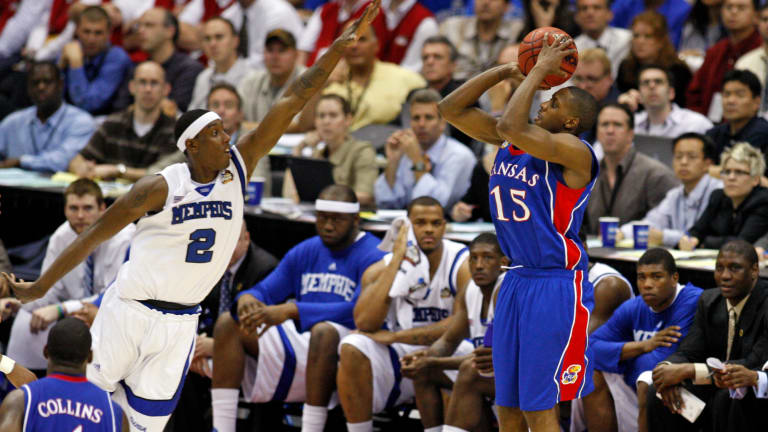 Rock Chalk, Champions
After a fantastic two-minute flurry at the end of regulation, Kansas KO'd Memphis 75–68 in overtime to claim the Jayhawks' first title since Danny and the Miracles prevailed 20 years ago.
The ball floated through the air, its pebbled surface spinning softly, as serene and peaceful as a space capsule in a low-earth orbit. At 10:29 p.m. CDT on Monday at the Alamodome in San Antonio, the fate of a college basketball season rested on Kansas guard Mario Chalmers—or, to be more precise, on his last-ditch three-pointer, a make-or-break heave with 2.1 seconds left that would either send the NCAA title game into overtime or give Memphis, clinging to a 63–60 lead, its first championship in school history. 
In his mind's eye Chalmers had been here before. As a four-year-old in Anchorage he and his father, Ronnie, would set up a makeshift basketball arena in their family room, complete with two Nerf basketball goals, couches for team benches and even space for Mario's mother, Almarie, to perform "The Star-Spangled Banner." Mario would often skip to the finish and (three, two, one!) launch a bomb with the championship on the line. In those days, as on Monday night, Super Mario was money. "As soon as it left my hand it felt good, and I knew it was going in," Chalmers said after his miraculous trey from the top of the key had completed KU's rise from a nine-point abyss with 2:12 left in regulation. "I just waited for it to hit the net."
The Jayhawks' 75–68 overtime victory was a rare fantastic finish in college basketball's crown jewel, the most riveting final since Connecticut upset Duke 77–74 in 1999, and it showcased the remarkable balance of Kansas, the only Final Four team not to have an All-America. If the hero wasn't Chalmers, the Final Four's Most Outstanding Player, it was forward Darrell Arthur, who overpowered Tigers forward Joey Dorsey with 20 points and 10 rebounds. Or swingman Brandon Rush, whose two overtime buckets crushed Memphis's hopes. Or maybe the entire Kansas defense, which slowed the Tigers' dribble-drive motion attack and held them to just 40.3% shooting.
But Memphis had a hand in its own demise. All season long the Tigers had claimed that their woeful 60.7% free throw shooting wouldn't be their undoing when the games counted most, and sure enough, the Tigers had made 50 of their last 59 foul shots entering Monday's final. But against Kansas their confidence finally failed them at the worst possible moment. Guards Chris Douglas-Roberts and Derrick Rose, Memphis's two best players, sank only 1 of 5 from the line in the final 1:15 of regulation, opening the door for the Jayhawks' comeback. "I let them down by missing those free throws," said Douglas-Roberts, who apologized to the team in the locker room and blamed himself for the loss.
Rose hadn't acted like a freshman all night, scoring 18 points and leading a second-half charge, but with that 63–60 lead he cracked, failing to heed coach John Calipari's instructions to foul Kansas point guard Sherron Collins before he could dish to Chalmers for the equalizing three-pointer. Afterward Rose was inconsolable, crying outside the locker room as the Reverend Jesse Jackson, the team's unofficial spiritual adviser, held him up. "Don't look like a freshman crying. It looks pitiful," Jackson whispered into Rose's left ear. "Smile through your tears and speak above your pain."
On the other side the emotion was just as raw, courtesy of Chalmers's last-second lifeline. "It will probably be," said Jayhawks coach Bill Self, "the biggest shot ever made in Kansas history."
In presenting Kansas with its third NCAA basketball championship, the 45-year-old Self laid to rest any remaining doubts that he couldn't win the Big One. But it was the Jayhawks' stomach-churning 59–57 defeat of 10th-seeded Davidson to reach San Antonio—Self's first Elite Eight victory in five tries at three schools—that liberated not just the coach but also his entire team from paralyzing Self-doubt. "I believe in some weird way that the Elite Eight game was the best thing that could have happened for us," Self said last week during a quiet moment in his hotel aerie overlooking the Alamodome. "We had to play out of our comfort zone, and we didn't play great, but we found a way to win.It was a relief for our guys. Now they could just go have fun and play."
By the time Davidson guard Jason Richards's last-second shot that would have won the game caromed off the backboard, Self had fallen to his knees, bowled over by the weight of the moment. Survival, not celebration, was the prevailing sensation. But Self was a new man once he returned home that night with his wife, Cindy, and their children, Lauren, 17, and Tyler, 14. At 2 a.m. the family gathered on the sofa of the sprawling basement game room and watched the replay of the victory with a new outlook. "Our house had been full for weeks, and now it was just us," Cindy said later. "Everybody was so excited, but Bill was the only one awake at the end. The rest of us were zonked out. I think it was 3:30 when he finally said, 'O.K., everybody, go to bed.'"
As Kansas prepared for the Final Four, memories of their long journey to get there came flooding back for Bill and Cindy, sweethearts since their days as Oklahoma State students. At a tip-off event in San Antonio last Thursday night, Bill sat onstage with the other three head coaches and recalled how in 1984 he injured his knee before his senior season while working at the Kansas basketball camp run by then Jayhawks coach Larry Brown. "Coach Brown felt terrible," said Self, who was a four-year letterman at guard for OSU, "and the worse he felt, the more I limped." When Brown asked Self what he could do to repay him, Self's reply was direct: Hire me as your graduate assistant next year. And Brown did, tapping Self to replace a departing GA named John Calipari.
The most troublesome memory for Self was one from the end of his second season at Kansas, in 2005, after the Jayhawks had been upset in the first round of the NCAAs by Bucknell. A few weeks later he sat in a private room at a St. Louis restaurant watching the previous team he had coached, Illinois, lose in the national title game to North Carolina, which was coached by his predecessor at Kansas, Roy Williams. "I was happy that Illinois was there, but I was also, to be quite candid, jealous," Self says. "Because those were the guys my staff had put together. Then you had the Kansas contingent that was jealous because Roy was playing and we were not. It was the most frustrating time for me as a coach that didn't have anything to do with winning or losing."
There would be another first-round defeat, to Bradley, the next year followed by a loss in theElite Eight last season, this time as a No. 1 seed to UCLA. Says Cindy, "It was like, Ugh, are we going to get over this hump?"
It seemed as though Self had yet another high-talent, low-mettle team destined for an early March exit when the Jayhawks lost for the third time in seven games, on Feb. 23 at 13–12 Oklahoma State. At a time when the coach had hoped his players would close ranks—in addition to the late-season stumble, both senior forward Darnell Jackson's cousin and senior guard Rodrick Stewart's adopted brother had died on Feb. 20 after having been shot in unrelated incidents—they failed to do so. "When's the last time you had a players-only meeting?" Self asked his team after the game. "Have you talked about how you're going to rally Darnell and Rod?" The players shook their heads. "Well," Self replied, "I thought you guys cared."
The seniors organized a private team meal at Henry T's, Jackson's favorite restaurant, where they expressed support for their teammates and allowed each one to air his grievances. "We really laid down in that [Oklahoma State] game,"guard Russell Robinson said last week, "and we were pointing the finger and not taking responsibility for our own mistakes." Thanks to the return of senior leadership, Self said in San Antonio, "this has been a totally different team."
Yet nobody would have predicted the no-that's-not-a-misprint score line with 6:48 left in the first half of last Saturday's second semifinal: Kansas 40, North Carolina 12. While the major theme heading into the game had been Williams's first game against Kansas since he had famously departed Lawrence in 2003, the story instead was the Jayhawks' suffocating defense, which nearly made the proud Tar Heels cry UNCle. "Good defense should beat good offense any day," Self said last Thursday, and Kansas provided plenty of evidence. The Jayhawks sent waves of double teams at national player of the year Tyler Hansbrough, forced point guard Ty Lawson into uncharacteristic mistakes and slowed NorthCarolina's vaunted secondary break.
For all that defensive mastery—the Tar Heels shot only 35.8% from the field—it didn't hurt that Kansas hit 53.1% of its shots. And while UNC roared back, cutting the lead to 54–50 midway through the second half, KU finished with a 30–16 run for a comfortable 84–66 victory. The upset of the tournament's overall top seed was a powerful validation for the Jayhawks' contention that they play better on the rare occasions when they're underdogs. Whether that's an admirable trait in a champion is debatable, but Kansas clearly benefited from avoiding the favorite's tag in an unprecedented Final Four that had all the No. 1 seeds. "There was so much pressure on us to get here, but now we've made it and all the pressure's off," Collins said after the North Carolina game.
In that case, no Jayhawk showed more grace under (no) pressure on Saturday than Rush, whose level of aggressiveness is monitored as closely back home as the winter wheat harvests. "Brandon can get comfortable, and I don't think that's the best way he needs to play," said Self. "I think he's the best wing in the country, but my message to him is the same all the time: attack, attack, attack." Asked before the semifinal if he was tired of the questions about his game intensity, Rush said that he didn't mind at all. "I love being questioned about it," he said, "because I think I've got a pretty good answer to it." He certainly did against the Tar Heels, scoring 10 points in the Jayhawks' 25–2 first-half run and finishing with a game-high 25.
While Kansas fans were partying on the San Antonio Riverwalk at 1 a.m. on Sunday, the coaching staff (Self, assistants Joe Dooley, Danny Manning and Kurtis Townsend, and Ronnie Chalmers, who is the team's director of basketball operations) was assembling in room 2124 at the downtown Hilton for a Memphis game-planning session. In a fitting nod to KU's last national title team, the scouting report for Memphis was prepared by Manning—the Sunflower State legend whose 31 points and 18 rebounds against Oklahoma had led the squad known as Danny and the Miracles to the championship 20 years earlier. After a 15-year NBA career, Manning joined Self's staff in 2003, starting as the director of student-athlete development and working his way up to full-time assistant this season.
How many college basketball greats have had the humility to return to their alma mater and pay their dues under a new regime? Manning shied away from media requests all season, directing the spotlight to the players, but his impact on the team was undeniable. It was Manning's focus on footwork and positioning that helped turn Jackson into one of the nation's most improved frontcourt players this season. And it was Manning's embodiment of past glory that gave the Jayhawks added incentive. "He has a big influence because he has been here before, and he has won it all," said Rush last week. "He's always remembering the speeches he gave in the big games."
In the wee hours of Sunday morning, though, Manning was just another bleary-eyed assistant breaking down the Memphis tendencies as video clips from the Tigers' NCAA tournament games flashed on the plasma screen in front of the Kansas coaches. "Fast-break points, points in the paint—that's the bottom line," Manning said, noting his biggest concerns about Memphis's hard-driving attack. For his part, Self was floored by the Tigers' ascendant freshman point guard, Derrick Rose, marveling at his quick first step and the way he used his chiseled 6'3", 190-pound body to overwhelm UCLA's Darren Collison for 25 points in the first semifinal on Saturday. "When did he get to be such a good shooter?" Self asked, adding that the 5'11" Collins might have a hard time matching up against Memphis's taller guards despite his competitive desire to do so.
But the Kansas coaches also saw weaknesses they could exploit. Mississippi State had used an effective 2–3 zone to slow the pace and clog the driving lanes in Memphis's hard-fought 77–74 second-round victory. And while Rose and Douglas-Roberts would command plenty of help defense to stop their penetration, Memphis's outside shooters—guards Antonio Anderson, Willie Kemp and Doneal Mack—had been inconsistent from three-point range all season. "We have to make them shoot [outside] shots, cut off the lanes and make it look crowded [inside]," Self said, sounding a lot like Tennessee coach Bruce Pearl, whose willingness to let Memphis shoot (and miss) threes had led to the Tigers' only loss of the season before Monday night.
Yet the late-night session wasn't all about X's and O's. The defense-obsessed Self would occasionally stop and blurt out his continued astonishment over his team's takedown of the Tar Heels. ("We held Carolina nine minutes without afield goal!") The coaches also took a 15-minute break to welcome several former Jayhawks—Scot Pollard, Ryan Robertson, Greg Gurley and T.J. Pugh—who gathered with their girlfriends and wives around Self, the coach holding court on the semifinal win while perched on the countertop of the room's bar. That the alums had all played for Roy Williams was one sign of how Self has won over the fan base.
Shortly after 2 a.m., Manning took a call on his cellphone. "I got him! I got Manning!" shouted the young caller to his friends before hanging up. After the guy dialed Manning's number two more times in the next five minutes, the other coaches chuckled. "Danny Manning! Danny Manning!" they teased.
On Monday night ,however, Self and his staff were all business, and their game plan accomplished something UCLA's couldn't two days earlier, obstructing the Tigers' fearsome drives with a sagging man-to-man defense. Although Kansas didn't shut down Rose and Douglas-Roberts (22 points), the Memphis backcourt couldn't match its usual efficiency, shooting a combined 14 for 33. "I think I did a pretty good job on [Douglas-Roberts]," said Rush. "In the second half I tried to buckle down and sit down on his left hand. Then my team helped me out, too."
When it was over, as confetti cannons belched and chants of Rock Chalk, Jayhawk echoed through the Alamodome, Rush and Manning, player and assistant coach, met at half-court for a long embrace. Talk about your college hoops flashbacks. On a glorious spring night 20 years ago in Kansas City, a transcendent number 25 in Kansas blue (Manning) led the Jayhawks to a national title. On Monday night in San Antonio, another number 25 in Kansas blue (Rush) helped take over a championship game that appeared lost and put KU back into the history books. The calendar may be different, and the uniform shorts a little longer, but that championship feeling?
It's timeless.