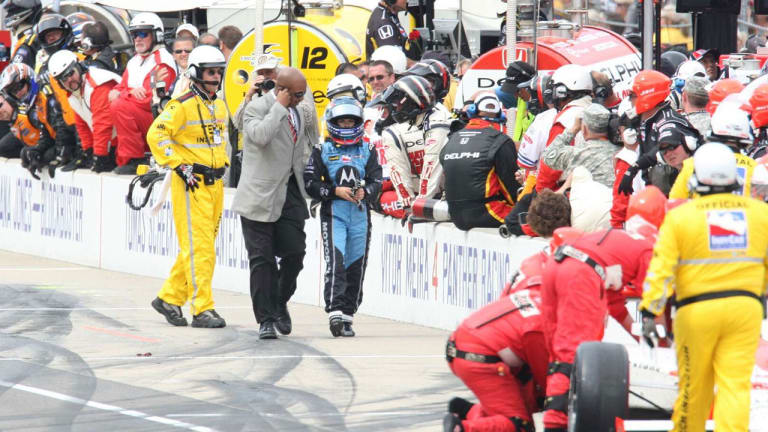 All Eyes On Indy
Knocked out of the race, Danica Patrick was fuming while Scott Dixon was cruising to victory in a rejuvenated 500. Can U.S. open-wheel racing build on its recent merger and keep the momentum going?
FOR 13 YEARS they had waited for this moment, waited as open-wheel racing lost its luster and receded deeper into the background of America's sports landscape. For 13 years,following the breakup of the open-wheel circuit into competing series (CART and IRL), the top owners and drivers had watched the Indianapolis 500 become less and less relevant. For 13 years the race that was once America's most watched and celebrated had the feel of a party at which only half the guests (IRL drivers) showed up.
But in February the two organizations (by then known as Champ Car and IndyCar Series,respectively) finally came together again as one, and on Sunday a new era dawned on the Indy 500. For the first time since 1995 all the top open-wheel drivers were at the Brickyard. "There's more excitement now in our sport than I can ever remember," 27-year-old driver Scott Dixon said before the race. "This is going to be special."
For Dixon the race was even more special. Driving for Target Chip Ganassi Racing, the native of Auckland, New Zealand, started from the pole and led 115 of the 200 laps to earn his first Indy 500 victory with startling ease, crossing the finish line1.75 seconds ahead of Vitor Meira. In fact, the most dramatic moment in a race that was slowed by eight caution flags took place on pit road.
With 29 laps left, Danica Patrick pulled out of her pit stall in seventh place. A heartbeat later, Ryan Briscoe fishtailed out of his stall and clipped the left rear of Patrick's car. The incident knocked both cars out of the race, but Patrick's internal RPMs were still running high. She hopped out of her damaged car and marched briskly toward Briscoe's pit to confront him, but she was cut off and directed back to her pit by the speedway's head of security, Charles Burns.
Two hours after the race Patrick, who wound up 22nd in the 33-car field and failed to finish at Indy for the first time in four starts, was still miffed about her lost opportunity. "The less I say the better, but it's clear by the replay what happened," she said from outside her motor home parked in the infield."Guess it's a good thing I didn't get to talk to him." Patrick started in the fifth spot on the grid, but never ran higher than sixth after that.During the race she told her crew repeatedly that she was "too slow,"as her car lacked enough grip in the corners to keep up with the leaders.
In her quest to become the first woman to win the 500, Patrick had drawn the most media attention throughout May, yet it was Dixon who dominated on the track during that time. He consistently posted the fastest speeds in practice before winning the pole, which wasn't surprising as he has been the circuit's top driver this season. He won the opening race, at Homestead-Miami Speedway, and after five events has led a series-high 315 laps and is first in the point standings. Henarrowly lost the 2007 IndyCar Series championship to Dario Franchitti because he ran out of gas while leading on the last lap of the last race, at Chicagoland Speedway. The near miss gnawed at Dixon and team owner Chip Ganassi throughout the off-season. "This win doesn't make me feel any better about that," said Ganassi on Sunday evening. "But we've had a great start to the year, and there's a lot of buzz around the sport. It's a new world for us."
Yet for as many strides as open-wheel racing has made this year—in addition to the merger, TV ratings for the Indy 500 rose from a 4.8 in 2007 to a 5.2, and Sunday's estimated attendance of 275,000 was the largest for the race since the split—the new IndyCar Series still has miles to travel before it can undo the damage done by the 1994 breakup, which eroded the sport's fan base and opened the door for NASCAR's explosive growth soon after. (IndyCar claims a fan base of 36 million; NASCAR says its following is 75 million strong.) To continue its growth, IndyCar must do four things:
• Aggressively market its drivers After the final race of 2007, Patrick met with IndyCar brass to air her biggest worry about the sport: the lack of marketing for its drivers, in particular those not named Danica. "I want them to use me as much as possible to bring in new sponsors and fans," says Patrick."There are times when I feel like I'm not being used enough." She isn't the only driver who believes IndyCar could learn a few marketing lessons from NASCAR, which boasts a p.r. staff nearly four times larger and zealously promotes its drivers on everything from billboards to television and radios pots. In late April, Ganassi driver Dan Wheldon made a scheduled appearance with FC Dallas, a Major League Soccer team, and was shocked to discover that not a single IndyCar staff member was on hand to facilitate his interaction with the media. "We need to be perceived as very professional," says Wheldon. "We need to grow the names in this series, and that takes good p.r. work."
• Improve competition, top to bottom There's a clear division among the merged teams, at least in the racing on oval tracks, between haves and have-nots. The former Champ Car teams, which raced exclusively on road and street courses, have struggled mightily on ovals; in the Indy 500 the highest-finishing former Champ Car driver was Oriol Servea, who was 11th. "We're a year behind in technology on the ovals, and it shows," says Will Power, another former Champ Car driver now with Team Australia. "We're probably a year or two away from being competitive." Before the season each Champ Car team was paired with an existing IndyCar outfit to help ease the new team's transition.Power's team has been matched with Target Chip Ganassi, which has provided crucial setup information to Team Australia. This is a nice start, but the quicker the former Champ Car teams get up to speed on the ovals, the better it will be for the series.
• Retain the top drivers Last year's champ, Franchitti, jumped to NASCAR in the off-season, and three more of IndyCar's biggest stars—Patrick, Helio Castroneves and Graham Rahal—have contemplated moves to other forms of racing. Neither Patrick nor Castroneves has shut the door on NASCAR, and Rahal has talked of both NASCAR and Formula One. To prevent an ongoing exodus, IndyCar must increase its fanbase, which will lead to more sponsors and higher driver salaries. "This series has more potential than NASCAR, because NASCAR has peaked," says Rahal. "Last year I was thinking that maybe I needed to go to NASCAR, but ever since the merger I don't think that anymore."
• Develop new teams and young talent A primary sponsorship in NASCAR typically costs $15 million per season; sponsorship in IndyCar runs about $3 million a year."IndyCar is the lowest-cost racing around, and we need to keep it that way to entice more sponsors and owners," says Roger Penske, who owns IndyCar and NASCAR teams. "If we got seven or eight new teams, it would make our sport much more healthy." He also pines for one other thing: more U.S.-bornracers with the potential to become stars. "We need to attract new names,and we need to be the place where all the young drivers want to end up,"says Penske. "You know, golf was down on their knees before Tiger Woods came along."
SCOTT DIXON will never pack the star power of Tiger or even Danica—the New Zealander is as reticent and seemingly emotion-free as any driver in the paddock—but 90 minutes after the race on Sunday a crowd of 1,000 still stood in the infield and chanted his name as he climbed the stairs of the track's iconic Pagoda, just behind the pits. Dixon, with his wife of three months, Emma, standing nearby,did something wholly out of character: Yelling to the fans from a balcony, he flung several hats emblazoned with BORG WARNER (the name of the winner's trophy) out over the crowd. The normally stone-faced driver then pumped his fist once, twice, then let out another whoop, prompting the fans to cheer him even louder.
For an open-wheel driver these days, winning the Indianapolis 500 is once again a heady feeling.A great spectacle, indeed.
"We need to be perceived as very professional," Wheldon says of IndyCar. "We need to GROW THE NAMES inthis series."
NOW ON SI.COM
SPORTS IN REAL TIME. ALL THE TIME. ALL FREE.
REVVING ENGINES
IndyCar racing and NASCAR event previews and postraceanalysis from Lars Anderson, plus Mark Beech's Racing Fan.
SI.COM/NASCAR
PHOTO
Photograph
by Simon
Bruty
GLOVES OFF Done for the day, Patrick, never an on-track threat to first-time winner Dixon (inset), set off to confront Briscoe but was reined in by security.
PHOTO
FRED VUICH
[See caption above]
PHOTO
FRED
VUICH
WAY OUT FRONT The taciturn Dixon capped a dominating May at the Brickyard by leading 115 of the 200 laps and winning by 1.75 seconds.