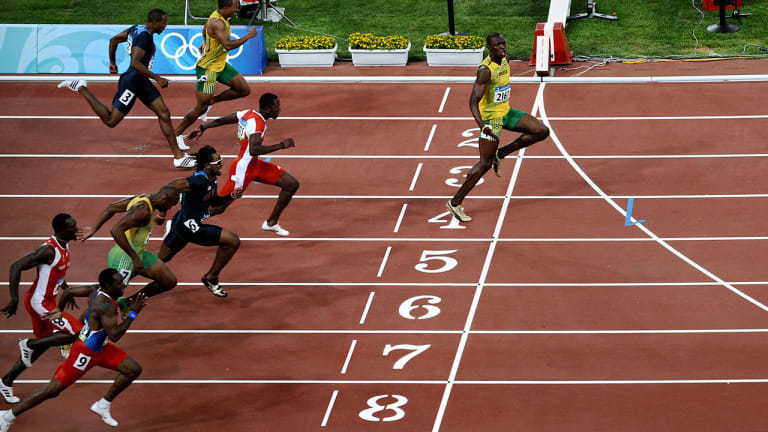 Lightning Bolt
In a race that jolted his sport, 21-year-old Usain Bolt of Jamaica smashed the world record for 100 meters and established himself as a threat to win multiple gold medals at the Beijing Olympics
On a warm, breezy afternoon in late May, sprinters clogged the faded orange surface of a training track adjacent to the National Stadium in Kingston, Jamaica. World-class athletes mixed with young children wearing tiny racing spikes, a culture worshipping a sport that struggles elsewhere. Coaches shouted instructions and punched stopwatches. Music drifted across from a nearby neighborhood called Nannyville. And all eyes found Usain Bolt, a majestic, 6'5" 21-year-old poised on the cusp of history. On May 3 Bolt had shaken the track world at a meet in Kingston by running 9.76 seconds—the second-fastest time in history, just .02 off countryman Asafa Powell's year-old world record—in only the third 100-meter race of his life. Bolt had been a prodigy in the 200 meters, winning the world junior title at age 15 and taking a silver medal at the world championships last summer in Osaka. His sudden rise in the 100 had been unexpected even by track insiders, but Bolt knew there was much more ahead.
On May 18 in Trinidad he won another 100, in 9.92 seconds, despite a terrible start. "He came to me after that race and said, 'The world record is there for me,'" says Bolt's coach, Glen Mills. "He knew he would get it soon."
Thirteen days later, to be precise. Last Saturday night at 10 minutes past 11, Bolt folded into his starting blocks for the start of the 100, the final event of the Reebok Grand Prix on Randall's Island in New York City. It had been a long and strange evening; a thunderstorm had delayed the meet for nearly an hour, and on a spit of land in the largest city in the United States, emotional Jamaican fans dominated the crowd. The race had been hyped as a matchup between Bolt and world champion Tyson Gay of the U.S., but a week earlier Powell's coach, Stephen Francis, had said, "From what I have seen this year, Tyson Gay is in trouble."
At the first gun Bolt was left in the blocks, but Mike Rodgers of the U.S. was called for a false start. "The first start was very bad for me," Bolt said later. "When they called a false start, I said, Thank God." On the second try Bolt came out sharply and immediately put daylight on Gay, his long stride devouring the yardage. "We were on the same rhythm," said Gay. "But his stride pattern is a whole lot bigger than mine."
Standing at the edge of the stands, near the finish line, Mills couldn't get a view of the race until about the 50-meter mark. "By then," he said, "it was over."
Bolt flashed through the line, and the scoreboard froze at 9.71 before a hundredth of a second was added for an official time of 9.72, the first 100 world record set on U.S. soil since Donovan Bailey, a Jamaican-born Canadian, won the 1996 Olympic gold medal in Atlanta in 9.84 (chart). Gay was second at 9.85, just .01 over his personal best. (Like Bolt, he rode a brisk but legal tailwind of 1.7 meters per second.) No man has ever run so fast and been beaten so soundly.
"We look like junior high kids out there compared to the man," said Darvis Patton, a member of the U.S. gold medal 4√ó100-meter relay at last summer's worlds and the third-place finisher (10.07 seconds) behind Bolt and Gay on Saturday. "What an impressive athlete. Twenty-one years old, six-foot-five. Sky's the limit, man."
Bolt's emergence has altered the landscape of the Olympic-year 100 meters. It had been presumed that the 25-year-old Gay, who won the 100 and the 200 at the Osaka worlds, would be challenged by Powell, also 25, who is seeking his first major title.
But Powell injured his right shoulder while weight training in April. The injury was first reported as a pectoral strain, but the damage was more extensive, and Powell underwent surgery in Miami, leaving a scar that runs from his armpit into his upper chest. "They put me to sleep and fixed my tendons and ligaments," Powell said on May 24 in Jamaica. He was in Miami recovering when Bolt ran his 9.76 (Powell texted congratulations), and as of late May he had not resumed start training, although he plans a full July of races in Europe. Gay spent the winter training with longtime coach Lance Braumann in Orlando, but in March he moved to Dallas to work with sprint and start consultant Jon Drummond. He is clearly—and probably intentionally—behind Bolt, aiming toward an August peak. Even Bolt pointed out, "I think Tyson Gay is not in tip-top shape yet."
Even when Gay reaches prime condition, he will find Bolt to be a formidable opponent. Powell often struggles with the pressure of big races. While Bolt is new to the game, it is instructive that he spent Saturday sleeping peacefully in his hotel room. "All day," he said after his record race. As recently as two weeks ago Bolt had said he might not run the 100 in the Olympics; now it is certain that he will double in the 100 and the 200. (He is scheduled to run the 200 on June 12 at a meet in Ostrava, Czech Republic.)
In the long view Bolt's world is changed. He is now the Olympic favorite in a glamour event and is also the fastest sprinter in history. With that status comes endless and justifiable questioning about steroids and other performance enhancers. (Bolt has been drug-tested at least three times since early May, including after last Saturday's race, and told SI in Jamaica, "I'm clean, yeah. Definitely.") He lives at the base of a hillside in Kingston, not far from the training track. Powell lives at the crest of the ridge, where the more lavish homes are found, and drives past Bolt's house every morning en route to practice. Bolt says he will soon consider relocating to the top of the hill, a move that would be both well-earned and symbolic.