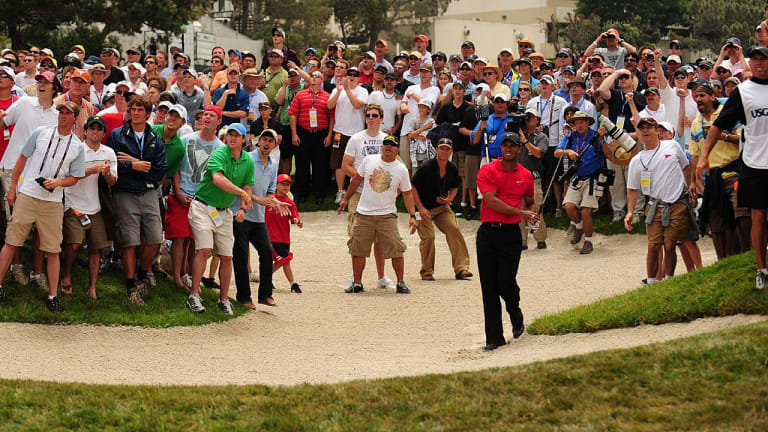 Hurts So Good
Playing in pain and not at the top of his game, Tiger Woods battled Torrey Pines for 91 holes, rallying late in regulation and again in a playoff to overcome long shot Rocco Mediate for what he ranked as the best of his 14 major championships
Tiger Woods has defined his career in terms of major championship victories, and in turn they have defined him. Some wins have been monuments to his power, as when he obliterated the old Augusta National in 1997, and others have been tributes to his precision, such as the 2000 British Open, when he navigated the heaving earth of the Old Course without hitting into a single bunker. Woods has separated himself with clutch putting, as at the '06 PGA Championship when he canned a pair of 40-footers early in the final round, and he has dazzled as a tactician, taking apart Southern Hills one little swing at a time at the '07 PGA. Woods's unique skill set was on display again at last week's U.S. Open,but this victory was more visceral. It was all heart.
Playing for the first time since arthroscopic knee surgery two months ago, Woods was sore,stiff and rusty when he arrived at Torrey Pines Golf Course in La Jolla,Calif., a 7,643-yard brute that was easily the longest track in major championship history. Over four riveting rounds and a taxing 19-hole Monday playoff, Woods didn't play the golf course so much as brawl with it, his left leg occasionally buckling mid-swing, his face often twisted into a mask of pain, audible grunts and groans escaping after so many shots. Yet this son of a Green Beret simply soldiered on. Woods snatched this Open with typically heroic flourishes, but his 14th major championship triumph was mostly about a palpable refusal to give in—to the pain, to an exacting course and to anyone trying to take a trophy that Woods considered to be rightfully his.
After four days of scrappy golf Woods came to the par-5 72nd hole on Sunday trailing Rocco Mediate by a stroke. A bad drive into a fairway bunker and a sloppy layup left him in the tangly right rough, 101 yards from a dangerous pin cut hard against a green-front pond. Woods muscled a wedge shot to within 12 feet, and our national championship was suddenly distilled into a moment thrilling in its simplicity: Make the putt or go home. One of Earl Woods's most famous quotes was actually a whisper into his son's ear at a critical juncture of a long-agoU.S. Amateur: "Let the legend grow." It grows, still. Woods buried the putt, setting up the 18-hole playoff with Mediate, a likable 45-year-old veteran with a bad back and loose lips and not the foggiest idea of what he had gotten himself into.
On Monday,Mediate battled bravely and actually outplayed Woods tee-to-green but he could not match his opponent's resourcefulness. Mediate, who rallied from a three-shot deficit with eight holes left, was at even par and one stroke ahead playing the 18th hole but for the second straight day could only make a disappointing par. When Woods summoned a textbook two-putt birdie the two moved on to sudden death. On the first extra hole Woods played two flawless shots and Mediate finally cracked, going from a fairway bunker to greenside rough en route to a fatal bogey.
Mediate has long been one of Woods's most vocal fans. When they bumped into each other following the third round, during which Tiger had made two eagles and chipped in for birdie over the closing six holes, Mediate couldn't contain himself: "Are you completely out of your mind? Jeez-o, man!" On Sunday evening, following Woods's final-hole birdie, Mediate said, "I knew he'd make that putt.That's what he does." His opinion of Woods was only elevated during the playoff. "He is so hard to beat," Mediate said when it was over."He's unreal."
For Woods the victory was deeply satisfying on any number of levels. This is his third U.S.Open championship but first in six years, and in the annals of the tournament he now trails only four-time winners Willie Anderson, Bobby Jones, Ben Hogan and Jack Nicklaus. With his 14 career majors Woods has crept ever closer to Nicklaus's epic total of 18, and it is mind-boggling to think that at 32 he is potentially one great calendar year away from attaining the unattainable. Then there is the Torrey story—Woods grew up about 90 miles from this celebrated municipal course and has been playing there since he was a kid and winning there since he was a teen. It is poetic that a player who was forged on the hardscrabble fairways of public courses has won his U.S. Opens at Pebble Beach, Bethpage and Torrey Pines, three layouts that are open to all.
Woods will always be most closely identified with the Masters because of the sociopolitical overtones of his breakthrough victory in 1997 and because the exquisitely manicured course allows him to display both his creativity and his power. TheU.S. Open, however, is more reflective of what Woods is all about. It's a grinder's tournament, a nonstop stressfest that pushes players to the breaking point, and sometimes beyond. (On Friday, Ian Poulter, citing a wrist injury,withdrew in the middle of his round after a tantrum during which he buried a club in the ground up to its hosel and flipped off an offending piece of turf.)Woods revels in the punishment doled out by the Open, and last week he performed a kind of golfing rope-a-dope in which he was willing to absorb the shooting pain in his knee and the sting of his four double bogeys because he knew the ensuing triumph would be that much sweeter.
"It was a great battle," Woods said afterward. He was speaking of Mediate in particular, but he could have meant so much more. Asked how this one rates among all of his majors, Woods said, "I think this one is the best, just because of all the things I had to deal with."
*****
Like Ali and Jordan, Woods doesn't simply want to win—he wants to beat you. It's personal with him, and to that point the USGA, as part of a plan to have the top players in the World Ranking on the course at the same time, helped spur Woods by matching him with Phil Mickelson and world No. 3 Adam Scott over the first two rounds, a blockbuster threesome that left everybody else in the field playing to a sound track of crickets and cheering family members. Woods needed the adrenaline provided by playing with Mickelson to make him whole because on April 17, two days after the Masters concluded, he had surgery on his left knee to repair cartilage damage (the third operation on the same knee since 1994). In the run-up to the Open, Woods was reduced mostly to chipping and putting,and during his practice rounds at Torrey he never played more than nine holes.Though he still had a noticeable limp, Woods tried to downplay his condition on the eve of the tournament, saying, "I'm good to go. I plan on being competitive. Come game time I'll be ready."
It's easy to forget, given his superstar sheen, that Woods grew up as a golf nerd. Vanity is part of what has driven him to build his body to superhero dimensions; knowing that the general public largely considers golfers to be weenies, Woods repeatedly downplayed how much his knee was bothering him. His swing coach,Hank Haney, provided a more honest assessment: "He's hurting more than anybody knows."
It was clear from the tournament's first hole that Woods was not his normal self, as he made a messy double bogey after a wild drive into deep rough. He took another double on 14 thanks to a bladed pitch shot and three-putted the 18th, but he held his round together with a series of unlikely par saves, shooting a one-over 72 that left him one back of Mickelson and four behind surprise co-leaders Justin Hicks and Kevin Streelman. How did Woods's knee hold up? "It looked pretty good on 18 when he bombed his drive 360 yards," said Scott.
Woods found his game during the second round, which began on the 10th tee, his rally keyed by two majestic blows to set up an eagle on the 614-yard par-5 13th hole. Around the turn Woods began swinging so well that he was often picking up his tee and reholstering his driver before his ball had reached the apex of its 330-yard journey. Even as his limp grew more pronounced he put on a ball striking clinic en route to a back-nine 30 and a round of 68 that propelled him one back of leader Stuart Appleby and five ahead of the woebegone Mickelson, who shot a 74.
With all the attention trained on the Tiger and Phil show, almost no one noticed Mediate's opening rounds of 69--71. Mediate was tied with Woods and by his own admission just happy to be there. A year and a half ago he was working as a commentator for the Golf Channel as back ailments had put his playing career on hold, an all-too-familiar setback as the purity of Mediate's ball striking is matched only by the brittleness of his body. At the 2006 Masters he was tied for the lead playing the 9th hole on Sunday when his back went out, and he hobbled his way to a 10 on the par-3 12th hole. The soothing hands of a new physical therapist have helped Mediate revive his career, but he punched his ticket to Torrey only by surviving an 11-man playoff (for seven spots) in Open qualifying. At 157th in the World Ranking, Mediate knew he was out of his depth heading into the weekend. "It's going to be nerve-racking and insane the next few days," he said.
Yet on Saturday it was Woods who looked jittery as he played the first 12 holes in three over par. His round, and the tournament, turned on the 13th, though it didn't begin auspiciously, as he blew his drive miles right of the fairway. Because of the ball's close proximity to a concession stand, Woods received a free drop, and he caught a good lie in an area of rough that had been trampled by the gallery. He then ripped a five-iron to the back of the green, leaving himself a breaking 65-foot downhill putt. Two thirds of the way there the eagle putt was as good as in, and when the ball disappeared Woods uncorked one of his lustiest celebrations in recent memory.
The pyrotechnics were just beginning. On the par-4 17th his third shot from the greenside rough came out hot, took one big hop, hit a couple of feet up the flagstick and dropped in the hole. It was equal parts good aim and good luck, and Woods knew it judging by his sheepish smile. He kept the momentum going on 18 with two perfect shots, leaving himself 30 feet for another eagle. Woods has a metaphysical mastery of the moment, a singular ability to seize an opportunity that his third-round playing partner Robert Karlsson described as"freakish." Watching Woods stalk his putt, Karlsson, like everybody else, considered the outcome preordained. "No doubt," said Karlsson."That putt was just in." And so it was.
On a day when he was fighting his swing and his knee, Woods had stolen a round of 70 that could have—should have—been a half-dozen strokes higher. Appleby had hit the samenumber of fairways (six) and greens (nine), and he had to birdie the last hole to break 80. Said Woods, "That's what it's all about—getting the ball in the hole."
With a much more mundane third round of 72, Mediate was two strokes off Woods's lead and a shot back of England's Lee Westwood, who was bidding to become the first European to win the Open since Tony Jacklin in 1970. History was not on the side of the pursuers, as Woods was 13 for 13 in converting 54-hole leads into victory at the majors.
Yet Woods gave everybody hope on Sunday by making a mess of the 1st hole again, hitting a smother-hook off the tee and then doinking trees on his next two swings on his way to a double bogey. When Woods three-putted the 2nd hole he was suddenly two back of Mediate. Tiger steadied himself in the middle part of his round, and a pinpoint three-iron set up a birdie on the par-3 11th that put him back in the lead. But he gave it up twice with bogeys at 13 and 15.
Woods might never have had a shot at redemption had Mediate made a birdie on the 18th, but a cautious wedge doomed Rocco to a par. Westwood had a 20-footer for birdie to join the playoff, but the putt was timid. In the end only Woods could summon the necessary final-hole magic.
On Sunday, Woods sat for a press conference that featured the inevitable Father's Day question,a softball designed to elicit a gooey response about his daughter, Sam, who was born the day after last year's Open. Unabashed sentiment has defined many of Woods's majors, from the joyous hug with his dad behind the 18th green at the 1997 Masters to the torrent of tears at the 2006 British Open, a couple of months after Earl's death. Now Woods was on the verge of his bravest victory yet, a performance that laid bare his unbreakable will and phenomenal focus. So, he was asked, "Years from now when your daughter is old enough to understand, what do you want her to know about what you did this week, considering the knee?"
He could have answered in so many ways, but Woods offered only four words that perfectly captured who he is: "I got a W."