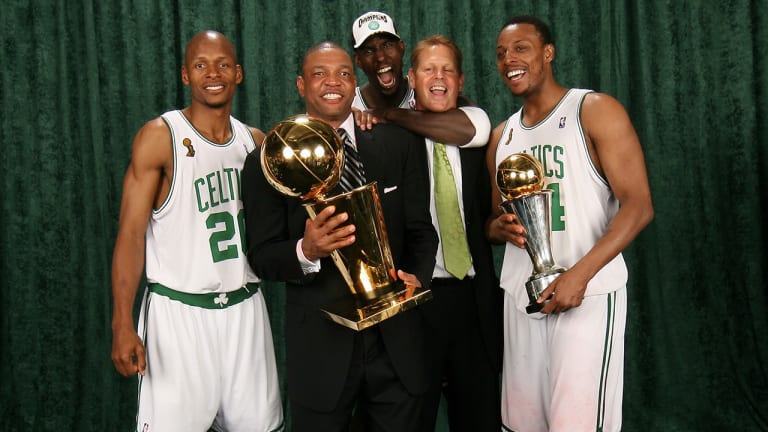 Seems Like Old Times
Twenty-two years after their last NBA title the Celtics earned their 17th, as G.M. Danny Ainge reconnected the franchise (and this author) to a storied past of retired numbers, Hall of Famers and one-namers
I WENT FOR A LONG, long walk and came back to the same place, a 360-degree journey to find Danny Ainge, 27 years later.
"My first story after I started working for SI was on you," I tell him.
"I remember," Ainge says. "Dunedin, Florida."
Dunedin was and still is the spring training site of the Toronto Blue Jays. The 22-year-old Ainge, a third baseman, was trying to establish himself as a big league starter. He ended up batting .187 in 86 games that season and abandoned baseball for the NBA.
Ainge was also a starting guard on the first championship team I covered as SI's NBA writer, the 1985--86 Boston Celtics, so to an extent our careers have run on parallel tracks, though I am far more aware of that than he is. "That was a special team," Ainge says. "Larry was lucky he had so many great players around him. Kevin was lucky he got to play with Larry. Chief was lucky to be there, considering he started with Golden State. DJ wasn't always happy with his teams [Seattle and Phoenix] before he got to Boston. It was a magical time."
You knew those Celtics stars by one name. Larry stood for Bird, Kevin for McHale, Chief for Robert Parish, DJ for Dennis Johnson.
Now it's another magical time in Boston, the anti-Cleveland, the city of Williams and Yaz, of Shore and Orr, of Russell and Cousy, of Manny and Big Papi, of Brady and Belichick. Ainge was born in 1959, three weeks before the Celtics won the second of 11 championships they would earn in a 13-year stretch. Ainge's shooting and hustle contributed to two of the franchise's three titles in the '80s; he and DJ represent one of the last backcourt combos that didn't need to be differentiated as point and shooting guards. Ainge returned to Boston in 2003 as executive director of basketball operations and general manager, eventually building a championship team for the new millennium, erasing memories of the fallow decade of the '90s with the best single-season turnaround (a 42-win swing) in NBA history.
The 2007--08 Celtics still have work to do before they can claim a special spot in the high-bar history of the franchise—before Paul is strong enough to identify Paul Pierce, before KG (Kevin is taken) suffices for Kevin Garnett, before Ray instantly conjures up Ray Allen. Will Pierce's nothing-gets-in-my-way aggressiveness stand up to Bird's? Will Garnett's 5 and Pierce's 34 join the 22 retired numbers that already hang from the TD Banknorth Garden rafters?
No pro franchise is as obsessed with jersey numbers as the Celtics. Bird's 33, McHale's 32, Parish's 00 and the late Johnson's 3 are up there, but Ainge's 44 remains available; little-used forward Brian Scalabrine has worn it for the last three seasons. When Ainge was hired to run the team, managing partner Wyc Grousbeck lightheartedly told Ainge he would retire his jersey if he could produce a winner. Ainge, mindful of his own limitations as a player, may not take Grousbeck up on the offer should he make it again. But if he says yes, it's a safe bet that McHale, VP of basketball operations for the Minnesota Timberwolves and still a close friend, would issue a mock protest. "We shouldn't be retiring Danny's shoelaces, much less his jersey," McHale might say. "If Danny's jersey goes up, mine comes down." But Danny—championship player, championship exec—is now part of the continuum. Danny is a one-namer.
It is 11 a.m. on June 18. Ainge has come to the Celtics' training center in Waltham, a suburb 12 miles west of Boston, to work out potential draft prospects. Dave Wohl, his assistant G.M., is also here, but they are almost alone in their section of the sprawling complex. Only hours earlier the Celtics had trounced the Los Angeles Lakers 131--92 at the Garden in Game 6 to win their 17th championship, the first since that memorable '85--86 team. Some of Ainge's players and employees are sleeping off the celebration; others have yet to get to bed. Ainge himself left the deliriously happy Garden just eight hours before.
I feel like a zombie (deadline writing and a few cold ones in the hospitality suite will do that to a man) sitting in Ainge's office, but he looks as he always does—wide-eyed and fresh-scrubbed. A devout Mormon, he avoided the celebratory champagne the way Californians are avoiding plum tomatoes. I try to match the mug I saw in 1981 to the one I see now, and after adding a frown line or two, I'm done. Ainge is a 49-year-old whose Facebook page, if he had one, would earn approval from the LDS elders. It would highlight his six children and six grandchildren, his avoidance of profanity, his going to church every Sunday unless an early tip-off gets in the way.
Family photos are scattered across his orderly desk, but an image on the wall draws my eye: It is an autographed shot of Ainge and the other four starters (Larry, Kevin, Chief and DJ) from the '86 championship team. "I got them all to sign it," says Ainge.
History is always the subject for the Boston Celtics. It's always about history.
At a press conference before Game 4, in which the Celtics would overcome a 24-point deficit to win 97--91, the biggest comeback in Finals history, Boston coach Doc Rivers was asked a question about his father, Grady, a Chicago police lieutenant who had died suddenly last November at age 74. There was a long silence. "He's just very important in my life," Rivers finally said. "It's still very difficult for me to talk about because I haven't had a lot of time, really, to reflect on it." Rivers had told stories about Grady before, how he would show up at his son's basketball games in his police uniform and take a seat in the first row. He also coached Doc's childhood baseball teams, keeping the police scanner on at full volume. There's a thin-blue-line sensibility about Rivers, too, a no-bull orderliness, even though he has a delightful sense of humor.
I caught Rivers's eye as he left the podium. "I bring greetings from the citizens of Tbilisi," I said.
Rivers laughed. "Thank you, comrade," he said.
In July 1988 I covered the Atlanta Hawks on a 13-day, three-game "goodwill tour" of the Soviet Union that was really a poorly disguised business trip for the NBA and Turner Broadcasting. The Hawks schlepped from Tbilisi to Vilnius to Moscow, a trip that still provides conversational fodder two decades later for all who were on it because it was so bad it was good. Bad food, bad rides on Aeroflot, bad accommodations, bad organization, bad refereeing, bad basketball. Rivers, then the Hawks' point guard, and his wife, Kris, were among those who made it good. A smile Krazy-glued to his face, Rivers shook every hand, slapped every back, signed every autograph and generally made it seem as if he were having the time of his life. "I don't know how we would've gotten through this without Doc," Atlanta coach Mike Fratello would say.
Rivers is one of numerous former players from the 1970s and '80s who are now head coaches in the league, just as Ainge is a member of the player-turned-G.M. club. It's one of the reasons I keep covering the NBA: Its legs keep getting younger, but its head, like mine, is old. As long as coaches such as the Lakers' Phil Jackson and the Utah Jazz's Jerry Sloan continue to communicate with their players, and executives such as Ainge, McHale, the Indiana Pacers' Bird, the Lakers' Mitch Kupchak and the Detroit Pistons' Joe Dumars stay relevant enough to have their bosses' ears, I figure there is hope for me.
It is simplistic to conclude, as many did, that Rivers outcoached Jackson in the series, thus preventing Jackson from earning his 10th ring and surpassing the total of Red Auerbach, the Celtics' patriarch, who died in 2006. Outcoached is one of the most overused words in our sporting lexicon. Good coaching (and bad) manifests itself over time. Rivers juggled his backup guards (Eddie House, Sam Cassell and Tony Allen) according to no formula that I could discern, yet got strong performances out of all of them at one time or another; Jackson, meanwhile, had no idea what he was going to get from his bench and ultimately got very little. So is that one guy outcoaching the other?
But there is this: In six third quarters—the period that some say is the most important, when a team can build a lead and crush the opposition's spirit or render its strong first-half effort meaningless—Boston outscored L.A. by an average of 7.2 points. Let's put it this way: In these Finals, the Rivers way was superior to the Jackson way. Rivers roamed, Jackson sat. Rivers lit a fire under his players, Jackson asked his to figure it out on their own. Rivers acted glad-to-be-here, Jackson came across as this-is-my-11th-time-here.
When Rivers got the Boston job in April 2004, he embraced the burden of history, inviting every living former Celtic to attend practice. He also consulted with Auerbach, who gave him two pieces of advice: "Be the agitators; don't be the retaliators" and "Get the ball; don't give up the ball."
Frankly, that sounds like a bunch of useless pap—but there's been a lot of that over the years in Boston, where the older generation is always hoops-whispering to the younger. When Russell and Garnett got together in March to tape a conversation for ESPN, I thought, What do they have to talk about? Russell won 11 championships and Garnett hasn't even played a postseason game in a Celtics uniform. Still, Garnett was moved when Russell said he would share one of his 11 rings with Garnett if the team didn't bring home the title this season. Those old Celtics cast long shadows; accepting that is just part of the deal in Boston.
Rivers connected his players to the franchise's illustrious past while keeping them in the present. Something that backup big man P.J. Brown told me during the Finals stuck with me. Ainge signed Brown in late February—it was P.J.'s fifth stop in a 15-year career—to provide maturity and toughness. I asked if he had made an immediate assessment of Rivers when he came to the team.
"Most definitely," said Brown. "Doc had the team. You can always tell that right away. He just had the team."
After the Celtics failed to close out in Game 5 in L.A., losing 103--98, much of the criticism centered on Garnett for his lack of aggressiveness around the basket on offense, a rap he has dealt with for years. I thought it understandable but unfair. Garnett has never been an in-traffic scorer; he's a jump-shooter in a 7-foot package. He makes his bones with rebounding and never-take-a-play-off defense—which describes Russell. The Celtics of the 1950s and '60s never went into an important game expecting Russell to lead them in scoring. That was for Bob Cousy, Bill Sharman, Tommy Heinsohn, Frank Ramsey, Sam Jones and John Havlicek. Russell's job was to be the spiritual leader, the rock, more immovable object than irresistible force. Same for Garnett.
So when KG got off early in Game 6, hitting a layup, an alley-oop dunk and three jumpers in the first quarter—his offensive effort matching his primal scream played on the scoreboard before every home game—Boston was off and running. After one quarter it was 24--20; after two it was 58--35 and so over. All of Russell's rings would remain with him. (Later, Garnett would tearfully tell the goateed éminence grise, "I got my own.") The TV cameras could afford to spend time panning for Celtics legends in the stands—Russell, Havlicek, Heinsohn, Cedric Maxwell and Jo Jo White among them. With Boston up 89--60 at the end of the third quarter, Ainge's BlackBerry blipped, and up flashed a text message: GREAT JOB, DANNY, I'M REALLY HAPPY FOR YOU. LARRY.
Although they occupy different galaxies in the basketball universe, Bird and Ainge were a lot alike two decades ago: monumental pains in the ass to friend and foe. As with Bird, feisty didn't begin to describe Ainge. He claims he never finished a game of backyard one-on-one with Dave, one of his two older brothers, because they would get into fistfights. "I remember a Little League game when a kid stole a base on us," says Ainge, who was playing shortstop, "so I told him there was a foul ball and he had to go back to first. He stepped off the bag, and I tagged him out. He started crying, and their coach called me a dirty player. It didn't bother me. We got the out."
During the time I covered Ainge in the '80s, I always saw him as a little brother to Bird and McHale. (He was two years younger than the former and 15 months younger than the latter.) In effect, he took on the same position he held in his own family under Doug (four years older) and Dave (three years older). McHale could goof off with the best of them—from time to time he would sneak a snack on the bench—but it was Ainge who acted as if he were 10, showing up at practice wearing goofy headbands and adhesive-taped names on his jersey. Lamar Mundane, a fictional playground legend who was the subject of a Reebok commercial at the time, was one of Ainge's favorites. Bird and McHale ragged him for his boyish enthusiasm and I-got-screwed whining during games. Only when Bill Walton came to the Celtics in 1985, giving Bird and McHale a new target, did Ainge slither off the hook.
Still, Ainge was the player most plugged into the complex Bird-McHale dynamic. "Larry would always come to me and say, 'Hey, go tell Kevin this,' and Kevin would come to me and say, 'Go tell Larry that.' They were such great players, but sometimes they didn't know how to talk to each other and how to yell at each other. But they knew how to yell at me."
With such a distinctive team imprinted on his memory, I wondered if Ainge tried to consciously model this club on his old one.
"It would be impossible," says Ainge. "The game is different. Players are different."
But doesn't Garnett, in his legendary intensity, compare to Bird?
"They're completely different," says Ainge. "KG is more of a sentimental guy, more feeling, kinder. Larry was not kind. Larry was grouchy. That's how he was born, that's how he competed. He would bust everybody's chops, get angry and frustrated.
"But here's what KG is like: We're in training camp in Rome [last October], and I see him in the weight room. Then he goes to practice, works his butt off and gets his shots up after practice. Then, for the next 45 minutes, KG is running around the gym rebounding for [point guard] Rajon Rondo. Let me tell you something: In a million years Larry Bird would never do that. He might make me rebound for him, but not the other way around. KG is focused and intense like Larry, but he really cares about the feelings of his teammates, cares that he's perceived as almost the team mother."
Ainge is rolling now.
"As for Paul, he's a very determined player, like Larry, but he reminds me of DJ. Like DJ, Paul can get a little salty. He's up and down moodwise. And on the court he's kind of an energy conserver. He doesn't play all out all the time. That used to drive me nuts about DJ because I was the other guard and I'd think, This guy is so gifted. What's he doing coasting? But then, like with DJ, Paul has stretches that are unbelievably special. You need something to happen, whatever it is—a blocked shot, winning a jump ball, a steal, a rebound, a pass, a shot—and Paul supplies it. That's how DJ was.
"As for Ray, he is just an amazing basketball player. We didn't have anybody as cool and poised and who could shoot the ball like him."
Is there anybody like you? Rondo, perhaps, somewhat the helter-skelter guard? Cassell, the chattering, in-everybody's-face veteran?
"No," says Ainge, "nobody matches."
It's easier to compare the current Celtics with the franchise's 1974 and '76 championship teams: KG is Dave Cowens, a relentless, take-no-prisoners, two-way board banger with an outside touch. Pierce is a better offensive version of Havlicek (though not as good all-around). Allen is White in his silky smoothness. Even Boston's earliest NBA champions of the late '50s and early '60s are a better fit: Garnett is Russell. Pierce is Heinsohn, cocky and offensive-minded. Allen is Sharman, fluid and fundamental, drop-dead accurate from the free throw line. Kendrick Perkins is Jim Loscutoff, the basher, the enforcer. (Rondo, however, is not Cousy.)
Such comparisons are, in the end, weaker than dishwater. But they are inevitable, for it is almost impossible to find a fan who will talk about the Celtics of the present without referencing the Celtics of the past. That's how it is and how it will remain.
They're here," says Ainge, peering out of his second-floor office window into the weight room below.
"Who?" I ask.
"The guys we're trying out," he says.
"Do you know all of them by sight?" I ask.
"Of course," he answers, looking at me like I'm nuts. "There's Joe Crawford, shooting guard from Kentucky. There's Sean Singletary, point guard, Virginia. There's...."
There is no Russell, no Bird, no Pierce, no Garnett in that group. Barring a trade, the Celtics have only their two picks for Thursday's draft, at the end of the first round and the end of the second. Picking so low, they can only hope to find a role player or two. Still, Ainge is eager to see these prospects in action, eager to begin the next season just hours after the old season has ended. I envy him. He never seemed younger than he does right now, so much a part of a golden past, living a blissful present, looking ahead to a sparkling future.
Will Garnett's 5 and Pierce's 34 JOIN THE 22 RETIRED NUMBERS that already hang from the TD Banknorth Garden rafters?
Now it's ANOTHER MAGICAL TIME in Boston, the city of Williams and Yaz, of Manny and Big Papi, of Brady and Belichick.
Ainge's BlackBerry blipped, and up flashed a text message: GREAT JOB, DANNY, I'M REALLY HAPPY FOR YOU. LARRY.
NOW ON SI.COM
BREAKING NEWS, REAL-TIME SCORES AND DAILY ANALYSIS.
FEELING A DRAFT
Everything you need to know going into Thursday's NBA draft, plus a complete breakdown after all 60 selections are made.
SI.COM/NBA
PHOTO
Photograph
by Bob
Rosato
BIG SHOES FILLED Pierce's effort earned him the Finals MVP award and allows him to be mentioned in the same breath as Bird (inset).
PHOTO
GLOBE NEWSPAPER COMPANY
 [See caption above]
PHOTO
SCOTT
CUNNINGHAM (AINGE PLAYING)
MIDAS TOUCH A former Celtics player, Ainge (above) pulled off trades for Allen (opposite, top far) and Garnett (opposite, top middle, with Russell) that made the postgame festivities and parade a reality.
PHOTO
BOB ROSATO (AINGE NOW)
[See caption above]
FOUR
PHOTOS
NATHANIEL
S. BUTLER/NBAE/GETTY IMAGES
[See caption above]
TWO PHOTOS
JOHN W. MCDONOUGH
[See caption above]
PHOTO
ELISE
AMENDOLA/AP
[See caption above]
PHOTO
BOB
ROSATO
[See caption above]
PHOTO
STEVEN
SENNE/AP
[See caption above]
PHOTO
BRIAN
SNYDER/REUTERS
[See caption above]
PHOTO
WINSLOW
TOWNSON
IN GOOD COMPANY David Ortiz (from left) and the Red Sox welcomed their fellow world champions to Fenway Park, where manager Terry Francona and Rivers shared a laugh and Pierce greeted Sox players and fans. Allen and Garnett also showed off the championship trophy to David Letterman.
THREE PHOTOS
WINSLOW TOWNSON
[See caption above]
PHOTO
BRIAN
BABINEAU/NBAE/GETTY IMAGES (PIERCE HOLDING TROPHY)
[See caption above]
PHOTO
J.P. FILO/CBS/AP (LETTERMAN)
[See caption above]