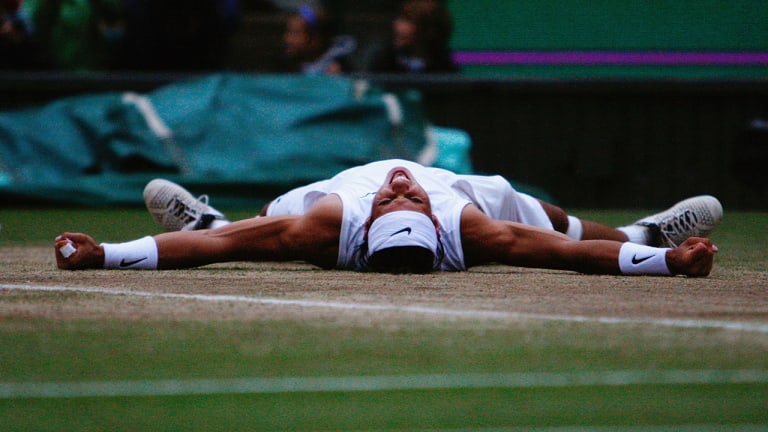 Publish date:
The Spin Master
Imposing his game on grass, Rafael Nadal ripped powerful topspin and sidespin shots to dethrone Roger Federer in a Wimbledon marathon that was the greatest match of all time
History held its breath. This was supposed to be the year that the debate ended and Roger Federer took his place as the greatest tennis player ever. The Mighty Fed needed simply to sustain his remarkable trajectory and he'd eclipse Pete Sampras's record of 14 Grand Slam singles titles. He was on pace to finish his fifth consecutive year with the No. 1 ranking and become the first player since 1888 to win Wimbledon for the sixth straight time. And so in the last few moments of daylight on Sunday, there was a Centre Court coronation. Only it wasn't for the Swiss stylist; it was for a swashbuckling Spaniard. In a spellbinding men's final that will stand as the benchmark against which all future tennis matches will be measured, Rafael Nadal dethroned Federer 6-4, 6-4, 6-7, 6-7, 9-7. Let's be unequivocal: This was the greatest match ever played.
It also doubled as a four-hour, 48-minute infomercial for everything that is right about tennis—a festive display of grace, strength, speed, shotmaking and sportsmanship that crackled with electricity. If this Wimbledon final doesn't improve the sport's relevance quotient, nothing will. While Nadal collapsed onto the court after winning his fourth match point, it was the House of Federer that was brought to its knees after a glorious five-year run. "There is a new king tonight," said a breathless BBC announcer. "We may have to rethink tennis history."
In becoming the first player since Bjorn Borg in 1980 to pull off the spring-summer double—winning on the clay of the French Open and the lawns of Wimbledon—Nadal defied conventional tennis wisdom. It's long been thought that no player relying on high-bouncing topspin and cutting sidespin can thrive at Wimbledon. And it's hard to recall a player ever applying more action to his shots than Nadal does; a recent study commissioned by the International Tennis Federation found that while the ball rotates 2,500 times per minute on the average pro's shot, it rotates twice as much on Nadal's.
Yet in winning Wimbledon the 22-year-old Nadal confirmed what some U.S. television viewers already suspected: Simply calling something a "no spin zone" (in this case, a grass court) doesn't necessarily make it so. It turns out that Nadal's unique combination of spin and brutal power is ideal for Wimbledon's surface, especially when it plays as slowly as it did this year. His shots kicked so sharply upon landing that they should have required turn signals. "All the time," complained Nadal's dumbfounded first-round opponent, Andreas Beck. "I was thinking, What the hell's he doing?"
In the quarterfinals Nadal thumped Andy Murray, the Great British Hope, in straight sets. (Next day's headline in London's Daily Star: ANDY'S KICKED IN THE NADS.) A half hour after the match Murray was still dazed by Nadal's cyclonic strokes. "He just swings his arm so hard at the ball," says Murray. "With Federer it looks like effortless power. [Nadal] puts a lot of swing on it, and when it hits the court it bounces hard in the other direction!"
Toni Nadal, Rafael's uncle and coach, claims that even as Rafa was winning his fourth straight French Open last month, crushing Federer in straight sets in the final, he was preparing for Wimbledon. He practiced volleying and serving wide and planting himself on the baseline, typical backcourt positioning for grass. "Everyone thinks because he's Spanish, it's clay, clay, clay," says Toni. "But for Rafa, Wimbledon ... has always meant the most."
Nadal sure masked the intensity of his ambitions, though. His rental house in Wimbledon Village, an easy walk from the courts, was Fiesta Central during the tournament, particularly early on when Spain's soccer team was winning Euro 2008. Nadal kicked a soccer ball around on the practice courts, slapped five with passersby as he walked around town and spent part of his downtime writing a blog for The Times of London. Sample entry: "I went out to Wimbledon to do some grocery (?). Is that the word for shopping food? I guess so. I cooked ... pasta with mushrooms, gambas, some onion at the beginning and these crab sticks. Not bad, believe me. Anyway I am going to bed now and finish the Godfather."
If this insouciance was a sharp departure from Federer's buttoned-down approach, well, add it to the list of contrasts between the two. Federer-Nadal is the most gripping rivalry in sports, and it's largely because of what each player represents. No. 1 versus No. 2. Righty versus lefty. Smooth, silent grace versus rugged, oomphing tenacity. White-collar tennis versus working-class tennis. (Fittingly, Federer endorses Mercedes; Nadal has a contract with Kia.) Plus, the two players show not merely respect but also fondness for each other. Federer said that even as their final showdown loomed, he sought out Nadal in the locker room to chat. Asked last week to name his favorite sportsman, Nadal listed Spain's soccer team, Tiger Woods and ... Federer.
The critical difference between the two: While Nadal is clearly galvanized by the concept of a rivalry, Federer can appear annoyed by the presence of such a bold and pugnacious challenger. In past matches between them Federer played tentatively, unnerved by Nadal's aggression. Federer admits that, in the past, he had a "Nadal complex."
With that as a backdrop, what made Sunday's epic all the more memorable was the abundant evidence of guts on both sides of the net. Confounding Federer with his spins and angles, Nadal seized the first two sets. Call it territorial instincts, but Federer would not go gently. He dialed in his serve and, after a 90-minute rain delay in the third set, won a riveting tiebreaker. A little more than an hour later Nadal held two match points in the fourth-set tiebreaker. Federer summoned some of his best shotmaking of the day—champions do this—and, putting to rest any doubts about his mettle, pushed the match to a decisive fifth set.
Squandering match points in a Wimbledon final would be enough to torture even the most mentally sound player. But Nadal's psyche is as rock-hard as his physique. As if putting on a set of noise-canceling headphones, he blocked out the distraction and went back to work. There was a second, 24-minute rain delay in the fifth set, and by the time Nadal broke Federer at 7-7 it was after 9 p.m. and the balls were barely visible. "I couldn't see nothing," said Nadal. Still, he coolly served out the match. "You know how people say, 'It feels like a dream?'" Nadal later told the Spanish media in his native tongue. "Winning my first Wimbledon? Beating Federer, the greatest player of all time? A match like this? How could it not feel like a dream?"
If the men's draw was characterized by regime change, the women's draw featured the reassertion of familiar powers. Maybe the tennis establishment will finally realize this truth: The Williams sisters, Venus and Serena, have it all figured out. They're right; everyone else is wrong. From skipping junior tennis to keeping their parents as coaches, they've defied tradition at every turn. For most of their remarkable careers, the sisters have drawn criticism for their outside interests, which diverted their attention from tennis. As the rest of the women were maniacally whacking balls and following the WTA's global caravan, Venus and Serena resembled temp employees, clocking in only when they felt like it. Despite pressure from the tour and its sponsors to play more events, the sisters restricted their schedules. If a fashion project or an acting role or a boyfriend captured their interest, well, Madrid could wait.
Yet most of the notable workaholics of recent years—Martina Hingis, Kim Clijsters, Justine Henin—have taken early retirement, driven out by physical and emotional exhaustion. Venus and Serena, now 28 and 26, respectively, continue to go strong. The moderation and light scheduling that so many railed against are the very reasons for their longevity.
Over the fortnight the sisters cut their usual swath of destruction. Without dropping a set, each won her first six matches, ensuring that the Wimbledon title would be in the family for the seventh time since 2000. They blasted groundstrokes with so much pace that the shots should have come with cartoon bubbles: Pow! Bam! Whap! Both women covered the court brilliantly, particularly Venus, always the more graceful of the two. Both hit unanswerable serves, particularly Serena, who clubbed 57 aces in all. (By comparison, Nadal hit 46.) Both sisters also returned serve well, intimidating their opponents by standing well inside the baseline.
Most important, both displayed typically unshakable confidence. Want to know why Venus has resisted the voguish tennis trend of pumping her fist after every winning shot? "I expect to win the point," she says. "It's not like if I win the point it's something I wasn't expecting." When did Serena realize that she and her sister could become the best two players in the world? "I just always assumed we would be the best," she says flatly.
Off-court they remain on a higher plane, unwilling to be drawn into tournament controversies or tour politics. In the locker room and players' lounge they inhabit their own orbit, perfectly courteous but only vaguely aware of their colleagues.
Hi, you're Zheng Jie from China? Great job reaching the semifinals!
You look familiar from the cafeteria. Remind me again: You're in marketing?
They played last Saturday's final, Williams-Williams XVI, in windy, tricky conditions. Venus played with more composure and prevailed 7-5, 6-4 to win her fifth Wimbledon singles crown and seventh Grand Slam singles trophy, putting her only one behind Little Sis. Unlike in most of their head-to-head matches, the shotmaking and court coverage were often brilliant. As always, though, the intrafamily encounter was awkward and uncomfortable to watch. Unsure for whom to cheer, the crowd replicated the vibe (and decibel level) of teatime.
Really, though, how could anyone expect anything else? Exceptionally close, even for sisters, Venus and Serena shared an apartment during the tournament. They played doubles together, laughing and kidding each other en route to winning the title for the third time. For two weeks they talked about men and ate Chinese food and watched movies together. "[Throughout the year] we don't get to see each other as much as we would like," says Serena. "If one of us is playing in another place or has a commitment with one of our sponsors, it's a challenge."
For the Williamses, then, this Wimbledon had the air of a girls' getaway to England—except that, oh, yeah, at the end they had to stand on opposite sides of the net and play a Grand Slam final before a global audience. A "big sister first and a tennis player second," Venus tempered her glee after winning match point, raising her arms but then extending them to hug Serena at the net. "One of us has to win and one of us has to lose," Venus says. "Of course the celebration isn't as exciting."
Tied to Federer, if not by blood then by the bonds of a rivalry, Nadal was similarly dignified in victory. The first Spaniard to win Wimbledon in 42 years fell flat on his back but popped up quickly to embrace his opponent, who may have revealed as much of himself in defeat as he ever did in victory. Nadal then sought out Uncle Toni and the rest of his entourage before carrying a Spanish flag into the Royal Box to greet his country's Crown Prince Felipe and Princess Letizia. If his first Wimbledon title weren't momentous enough, it's virtually certain that Nadal will take over the top ranking by year's end.
As for Federer, he'll try to salvage this season of uncharacteristic mortality first at the Beijing Olympics and then at the U.S. Open, his last chance to win a Grand Slam title in 2008. He'll be chasing Nadal now. And he'll keep pursuing history, too. Moral victories might be hard to come by at this point in his career, but if he can replicate the courage he showed in the greatest match ever played, he ought to be just fine.