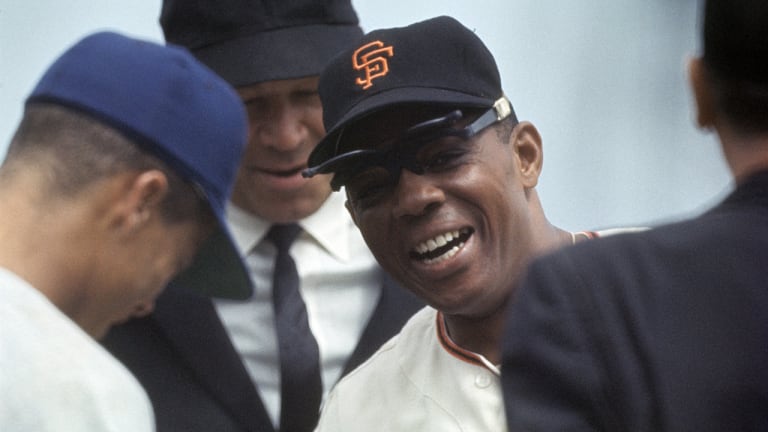 Willie Mays
It's been half a century since the Say Hey Kid led the national pastime on its move to the West Coast. He's still a baseball man at heart, as monumental—and enigmatic—a legend as American sport has ever seen
EVERY YEAR as February turns to March, he settles back into familiar rhythms. He packs his bags and leaves for spring training, because that is what a ballplayer does. At the parks he visits, people ask him what he misses most about the game, but before long they are telling him what they miss most about him—the basket catches in centerfield, at once nonchalant and daring, or the sight of his cap flying off, as it always seemed to when he sped around second base, or the whiplash swing full of power and precision. He remembers all that, of course, but miss it? Not so much. As the years go by and the difference grows between his body then and his body now, it becomes easier to accept those images as scenes from an earlier life.
The memories from those days that he cannot let go of so easily are ones that the fans never shared—the clubhouse banter, the card games with teammates, the cycles of travel. For 60 years, since he was a teenager playing in the Negro leagues, he has been packing for road trips. After he retired from the majors in 1973, he couldn't spend more than a couple of weeks without feeling the need to pull out his suitcase and go, his internal clock telling him the home stand was over. He would kiss his understanding wife, Mae, goodbye and drive from his home in Atherton, Calif., to, say, Reno, and then, after a few days, he would drive home again. "In his heart," says his friend and fellow San Francisco Giants legend Willie McCovey, "he never stopped being a ballplayer."
That is why he is in Arizona by early March, going to Scottsdale Stadium, where the Giants train. He gets there early most days, in time to trade playful insults and share some of his baseball knowledge, should the younger players ask. In the clubhouse, he is not an icon but a regular, a part of the daily hustle and flow—even though to rookies and newcomers his presence can be jarring. You can see it on their faces when they first walk into the clubhouse and find the World's Greatest Living Ballplayer suddenly before them, close enough to touch. Isn't that ...? Yes, it is. That's Willie Mays.
TODAY'S PLAYERS tend to be intimidated at first, even if they don't fully comprehend how Mays dominated the game in the 1950s and '60s. They probably can't recite most of the remarkable achievements that put him in the Hall of Fame on the first ballot—Rookie of the Year in 1951, MVP awards in '54 and '65, 12 Gold Gloves, 660 home runs, 3,283 hits, just for starters—but they do know that Mays was the Michael Jordan or Tiger Woods of his era: His name was synonymous with the complete mastery of his field. "I would love," says comedian and Giants fan Rob Schneider, "to be the Willie Mays of anything."
Mays gets enough of that idolatry out in the real world. At the ballpark he just wants to be Willie, so he happily accepts ribbing from journeyman catchers, backup infielders, anyone who's a part of the game. Before he was released during the spring, lefty reliever Steve Kline was one of Mays's favorite verbal sparring partners. "Vlad Guerrero is the best player I've ever seen," Kline would say teasingly. "You telling me you were as good as Vlad Guerrero?" Mays would pretend to be offended, his surprisingly high-pitched voice rising another octave. "You think he's better than I was?" he'd say. "You're crazy if you think he's better than I was."
It all sends a message—that although he is 77, although there is usually someone at his elbow should he need help negotiating the dugout steps, Willie Mays is not a museum piece. Not in here. Once the players understand that, they come to him for advice, for stories, for the chance to be near him. In recent years he has come to be known as much for being Barry Bonds's godfather as for the brilliance of his 22-year career. But in a way Mays is the godfather to all of these players, young and old—a figure respected, admired and a little feared. Centerfielder Aaron Rowand is a seven-year veteran who won a World Series with the Chicago White Sox in 2005, but it wasn't until a week after Mays's arrival at camp that the Giants newcomer gathered the nerve to introduce himself. "I didn't want to bother him, you know?" Rowand says. "I mean, you don't just walk up to Willie Mays."
And what does Mays tell players who seek the benefit of his wisdom? "Lots of things," he says. "Depends what they ask about. But one thing I tell them is to play this game for as long as they can, because the opportunity doesn't last forever. No, it does not."
Rarely do the players ask him about his life as it is now. What would he say? Probably that there are some wonderful aspects to this stage of his life, such as the opportunity to focus on charitable work with his nonprofit organization, the Say Hey Foundation, and the chance to spend more time with Mae and with his only child, Michael, a television producer.
But he might also tell them that outside the clubhouse he finds retirement a tricky thing. That sometimes being so adored gets complicated, that even after all these years, meaning so much to people that they stammer or babble or tear up when they meet you is an unwieldy power. "Somewhere around the middle of his career, after he became a star, Willie finally realized how much he was worth [to fans]," says Mays's friend Lon Simmons, the Giants' Hall of Fame broadcaster. Since his retirement 35 years ago, Mays has been trying to come to grips with that worth, with being so treasured by the public. It's not always an easy thing to live with. No, it is not.
ON A cloudless morning before the team's workout in Scottsdale, Mays is standing in the Giants' dugout with McCovey, the Hall of Famer whom he played alongside for 13 seasons in San Francisco. Manager Bruce Bochy approaches. "Willie, I'd like you to meet my buddy Kevin," Bochy says. "He came all the way from San Diego to meet you." Kevin McNamara is 58, but at this moment he is 12 again. He shakes Mays's hand, tells him he grew up in San Francisco and that he remembers buying 90-cent bleacher tickets to watch Mays in the outfield at Candlestick Park.
It is at times like this that Mays will fall easily into reminiscing about his playing career. He will say, for instance, that he disagrees with the popular belief that the famous back-to-the-plate catch in the Polo Grounds against the Cleveland Indians' Vic Wertz in the 1954 World Series was his greatest. He considers at least one play even better—a diving, backhanded grab he made in Ebbets Field against the Brooklyn Dodgers infielder Bobby Morgan in 1952. "I was playing him toward right center, and he pulled it more than I expected," Mays says. "I just left my feet, stretched out, and the ball hit in my glove. It must have knocked the wind out of me, because the next thing I remember, Jackie [Robinson] and Leo [Giants manager Durocher] were looking down at me when I opened my eyes."
Mays describes the action, the slider that was thrown, the way he was positioned, as if giving a postgame interview, as if it all happened out there on the field just a moment ago—the way a ballplayer would. He also waves off discussions of what he might have accomplished had he not missed most of the 1952 season and all of '53 to military service. But considering that he hit 41 and then 51 home runs in his first two seasons after returning, it very well could have been Mays, rather than Hank Aaron, who first surpassed Babe Ruth's total of 714 homers. Aaron and Bonds would have had to chase him for the record.
He was, of course, much more than a home run hitter. Mays is as proud of his .302 lifetime batting average as his long balls, and the plays he tends to mention first when he recounts his career are the ones made with his glove. He was such a dazzling centerfielder and base runner that he might well have made the Hall even if he had been far more ordinary with the bat. In the '59 All-Star Game, Mays stroked a triple off the right centerfield wall, causing the San Francisco Chronicle to provide perhaps the best summation of his all-around brilliance. Bob Stevens wrote, "The only man who could have caught it, hit it."
It is no wonder, then, that McNamara is beaming as he tells Mays about the depth of his boyhood fandom. This is what Mays does to people, does for people, often without saying a word. He takes them back to their childhood, to more innocent times. "They talk and I listen," he has said. "It's more for them than it is for me." McNamara tells him that once, when word got out that Mays was going to be at the bank across the street from the flower shop McNamara's father owned, the boy waited for hours hoping to catch a glimpse of him, to no avail. Mays is attentive but not particularly moved. "I must have gone in and come out the back way," he says.
McNamara turns to McCovey and tells him that he got Big Mac's autograph at an auto dealership in 1959. "Did you pay for it?" Mays says. McNamara says no, that McCovey was a rookie then and, anyway, no one charged for autographs in those days. Mays, his voice rising again: "You got it for free?" McCovey and McNamara laugh. Mays is stone-faced. He's kidding. Probably.
He can seem unsentimental and preoccupied with commerce that way, joking sometimes that he'd trade being the World's Greatest Living Ballplayer—the unofficial honorific held by Joe DiMaggio until his death in 1999—for being the world's highest-paid. Like many stars of his era he has supplemented his income handsomely with appearance fees at memorabilia shows and with autograph signings; his friends will tell you that he is anything but money-hungry. If he were concerned with lining his pockets, he wouldn't have turned down multiple lucrative offers from publishers over the last decade for an autobiography. He agreed finally to do one, scheduled for release next year, only because a major share of the profits will go to his charitable foundation. (Because of the upcoming book, Mays politely declined to be interviewed at length for this story.)
If Mays seems interested in trading on his fame, it's probably because he is more comfortable with clear transactions, each party knowing exactly what is expected of the other. "He doesn't like to give out too much of himself," Simmons says. "He prefers to say, 'You want something from me? This is what I want from you.' It helps him weed out the people who simply want to take advantage of him." That's why encounters with fans, in which the terms aren't so clearly set out, can seem awkward and cold. He has softened some in recent years, partly out of necessity, since under his lifetime contract with the Giants he is called on to mingle with the public. But the random fan who approaches Mays expecting the Say Hey Kid might very well be surprised to find more of an edge to him. "He can be a little rough," says Bay Area sportscaster Gary Radnich. "But some of that is his way of saying that even though he's not as young as he used to be, he's got some juice left."
There may be more to Mays's gruff front than protectiveness. For all of the adulation he received during his career, he was not immune to the racial tensions of the era. A child of 1930s Alabama, he has often said that sports was the great equalizer during his boyhood, that he played with black and white children who judged each other by their athletic ability. Later, though, he found that the world, even the baseball world that embraced his brilliance, was not color-blind.
When the Giants moved to San Francisco in 1958, Mays was booed at times during the early days. Even after fans warmed to him, he faced discrimination away from the ballpark. Mays and his first wife, Marghuerite, couldn't buy a home in San Francisco until the mayor intervened, and about a week after he moved into the house on Miraloma Drive, a brick was thrown through his window. "Mays was the hated embodiment of New York," wrote Charles Einstein in the 1979 book Willie's Time. "He had the temerity to play centerfield in Seals Stadium, where the native-born DiMaggio had played it in his minor league days. Also, Mays was black. The brick that crashed through his window almost as soon as he moved in had to reflect at least one of these viewpoints, if not all three."
Mays has spoken occasionally of his first minor league game, in Hagerstown, Md. It was 1950, and he remembers the racial taunts he heard from fans at the game. City officials in Hagerstown invited him back for a day in his honor in 2004, to apologize for the way he had been treated. Mays accepted, came to town and officially gave absolution to the city—in return for an appearance fee. You want something from me? This is what I want from you.
It is easier to forgive an offense than to forget it. If Mays's mood isn't always sunny, he wouldn't be the first black man of his era to be unable to shake off the effects of racism. "People don't understand what he went through," says Cincinnati Reds manager Dusty Baker, one of Mays's longtime friends. "If there's a little bit of bitterness that's still there, he's got reason."
But on a beautiful Arizona day, none of that matters to McNamara, who walks away from his encounter with Mays glowing as brightly as the Arizona sun. "One of the biggest thrills of my life," McNamara says.
OTHER FORMER players of Mays's stature settled neatly into their postbaseball personas. DiMaggio was the regal recluse, elegant but distant. Mickey Mantle was the life of the party who, as it turned out, partied too hard. Aaron slipped easily into baseball's executive suites, at home in a suit and tie. Frank Robinson kept the uniform on and moved into managing. None of those roles was quite right for Mays, who was a ballplayer without a game.
The truth is, he was never meant for retirement. Once, in his 50s, Mays was standing near the batting cage during spring training, watching the young players hit. Itching to show them how to do it properly, he kicked off his dress shoes and socks, stepped into the box barefoot and began spraying line drives to all fields. He was a ballplayer then, and he is a ballplayer now—even if he is confronted every day by reminders of the man he was in his prime, the younger, leaner, stronger version of himself.
As one of the centerpieces of the Giants' yearlong celebration of the 50th anniversary of their move to San Francisco, Mays sees images of the young Willie more often than usual. He will tell you he considers it neither a blessing nor a curse. But who can know the psychic toll it takes on a man to see replay after replay of his youthful self dashing to the farthest reaches of the Polo Grounds to haul in that Wertz blast, or to be asked again and again for his signature on a photo in which he's shirtless and laughing in the clubhouse, his upper body taut and muscled?
The legs no longer move nearly so fast, and the body will never again be in such shape; that man is gone. But his essence remains. It's clear as Mays leans against a dugout railing in Scottsdale. A Giants staffer asks him if he's ready to go upstairs to the lounge, where he will be able to watch the game in comfort. "I'm coming," Mays says, a Giants cap perched on his head. "Just give me another minute."