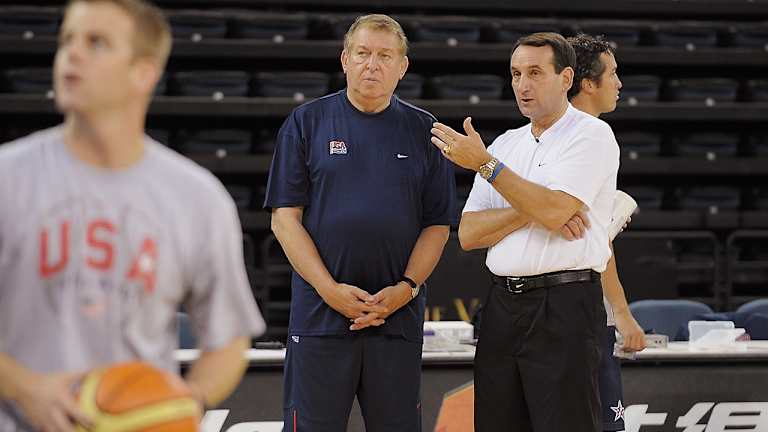 The Redeem Team
After failing to win a major basketball competition in eight years, the U.S. has taken a new (and distinctly foreign) approach
If Jerry Colangelo had doubts that his vision would take, they began to evaporate in the fall of 2005, shortly after Milwaukee Bucks swingman Michael Redd walked into a Chicago hotel suite for an interview with Colangelo, the man appointed to reverse the slide in the global fortunes of U.S. basketball. Dressed in sweats and with a garment bag slung over his shoulder, Redd greeted the former Phoenix Suns owner, then asked to duck into the john. Moments later he emerged—in a suit and tie. It's a story worth noting in part because Redd, a shooter of cane-sugar sweetness, will provide Team USA with a skill essential to success at the Beijing Olympics. But it's most notable because it shows that representing the land of the sport's invention is once again an honor worth getting gussied up for.
After decades of sending coaches overseas to stage clinics, the panjandrums of USA Basketball are now letting knowledge flow in the opposite direction. For the past three years Colangelo has presided over the first standing U.S. men's national team, using as his model the stable programs that have helped countries such as Argentina (at the 2004 Games) and Spain (at the '06 world championships) win the gold medals that Americans once took for granted. "It's a total 180," says guard Dwyane Wade of the Miami Heat, a returnee from Athens, where the U.S. was lucky to win a bronze. "In '04 we spent [three weeks] in training camp, then shot off to Greece. This team has been together for three years. We know the system and respect the system. We're just picking up where we left off [last summer]."
The U.S. program maintains a pool of 33 pros, all committed for a three-year cycle that includes a worlds and an Olympics. The team itself is chosen by a committee of one, Colangelo, who defers readily to coach Mike Krzyzewski. And an attitude overhaul is evident in all sorts of subtle ways. The USA on the uniforms pops in red, while players' names are writ in muted blue. Coaches and players all but pack copies of Fareed Zakaria's The Post-American World with their playbooks, hewing closely to talking points that ban arrogant references to hoops as "our game." Even the team's official slogan (United We Rise) and unofficial nickname (the Redeem Team) imply room for improvement.
An autopsy of the debacle in Athens turned up a number of causes. The team featured only three holdovers from the group that had qualified the previous summer, and seven of the original nine invitees withdrew. In the end some 14 players turned down Uncle Sam, invoking excuses from family obligations to lingering injuries to the security situation in Greece. As a result, coach Larry Brown took charge of a team with an average age of 23.6 years, and it showed. Behind the scenes, problems of dress and punctuality festered, and on the eve of the Games, Brown wanted to send several players home. Body language is the Esperanto of basketball, and both Stateside and in Athens people didn't like what they saw. Some players heedlessly inflated expectations—as camp opened, Denver Nuggets forward Carmelo Anthony, then 20, guaranteed a gold—while others tried to pooh-pooh the poor results. "It's not like it's the end of the world," a 19-year-old LeBron James said in the aftermath of a loss to Puerto Rico.
Technically, LeBron—or LeBronze, as he came to be known—was right: The loss to Puerto Rico merely signaled the end of uninterrupted U.S. Olympic basketball hegemony dating back to the 1992 Dream Team. After losing to Lithuania in pool play and Argentina in the semifinals, Brown pronounced himself "humiliated," and the Americans headed home in a fog of alibis, citing the fouls whistled on center Tim Duncan and the zones they weren't used to shooting over. In fact, the U.S. sank the second-fewest three-pointers of the dozen teams in the tournament, a performance that recalls an old chestnut about as American as they come: "There are only two great plays—South Pacific, and put the ball in the basket."
Enter Colangelo, 68, who over a half century has been a player, coach or executive at every level of the game. "The way they conducted themselves left a lot to be desired," he says of the 2004 team. "Watching and listening to how people reacted to our players, I knew we'd hit bottom." Colangelo told NBA commissioner David Stern that he'd only assume duties as managing director if he was given autonomy. It's a measure of how abysmal the situation was that he immediately got what he asked for.
In 2005 Colangelo arranged face-to-face sit-downs with every prospective national team player, to hear in their own words why they wanted to represent their country. The few good men to set things right wouldn't be paid or guaranteed playing time, much less a starting spot. Still, Colangelo says, "I got buy-in. Halfway through my talk with him, LeBron said, 'I'm in.'" Indeed, among the nearly 30 players he approached, only the San Antonio Spurs' Duncan and then Minnesota Timberwolves foward Kevin Garnett turned him down.
With its star power and the smell of success, the expanding player pool became a recruiting tool in its own right; USA Basketball no longer found itself in the role of supplicant, and veterans such as Jason Kidd (now of the Dallas Mavericks) and Kobe Bryant (Los Angeles Lakers) signed on. The prospect of exposing oneself to the Chinese market, home to more NBA fans than the U.S. has people, surely helped too. Says USA Basketball executive director Jim Tooley, "It's in vogue again to be playing for your national team."
There have been stumbles along the way. Two summers ago at the world championships in Japan, Greece, a team without a single NBA player, beat the U.S. in the semifinals with a flurry of high pick-and-rolls, an NBA staple. "It's been overanalyzed," Colangelo says of that game. "There were six minutes [during which] they made every shot and we missed free throws. But it might have been the best thing to happen to us. We kept pounding on our guys that the international gap had closed and we needed to respect every opponent."
The coaching staff learned too. "We didn't know the international game well enough," says Krzyzewski, the coach at Duke since 1980. "[Greece] played with a physicality and intensity that our guys weren't accustomed to, and because we were young, it knocked us back. We now have the athletic ability and versatility to handle that." Krzyzewski will consider playing more zone, and he'll be deploying players who are more rugged, versatile and experienced. The additions of Kidd and Bryant have helped nudge the team's average age up to 26.1.
But even at the 2006 worlds, Colangelo and Krzyzewski could point to a remade culture. In contrast to the crowds in Athens, the Japanese cheered the Americans. And the U.S. players in turn cheered each other. "From Athens we learned we need time to develop camaraderie," Krzyzewski says. "We have to be committed to one another before we can be committed to the team. We're developing a program, not 'selecting a team.' No one ever 'selects a team'; you select people and hope they become a team."
That process continued last summer, as the third-place finish at the worlds forced the U.S. to qualify for Beijing. What at first looked to be a chore seems more and more like a blessing. Outside shooting, ball movement and a sense of urgency went missing in Athens; during the FIBA Americas qualifying tournament last July, the U.S. shot 47% from beyond the arc and collected assists on 68.3% of its baskets, feeding off the keynote struck when, on the first possession of the first game, its most celebrated player, Bryant, hit the floor for a loose ball. The Americans won all 10 games, by an average of 39.5 points. "We have the infrastructure, the buy-in, the changed culture," says Colangelo. "The bottom line is on us: We need to finish the job and win."
THE U.S. will never be able to duplicate the continuity and stability of some other national-team programs. When Argentina won the gold in Athens, 10 of its players had been together for at least five years. But, says Tooley, "we're getting as close as we can." Compared with the 15 practices and six exhibitions the 2004 team logged before the Games, the core of the '08 team will have worked out at least 70 times and played 29 games when it faces China in its opener on Aug. 10. Last summer's starting lineup of Kidd, Bryant, James, Anthony and Orlando Magic center Dwight Howard returns intact.
"Our goal is to win a gold medal and be humble about it," says Kidd. "And if we do win by 50, to make sure it's because we're playing the right way."
During the Olympic qualifier last summer, after Bryant hit the floor for that loose ball, he was whistled for traveling, in accordance with FIBA rules that are strict on that point. "Our tendency the summer before would have been to start yelling, 'Hey, we're getting screwed,'" Krzyzewski says. "But instead of bitching and moaning, we were more like, 'Well, that's a travel. We didn't know that.'"
There's something to be said for humility. Until an athlete bows his head, after all, no one can hang a gold medal around his neck.
"We're not 'selecting a team,'" says Krzyzewski. "You select people and hope they BECOME A TEAM."
U.S. WOMEN GET DEFENSIVE
THE U.S. WOMEN will be favored to win a fourth consecutive Olympic gold medal in Beijing, but their task won't be easy. As with the men, the global competition has improved. And while most of Team USA's top rivals—Australia, Russia and Brazil—have had the bulk of their teams together for several weeks, if not months, the U.S. won't convene until July 28, two weeks before the Olympic tournament begins.
Time together is critical for developing good defense, something the U.S. lacked when it lost to Russia in the semifinals of the 2006 world championships in Brazil. Moreover, the team was without its two best defensive posts, Lisa Leslie (of the Los Angeles Sparks) and Yolanda Griffith (then of the Sacramento Monarchs), who both pulled out at the last minute. "If somebody got past our perimeter, they got to the rim without thinking too much about it," says coach Anne Donovan.
USA Basketball has addressed the issues raised at the worlds in two ways. It has created a pool of 29 players who get national-team experience when their schedules allow. "While we aren't able to prepare the 12-member team together, at least everybody has had a chance to work with the head coach, understand the strategy and have some sort of evaluation process," says USA Basketball assistant executive director Carol Callan. And from that pool it has selected a team that offers depth at every position, which will help the defensive mission. The group is a mix of savvy Olympic vets such as Leslie, Diana Taurasi (Phoenix Mercury) and Tina Thompson (Houston Comets), and accomplished newbies such as Seimone Augustus (Minnesota Lynx), Candace Parker (Sparks) and 6'6" Chicago Sky rookie Sylvia Fowles (left), who could redefine the role of defensive post. "We haven't had a big, dominating inside force like Sylvia for a long time," says Donovan of LSU's alltime leading shot blocker, "someone in the paint whom people are going to be a little bit afraid of." Fowles relishes being an intimidator. "I consider the paint my house," she says. In Beijing, anyone who gets into the lane against the U.S. will have plenty to think about.