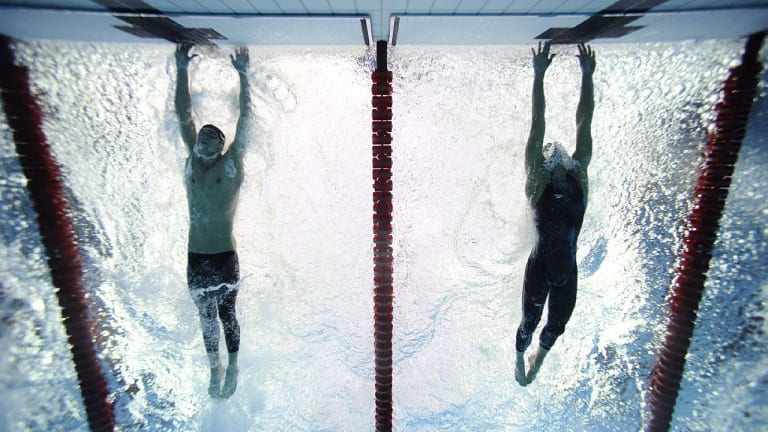 We Are All Witnesses
Michael Phelps now belongs to history. For the rest of us the memories—and indelible images—of the Greatest Olympic Performance Ever won't be forgotten anytime soon
Down in a basement corner of the Water Cube, everything was chaos. Michael Phelps had just won his eighth gold medal, in the 4x100 medley relay, and the world's press was sardined into the mixed zone, a low-ceilinged concrete gauntlet through which the swimmers pass after a race. At best the mixed zone is an uninviting place; on this historic Sunday morning it was a mosh pit of outstretched hands holding cameras and voice recorders, of bodies jammed against barricades, a media Olympics in which the main sports were pushing and shoving. And the prize? A glimpse of Phelps after he exited the pool, still dripping water and fresh with victory. Hopefully he would stop for 30 seconds and say something, anything, to answer this question: How on earth did you pull this off?
The Australian relay swimmers came first, in full-relaxation mode, their suits pulled down from their shoulders. The Russians followed, and the great Japanese breaststroker Kosuke Kitajima strolled by, and then the crowd pressed forward as Phelps arrived in the narrow passage. Walking next to a woman holding a microphone, trailed by a television crew, he was six feet, four inches of relief, fatigue and quiet joy. His shoulders curled forward, rolling him into the question-mark posture that happens to swimmers when the back muscles take on a life of their own. Asked how it felt to be the first person to win eight gold medals in a single Olympic Games and the most decorated athlete of all time, he smiled and shrugged. "I don't know," he said. "So much emotion is going through my head.... I kinda just want to see my mom."
No one said it would be easy, and they were right. There were many spots where Phelps—who described the competition's nine days as "nothing but an upward roller coaster"—could've seen his ride derailed. Seventeen races in eight events, three of which were relays, meant 38 opportunities for false starts, countless chances for stroke or turn violations. Then there were the races themselves. While Phelps routed the field on numerous occasions, others were white-knucklers of the highest order. On Day 3 there was the 4x100 freestyle relay, which the Americans won by only .08 of a second after anchor swimmer Jason Lezak came from behind with a surreal effort, the aquatic equivalent of a distraught mother lifting a car to save her baby. On Day 5, Phelps suffered every swimmer's nightmare when his goggles filled with water during the 200 butterfly. "I couldn't see," he said, describing how he'd squinted at the T on the bottom of the pool to make his turns. He won in a world-record time of 1:52.03, but he was still disappointed: "I know I can go faster than that."
"It was kind of a heartbreak," his coach, Bob Bowman, agreed. "I thought he'd go 1:50."
On Day 7, Phelps appeared exhausted after a difficult double in which he set a world record in the 200 IM final and less than 30 minutes later dived back in for the 100 butterfly semifinals. Though he'd raced the same schedule in 2004 at Athens, the Greeks had given him a little more time between events. In Beijing it was a different story. When the 200 IM medal ceremony ended and Phelps made his victory lap around the deck, he wasn't moving quickly enough to suit the medal hostess who accompanied him. As he paused beneath the section of the stands where his mother, Debbie, and sisters Whitney and Hilary stood, the hostess (one of 337 selected in sweeps of college campuses in Shanghai and Beijing for their grace, beauty and specific proportions) reached out a silken, manicured hand and prodded Phelps firmly in the back.
"I literally had about two minutes," Phelps recalled, in which to change out of his award sweats into his race gear, tie his suit, jam his cap and goggles onto his head, stuff his gold medal into the pocket of his parka and get back on the blocks. But he won his heat, earning himself a center lane for the next day's finals.
Day 8 had started off bouncily, with nine Chinese women in white go-go boots and Nancy Sinatra ponytails drumming their hearts out on stand-up bongos. It ended with Phelps standing atop the podium wearing his seventh gold medal slung around his neck and an oddly introspective look on his face. Perhaps at that moment he was thinking about how things might well have been different.
IN THE 100 butterfly he had his closest call of all. He won the race, yes, but the margin of victory was a single hundredth of a second. Somehow Phelps had fought his way home from the back of the pack; at the 50-meter mark he'd turned seventh, .62 of a second behind the leader, Milorad Cavic, a California-born swimmer with Serbian roots who represents that country in international competition. To the topside observer, it appeared that Cavic had touched first. "He got him," Bowman said, standing on the sideline. Even Phelps's mom raised two fingers, as in: second. But.... not. "That's why he's the King," said Russell Mark, the U.S. national team's biomechanics coordinator, of Phelps's miracle finish.
Cavic, 24, is an imposing guy with a dark and regal air, a self-described "arrogant" sprinter. He'd qualified first for this final, dropping more than a second on his personal best, and on the previous day he'd lingered in the mixed zone, holding forth about Serbia—where he has visited frequently, but never lived—and talking about the race, specifically a gesture that he'd made during the heats: a shooting motion, as though his hand were a gun. "That's ridiculous," he said, deflecting the notion that he'd been aiming at Phelps in the next lane. "If you were there, you would have seen I was firing above him, at my manager."
Perhaps he was. But he followed that by publicly stating that it would be "good for the sport" if that putative seventh gold medal went to somebody else, for instance, himself. To Cavic this is standard procedure: "I enjoy a little trash talking." Then, as the two were introduced for the final he got right in Phelps's face.
"Go ahead," whispered a USA Swimming official, watching the exchange from the stands. "Poke the tiger with the stick."
*****
"It's unattainable for me, and it's unattainable for anyone."
—Australian swimmer Ian Thorpe, August 2004, on Phelps's chances of winning seven golds in Athens
"I have said before that I don't think he can do the eight, and I still believe that."
—Ian Thorpe, August 2008, on Phelps's chances of winning eight golds in Beijing
"I've never really had a real vacation," Phelps says, considering his post-Beijing plans. "To just be on my own schedule, not have any commitments, do what I want to do, go where I want to go. You know, like, be free." In other words, after 12 years of grueling training, it's time for the flip side: "I'm going to sit on the beach and do nothing. I'm sleeping in. I'm putting on weight. And I'm not going to care."
Even at rest, however, Phelps's life won't be sedentary. He and Bowman had a deal: Until Aug. 17, 2008, Phelps would stick to the pool. (Admittedly less adept on land, he'd broken his right wrist last October while getting into a car.) After that date: "I'm going to do new things. I'm going to try snowboarding. I want to try golf. I'm just going to experiment." These are the kinds of plans that in the past would have struck fear into Bowman, whose sense of control is so finely tuned that a year before the 2004 Olympic trials, he had Phelps undergo a preemptive extraction of his wisdom teeth. But unless Phelps breaks a femur or two on the back nine, he'll be back in the water soon enough—with a new sheet of goals that'll likely include adding to his gold-medal collection in 2012. "I think in many ways his personality is addictive," Bowman says. "He's addicted to the excitement. It's like any addiction: You have to have more, you have to have higher."
In the end the math is so pretty. At 23, Michael Phelps owns 16 Olympic medals, 14 of which are gold. But even though swimming (like all sports) is about counting—who won, who lost and by how much; how fast they went and how many strokes they took; how many medals they snagged and what color they were—there is something unquantifiable here. Something bigger. Really, what Phelps has done is disrupt the idea of can't. This hip-hop-listening, video-gaming pool shark; this likable guy with the generous ears who manages to seem both invincible and humble at the same time ("I'm not unbeatable. No one is unbeatable) he has elevated us.
The iconic image of these Games will always be the swimmer wearing his eight-piece gold necklace, but another picture also remains: Thirty minutes before the 100 butterfly final Chinese television's raw feed had panned onto Phelps, sitting in the back row of the Ready Room. With its rows of white folding chairs, this room invites all the calm of a tightly packed bus en route to a mental institution. Phelps had his hands clasped on his knees, and you could see that he was breathing rhythmically, in and out, looking up and down, his eyes serious, his legs tapping with energy. In the front row the finalists in the women's 200 backstroke joked with one another and fussed with their caps and goggles, but in the back of the room Phelps was alone; early for his 16th appearance and once again left to consider the verdict that the morning would, or would not, deliver.