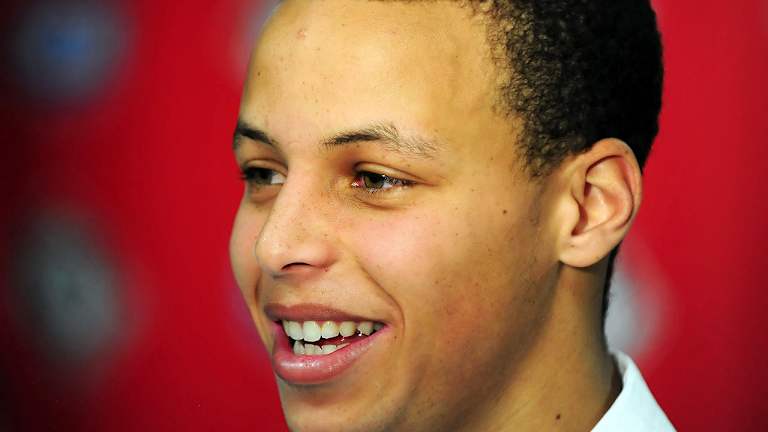 The Next Step For Steph
Davidson's Stephen Curry was the breakout star of the Big Dance, but even after hobnobbing with LeBron, he's still adjusting to his sudden celebrity—and to his new position
Danica and Annika may sound like a Saturday Night Live duo on the order of Hans and Franz, but during a midsummer night in Los Angeles they induced schoolboy panic in Davidson guard Stephen Curry, the baby-faced breakout star of March Madness. When Danica Patrick and Annika Sorenstam, glammed-up for the ESPY Awards, stepped into his hotel elevator on their way to the show, they instantly recognized their fellow nominee and said hello. Betraying little of the cold-blooded shooter who lit up Gonzaga, Georgetown, Wisconsin and Kansas for 128 points during the NCAA tournament, Curry melted like, well, a star struck college kid.
"Here are two great-looking ladies I'd seen on TV," says Curry, a five-handicap golfer who'd admired Sorenstam for years. "But I started stuttering because I was all nervous. My dad was laughing at me."
Welcome to the new life of Wardell Stephen Curry II—or simply Steph, if you'd like—who still can't grasp that now he's one of them. After deciding against turning pro so he could prove his bona fides as a point guard, the 6'3", 182-pound Curry returns for his junior season with his size-14 feet planted in two worlds. In one he plays for Davidson, a small Southern Conference school in a North Carolina town so old-fashioned that students gather at The Soda Shop on Main Street. In the other he visits New York City to appear on Late Night with Conan O'Brien. In one he snaps surreptitious fan-boy photos of Super Bowl MVP Eli Manning eating breakfast at a buffet in L.A. In the other he's fast friends with his new supporter, LeBron James, who made a special trip to Detroit's Ford Field to see Curry play in the tournament.
"I love basketball, and I'm a fan first," says James, who also hung out with Curry at James's skills camp in July. "Anytime you get an opportunity to see somebody who's very talented, you want to reach out to them. I'm looking forward to seeing him more this year and welcoming him to the league next year."
Nobody would have expected that endorsement three years ago, when Curry was a 6-foot, 160-pound senior at Charlotte Christian School who didn't receive any scholarship offers from major-conference schools. (The snubs included one by Virginia Tech, where Curry's father, Dell, set the career scoring record before embarking on a 16-year NBA career.) But the big boys' loss was Davidson's gain. Under coach Bob McKillop, Curry set an NCAA freshman record for three-pointers (122), and as a sophomore he was the nation's fourth-leading scorer (25.9 points per game). But that was only a prelude to the storybook run last March, when the 10th-seeded Wildcats knocked off the champions of the West Coast, Big East and Big Ten conferences and came within a missed buzzer-beater of toppling Kansas,the eventual national champ, and reaching the Final Four.
Curry's mother, Sonya, can't forget her own shock after Davidson's comeback from a 17-point deficit against Georgetown. As her son turned to look at her in the stands and shrugged, "It hit me: He was truly that good," says Sonya, who became a favorite of CBS cameramen. "We'd heard so much about how he needed to be bigger. But then he made those shots and looked at me, and I thought, What in the world is going on?"
"Daddy," Curry's 13-year-old sister, Sydell, told Dell, a former NBA Sixth Man of the Year, "Stephen made you famous again."
Only three of the six ceiling fans are functioning on a boiling July afternoon in the upper gym of Roanoke College. The youngsters at this small basketball camp in Salem, Va.,are getting a special treat: Their celebrity counselor, Steph Curry, is playing in a five-on-five scrimmage. Working at quarter-speed on a small-fry defender who's wearing a T-shirt bearing his autograph, Curry throws a pass that sails over a teammate's head. "C'mon, man!" jokes a fellow counselor."He's 4-foot-2 with a two-inch vertical!"
Everyone laughs.Over the summer Curry attended high-profile camps hosted by NBA A-listers—James, Chris Paul, Paul Pierce, Steve Nash—but here in a sweltering gym in the glitz-free Shenandoah Valley he's in his element. "I used to come to this camp when I was in fourth through sixth grade, but this is the first year I've worked it," says Curry, who spent two weeks at the camp run by Page Moir, the respected coach of Division III Roanoke. "It's cool to beat the other end of the experience."
Curry's unassuming nature is of a piece with the Davidson Way. A college of 1,700 students 23 miles north of Charlotte, Davidson is the kind of place where almost nobody locks their doors, and (shock of shocks) the basketball players take all of their classes with the rest of the undergrads. "If you had a roster of every student, I probably would know a little something about each one of them," Curry says. "After a game we'll go to the student union and just walk around. Everyone will be talking about the game, and it's not random people you've never seen on campus. You know their names. That's a special thing."
Rarely has such a high-profile player operated out of such a low-profile locale. One day in July,Curry and two teammates attended a 15th birthday party at the home of Jackie Pitzer, a Davidson mail-room worker, and stayed to play pickup hoops in the driveway for three hours. When freshmen arrived for Orientation Week in August,that was Curry—a likely first-team preseason All-America—helping them move into their dorms. "I didn't know about him being a Wooden Award finalist [last season] until I'd read it two days after he'd found out," says teammate Bryant Barr. "I'm like, 'Steph, I'm your roommate.'"
The sources of that humility, by all accounts, are Curry's folks. "There's no entitlement whatsoever in the family," says McKillop, a coach's coach who spent 19 years at Davidson before breaking through with his first NCAA tournament wins last season. "If we had parents like Dell and Sonya in every household in America, we'd be in paradise."
Although Dell was busy during the NBA season for much of Stephen's childhood, he'd spend summers helping coach the AAU teams of Stephen and his younger brother, Seth, now a freshman guard at Liberty. It was Dell, a famously accurate shooter, who overhauled Stephen's release on the family's backyard court in Charlotte during the summer before his junior year of high school. "He was shooting from the waist," recalls Dell, a 6'4" guard who hit 40.2% of his threes as a pro. "I'm like, Son, if you want to play in college, you have to move your shot up. For two weeks I wouldn't let him shoot outside the paint, and he probably was ready to quit. But by the end of the summer his form looked great."
Yet the family's day-to-day disciplinarian was Sonya, who became the headmaster at the Christian Montessori School at Lake Norman, a private elementary school in Huntersville,N.C., that was founded by the Currys in 1995. "She laid down the law, and you didn't want to cross her," says Stephen, who had his brother as a classmate, his aunt India Adams as a teacher and his grandmother Candy Adams as the school cook. Nor did Sonya stop keeping close tabs on Stephen when he graduated after sixth grade. In one classic family story, she called his middle-school coach to tell him Stephen couldn't play in the next game because he hadn't done the dishes.
Sonya brings the same intensity to cheering at Stephen's games. ("She's the most vocal person out of anybody: parents, fans, students, anyone," he says.) And lookout if you ask her about his being snubbed by Virginia Tech, where she met Dell and starred for the volleyball team. "It's disappointing because it would be nice to see our children play in the gym where we played and Dell's banner is hanging," Sonya says. "But we knew Bob McKillop could bring out in Stephen the things God had put in him and would challenge him but still nurture him on and off the court to be a good, godly man. A lot of Division I schools were supposed to have a great ability to assess talent, but they missed his. We prayed about it. We said, 'Father, close the doors you don't want him to go into,' and Tech's door was closed. Then—bam!—He said Davidson!"
The Currys, who still have a Virginia Tech pinwheel in the front yard of their house in Charlotte, used to attend Hokies basketball games regularly. But since Tech balked on offering Stephen a full scholarship, they haven't been once.
Curry and Davidson are aware they'll have plenty of challenges this season as they try to top last year's Elite Eight run and 23--0 record against SoCon opponents. But they don't shy away from talk of a return to Detroit, the site of the 2009 Final Four. A week after the loss to Kansas, the 11 returning players composed a five-page manifesto—titled Let's Get Better—in which they spelled out their off-season plans to improve their skills, diets and academics. "Right then you knew: Wow, we've got something special," says McKillop. "We talk all the time about our quest to be a shining star, not a shooting star. Gonzaga is the one clear example for us: They have been consistent for a decade."
Curry, too, faces a major adjustment as he shifts from shooting guard to point guard following the graduation of NCAA assist leader Jason Richards. At Nash's camp Curry probed the two-time MVP's brain about how he reads ball screens, and he drew raves at LeBron's camp—not least from NBA scouts—for the way he ran the point and continued drilling outside shots. (In one scrimmage Curry hit a three-pointer to beat a team that included James and Paul.) The goal was to show he's capable of being an NBA playmaker, even if he'd prefer to be known as a hybrid. "I like combo guard better, just because I'm not strictly a point guard," Curry says. "I think I'll play a lot of quality minutes at the point, just in a shooting guard's way."
If you ask LeBron, though, he thinks Curry can do just fine as a two guard in the pros."He never stops moving on the offensive end. That's the key," James says. "In our league there's a lot of standing around, but guys like Rip Hamilton who can keep moving—it's hard to guard them. [Curry] can shoot the lights out, and his basketball IQ is really high." But what about Curry's wiry frame? Can it stand up to the rigors of the NBA? "If you can play, you can play," says James. "It's as simple as that."
Then again, isn't that the lesson we've already learned from Wardell Stephen Curry II? That blanket assumptions and first impressions aren't everything? McKillop likes to tell the story of Curry's freshman debut, when the coach kept him in the game against Eastern Michigan despite his 13 turnovers. "I was a double double machine back then," cracks Curry. "But that was probably the best thing Coach did for me, to stick with me and give me more confidence."
The next day Curry torched Michigan for 32 points. He hasn't stopped scoring since.