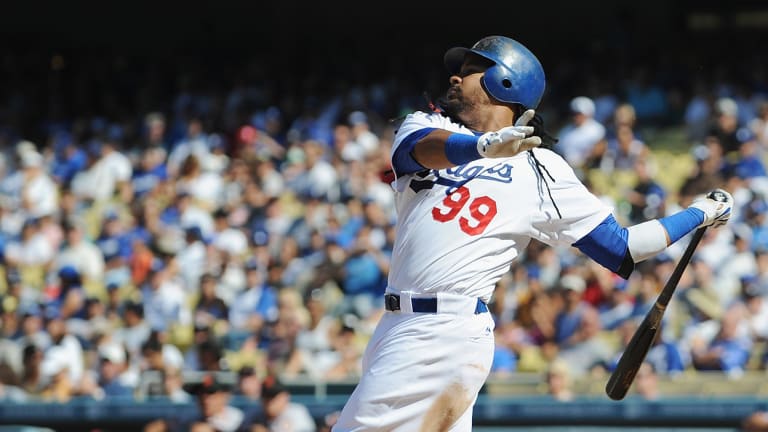 Manny in LA LA Land
A star-obsessed city that had lost its baseball sizzle is suddenly relevant again, thanks to Manny Ramirez—the new leading man who put the Dodgers one step closer to a possible made-for-Hollywood World Series matchup
Whenever Manny Ramirez bats, his L.A. teammates and other Dodgers personnel, virtually to a man, migrate to the railing at the top step of their dugout. "You don't want to miss anything with Manny," third baseman Casey Blake says of the hitting virtuoso who is unlike anyone they've ever seen, "because every at bat is the chance for something special." That Ramirez can rake is not news. That the man can hit while carrying an entire franchise on his back, not to mention a city that is falling in love with baseball all over again, is one of the great feats of his prolific career. ¶ The Dodgers, who hadn't won a postseason series in 20 years and were an unappealing .500 team this year through 108 games without Ramirez, are transformed and transfixed by the new slugger's presence. With Manny, they bear no resemblance to the team that played four months without him, as the Chicago Cubs brutally learned. Los Angeles dominated what had been the winningest and highest-scoring team in the National League this year by wiping out the Cubs in three straight Division Series games by an aggregate score of 20--6. Had it been a prizefight, the series would have been stopped after two games. Ramirez took 14 must-see plate appearances in the series. The Cubs got him out only five times. He scored five times, only one fewer than the entire Chicago team. He outhomered the Cubs 2--1. In the signature at bat of the series, in Game 1, Ramirez swung flat-footed at a wicked shoe-top-high 0-and-2 curveball from reliever Sean Marshall and blasted it 420 feet into the Wrigley Field bleachers.
"Just sick," teammate Greg Maddux says. "Even we look at Manny and go, 'That's just on another level.' It's like watching Tiger Woods hit an eight-iron a thousand feet in the air and knocking it stiff. Normal people just don't do that. Guys like Tiger and Manny are out there in a class by themselves."
Cubs manager Lou Piniella was irate that Ramirez got a pitch to hit out, though had it been an inch or two lower, the pitch probably would have bounced.
"Manny sits on 0-and-2 breaking balls!" Piniella huffed in anger afterward.
Such reputed telepathy is part of the wonderment of Ramirez. Think of him as the baseball equivalent of the computer hacker. Give him enough time with a pitcher and he'll decode everything about him, from his pitch patterns to his social security number.
"I don't think you try to trick the man," Piniella says, "because you can't. You have to stay on his hands, with velocity."
"I swear he sets pitchers up," says Dodgers bench coach Bob Schaefer. "He'll look bad on a pitch early in the count, knowing the pitcher is going to go back to that pitch later in the at bat."
In Game 2 Cubs pitcher Carlos Zambrano struck out Ramirez each of his first two times up. "Watch this," Dodgers manager Joe Torre told Schaefer in the dugout. "He thinks he's going to get Manny a third time." Zambrano tried a cut fastball on an 0-and-1 count. Ramirez walloped it above the dark batter's-eye backdrop and shrubbery in centerfield at Wrigley, a place rarely visited by batted balls.
Says L.A. general manager Ned Colletti, "Normally, as a pitcher gets strikes on a hitter, the hitter becomes more and more defensive. But with Manny it's different. It's like the more pitches he sees, the more he knows about what the pitcher is doing and where the pitcher wants to go, and the odds swing more to his favor. And the pitcher knows that.
"I've been around Maddux, [Barry] Bonds and Manny. Those three guys are the smartest baseball players I've ever seen. They're in a class by themselves. They see and understand the game at a higher level than everybody else. The game slows down for them. It's like they see everything in a frame-by-frame sequence. It's different from everybody else."
Ramirez, of course, is the same savant who in the clubhouse before Game 2 happily munched on chicken wings while wearing a light-blue T-shirt that said I LOVE MANNY BEING MANNY and later, in the dugout just prior to the first pitch, kept blurting out to his teammates, "Let's have a happy flight!"—a battle cry he repeated before Game 3 in Los Angeles last Saturday, though the Dodgers were going nowhere after that game.
"I think Manny is excited to be here, and he shows it," Blake says. "He's just like a kid playing baseball in the backyard. And he knows he's the best kid on the block. Absolutely nothing fazes him."
All the sonnets and love songs composed in honor of Ramirez the Dodger don't play well in Boston, where the final days of Ramirez the Red Sock degenerated into irreconcilable differences. Ramirez, under the play-calling of his agent, Scott Boras, essentially wrote his own ticket out of Boston with such a lack of hustle and interest that his teammates convinced general manager Theo Epstein that he had to go. Ramirez had two option years and $40 million remaining on his contract with Boston, with the Red Sox controlling the options. What Ramirez wanted was free agency after this season to provide the leverage to strike a more lucrative deal elsewhere.
By July 30, the eve of the trade deadline, Epstein was committed to moving Ramirez. He engaged in discussions with the Florida Marlins, for instance, as part of a three-way deal in which he also needed to satisfy the Pittsburgh Pirates in order to get Jason Bay to replace Ramirez as Boston's leftfielder. Late on the night of July 30, Epstein sent an e-mail to Colletti asking, "Would you trade Andy LaRoche for Craig Hansen?" Colletti replied that he wasn't interested in trading LaRoche, an L.A. third base prospect, for Hansen, a Boston pitching prospect. It also occurred to Colletti that Epstein had no use for a young third baseman like LaRoche—the Red Sox already had Mike Lowell and Kevin Youkilis—so he knew something was up. It meant Epstein was serious about moving Ramirez.
At eight o'clock the next morning, five hours before the trade deadline on the West Coast, Colletti called Torre and told him, "Hang loose. We may have a shot at Manny." Then Epstein called Colletti and told him that it appeared Ramirez might consider a trade to the Dodgers.
Colletti, who had discussed a Ramirez trade with Epstein two Novembers ago at the general managers' meetings, only to have those talks go nowhere, detected some urgency in Epstein's voice. Epstein sounded like a man ready to deal. Colletti then called Dodgers owner Frank McCourt. "Let's try to get it done," McCourt said.
Colletti had no time to start the usual vetting that goes on when it comes to possible acquisitions. Truth is, it had been done already. Two years ago, Colletti was standing with one of his assistants, Bill Mueller, at an Instructional League game in Peoria, Ariz., when he asked Mueller, "If you could do one thing to move this franchise forward, what would it be?" Replied Mueller without hesitation, "Get Manny." Mueller had played with Ramirez for three seasons in Boston.
Meanwhile, because Ramirez had veto power over any trade, Boras was convincing Ramirez that Los Angeles was the perfect landing spot for him. "I told him, 'Manny, do you realize there are 11 million Spanish-speaking people in the area?'" Boras says. "I knew he could get set up in Pasadena and just be left alone in Los Angeles, which is all he wanted. It was perfect."
There was one more kicker added by Boras, a Dodgers season-ticket holder. "Manny, these young pitchers in the NL West are going to want to challenge you," Boras told him. "This won't be the AL East anymore. They'll want to see what they can do against you, and you will love it."
Ramirez signed off on the deal that sent LaRoche and Hansen to Pittsburgh and Bay to Boston (page 53)—with the proviso that L.A. would excise the option years from his contract and allow him to be a free agent at the end of the season. The Red Sox agreed to pick up the $7 million owed Ramirez for the remainder of this season, meaning the 54--54 Dodgers had a motivated Ramirez for free for two months, longer if they somehow made the playoffs. (Colletti was able to obtain Ramirez, Maddux, Blake and backup infielder Angel Berroa over the summer for less than $1 million in combined salaries.) The last piece of business to the trade was what to do about Ramirez's long dreadlocks, which he had grown past shoulder length.
"It was the first time in my career I negotiated hair length," Boras says. "They asked for 10 inches off. We came back with four. We settled on five."
Soon after Ramirez reported to the Dodgers, he walked into Torre's office. "Skip," Ramirez said, "all I want to do are two things: play baseball and go home. That's it."
"That's no problem here," Torre said.
Ramirez immediately loved L.A., an expansive city so full of stars that a dreadlocked hitting savant didn't merit extra attention when he went out for sushi, a welcome downshift for Ramirez from his fishbowl existence in baseball-mad Boston. And L.A. loved Ramirez back. His number 99 jersey flew out of the team's gift shops. Fans dressed in dreads and 'do-rags in homage to the first great slugger the franchise had seen since Mike Piazza.
Most important, the Dodgers, already well armed with pitching, became a potent offensive team. With Ramirez, they hit 25 points higher (.281 posttrade, .256 pretrade) and improved significantly in getting on base (.355 to .321) and slugging (.443 to .376). Ramirez drove in 53 runs in 53 games while hitting .396, the highest average in history for an in-season acquisition who played at least 30 games with his new team.
Ramirez also became their clubhouse talisman, whose carefree joy became contagious. The Dodgers, for instance, dropped their longstanding ban on clubhouse music simply because Ramirez starting playing it. One day, after a game in which Ramirez lost a hit to an official scorer's decision to charge a fielder with an error, hitting coach Don Mattingly approached Ramirez and said, "That should have been a hit. Do you want me to talk to the guy?"
"Nah," Ramirez said. "No big deal, papi. I'll just get three hits tomorrow."
The next day he got three hits.
Every day, including during the Division Series, Ramirez hits off a tee, but he often takes only about 25 to 30 swings. Says Mattingly, "It would make Little League coaches nervous, that he's not hitting enough. And sometimes he'll mess with his teammates. He'll take only about seven or eight swings, walk away and go, 'That's it. I'm good, papi.'"
By the time the Dodgers reached October, thanks to an 18--5 run that began on Aug. 30, they were a changed team. Maturing young stars such as Andre Ethier, James Loney, Russell Martin and Matt Kemp prospered knowing Ramirez was the ballast to the lineup. Shortstop Rafael Furcal, who hit .381 in April before a back injury knocked him out for nearly five months, returned to his leadoff spot. And the Los Angeles pitching staff, which had led the league in ERA, was enjoying nearly half a run per game more support with Ramirez in the lineup.
The Cubs were overmatched, especially with the Dodgers' righthanded-heavy pitching staff shackling Chicago's righthanded-heavy lineup. L.A. advance scouts Vance Lovelace and Toney Howell, who had watched the Cubs for nearly three weeks, delivered the game plan before the series began: The Dodgers' pitchers would pound enough fastballs on the fists of the Chicago hitters—the Cubs generally did not like the ball inside—to open up the outside part of the plate for sliders. Says Maddux, "Sliders and sliders. That was the key."
Chicago had no lefthanded hitting of consequence to stem Los Angeles's righthanded power pitching. The Dodgers threw 1,419 pitches over 10 games this year against the Cubs; every one of those pitches was thrown by a righthander. In the NL Division Series, starters Derek Lowe, Chad Billingsley and Hiroki Kuroda, in that order, each beat Chicago while pitching through the sixth inning, guaranteeing the 100th consecutive season without a world championship for the Cubs. Since the fan Steve Bartman touched a would-be foul-ball out with Chicago five outs from reaching the 2003 World Series, the Cubs have lost eight straight postseason games while being outscored 53--18.
While not quite so accursed, the Dodgers had devolved into their own postseason irrelevance. "It's like a piece of silver that's been sitting on a shelf," McCourt says of his team's cachet. "Once you touch it again you know it's silver, and once you rub it a little the shine comes back. Eventually, you need to win. That's why this is a giant step forward for the organization."
Whether Ramirez, 36, leaves as a free agent or gets his preferred four-year contract from Los Angeles, he has enhanced his own value too. Scouts have clocked him at 4.4 seconds running to first base, a speed not seen from him in years. In the first inning of the Division Series clincher, he sped home from first base on a double by Loney, easily beating a clean relay by the Cubs. Then, of course, there is his hitting.
"He's the best righthanded hitter I've ever seen," Mattingly says. "I said that to Randy Johnson once, and he said, 'What about Edgar [Martinez]?' Edgar was great, but this guy has more pop. It's not even close. What he's been doing this year is something he's been doing for years."
Ramirez made possible the Saturday-night party at Dodger Stadium that was 20 years in the making. "Man, right now this is the place to be," he said on the field just as the celebration began. "We're going to the second round. I did it before. I'll do it again. When you're relaxed and you're in a place you really like, this is what happens."
Ramirez, befitting the best kid on the block, then broke into a wide, happy grin. It was never more obvious than at that moment the Dodgers and Ramirez were a perfect fit. The franchise and the savant each had their shine back.