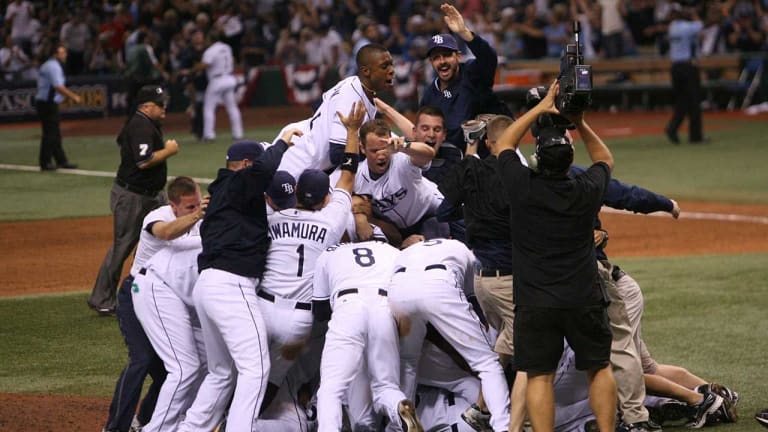 The New Reality
Someday soon—in a year, two tops—you won't think twice if you hear the words, "THE RAYS ARE IN THE WORLD SERIES!" In the meantime these young American League champs are worthy of taking on the Phillies
WITH THREE innings to play in the fifth game of the American League Championship Series, clubhouse workers and officials for the Tampa Bay Rays began preparing for a celebration in the visiting clubhouse at Fenway Park. Twenty cases of champagne and 15 cases of beer were unpacked and loaded into huge tubs of ice. A separate stash of high-end champagne was set aside to be chilled for Rays executives. AL CHAMPIONS T-shirts were being sorted by size for the players. Nine outs still needed against the Boston Red Sox—who, come October, die about as easily as vampires—typically is no time to make party preparations. But if there is only one lasting lesson from the 2008 baseball season, it is this: The Tampa Bay Rays are not your typical World Series team.
Having defied Las Vegas odds, conventional baseball strategy, the Boston--New York power axis and the myth of postseason experience, the young Rays had no hesitation about defying the baseball gods too. This, after all, is a team whose manager, Joe Maddon, hates managing by the book and is more apt to explain his off-beat game strategy by quoting Einstein and Oliver Wendell Holmes than John McGraw.
Sure enough, the Rays, leading Game 5 7--0 in the seventh, blew the biggest lead ever by a team in position to clinch a postseason series. By the time they lost 8--7 in the bottom of the ninth, the liquor had been repacked into the cases for return to the distributor. They lost Game 6 as well. Their apparent hubris and impending collapse, naturally, served only as a prelude to the most subversive chapter of their unbelievable tale: Not only did Tampa Bay win the AL pennant, but it did so by asking a 23-year-old pitcher who had never saved a game in his life, not even against Austin Peay the one time he tried, to close Game 7. Only then did the champagne flow.
"What it means is, We've arrived," Maddon said, trying to peer through the champagne drops on his trademark black-rimmed glasses on Sunday night. "Obviously, we're never going to sneak up on anybody anymore."
The World Series will never be the same now that the Rays are in it, and it's not just because the Faux Classic opens at Tropicana Field, the team's ersatz ballpark, which has all the solemnity of a juke joint, with its catwalks, cowbells, aquarium, tank tops, flip-flops, fake grass, B-list celebrities (Rob Schneider? Dick Vitale?), leather recliner box seats and Taser-wielding security officers. No, the World Series is different because dues are no longer required. Anybody is welcome.
THE WORLD SERIES has more typically belonged to blue-blooded franchises such as the New York Yankees and the Atlanta Braves, neither of which qualified for this postseason, or angst-ridden Sisyphean teams such as the Philadelphia Phillies, the Rays' opponents. The Phillies had won between 80 and 89 games for seven consecutive seasons before stepping up this year to 92 victories, a National League Division Series win over Milwaukee and a five-game thrashing of the Los Angeles Dodgers in the NLCS to reach their first World Series since 1993. They hadn't won the Series before their 1980 championship and haven't won it since, and the city has no major sports titles to speak of since 1983 (page 51). The dues-paying Phils are properly long-suffering.
The Rays, on the other hand, simply showed up without warning—unless you count Maddon's crazy spring training motto of 9 = 8, which suggested that nine players playing hard every day could result in Tampa Bay being one of eight playoff teams. The Rays were the worst team in the majors last year, had never come close to a winning season in their 10-year franchise history and spent less money in 2008 payroll than every other team but the Florida Marlins. Vegas set odds of 200 to 1 for Tampa Bay to win the World Series this year. The Rays, however, won 97 games and the pennant (you might have suspected something was up when they won their first ALCS game by 9--8), putting themselves in the company of the 1969 New York Mets and the 1991 Braves as the least likely World Series teams of all time.
"I'm sure there is a wow factor out there about the Rays being in the World Series," said Brian Anderson, the team's assistant pitching coach. "To be honest, there's a wow factor in our clubhouse too."
No money, no experience, no household names, no closer? No problem. The Rays are the right team at the right time. Thanks to the major leagues' testing for performance-enhancing drugs, plus enhanced revenue sharing that has made the free-agent market more inefficient (as more rising stars sign lengthy contract extensions early in their careers, fewer are up for bid in their prime years), inexpensive young talent under contractual control is the coin of the realm—and that is what has enriched Tampa Bay. In the seven ALCS games against Boston, all but two of the Rays' hits and all but 32/3 of their innings pitched came from players 30 years old or younger.
Former first-round draft picks B.J. Upton, 24 (the second player selected in 2002), and third baseman Evan Longoria, 23 (the No. 3 pick in '06), have turned the postseason into their coming-out party. Upton and Longoria each tied the LCS record with four home runs, and their 13 combined homers thus far in this postseason are one short of the record for teammates, set in 2002 by Barry Bonds and Rich Aurilia of the Giants. (Similarly, Phillies ace and NLCS MVP Cole Hamels, 24, drafted 15 picks after Upton, has forged his own breakout October. He was 3--0 with a 1.23 ERA entering his start in Game 1 of the World Series, on Wednesday.)
The biggest reason Tampa Bay is a championship team, however, is the vast improvement in its pitching and defense. The Rays actually scored fewer runs this year than they did in losing 96 games last season, but they cut their runs allowed by 273, the fourth-greatest improvement in history. That turnaround began last November with the acquisition of shortstop Jason Bartlett and righthander Matt Garza in a trade that sent outfielder Delmon Young, the No. 1 pick in the 2003 draft, to the Twins. Bartlett provided steady, occasionally spectacular, defense in a remade infield in which third baseman Akinori Iwamura moved to second base to accommodate the arrival of Longoria, a future Gold Glover.
"Everybody called it the Young-for-Garza trade, and we just laughed when we heard that," says Gerry Hunsicker, Tampa Bay's senior vice president of baseball operations. "We would not have made the deal unless we got Jason Bartlett. We made defense a priority. We knew we had a good base of young talent. So we sat down after last season and said, 'How can we accelerate the development of this team?' And the answer was to improve the defense."
Garza was 8--13 over parts of two seasons with Minnesota and was known for having a temper that could be as explosive as his fastball. This June 8, during a game against the Texas Rangers, Garza and catcher Dioner Navarro shouted at and shoved one another in the dugout after Navarro chastised Garza for losing his cool on the mound. "The next day," Maddon says of Garza, "he came to me and said, 'I need help. I need help controlling my emotions.' It was a huge turning point for him."
Maddon put Garza in touch with a sports psychologist, Ken Ravizza. Garza learned to channel his competitiveness in more positive ways. For instance, when he needs to make an important pitch, Garza is apt to walk off the mound, remove his cap and read inspirational writings scrawled inside it ("He won't even let me see it," says Anderson, who has become a mentor to Garza) and then focus on the next pitch. After the Texas incident, Garza had an ERA more than a full run lower (3.37) than the number he put up in his first 11 starts. "I've never seen a guy mature emotionally and professionally over the course of one season like this guy has done," Anderson says. "That incident in Texas is replayed all the time, and it should be. It brought everything to a head. He's been a different pitcher since."
Garza, 24, beat the Red Sox twice to become the youngest pitcher to be named ALCS MVP. He won Game 3 at Fenway Park 9--1 with six strong innings, then was even better in the Game 7 clincher. Garza, pitching one batter into the eighth inning, allowed one run on just two hits while striking out nine, primarily on two- and four-seam fastballs with more movement than an election-year politician.
"I'm O.K. with him going out there and throwing fastballs 100 percent of the time," Maddon says. "I'm not kidding. His velocity, command and movement with his fastball are that good."
Says pitching coach Jim Hickey, "It's a dominant pitch. The reason it's so good is the late life. Matt is capable of being one of the true elite pitchers in the league. I compare him to a young John Smoltz. His power stuff is filthy, and his slider and curveball are above average."
Maddon removed Garza in Game 7 with a 3--1 lead in the eighth after the leadoff batter reached base on a Bartlett error. The manager used four pitchers to get the next three outs, a departure from his bullpen management in the colossal collapse of Game 5. In that game Maddon lost a 7--0 lead without using any of his three lefthanded relievers until the game was tied, allowing lefthanded hitters David Ortiz (three-run homer), J.D. Drew (two-run homer) and Mark Kotsay (a double that set up the tying run) to whack away against righties. But Maddon abhors convention.
"What's wrong with unconventional?" Maddon says. "At some point you have to think differently. It's like that old saying from Einstein: Why would you expect to do the same thing over and over again and expect different results?"
MADDON REMAINED unconventional to the end of the ALCS. His fifth pitcher of the eighth inning in Game 7 was Price, the No. 1 pick in last year's draft. Maddon summoned the lefthander with the bases loaded and two outs and Drew at bat. Price had thrown only 15 major league innings and had never pitched in a save situation as a professional. "I did it once at Vanderbilt," Price said. "Came in and gave up a homer to Austin Peay to blow the save." Price whiffed Drew.
Maddon stayed with Price in the ninth, even after he walked the leadoff batter, and Price rewarded the manager's faith by retiring three straight hitters to send Tampa Bay to the World Series. "That," Price said, "was an awesome feeling. You can't put that feeling into words."
Unwrapping Price, with his 97-mph fastball and wicked 87-mph slider, this late in the year is a reminder that the Rays are not a one-shot wonder. They already have the youngest postseason rotation since the 1986 Mets. (James Shields, at 26, is its elder.) "They answered the very big challenge that a Game 7 presents," said Boston general manager Theo Epstein. "It's been obvious for some time that this team is not some fluke. That was apparent early in the season. Now this is a major breakthrough for them. They've put together a core of young talent that very few clubs can match, though we'd like to think we have the same foundation. Everybody in our league knows they're not going away."
"Tonight they're even a much better team than they were," said Red Sox pitching coach John Farrell, "because now they know they can do it."
Maddon had talked about the ALCS as a "growth opportunity" for his young team, regardless of the outcome. Having knocked off the defending world champions, he was asked to reassess that opportunity. Said Maddon, "It's about everyone in the organization, from the secretaries to the scouts, being a part of this, of redefining what it means to be a Ray. That's the most gratifying part of it."
He was sure, he said, that this redefining of the franchise would last beyond this one pennant, a thought that made him turn to paraphrasing Holmes. "A mind once stretched," Maddon said, "has a difficult time going back to its original form."
The way Tampa Bay is playing ball these days, the notion no longer sounds so outrageous. Shout it from the highest catwalk: The Rays are in the World Series.
No money, no experience, no household names, no closer? No problem. The Rays are THE RIGHT TEAM AT THE RIGHT TIME.
"I'm sure there's a WOW FACTOR out there about the Rays being in the Series," says Anderson. "There's a wow factor in our clubhouse too."
NOW ON SI.COM
BREAKING NEWS, REAL-TIME SCORES AND DAILY ANALYSIS.
HEAVY HITTERS
Tom Verducci, Jon Heyman and Joe Posnanski all weigh in from Tampa Bay and Philly throughout the World Series.
SI.COM/MLB
PHOTO
Photograph by Kim Klement/US PRESSWIRE
IN CONTROL First, Garza went to a sports psychologist to rein in his emotions, then he gained command of his pitches, which overwhelmed Boston in Game 7.
PHOTO
AL TIELEMANS
STAYING POWER Tampa Bay's young core of (from left) Longoria, Garza (with Maddon), Upton and Price has no one older than 24.
PHOTO
AL TIELEMANS
[See caption above]
PHOTO
PIERRE DUCHARME/REUTERS (GARZA WITH MADDON)
[See caption above]
PHOTO
MATT CAMPBELL/EPA (UPTON)
[See caption above]
PHOTO
GARY BOGDON
MORE COWBELL The crowd at the Trop, where the Rays were 61--28 after the ALCS, has made a loud statement in the playoffs.