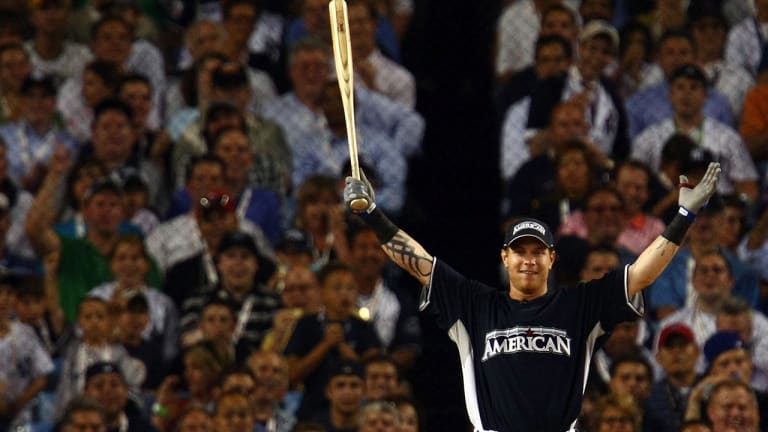 Publish date:
Parting Shots
Josh Hamilton gave Yankee Stadium one final unforgettable display in the Home Run Derby
The last grand moment of the baseball cathedral that was Yankee Stadium belonged to the public redemption of a crack addict, a formerly pitiable lost soul named Josh Hamilton, who found family, God, health and success, in that order, when after eight shots at rehabilitation he finally stopped trying to score his next blow.
In October 2005 an emaciated, strung-out Hamilton, who had lost 50 pounds and been banned from baseball, showed up on his grandmother's doorstep so high he wasn't even sure what narcotic he had mixed with a prescription anxiety drug. Thirty-three months later the same Hamilton, at least by name, but not body and soul, put on the greatest show ever in the All-Star Home Run Derby.
In the first round Hamilton, a lefthanded-hitting Rangers outfielder, smashed a record 28 homers. The quantity and the length of them were freakish, far beyond anything sluggers such as Mark McGwire, Sammy Sosa and Ken Griffey had ever done. In one stretch Hamilton blasted 13 consecutive home runs, and 22 in 25 swings. Five balls landed in the upper deck. Three sailed more than 500 feet. With every shot the crowd grew louder.
"Put it this way," Hamilton recalls. "When they first started chanting my name, on the next pitch I hit the farthest ball of the night." That shot carried 518 feet to the back section of the upper deck in rightfield.
"Obviously, the adrenaline was going," he says. "The last year of Yankee Stadium and my family there for the first time, experiencing that with me. Growing up in the backyard, you're always in Yankee Stadium. Just to be there in that atmosphere was amazing."
Hamilton, 27, didn't win the competition—fatigued, he lost in the final round to the Twins' Justin Morneau—but he won the night. To the long list of home run moments in the ballpark's 86-year history, including Babe Ruth's blast to open the place, the 61st by Roger Maris, the 500th by Mickey Mantle and the World Series walk-off by Derek Jeter, Hamilton, the recovering addict from Raleigh, provided the last shot.
His recovery can never be complete, but that night gave his story and his message a higher platform. "It's amazing how many people I've heard from who have their own addiction problems," Hamilton said. "For me to come through it as a responsible man and husband, I guess, is something that gives hope."
Hamilton has started a ministry, written a book and on Dec. 11 visited with President Bush as part of a meeting on drug-use reduction. The White House was a long way from his grandmother's doorstep. "I'll leave you with something President Bush told me," he says. "There are some good days and there are some bad days, but every day is a joyous day. I like that.