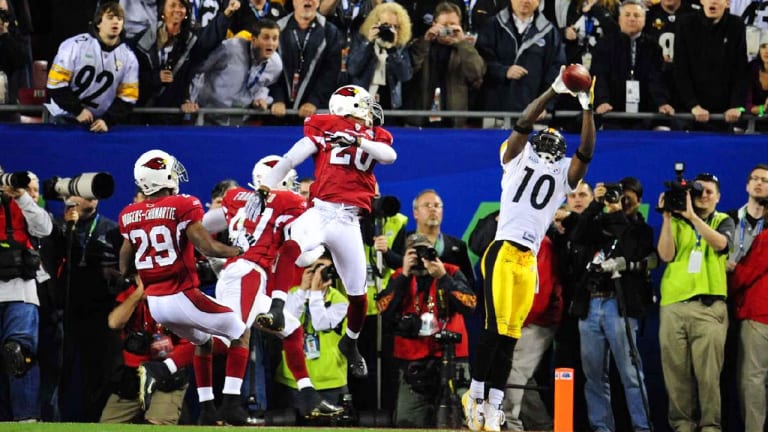 The Steelers! Are Super!
In a pulse-pounding showdown that will rank among the NFL's classic championship games, the Steelers broke the Cardinals' hearts to earn a record sixth Lombardi Trophy and evoke memories of Pittsburgh's title teams of old.
BY MIDNIGHT half the team was dressed in white Pittsburgh Steelers bathrobes, their fingerprints mucking up a sixth Vince Lombardi Trophy, their cigars burning smoky and sweet. After one of the greatest Super Bowls ever played, wide receiver Santonio Holmes wiped tears from his eyes, owner Dan Rooney pulled on a championship baseball cap and linebacker James Harrison asked if he could fall asleep right there on the locker room floor. Among the quietest in the group was the quarterback, Ben Roethlisberger, who slipped out of the room alone, his robe covering his civilian clothes, the ball with which he knelt to close out Pittsburgh's heart-stopping 27–23 victory over the Arizona Cardinals in Super Bowl XLIII cradled in his left arm.
Three years ago Roethlisberger barely felt a part of the Steelers' fifth Super Bowl title, his play had been so erratic in the victory over the Seattle Seahawks. The football world knew: Pittsburgh had won Super Bowl XL in spite of him. So what does a quarterback think about when he's back in the NFL's showcase game, when his opposite, Kurt Warner, has just found Larry Fitzgerald for a 64-yard touchdown,when his devoted fan base is aching and the clock is ticking down? "Do or die," said Roethlisberger, waiting by the team buses in the Tampa night, recounting his thoughts in the huddle before the Steelers' game-winning drive. "I've said it all along: I want the ball in my hands."
If Harrison's 100-yard interception return can lay claim to being the most remarkable defensive play in 43 Super Bowls, this game will be remembered as well for Roethlisberger's arm, Holmes's tiptoes and the crowning of Pittsburgh as the NFL's marquee franchise of the Super Bowl era.
It will also be recalled as the night Roethlisberger ascended to the cusp of greatness by winning his second Super Bowl at age 26. Trailing 23–20 after the Warner-to-Fitzgerald hookup late in the fourth quarter, Roethlisberger walked onto the field and into the pivotal moment of his career.
Leadership has not always been Roethlisberger's strength, despite his success as the Steelers' starter. As a rookie in 2004 he joined a team stacked with veterans—Hines Ward, Jerome Bettis, Alan Faneca—and had trouble asserting an authoritative voice. While he overcame the deficits in his game with an improvisational flair, a motorcycle accident in June '06 altered his life's trajectory.
Riding his Suzuki Hayabusa through downtown Pittsburgh without a helmet, he collided with a Chrysler New Yorker, sustaining several serious injuries, including broken bones in his face that required two-inch titanium plates and screws to repair. The accident lent him a new perspective. Now, he says, "it's a trophy to be alive every day."
Says Ward, "When he steps into the huddle, it's his team. When he steps into the huddle, all eyes are on him."
Roethlisberger's style is not always pretty, which may be why he has developed a kinship with his much-maligned offensive line. Though he was sacked 46 times in the regular season, second-most in the league, Roethlisberger time and again has gone ou tof his way to defend the men in front of him. Super Bowl week was no different. On the Tuesday before the game he treated his blockers to dinner at P.F. Chang's in Tampa's trendy Westshore Plaza, where the group occupied four tables in the middle of the bustling restaurant. Over fried rice and crispy honey chicken, the men spoke about the past and the future. "We talked about how far we had come and where we wanted to end up," said second-year right guard Darnell Stapleton. Added third-year right tackle Willie Colon, "We said we can't go back to Pittsburgh without [the trophy]."
When the group huddled with 2:30 remaining in the fourth quarter, Colon said, they looked atone another and smiled. What they had talked about at dinner was now in their control. Roethlisberger spoke up: "It's now or never."
Holmes also felt the weight of the moment. "Ben," he told his quarterback, "I want the ball in my hands no matter what."
His quarterback obliged. From the Pittsburgh 12-yard line, Roethlisberger lined up in the shotgun and masterfully directed his charges downfield, pump-faking and shifting in the pocket as his linemen held their ground. On first-and-20 he hit Holmes for 14 yards. On third-and-six, he found Holmes for 13 more. Three plays later from the Cardinals' 46, Roethlisberger spotted Holmes open about 10 yards downfield. The third-year wideout took the short pass, spun to his left and raced to the Arizona six.
First-and-goal, 48 seconds to play. Roethlisberger dropped back and whistled a pass to the back of the end zone that slipped through the leaping Holmes's hands.
On the next play, with the Steelers' line keeping the Cardinals' rush at bay, Roethlisberger had time to run through his progression. His first read, running back Willie Parker, was covered in the flat. His second option, receiver Nate Washington, also had too many red jerseys around him. So Roethlisberger looked to his third option, Holmes, and saw him racing to the right corner of the end zone. Three defenders were in front of the receiver, but Roethlisberger fired the ball anyway, high and outside. Holmes snagged it with his fingertips and touched the grass with both sets of outstretched toes. His fourth catch of the drive and ninth reception of the night was the game-winner—and good enough to make Holmes the Super Bowl MVP.
"[Roethlisberger] put it where only Tone could have caught it," said Pittsburgh offensive coordinator Bruce Arians on the field after the game. He then drew some parallels to Steelers past. "Tone is Swann, Hines is Stallworth—and don't forget, we got a Bradshaw, too. Ben showed that tonight."
IF HOLMES, Ward and Roethlisberger recall Lynn Swann, John Stallworth and Terry Bradshaw from the four-time champs of the '70s, coach Mike Tomlin is the ideal successor to Chuck Noll and Bill Cowher. In the swirling story lines of Super Bowl week—among them his own showdown with Cardinals coach Ken Whisenhunt and assistant Russ Grimm, two former Steelers staffers who'd been in contention for the Pittsburgh job in 2007—Tomlin kept his players both focused and loose. It was the continuation of his imprint on the Steelers brand.
To understand how he became, at 36, the youngest coach to win a Super Bowl, draw a direct line to Pittsburgh's wild-card loss at home to Jacksonville one year ago. That the Steelers had cracked at Heinz Field in the postseason, in familiar wintry conditions, stung badly. Some veterans felt Tomlin's coaching style that first year—long practices, banging in pads—had burned out his players before the Jaguars game. "Last year against Jacksonville," said Colon, "we kind of crawled into that game."
Said 12th-year linebacker James Farrior, "We all understand that when you're coming in as a new coach, you have to do it your way. We didn't like it sometimes, and it was tough sometimes, but it was something we had to deal with. This year [he's known] when to push our buttons and when to lay off. When he gives us breaks,we all feel like we have to uphold the responsibility and not be the guy who goes out and gets in trouble. He's a hard-nosed coach, but he gives us that[leeway] to go out and do the things we love to do, and he doesn't really put restrictions on us. We love him for that."
Ward was one of several veterans whom Tomlin excused from Wednesday practices during the season. That was a nod to the trust that developed between the young coach and his players. Still, Tomlin does not apologize for his firm hand. "I'm committed to winning," he said last week. "I'm committed to playing a brand of football that I believe in. It's a physical game. You win by attrition. You impose your will on your opponent. That's what I want our [game]tape to look like."
Not that Tomlin won't occasionally sprinkle in some humor. On the Friday before the Steelers arrived in Tampa, Harrison and cornerback Bryant McFadden were goofing off in the locker room, standing nose-to-nose in a stare-down as their teammates cheered them on. Soon Tomlin joined the group, hooting and hollering as boisterously as his players.
Once the Steelers arrived in Tampa, they seemed at ease both on the practice field and in the crush of media. On Wednesday, Roethlisberger brought a video camera to Harrison's podium and pointed it at the NFL's Defensive Player of the Year.
"Uh, Mr.Harrison, do you like to beat up cameramen?" the quarterback asked.
"Only if it's Ben Roethlisberger," Harrison replied.
While some coaches shield their players as much as possible from distractions during the build up to the Super Bowl, Tomlin invited 250 of the Steelers' friends and relatives to watch Pittsburgh's 38-minute walkthrough on the day before the game. Among the attendees was the Reverend Jesse Jackson, who also found his way into the team's postgame celebration.
"He has [the players'] mothers, fathers, grandparents, uncles and aunts to build a community," Jackson said of Tomlin. "At his age, he has a rapport with his players that is unusual. Because he's so young, his genius is covered up."
But its effects are evident—especially on defense, where Tomlin's Steelers create the same mayhem as always. He and coordinator Dick LeBeau ask for versatility from their players, and the pass-rushing Harrison epitomizes that. A special-teamer on the Super Bowl XL team, Harrison, 30, has emerged as one of the NFL's hardest defenders to scheme against. All night he disrupted Arizona's plans, forcing left tackle Mike Gandy into three holding penalties and, with fellow linebackers Farrior, Larry Foote and LaMarr Woodley, putting near-constant pressure on Warner.
But the league's No. 1 defense still had problems against the Cardinals, thanks to their array of elusive receivers and backs, and to the poise of their 37-year-old quarterback. All week Warner had been the vision of calm, carrying a note from his 17-year-old daughter, Jesse, in the front sleeve of his playbook: "Dad, I just wanted to let you know how proud I am of you. I'm so thankful and honored to be your daughter. I'll be praying for you. You deserve everything you want and probably more. I love you so much. Go Cards! Love, Jesse."
Warner carried those thoughts onto the field, coolly connecting with second and third options when the Steelers stacked their coverage against Fitzgerald. For most of the first half Pittsburgh flip-flopped cornerback Ike Taylor and safety Troy Polamalu, giving Fitzgerald several looks at the line of scrimmage. Warner adjusted, riding Anquan Boldin and Steve Breaston in the opening quarters and cutting Pittsburgh's lead to 10–7 on a one-yard pass to Ben Patrick.
Then came a critical turning point. After Roethlisberger was intercepted on a pass deflection, Warner moved the Cardinals into position to score again in the waning moments of the first half. With Arizona on the Pittsburgh one and 18 seconds remaining, Harrison dropped into coverage rather than coming on the rush and stepped right into the path of Warner's pass to Boldin. Taking off down the right sideline, he dodged Warner, Fitzgerald, Breaston, Gandy, tight end Leonard Pope, guard Reggie Wells and the churning legs of his own teammates. When Fitzgerald and Breaston finally caught Harrison short of the goal line, the linebacker did a somersault over Fitzgerald, landing on his head to score the touchdown. For several long moments Harrison lay on his back,palms up, toes pointing skyward. Tomlin headed for the end zone, where he helped Harrison to his feet and walked him off the field, an arm draped over the linebacker's shoulder. "It was tiring," Harrison said of his historic run, "but it was all worth it."
AT HALFTIME, Tomlin gathered his players. He talked about embracing the moment and honoring the legacy of the players who'd come before, players like Swann and Bettis, both of whom were on the field before kickoff. There were reminders of Steelers football everywhere in Tampa. Tens of thousands of towel-waving,black-and-gold-clad fans had descended upon the area, escaping a harsh winter and a harsh economy for a few days at least. And while Super Bowl week might have been subdued, the football on the field was both familiar and magical.
Harrison's mad dash recalled Franco Harris's Immaculate Reception. Holmes and Ward channeled the dramatics of Swann and Stallworth. Tomlin's jaw was as firm-set as his predecessor's. Roethlisberger pulled halfway to Bradshaw's four rings with a mettle that, like Bradshaw's, might not be truly appreciated until after he's gone.
As for trophy number six, which set Pittsburgh apart from five-time winners Dallas and San Francisco, it was still being manhandled far beyond midnight.
"You all passed the sticky Lombardi around? I ain't even touched it!" Tomlin yelled before heading to the buses.
Soon the Lombardi Trophy would be making its way to western Pennsylvania, where it would be driven across town, over the Hot Metal Bridge, down South Water Street and dropped off at the third building on the right.
It is there that the coach's office sits close to a trophy case that is about to grow larger. Where a dynasty born in a long-ago winter is young again.