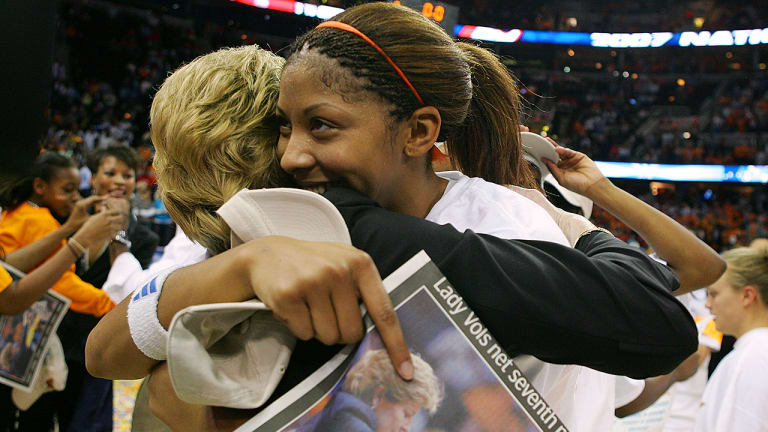 Ain't She Grand?
A former Vol celebrates Pat Summitt's 1,000th victory.
Last Thursday, Tennessee's Pat Summitt became the first Division I basketball coach to win 1,000 games. Candace Parker of the Los Angeles Sparks, who played for the Lady Vols from 2005 through '08, reflects on her coach.
I THINK PAT is omniscient. Anytime one of us thought we got away with something—on the court or in everyday life—we'd end up getting summoned to her office, where she'd cross her arms, shake her head and stare straight through us with those crystal-blue eyes. During my freshman year I was rehabbing a knee injury. I was not supposed to work out or even to run or jump. Being the stubborn individual that I am, I was determined to prove to myself that I could dunk. So I went into the gym when no one was around, and I did. I was so proud of myself, and I was certain that nobody knew what I had just accomplished. The next day I got called into her office. I don't know who told, but Coach Summitt knew I had dunked, and she was furious!
But Pat wasn't just mad that I had disobeyed her. She explained that she was concerned that I was trying to come back too fast, and she did not want me to jeopardize my career so I could be back in time to play half a season. Instead she advised me to red shirt. It was the best decision I ever made.
In my four years at Tennessee, I grew as a player, but I grew more as a person. I survived "the stare" and persevered through practices at which I contemplated becoming a full-time student. What I remember the most are the times when just she and I were in the office talking. Her door was always open. Coach always remembers birthdays, cares about feelings and wants her athletes to succeed. I sometimes did not understand her logic, but now that I am out in the real world, I see that there was a method to her madness. Everything she did was to make me a better individual.
Coach Summitt handles her success with dignity and grace; I've seen her sign countless autographs while trying to eat dinner. It's not easy being her, dealing with the pressure of her job. (Not to mention the raccoons. After she dislocated her shoulder shooing one off her porch, we gave her the nickname Davey Crockett.) But somehow she does it. She made the Lady Volunteers a family, and we could not be more proud of her accomplishment.