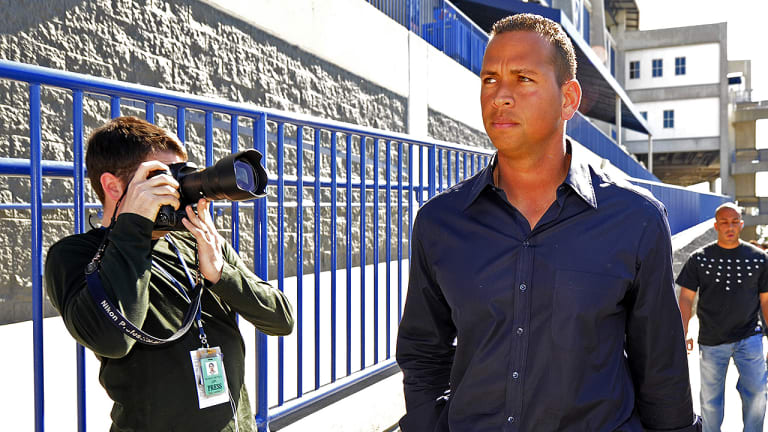 Confronting A-Rod
Baseball continues to be haunted by its past following SI's revelations of steroid use in 2003 by the game's biggest star
THE BOOK Alex Rodriguez: Historical Performance, an inch-thick binder 11 chapters long, read more like a fantasy novel than a free-agent evaluation. In the 2000 report on his client, agent Scott Boras unveiled a buying guide for any major league owner with a blind spot for hyperbole. Featured quotes included one that described Rodriguez, then only 25 and already a five-time All-Star, as "Michelangelo." Another proclaimed, "Yes, Alex Rodriguez can save baseball." ¬∂ Texas Rangers owner Tom Hicks took the bait. He signed Rodriguez to a 10-year, $252 million deal—some $110 million more than the next most lucrative offer—a contract that confirmed Boras's status as the planet's uberagent and set a platinum bar for a players' union empowered by the game's renewed vogue, a popularity driven by the game's sluggers: McGwire, Sosa, Bonds and, of course, Rodriguez. With an outsized craving for approval and status, his identity woven into his numbers, Rodriguez felt the need to justify a contract roundly lampooned for its excess. As his former Texas teammate Bill Haselman explained in November, the scrutiny left A-Rod with "the mentality of [needing to hit] a three-run homer with nobody on base." It is that pressure, Alex Rodriguez says now, that drove him to experiment with banned substances.
In 2003, when Rodriguez won the American League MVP award as a shortstop for the Rangers, he tested positive for two anabolic steroids, four sources independently told SPORTS ILLUSTRATED in a story first reported on its website, SI.com, last Saturday. By Monday afternoon, four days after being confronted with the evidence by an SI reporter, Rodriguez admitted in an interview with ESPN that he had taken performance-enhancing drugs from 2001 to '03.
"When I arrived in Texas in 2001, I felt an enormous amount of pressure," he told the network. "I felt like I had all the weight in the world on top of me and I needed to perform and perform at a high level every day."
Hicks told SI on Monday that he never had any reason to be suspicious of Rodriguez and said that he feels betrayed by his former player's admission. "In fact, Alex used to tell me negative things about other players around the league who were suspected [of drug use]," Hicks says. "So it's ... I feel very betrayed."
Rodriguez was young—and, as Haselman recalled, very malleable—when he played for the Rangers, whose veteran clubhouse would become notorious for its steroid culture. A roll call of A-Rod's Texas teammates now sounds like a perp walk of doping suspects: Rafael Palmeiro, Juan Gonzalez, Ken Caminiti, John Rocker and Randy Velarde have been publicly linked to the use of illicit performance-enhancing drugs.
"Back then it was a different culture," Rodriguez said in the Monday interview. "It was very loose. I was young. I was stupid. I was naive. And I wanted to prove to everyone that I was worth being one of the greatest players of all times."
Rodriguez said he did not know what types of performance-enhancing drugs he used in Texas and stated that he has not taken steroids since he left the Rangers in February 2004. He added that he did not even know he had failed the 2003 drug test until a reporter showed up at a University of Miami weight room last Thursday morning.
IN A parking lot space halfway between the University of Miami's baseball complex and its athletic center sits a hulking sign of his presence: a black Maybach, the QM2 of luxury liner cars, with a silver license plate frame that has ALEX RODRIGUEZ engraved across the bottom. It's freezing by Miami standards, about 39°, making an indoor workout far preferable to fielding short hops in the icy dew of a practice field. An SI reporter walks into a sprawling but nearly empty weight room that smells of rubber mats, shows a business card and asks if Alex Rodriguez is around. "In the back," says a man in a Hurricanes jacket.
Rodriguez is dressed in a white T-shirt and sweatpants, working out with a trainer and a friend as music pounds in the background. He is not pleased to see the reporter—whom he recognizes—in a place he views as his sanctuary. "You're not supposed to be here," he says more than once. When told there are a couple of important questions that need to be asked, Rodriguez, the Yankees' All-Star third baseman, rests his arm on a parallel bar used for triceps dips and leans in to listen with a bored sigh, as if he's expecting yet another question about Joe Torre or Madonna or Derek Jeter.
Rodriguez is asked about a drug test he took in 2003 (his final year with the Rangers), which SI's sources said came up positive for two anabolic steroids—testosterone and methenolone, also known by the brand name Primobolan. Rodriguez's green eyes widen, and he looks away. He processes the question and says, "You'll have to talk to the union," as he begins to fiddle with a plate. He is asked if the positive result could be a mistake, if maybe he took a tainted supplement, if the information is wrong. He says nothing. Is there any explanation, anything further he wants to say? "I'm not saying anything," he replies and turns toward a barbell.
One more question comes his way: Three major league players told SI that Gene Orza, the chief operating officer of the Major League Baseball Players Association, tipped Rodriguez about an upcoming drug test in early September 2004. Rodriguez is asked if that is true, but he does not respond. He looks at the trainer and orders him to "get someone. [The reporter] is not supposed to be in here."
No escort necessary. The reporter hands Rodriguez her card and tells him to call if there is anything else he wants to say. Rodriguez does not call. Messages left with players' association executive director Don Fehr will not be returned over the next five days. And Orza, when approached by an SI reporter on Friday at his New York City office about the tipping allegation, will say, "I'm not interested in discussing this information with you." On Monday, Orza told The New York Times, "It's not true. Simple as that."
The results of the 2003 survey testing of 1,198 players—conducted as part of an agreement between MLB and the union to determine if it was necessary to impose a mandatory random drug-testing program, with penalties, across the major leagues in 2004—were meant to remain anonymous. However, the anonymity seemed less than assured because players were asked by testers to sign their names next to a number corresponding with their urine sample.
"The idea [behind the testing] was to get a feel for how many people were doing it," Tim Crabtree, the Rangers' player representative in 2000 and '01, said on Sunday. "Yet every test had a name attached to it. So, in that regard, did the union screw up? Yeah, I'd say they did because I don't know how you can attach a name to a sample if it's truly anonymous."
Rodriguez's testing information was found after federal agents, armed with search warrants, seized the '03 test results from Comprehensive Drug Testing, Inc., of Long Beach, Calif., one of two labs used by MLB in connection with that year's survey testing. The seizure took place in April 2004 as part of the government's investigation into 10 major league players linked to the BALCO scandal—though Rodriguez himself has never been connected to BALCO. On that list of 104 positive test results was one belonging to Alex Rodriguez.
SINCE THE late 1990s baseball had been witnessing its own Curious Case of Benjamin Button: Players were aging backward, with 40-year-old pitchers throwing the heat of 20-year-olds and veteran hitters cranking out career highs in homers. But in 2003, when he was 28, Rodriguez seemingly didn't fit the profile. His impressive statistics—more than 40 home runs and 110 RBIs every season from 1998 through 2003—appeared to be authentic.
A benefit of using Primobolan, one of the steroids Rodriguez tested positive for, is that the steroid produces improved strength with minimum bulk. The drug also has relatively few side effects. Kirk Radomski, the former Mets clubhouse employee who in 2007 pleaded guilty to illegal distribution of steroids to numerous major leaguers, described in his recent book Bases Loaded how players increasingly turned to drugs such as Primobolan, in part to avoid testing positive. Primobolan is detectable for a far shorter period than the steroid previously favored by players, Deca-Durabolin.
At the same time, Rodriguez's pristine image was increasingly important not only to a commissioner's office that craved an embraceable star who would one day take the place of Barry Bonds as the alltime home run leader (POINT AFTER, page 74) but also to a players' union empowered by Rodriguez's record-breaking contract and to an agent, Boras, who was validated as the planet's best dealmaker, with A-Rod as his instrument.
The resistance to steroid testing among union officials was intense. In a panel discussion in March 2004, Orza openly mocked baseball's crackdown on steroids, saying, "I have no doubt that [steroids] are not worse than cigarettes." According to the 2007 Mitchell Report on performance-enhancing drug use in baseball, Orza stalled MLB in its attempts to test players for "reasonable cause" and declined to speak with Mitchell Report investigators. In September 2004, according to the Mitchell Report, Orza violated an agreement with MLB and tipped off a player (not named in the report) to an upcoming, supposedly random, drug test. In its statement last Saturday the players' association said, "As we have explained previously, in detail and in public, there was no improper tipping of players in 2004 about the timing of the drug tests." One major league player, however, told SI that he was forewarned by Orza in '04 that he would be tested on Sept. 24, "so make sure there's nothing in your system." Then there are the three players who told SI that Rodriguez was alerted by Orza to a coming test in September 2004, at the end of his first season as a Yankee.
THE YANKEES news this spring was supposed to ride on CC Sabathia and Mark Teixeira and A.J. Burnett—nearly half a billion dollars' worth of talent the team added in the off-season in an attempt to woo fans to its new, luxury-appointed stadium. But Rodriguez will consume the discussion when he arrives at the Yankees' spring training facility in Tampa.
The details of his contract will be parsed too. The 10-year deal Rodriguez signed in November 2007 is loaded with incentives for individual achievement, its rewards most notably linked to his power. He is reportedly guaranteed $275 million and could receive a $6 million bonus each time he ties one of the top four sluggers: currently Willie Mays (660), Babe Ruth (714), Hank Aaron (755) and Bonds (762). He cashes in another $6 million by supplanting Bonds as the home run king.
Rodriguez's deal was built on home run prowess and approved by the commissioner's office. Yankees owners Hank and Hal Steinbrenner argued that Rodriguez's chase of the most glamorous record in baseball would generate such enormous revenue for the team that the player was entitled to share in the profits.
The Yankees would not comment on the structure of Rodriguez's contract—including whether bonuses could be voided if proof exists that he used performance-enhancing drugs—but baseball sources familiar with the deal say there is no language about steroids in it that would put Rodriguez at risk of losing money.
His finances are secure. His future as a Hall of Famer is not.
With his identity firmly woven into his numbers, Rodriguez felt the need to justify a contract roundly lampooned for its excess. As a former teammate explains, the scrutiny left A-Rod with "the mentality of [needing to hit] a three-run homer with nobody on base."
The Yankees news this spring was supposed to ride on CC Sabathia and Mark Teixeira and A.J. Burnett, but Rodriguez will consume the discussion when he arrives at the Yankees' spring training in Tampa next week.
NOW ON SI.COM
BREAKING NEWS, REAL-TIME SCORES AND DAILY ANALYSIS.
A-ROD ANSWER
Full coverage of the facts behind Rodriguez's admission, plus fallout, response and opinion from across major league baseball.
SI.COM/MLB
PHOTO
TOM
DIPACE
CONFIRMATION Four sources told SI that Rodriguez's test result was among the 104 positive samples in '03; three sources said a union boss warned him in '04 that a test was coming.