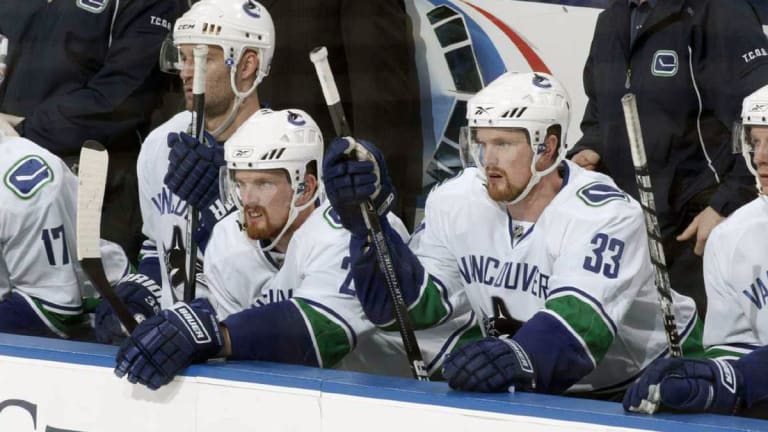 Publish date:
Freaky Good
The Canucks' Daniel and Henrik Sedin are beyond symbiotic: They skate on the same line, score the same number of points and play identity tricks on refs. They're also in the second round, so who cares if their coach can't tell them apart?
Twins are a staple of the Bible (Jacob and Esau), mythology (Romulus and Remus) and TMZ(Mary-Kate and Ashley), but they are also fertile territory for scientific research. Unlike anecdotal evidence for fuzzy but popular concepts (say,leadership in NHL dressing rooms or blondes having more fun), studies about those who share 100% of their genetic material can shine a light on human behavior—and get a little spooky. The metaphysical connection between identical twins sometimes seems as significant as their DNA.
Consider the case of the so-called Jim Twins, which appears in the book Entwined Lives by Nancy L. Segal, director of the Twin Studies Center at Cal State-Fullerton. Split up at four weeks and then living separately for 39 years without knowledge of one another, the men, both named Jim, married women named Linda, divorced them and then married women named Betty. They gave their sons the same name. The twins smoked the same brand of cigarettes, drank the same brand of beer. They vacationed at the same Florida beach and drove light-blue Chevrolets. Identical twins may not be telepathic but a case study like that of the Jims, leads to an inevitable question: When St. Louis winger David Backes cross-checked Vancouver's Henrik Sedin in Game 3 of the Canucks' sweep of the Blues in the first round of this year's playoffs, did Daniel Sedin's face hurt?
The answer, says Daniel, grinning, is no. The twins, preparing for round 2, were in Vancouver, sitting in the players' lounge, where they go online to chart the progress of racehorses they jointly own back home. They both drink black coffee, gallons ofit. They have the same taste in fashion (high-end jeans, T-shirts). They're golf handicaps are within two strokes. But while they do feel for each other—"If I know he's having a tough time, I'll go through the same feelings even though I don't have the same problem," Daniel says—they don't feel each other's actual on-ice pains. They say they've never shared one of those eerie "twin moments," although Henrik's saucer passes, over a defender's stick and onto his brother's tape, can look mystical. Brian Burke,the former general manager who made a series of Byzantine trades in order to select the twins with the second (Daniel) and third (Henrik) picks of the 1999 draft, once intimated that the Sedins communicate differently from you and me.He's right. The twins speak Swedish.
"I've been here 3½ years and never seen them argue," says Alex Burrows, the "third twin" who plays right wing on the Sedins' line. "They're always together. At the rink, outside the rink, driving home, on the plane. They're never frustrated. Always smiling." Indeed, the Sedins exuded an air of contentment long before their masterly duet against St. Louis helped redefine their NHL careers.
Facing the usual attention, which included a checking line plus roughhouse treatment from Blues defensemen Barret Jackman and Roman Polak, the twins were resolute."They'll hit back," Canucks coach Alain Vigneault says. "People think they can intimidate them, but it goes the other way now. [Rough treatment] gets them more into the game." Daniel, the shooter, had two goals and three assists. Henrik, the playmaker, had a goal and three assists.They were both +4. They both had 11.1 shooting percentages. After failing to make an impact in seven playoff series before this year—the twins were vilified in 2007 after combining for just two points in a five-game second-round loss to Anaheim—they are now, at 28, on the cusp of joining goalie Roberto Luongo as civic treasures. Last Thursday, The Vancouver Province even ran a picture celebrating Henrik's playoff beard. It was, of course, Daniel's.
"Our first few playoffs, we were second- or third-line [players]," Daniel says."People think we were playing 19 or 20 minutes like now, but we weren't....We never doubted that we could do it in the playoffs too."
The doubters, and challengers, were in the rest of the hockey world. Henrik and Daniel were targets long before becoming first-line players. "Sedin is not English for punch me in the face or headlock me in a scrum," Burke memorably said during a 2002 series against Detroit. The twins have been just as abused off the ice, even derided as the Sedin Sisters. "I think the reason they've gotten crap from the media ... is there are two of them," Canucks defenseman Mattias Ohlund says. "Also, they don't have a Canadian, in-your-face kind of game. They're more [about] skill and playing a little more on the outside. But they've been incredibly consistent."
Since asking for enhanced roles on the team at a meeting in London with former coach MarcCrawford and former G.M. Dave Nonis during the 2004--05 lockout—"The twins are so polite, they had trouble expressing their feelings that they had more to contribute," Nonis says—they have fulfilled their end of the deal, this season ranking among the NHL's top 20 scorers. In the past four years Danielhas 311 points. Henrik has 314.
Overall Danielhas 462 career points in 642 games; Henrik has 460 in 646. They had an identical 82 this season. On their combined 288 goals, the other twin has assisted 65% of the time. "This," associate coach Rick Bowness says,"is incredible."
At least Bowness can tell which twin is which. Vigneault hasn't the foggiest. Daniel is Vigneault's default name. When one of the twins walks by, the coach will say,"How's it going, Danny?"
"I've got a 50-50 chance of being right," Vigneault says. "They'll say, 'No, no,'or 'Yes, yes.' When it's a serious moment, I'll say, 'Which one are you?'"
You want double jeopardy? In January the Canucks' Kyle Wellwood was nabbed on a too-many-men penalty when he thought Henrik, a fellow center, was coming off the ice. In fact it was Daniel, a left wing.
Once during the twins' second season, when Henrik was kicked out of a face-off circle, he skated around and went back to take the draw without the linesman being the wiser. Crawford recalls once airing out Henrik between periods for blowing coverage on a face-off. Then the coach stormed into the dressing room, where Daniel stopped him and said he was the one who had erred. Henrik had never saida word.
In fact, there are differences in how they look: Henrik has a broader forehead, a higher hairline; Daniel has a more angular face. "I could tell them apart, but only when they were together," says Nonis. "I used to half hope one of them would take a stick to the face. That way for the next few weeks, there would be a distinguishing mark."
Eligible for free agency on July 1, the Sedins are in hockey limbo. The twins could stay in Vancouver. They might go. The only certainty is, the twins will remain together. Package deal: two for the price of two. Says Henrik, "I don't think anyone wants us by ourselves."
Daniel and Henrik could become the evil twins if they bolt this hockey-first city, but for the moment they are revered as two-in-a-million guys. If Vancouver wins its first Stanley Cup this June, maybe Gillis can check with the estates of Jim and Jim to see if Henrik and Daniel can borrow those vintage light-blue Chevrolets for the parade.