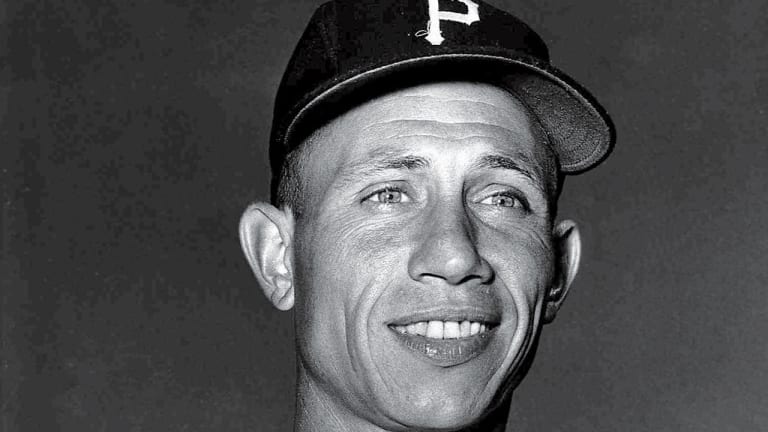 The Greatest Game Ever Pitched
Fifty years ago Harvey Haddix threw 12 perfect innings—more than any pitcher before or since—and then lost. How the unassuming lefty's brilliant effort turned bittersweet
Harvey Haddix stepped onto the rain-softened mound and exhaled. It was May 26, 1959, nearing 10 o'clock on a muggy night in half-empty Milwaukee County Municipal Stadium. Dark clouds loomed overhead in the windswept sky, lightning flickered in the distance. There were two outs in the bottom of the ninth inning, and the Pittsburgh Pirates lefthander tugged at the bill of his black cap, glared at his catcher from underneath and nodded. Not one player on the field had said anything to him that even hinted at what he was on the verge of accomplishing. Later, when Haddix stepped up to bat, Milwaukee Braves catcher Del Crandall would break the silence and state the obvious: "Hey, you're pitching a pretty good game."
All night long Haddix's head had been foggy from a nasty cold and all the lozenges he'd been popping in between innings, but he was well aware he had a no-hitter going—he couldn't ignore all the white zeros on the scoreboard below the COME TO MARLBORO COUNTRY sign beyond right centerfield. Haddix thought he had walked a batter earlier in the game, but he hadn't. Facing one of the National League's most feared lineups, the 33-year-old was one out away from pitching the seventh perfect game in major league history. By now radio stations across the country, as far west as Los Angeles, as far east as North Carolina, had picked up the broadcast of KDKA in Pittsburgh. Just outside Springfield, Ohio, Haddix's wife, Marcia, sat in the family car in her mother's driveway and listened to static-filled radio play-by-play.
Haddix reared back and put everything he had into his 78th pitch of the game. All night he'd been blessed with impeccable control—"I could have put a cup on either corner of the plate and hit it," he would later say—and this pitch was a heater that blew by the flailing swing of his counterpart, Milwaukee pitcher Lew Burdette. Inside the press box overlooking home plate, a button popped off the plaid sports coat of KDKA announcer Bob Prince as he screamed, "Harvey Haddix pitches a perfect no-hit, no-run, nine-inning game!" Pirates players swarmed to the dugout steps to congratulate their pitcher, who stepped off the mound without as much as a fist-pump. For the first time that night the 19,194 fans in the stands rose to their feet, and a roar for Haddix echoed across the ballpark.
But the game wasn't over. The scoreboard read 0-0. Everyone in the ballpark knew they were watching history being made. But what they didn't know was that there were still four innings to be played. They didn't know that Haddix would exceed recorded pitching perfection—and still lose. They didn't know that they were witnessing the greatest game ever pitched. "People ask me all the time what the most memorable game I've ever played in was," says Pirates second baseman Bill Mazeroski, who would hit his legendary World Series-winning homerun against the New York Yankees a year later. "Half the time I tell them it was Game 7 of the '60 Series. The other half of the time I tell them it was the night Harvey Haddix threw the finest game in the history of baseball. Then they'll look at me and say, 'Harvey who?'"
In the days after the heartbreak loss they would call him Hard Luck Harvey. "You're a born victim, Harvey Haddix," a columnist in the Philadelphia Evening Bulletin wrote. "You were riddled in a shotgun accident at the age of five. Fate has trailed you like a relentless bloodhound ever since." It's true, Haddix was nearly killed during a hunting trip when someone firing at a rabbit accidentally caught little Harvey in the spray of buckshot, five pieces of lead becoming imbedded in his skull. And yes, Haddix's career nearly ended in 1954, his third season in the big leagues, when a vicious line drive off the bat of young Braves slugger Joe Adcock ricocheted off his left knee, leaving him with nerve damage that forced him to permanently change his pitching mechanics. "He was a good pitcher who would have been great if he hadn't lost something off his curveball," St. Louis Cardinals outfielder Stan Musial would say in his autobiography. "He never was quite the same after [that play]."
But Haddix always said he had good fortune on his side. How else to explain that he was a major league pitcher in the first place? He grew up on a 450-acre farm in central Ohio—on summer days he threw a rubber ball against the concrete steps in front of his house while Cincinnati Reds games buzzed from a radio in the basement—and didn't pitch in an organized game until he was a senior in high school. In 1943 he was 17 and working with his dad on the farm when he saw in the newspaper that the Cardinals were holding a tryout in nearby Columbus. When Haddix showed up, he was handed a form; next to POSITION he wrote PITCHER, CATCHER, OUTFIELDER. A scout glanced at it, said, "Boy, you can't be all three," and scratched out everything but PITCHER. Haddix threw only 12 pitches, but the Cardinals liked what they saw. He signed with them in '47. When he arrived at his first camp, the St. Louis players saw his rail-thin frame and thought he looked like a thinner version of their ace, Harry (theCat) Brecheen. They called him the Kitten.
He looked more like a schoolteacher than a major league pitcher—listed at 5'9", 170 pounds during his playing days, though Marcia says now that he was "never an ounce over 145." Of German and Pennsylvania Dutch descent, he had black hair, watercolor blue eyes that stood out against a dark complexion, big ears and a wide smile. When a minor league manager saw Haddix for the first time, he sized him up and walked back into his office. "I ask for a good lefthander," he huffed to a coach, "and they send me a half-grown kid." No one,though, mocked Haddix after his rookie year, 1953, when he went 20-9 for St.Louis. "You know how much I think [of] Brecheen," longtime Cardinals outfielder Enos Slaughter said to reporters in '54. "Harvey is even better. He's not only faster, but he's got more stuff, and he's an even better fielder."
Despite his talent Haddix bounced from St. Louis to Philadelphia to Cincinnati over the next five years and quietly established himself as one of the NL's better lefthanders. In the winter of 1958 he was the key player in a seven-player trade between Cincinnati and Pittsburgh that sent third baseman Frank Thomas to the Reds for Haddix, third baseman Don Hoak and catcher Smoky Burgess. Before the '59 season Haddix said to his mother, "This is going to be my big year."
On the afternoon of May 26, 1959, Haddix woke up from a nap with a scratchy throat. The cold he had been fighting had gotten worse. Outside the Schroeder Hotel in downtown Milwaukee where the Pirates were staying, the weather was gray and miserable, with the forecast calling for strong winds and rain that evening. "We wondered if there'd be a game at all," says Bob Skinner, Pittsburgh's leftfielder. "Harv was sick as a dog, but before the game he didn't even say anything to our manager [Danny Murtaugh]. For some reason he was determined to start that day." Haddix got out of bed, had his usual dinner at the hotel (a burger and a milkshake) and took a cab to the ballpark. He headed straight to the trainer's table to lie down.
An hour before the first pitch, Haddix emerged for the team's pregame meeting in County Stadium's closet-sized visitors' locker room. He had gotten off to a good start with his new team, 4-2 with a 2.67 ERA. That night was the first of a three-game series between the Pirates, who were 21-19 and on a five-game winning streak, and the first-place Braves, who had appeared in the previous two World Series thanks to a rotation headed by Burdette and Warren Spahn and a high-powered lineup that would lead the league in home runs. Batting second in the Milwaukee order was third baseman Eddie Mathews, who would finish second in the 1959 MVP voting.Batting third and playing rightfield was 25-year-old Hank Aaron, who would hit a career high .355 with 39 home runs. The cleanup hitter was Adcock, a slugging first baseman who was overshadowed by his two future Hall of Fame teammates but was just as feared. "I remember that Aaron came into that series hitting over .450," says Vernon Law, who would start the second game of the series for the Pirates. "They were the last team you wanted to face at that time."
It was customary for Pittsburgh pitchers to offer a general game plan during the meeting, but on that afternoon Haddix began breaking down each hitter one by one. "He was just kind of having fun, saying he was going to go after Aaron this way and Mathews that way, " says Skinner. "Maybe it was because he was kind of loopy with his cold." As Haddix spoke, Hoak got up from his seat and ended the meeting by saying, "Harv, if you pitch those hitters like that, you'll throw a no-hitter." Everyone in the room laughed.
Haddix's pitching philosophy, like his upbringing, was simple. "I don't care about batters' weaknesses," he liked to say. "I throw the best I have each game, curve or fastball. Why complicate a simple game?" Haddix wasn't overpowering—"I doubt if his fastball ever topped 90 miles per hour,"says Bob Smith, a Pirates reliever and Haddix's roommate on the road—and instead relied on guile and a smart mix of his four pitches. But against the Braves he would depend on just two: fastball and slider. With one out in the first inning Haddix went to a 3-and-2 count on Mathews before getting him to line out to first; it was his last three-ball count of the night. Haddix later said he first starting thinking about a no-hitter after the third inning. By the fourth, the Pittsburgh dugout was as quiet as a church when Haddix was on the mound. "We had a sense early what was going on," says shortstop Dick Groat. "When we were up, we yelled at our guys at the plate because it was so frustrating to watch them squander opportunities when it was clear Harvey had great stuff."
Three of the Pirates' top hitters happened to be out of the lineup that day: Groat, who would be the NL MVP in 1960, was mired in a slump and had been benched; rightfielder Roberto Clemente, then 24 and in his fifth season in the majors,was sidelined with a sore shoulder; and first baseman Dick Stuart, who would finish his second big league season as the team's leader in batting average and home runs, was given the day off. Facing Burdette, who was on his way to a league-leading 21 wins, the Pirates grounded into three double plays.
A reserve player on the Pittsburgh bench found a greenish-colored peanut in a can of Planters and began passing it around in the middle innings as a good luck charm. The peanut rested on the steps of the dugout when Skinner stepped to the plate in the top of the seventh with one out and no one on base. On a 1-and-0 count he whacked a pitch from Burdette high into the air. "When it came off the bat,I thought for sure it was gone," Skinner says. "I hit it well." Adcock at first base gazed at the majestic shot and said to no one in particular, "It's gone." In rightfield Aaron, with his back to the infield, slowed in his tracks, as if to give up on the ball. But suddenly he broke back toward the field and squared up when, as Bill Virdon, who played center for the Pirates that day, puts it, "a strong wind suddenly came in from rightfield, and hard." The ball dropped into Aaron's glove, a few feet from the fence. On the radio Bob Prince described the ball as having been"blown back by a tornado gale."
"By the time the inning was over, the wind was completely gone," says Virdon. "All I could think was, O.K., maybe it just isn't meant to be for Harvey to win this game."
Haddix, meanwhile,was cruising. Most remarkable was how little luck Hard Luck Harvey seemed to need. Only two balls were hit hard: a stinging shot by Johnny O'Brien that shortstop Dick Schofield fielded cleanly in the first and a line drive off the bat of Johnny Logan that Schofield had to jump for but easily caught in the third. "Usually you have one or two great or spectacular defensive plays in these no-hitters," says Mazeroski. "Not that night. It was the easiest game I ever played in."
Haddix's dominance becomes more remarkable when you realize that many of the Braves' hitters knew what pitches were coming. In 1989, when a number of players from both teams were present at a banquet in Pittsburgh commemorating the game's 30th anniversary, former Milwaukee pitcher Bob Buhl pulled Haddix aside. "You know we were stealing signs during the game?" he asked. Buhl told him that pitchers in the Braves' bullpen peered through binoculars to pick up the signs Burgess flashed to Haddix. One reliever then signaled the batter: towel on the shoulder meant fastball, no towel meant breaking ball. All but one Milwaukee hitter, Aaron, took the signals. "There were rumors that they might be stealing signs that series," says Smith, "but none of us knew they were doing it that night."
Not once did Haddix shake off his catcher; Burgess made just three visits to the mound. In fact Haddix barely uttered a word to anyone. There weren't even words exchanged between Haddix, a three-pack-a-day smoker, and Groat, who lit a cigarette for the pitcher in the dugout between every inning, a ritual that began after the second. "It got to the point where he'd just sit there with [a cigarette in his mouth] and wouldn't move until I came over and lit it," says Groat."Then I'd just run away."
Meanwhile, after getting out of trouble in the early innings—he would allow 12 hits in the game—Burdette got stronger as the night wore on, retiring the Pirates in order in the sixth, seventh and eighth. After inducing Skinner to hit into a weak groundout with men on first and third in the top of the ninth, Burdette was fired up. Referring to Haddix, he barked at his teammates, "He's not going to beat me. Get a run or else we're going to be here all night!"
There had been six perfect games in the majors before that night, and there have been 11 since.The pitchers who have accomplished the feat are an odd assortment of Hall of Famers (Cy Young, Jim Bunning, Sandy Koufax), journeymen (Charlie Robertson,Len Barker) and above-average workhorses (David Wells, Dennis Martinez). No one other than Haddix, though, has taken a perfect game past the ninth inning. (Of the 13 no-hitters in the modern era that were carried into extra innings, only two lasted past the 10th and none past the 11th.) As the Braves and Pirates moved into extra frames, there were no signs that either starter was tiring.After Burdette allowed a single to Hoak in the top of the 10th, manager Fred Haney approached the mound to ask his pitcher if he'd had enough. "What for?" Burdette snapped. "I'm not tired." Though Haddix needed a total of only 12 pitches to retire the Braves in the 10th and 11th, the effort was beginning to take its toll on him. When Burgess visited the mound during the 10th to ask how he felt, Haddix replied, "Your horse is getting tired out here."
Pittsburgh stranded a runner at first against Burdette in the top of the 13th, and the game was approaching its third hour when the home half began. The first hitter was second baseman Felix Mantilla; on a 1-and-2 count he hit a high bouncing ball to third. Hoak, moving to his left, fielded it in plenty of time but rushed the throw, pulling first baseman Rocky Nelson off the bag. "He makes that play nine times out of 10," says Virdon. With the error, "there was a hush from the crowd instead of the usual cheer," according to an account in The Sporting News. The Braves had a base runner. The perfect game was over.
The next hitter,Mathews, bunted Mantilla to second, and after an intentional walk to Aaron, Adcock stepped up. It was 10:54 p.m. Winds had swirled all game, but Adcock looked up at the flagpole in centerfield and saw "that the flag was still as a mouse," he would later say. It had been five years since his liner nearly ended Haddix's career. Adcock was lanky, but he had surprising power—the first player to hit a ball into the centerfield bleachers at the Polo Grounds and the first to hit a ball over the leftfield stands in Ebbets Field. Haddix had attacked the righthanded hitter with sliders on the outside corner all night, so Adcock knew what was coming. The first pitch was a slider outside.The second was a slider that Haddix left high. "I wanted it low," he said. "I was just getting tired." Everyone in the park knew as soon as the ball jumped off Adcock's bat. It was gone.
Rightfielder Joe Christopher gave a leap as the shot went over his head in right center. The ball landed between the outfield fence and another fence behind it, in front of a line of pine trees. Aaron saw it hit the second fence but didn't realize it had carried over the first; instead of rounding the bases, he figured the game was over on a ground-rule double, so after touching second he cut across the pitcher's mound and jogged toward the dugout after Mantilla crossed the plate.Teammates, streaming out of the dugout, yelled for Aaron to turn back, but Adcock had already touched third. The umpires conferred and ruled that the final score was 2--0, which is what readers of America's newspapers saw the next morning. But National League officials the next day ruled that because Adcock had passed Aaron, Adcock was out and his home run was a double. The final score was changed to 1--0.
In the Braves clubhouse after the game, Burdette expressed sympathy for Haddix, repeating to reporters, "He deserved to win. He deserved to win." Adcock, sitting nearby, added, "You can say that again." Haney, the Milwaukee manager,was asked to compare the game he'd just seen with the perfect game thrown by the Chicago White Sox' Robertson against the Detroit Tigers 37 years earlier." The game Haddix pitched was by far the better of the two," said Haney,who was a Detroit rookie that season. "It was the best-pitched game I ever saw."
The visitors' clubhouse was so quiet that reporters could hear the water splashing in the showers. At his locker Haddix seemed more dazed than despondent. As the newspapermen crowded around, Haddix interrupted a question by asking, "What inning did it end, finally?" Later he got a call in the clubhouse from Burdette. "You deserved to win," Burdette said, "but I scattered all my hits, and you bunched your one." Haddix hung up on him. The last two Pirates to leave the ballpark were Haddix and Hoak. During their cab ride back to the hotel Hoak mentioned his 13th-inning blunder just once. "I've madeerrors behind you before today," he said to Haddix, "and I'll make errors after today." There was no apology. As Marcia Haddix says now, "Harvey didn't want one."
What to make of Haddix's performance? On one hand, he had pitched more brilliantly than any man to take a major league mound. On the other, he had lost—by the harsh accounting of the box score, Haddix had failed. The quiet lefthander could have parlayed America's curiosity over this bittersweet paradox into celebrity and financial gain. "One unofficial source said [the performance] could boost his income this year by $10,000, maybe more," a story in a Pittsburgh paper days after the game read. "Television shows doubtless will be after him to tell his story. The razor blade sponsors will probably want him to shave before the cameras." But Haddix received no raise or bonus from the Pirates, only asterling silver tea set. He didn't shill for any products. The Ed Sullivan Show called to ask him to appear, as did What's My Line? and To Tell the Truth, but he turned them all down. "It didn't make sense for him to leave the team todo all that," says Marcia. "He was overwhelmed by the attention. At heart he was just a farm boy who loved picking corn more than anything else."
Haddix received congratulatory telegrams and letters from all over the country, from senators, governors, baseball managers and announcers, but his favorite was the one from a Texas A&M fraternity, written on university stationery: Dear Harvey, Tough shit.
He had joined an exclusive club, but he was still Hard Luck Harvey. A year later Haddix would pitch brilliantly in the World Series against the Yankees. He was credited with wins in Game 5 and in the epic Game 7 (in which he appeared in relief), but his performance was overshadowed by Mazeroski's homer. For the rest of his career his record was just over .500, and soon enough he was being mistaken again for Harry Brecheen: After a start in 1962 against the New York Mets, the opposing manager, Casey Stengel, saw him in a hotel lobby and said, "Harry, nice game." In an odd twist, Haddix spent his last two seasons as a reliever with the Baltimore Orioles—for whom Brecheen was pitching coach. Haddix retired as a player in 1965 at age 39 and then spent 14 years as a pitching coach for the Reds, Mets, Red Sox, Indians and Pirates. In Boston the man at the gate at Fenway Park always called him "Harry." Harvey never bothered to correct him.
In 1991 the Haddixes were living in Springfield when Marcia took a call from a reporter. Major League Baseball had convened a committee on statistical accuracy and altered the definition of a no-hitter to "a game in which a pitcher or pitchers complete a game of nine innings or more without allowing a hit." Haddix had thrown more perfect innings than anyone—but hadn't completed the game perfectly. His performance was being wiped off the list of perfect games. "I got off, and I was so angry," says Marcia. "But when I told Harvey, all he said was, 'It's O.K. I know what I did.'"
"What Major League Baseball ruled wasn't right," says Mazeroski. "Twenty-seven up, 27 down is a perfect game—why not 36 up, 36 down? All I know is that I was there for the greatest game ever pitched, and the game deserves recognition."
Harvey died in 1994, at 68, of emphysema, and today Marcia lives alone in a modest house in Springfield. Virtually no film footage of the game exists; the TV broadcast in Pittsburgh was preempted by a speech by Vice President Richard Nixon. There are no mementoes from the game in Marcia's house; Haddix's glove and a game ball are the only artifacts from it in Cooperstown. The Adcock home run ball was picked up by a kid who raced out of the stands and disappeared. The jersey Haddix wore was loaned to the Pirates 20 years ago and is now missing. (And talk about hard luck: Harvey's 1960 World Series ring was stolen from a hotel room in '84.) Marcia still hopes the commissioner's office will acknowledge the masterpiece as a perfect game. She also knows that Harvey truly didn't care about the snub. "He never talked about the game unless someone brought it up," she says. "He always said that the greatest thrill of his career was pitching in the World Series. He didn't care about attention for the perfect game."
Hours after his loss to the Braves, Haddix and Bob Smith were in their room at the Schroeder. The phone rang off the hook, and telegrams piled up on a desk. Around 5 a.m. the pair decided to break curfew and took a walk around the empty downtown. After wandering for a bit, they entered a 24-hour greasy spoon, and as they ate breakfast they overheard two men talking about the extraordinary game that had taken place at the ballpark across town. "Harv didn't want to say anything," says Smith, "and he sure didn't want me to say anything. The way he saw it then, he pitched a pretty good game, but the team lost. So what was the big deal?"
The two players got up from their seats. With his teammate at his side, the man who pitched the greatest game ever walked out of the diner, as anonymously as he had entered it.