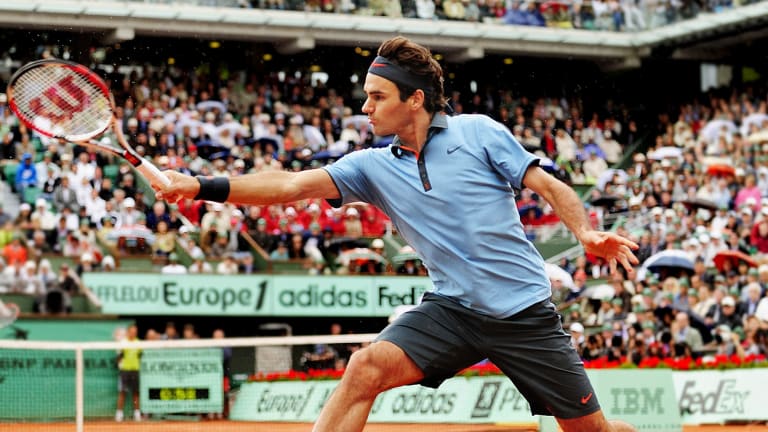 Is He the Greatest of All Time?
Roger Federer won the French Open, completed his career Grand Slam and tied Pete Sampras's record of 14 major singles titles. Cue the debate about his place in history.
The other man almost didn't matter anymore. Roger Federer had summoned enough of his old dominating self to defang the once-dangerous Robin Söderling and make him a bit player in the final act of the 2009 French Open, but let's face it: No one, not even Söderling himself, had expected much trouble from the big Swede. Instead, it was the odd stuff, the x factors that can throw a player mentally, that had been Federer's real opponent all tournament, and at Sunday's final they all came at him in one fast and furious test. 
First his father, Robert, feverish from a virus, bolted from the grounds before the match and was forced to watch his son's legacy-sealing performance on a hotel TV. Then came a swirling wind that starched the flags atop Court Philippe Chatrier; a charcoal sky that deposited mist, spit, drizzle and showers during play; and, just when Federer was cruising, 6-1, 2-1, a lunatic, who hopped onto the court and rushed straight toward him. No one reacted in time to slow the man down—and no one knew what he intended. "That gave me a fright," Federer said later, "just seeing him so close right away."
Really, though, history was the biggest bogeyman. Not only was Federer trying to equal Pete Sampras's record of 14 Grand Slam singles titles in this, his fourth straightFrench final, but by winning his first championship at Roland Garros and securing his career Grand Slam he was also breaking the tie: Sampras had never gone past the semis in Paris. And then there was the matter of that lady sitting in the stands and waving a banner bearing the big words, RAFA ESTA AQUI.
Indeed, Rafael Nadal may have been resting his sore knees poolside on Majorca, but in spirit, anyway, the world No. 1 hovered over the court, his dominance of Federer constituting the loudest "Yes, but ..." in any argument about Federer's being the best player of today, much less of all time. It's no wonder that, all match, Federer struggled to beat back thoughts abuzz in his brain—What if I win? What does that mean? What will I say?—while going about the business of making Söderling look helpless.
Now it was past 5 p.m. Federer had all but done it, fended off each distraction. The lunatic had wanted only to place his red cap atop Federer's head, and Federer had righted himself, served out the next game and finally blitzed Söderling in the second-set tiebreak. Then, handling Söderling's blistering ground strokes with ease, Federer opened the third set with a break and carried it all the way to the final changeover, leading 5-4. He sat down, soon to be serving for the major title that had eluded him longer than any other. He stared up at the crowd and then scanned the stadium where Nadal had beaten him three straight times—and a year ago had humiliated him in straight sets.
Federer stood, then walked to the service line. A chorus of shhhhhhs coursed through the stadium. His thoughts were out of control now; almost in tears, he wished Söderling would spray four errors and make it easy. "It was almost unplayable for me," Federer said after the match. He cannoned a swing volley 10 feet long to set up only the second break point for Söderling all day. Söderling—wish granted—skulled a forehand, and then Federer massaged his way through a five-stroke rally to set up an easy volley and championship point.
The voices of 16,890 fell silent. Federer bounced the ball, then cracked it down the T. Söderling dumped a forehand into the net and fell back into obscurity 6-1, 7-6, 6-4.
It was 8:09 a.m. in Southern California, home of Sampras and Rod Laver, the two men Federer had just passed to become, yes, the greatest player in tennis history. "Regardless if he won [in Paris] or not, he goes down as the greatest ever: This just confirms it," Sampras told the Associated Press. "It certainly puts him in a class by himself," Laver says.
Historians will look at Federer's résumé—at least five U.S. Open titles, five Wimbledons, three Australians and one French—measure it against Laver's 11 and Sampras's Frenchless 14 and declare him supreme. But there's also the matter of Federer's unparalleled consistency: Federer has made an astonishing 20 straight Grand Slam semifinals (compared with runner-up Ivan Lendl's 10) and has appeared in 10 straight finals and in 15 of the last 16. Laver's longest string of consecutive finals was six, Sampras's three.
Of course, Federer's case will be complicated, in some minds, by the vast difference in equipment and competitive depth among tennis's various eras, by the conflicting standards of amateur and pro tennis before 1968 and by the varying speeds of the surfaces over the years—not to mention the fact that Laver never played a Grand Slam event on hard courts. "I'm not saying he's not the best player," former Wimbledon champ Pat Cash says of Federer. "I'm just saying you can't seriously compare [players from disparate eras]. Different rackets, different shoes, different techniques, different ... everything. Nadal is the better clay-court player, and I think Sampras is the better grass-court player. So if Federer is No. 2 on grass and No. 2 on clay, does that make him the best? There are all these ifs and buts."
For most, though, the Nadal question looms largest. That "freak of nature from Majorca," as Andre Agassi calls him, has a 13-7 record over Federer. Federer's first instinct on the day after Nadal's fourth-round loss to Söderling was to say,"Of course, my dream scenario is to beat Rafa here in the final." Not a soul in Paris believed that Federer really wanted to face Nadal.
Federer spent all spring also being harried by No. 3 Andy Murray and No. 4 Novak Djokovic, who had combined for a 6-0 record against him since the U.S. Open last fall. A sore back forced Federer to take six weeks off before the early hard-court season, and his lackluster results at Indian Wells and Miami left him puzzled. "People talked a lot about me having lost [my] grip, and to some degree I guess it's true," he said after the win. "All of a sudden my game completely left me. I don't know why."
But a shocking straight-set win over an exhausted Nadal in the Madrid tune-up—Federer's first title of the year—had buoyed him heading into Paris, and when Djokovic was eliminated by Philipp Kohlschreiber during the first weekend of Roland Garros and Fernando Gonàlez dispatched Murray in the quarterfinals, Federer's path to the championship suddenly looked wide open. Once past his five-set struggle against unseeded Tommy Haas in the fourth round, he surveyed a field of five men against whom he held a 38-1 record. The 23rd-ranked Söderling? Federer had played him nine times and lost only a set.
Still, Federer was troubled by lapses throughout the tournament—the most dramatic coming when he trailed fifth-ranked Juan Martín del Potro two sets to one in Friday's semis. Federer will turn 28 in August, and from his rough patches and his newfound reliance on drop shots, which he once called a sign of weakness, there emerged a vivid portrait of a genius making his inevitable deal with time. After finding his form and beating del Potro in five sets, Federer paid no more lip service to missing a chance at revenge.
"Maybe you're going to miss him," he said after his semifinal of Nadal's absence from the French final for the first time in five years, "but not me." And secretly? "I knew the day Rafa won't be in the finals I will be there, andI will win," Federer said on Sunday evening. "I knew that, and I believed in it."
Even though this might have been his last, best shot at winning the French, Federer was hardly the most nervous player in Paris. The recently crowned women's No. 1, Dinara Safina, came in desperate to justify her ranking and make up for her two previous collapses in Grand Slam finals. Instead, on the evening beforeSaturday's dispiriting women's final, the 23-year-old Safina was so overwhelmed by the occasion that she shut herself off from her trusted coach, Zeljko Krajan, and anyone else who tried to get her to relax.
"Straight after the semis, [Safina] was done," Krajan said after Svetlana Kuznetsova, a specialist herself in high-pressure meltdowns, cruised 6-4, 6-2 to claim the title. "She was lost in her head, and it was impossible to get to her.Before the match she could not even [eat] dinner. She had to cry for four hours. Emotionally she just collapsed."
For years Kuznetsova, the 2004 U.S. Open champion, waged her own battles with her head. Like Safina she had folded in her two previous Grand Slam finals, and she had come close to quitting tennis in '08. But last fall Kuznetsova, also 23, embraced her roots by moving back to Russia from her longtime training center in Barcelona, and it revitalized her. "I want to go out there and have fun," Kuznetsova said last Friday. The next day she proved it, capering about Court Philippe Chatrier, pounding forehands, mixing in drop shots, waiting for Safina to disintegrate. "She plays with too much pressure," Kuznetsova said after the match. "I've learned about the pressure. It's not my thing."
Still, uncertainty can creep into even the soundest mind. Last summer at the Beijing Olympics, Kuznetsova was having second thoughts about moving to Moscow; friends said she'd be distracted there. But the Russian basketball players asked if she could set up a photo for them with Federer, and Kuznetsova spoke with him for the first time. She told him how she was tired of living in Spain. "Look," Federer said, "you can only depend on yourself. If you can concentrate and live in Moscow, do this."
That Federer, who gave little credence all spring to advice that he change his game to beat back Nadal, should champion self-reliance is no shock. On Sunday, as Söderling's final forehand hit the net, Federer sank to his knees and dropped his head into his hands. But he stood up quickly, mouth trembling, and smashed a ball into the sea of cheering fans. Another rain began.
Agassi, whose own legacy had been transformed 10 years before by victory on the same court, handed Federer the trophy, and the champion held it over his head before bringing it down for a long, hard kiss. During the Swiss national anthem, tears rolled down his cheeks. "Now for the rest of my career I can play relaxed," Federer told the crowd. Then he put down the microphone and the sky opened up and the red clay turned to mud, but it felt like Paris was smiling. Roger Federer has nothing to cry about anymore.