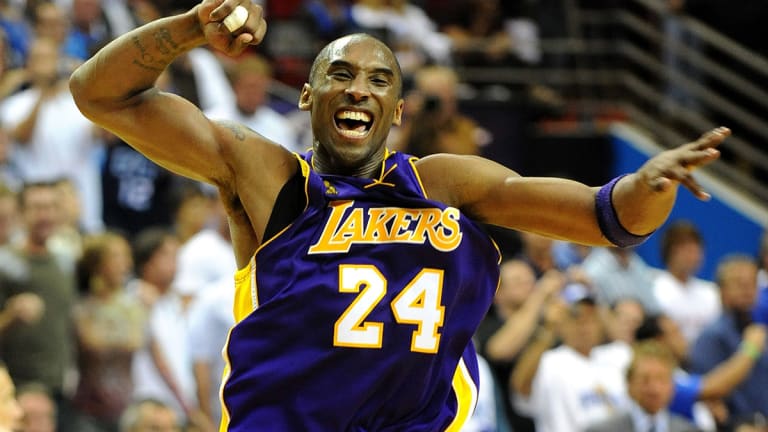 Satisfaction
The Lakers are NBA champions again, and it's because they have a star who would settle for nothing less
It is 2 a.m. on Thursday during the second week of the NBA Finals, and Kobe Bryant cannot sleep. In less than 24 hours the Lakers will make an unlikely comeback to win Game 4 in overtime, and three days later after a masterly 30-point performance in Game 5, Bryant will again be a champion. He will raise the Larry O'Brien trophy in his long arms, and he will laugh and hug his teammates long and deep and, yes, even tear up a little. The mask of intensity he has worn for months will finally fall.
But for now it remains. For now the Lakers lead the Magic 2–1 but are recovering from a painful loss in which Bryant missed late-game free throws. So he sits in a high-backed leather chair in the lobby of the Ritz-Carlton in Orlando, surrounded by chandeliers and white orchids and gleaming white floors, in the company of friends—a group including his security guy, team employees and trainers—but alone. He says little, the hood of his sweatshirt pulled over his scalp, his eyes staring into the inky night, past the windows and the palm trees. He holds a Corona but rarely brings it to his lips. He looks like a man so tired he cannot sleep, a man nearing the end of a long journey. It is one that began well before November, when this season started, or even last June, when the Lakers fell to the Celtics in the Finals. As he will later explain in a quiet moment, he divides his career into two bodies of work: "the Shaquille era and the post-Shaquille era." Since the post-Shaq era began in 2004, when the Lakers traded O'Neal to Miami, many have doubted, again and again, that Bryant would ever earn a ring on his own. And while he has dismissed those who classify his legacy as Shaq-dependent, calling them "idiotic," he also knows how close he is to banishing that perception.
Minutes pass. Bryant stares and says nothing. He has waited this long. He can wait a little longer.
Thirteen years into an exceptional NBA career, this is finally Kobe Bryant's moment. Sure, these Finals were about Phil Jackson attaining his 10th ring as a coach (surpassing Red Auerbach's record) and guard Derek Fisher's nerveless performance in Game 4 (hitting a pair of clutch three-pointers to swing the series in Los Angeles's direction) and the emergence of 23-year-old Dwight Howard (proving, as he took the Magic to the Finals, that a big man need not scowl to be dominant). But let's be honest: This has been about Kobe all along.
So what do we make of him now? As polarizing a figure as there is in the league, he is deified in L.A. and often detested elsewhere, yet not even his detractors can deny his talent or accomplishments. At 30, Bryant has four championship rings (one more than Michael Jordan at the same age), two scoring titles, an MVP award and now a Finals MVP award. He has won for six coaches and as part of starting lineups that included Travis Knight and Smush Parker, suffering but one losing season (and when it comes to Bryant, suffering really is the right term). He has accomplished all this while playing for one team, showing the single-town loyalty fans cherish in their sports heroes. Those who would claim that he is a poor teammate or a poor leader would seem to be finally out of ammunition.
His performance in these Finals was memorable not necessarily for the bursts of scoring (though of course there were those) but for the moments that revealed both his evolution as a player and his near-desperate desire to win. The way he wrestled with Orlando's Rashard Lewis, elbowing and hooking and kneeing when he had to switch onto the 6'10" forward; the way he bared his teeth after big plays, like a feral animal; the way he dominated not only with baskets but also with passes—Bryant had nearly twice as many assists as any other player in the Finals. Though he would never admit it, his willingness to play whatever role his team needed may have reflected Bryant's awareness that the era of LeBron James and Dwight Howard is at hand, and that the best way for him to stay relevant, since he can't do it by sheer force of personality, is by winning.
So he gave himself over to this one goal as never before—which is saying a lot for Kobe. He shut down communication during the Finals, ignoring most phone calls and cutting off e-mail. He became so ornery that his two young daughters took to calling him Grumpy, from Snow White. And he sought nothing less than a similar commitment from his teammates. When 21-year-old center Andrew Bynum came out lackluster in Game 3, Bryant lit into him during a timeout, loud enough that a sideline reporter could overhear, "Get your head in the f------ game." This was not the soft, cuddly Bryant we were served up last month in ESPN's Spike Lee documentary Kobe Doin' Work. Rather, this was Kobe actually doing work. And it was far more compelling.
Thus, to see the man as he was during these Finals, not as Nike or Lee or Bryant might prefer, is to see a portrait of him at his competitive best, a man intent on controlling his own legacy.
It's late in the first half of Game 1 at Staples Center, and Bryant is on one of those rolls. He sticks one jumper, then another. At times like these, he says, he can sense the fear in his opponent, in this case 6'6" swingman Mickael Pietrus. "They get kind of nervous and are scared to touch you," Bryant explains. "It's no fun playing against players like that." He prefers a confident opponent. "It becomes more fun for you," he says, "because it becomes a challenge."
This desire for challenges—and isn't it remarkable that in the Finals he craves added obstacles—is what Bryant has spent the last decade trying to both feed off and harness. In recent years, at Jackson's suggestion, he's turned to meditation. He's also coming to terms with the fact that it isn't that his teammates don't want to win as much he does (though this is true), it's that they don't have the capacity to want to win as much as he does. Says Gregg Downer, Bryant's coach at Lower Merion (Pa.) High and a good friend, "As difficult as Kobe can be, as demanding as he is, I think [he and his teammates] all found some middle ground, a center."
That center is this: Give as much as you can, and you can play on his team. "I'm going to continue to push and push, and if my teammates can keep up, they will," Bryant says. "If they can't, then they probably won't be here."
Now it is Game 2, and Bryant is backing out of a double team, then passing to the weak side. He is trying to be a facilitator, trying to override his instincts, the ones that tell him to take over, to win this thing right here. And it's working: At the half he has the same number of shots (five) as assists.
It's a lesson he learned in the Western Conference finals against the Nuggets. Bryant was averaging 36.8 points, yet the series was tied 2–2 and L.A. was struggling, reliant on an increasingly exhausted Bryant to carry them.
Watching film, Bryant and Jackson noticed the same thing: Denver's double teams were creating avenues to the rim. The next game, Kobe made the adjustment. Doubled on the perimeter, he retreated, pulling the defense with him, then found open men who found open men. As Bynum said after that game, "When he's calm and he's moving the ball, nobody can beat us."
Bryant finished Game 5 against Denver with eight assists, then had 10 in a clinching Game 6 and was instrumental in dozens of other plays. It was, put simply, the Good Kobe. For L.A.'s coaching staff, getting Bryant to play like this has been an ongoing challenge. "He likes to make the pass for the assist of the score," says assistant Brian Shaw. "We would like him to make the pass that would lead to the pass."
Even though Bryant doesn't do this all the time, it's hard for coaches to get too upset. "There's a trust that we have because we know that he's trying to win the game," Shaw says. "There are a lot of times when Phil will call a play, but [Kobe] will have a feel for what's going on out on the floor and say, 'No, no, no. I already got something going.' Phil trusts that."
Now it is 5:30 in the morning after Game 4, and Bryant is headed to the gym. Only hours earlier the Lakers pulled out a dramatic 99–91 win to take a 3–1 series lead, and with three more chances to finish the series, the players could finally relax. There are two nights off before Game 5, and it was time to celebrate a bit, and Kobe did. For all of four hours. Now, before he goes to sleep, it is time to get in some work.
At the urging of his trainer, Tim Grover, Bryant heads to the fitness center at the Ritz-Carlton, where a couple of early-bird businessmen are shocked to share their treadmill time with an 11-time All-Star. For an hour and a half Grover takes Bryant through a series of exercises: weights, stretching, muscle-activation routines. Grover's logic is that if Bryant gets his work in now, he can have a block of uninterrupted sleep and not disturb his rest pattern.
Bryant's work ethic is renowned, but this season he became even more obsessive. Unhappy with his physical stamina during the Finals a year ago, he asked Grover, with whom he'd worked during the off-season, to become, in essence, his personal trainer: travel with him, monitor his workouts. For Grover, who runs his business out of Chicago, and whose clients include Dwyane Wade (and, for many years, Michael Jordan), it was asking a lot. "There are only about three guys in the league I would have even considered doing this for," says Grover. "With Kobe, I knew he'd take it very seriously."
Grover's modifications were small but important. Bryant had never been an advocate of cold tubs; Grover had him taking ice baths frequently for muscle recovery. He focused on strengthening Bryant's ankles, wrists, hips—"areas that don't make you look better in your jersey but can become nagging injuries," Grover says. The result is that, despite having played for nearly three years straight due to his Olympic commitments, Bryant came into these Finals free of ankle braces, shoulder wraps and sleeves—although his right ring finger, dislocated earlier in the season, remained taped. He even wore low-top shoes. (Bryant believes they give him a greater range of motion, and Grover concurs.) When Bryant missed those free throws in Game 3, finishing 5 of 10 from the line, Grover had him show up early the next day and spend 40 minutes just shooting foul shots. "The superstars aren't superstars just by accident," says Grover. "Michael was Michael because of what he did on and off the court; it didn't just happen. Same with Kobe. It's because of the time and effort and the knowledge that he gains and his willingness to listen to people."
It is an interesting concept, that a man long criticized for not listening to people is succeeding now because he does.
Now it is before Game 5, and it seems as if every camera in Amway Arena is trained on Bryant. His eyes are hooded, his jaw is set. This is what he came for. When Bynum says of Bryant, "Only he knows what motivates him," well, that's not really true at all. Don't we all know what motivates Bryant? As Fisher says, "He wants to be the best player to have ever played this game. That's what he works at every day."
While it is often easy to question Bryant's sincerity, it is hard to do so when the subject is his drive. "I push and push and push—that's the only way I know," Bryant says. A day earlier I had asked him about the future, when he's in his mid-30s, and whether he could ever see himself being a third option on a team. "Third option?" he said, and then he paused. He frowned slightly, rolling the idea around in his head, entertaining an existence where he orbits others, not the other way around. He wrinkled his nose at the thought, then finally answered. "I don't know; that's tough to see," he said. "One thing I've always been great at is scoring the ball. Even when I'm 35, I think I'll be a bad mother------." And with this, Bryant laughed. It must feel good to tell the truth.
Finally, the moment—his moment—is here. There is 1:12 left in Game 5, and the Lakers have both the ball and a 95–84 lead. Once again, Bryant has been superb. He has hit big shots, including an acrobatic runner across the lane, coming right to left, switching hands in midair, eluding the 6'11" Howard's reach and then hitting a soft banker before crashing onto his back; it called to mind Jordan's iconic levitating, right-to-left midair layup against the Lakers in the 1991 Finals. Again, however, it was the rest of Kobe's game that stood out. He had two steals, four blocks, six rebounds, five assists and untold hockey assists—the passes that lead to the passes that lead to the scores that make Brian Shaw so happy.
Now, during this final Lakers timeout, Bryant heads back to the bench. He tries to lean back in his chair but cannot sit still. He attempts to control his breathing, which is quick and shallow. He bites his nails, shifts his eyes; he looks nervous, like a teenager about to ask a girl out on a first date. Then, finally, shyly, he smiles. It is a genuine smile, oddly naked. It is a Bryant we rarely see.
Soon, he will accept the MVP trophy and bring Natalia, 6, and Gianna, 3, onstage. Then he will run back to the locker room, slithering through the hallway crowd, shouting, "Oh! My! God!" and he will make sure to drench Jackson in champagne, and then he will sit before the media at a podium and grin goofily and talk about getting "a big old monkey off my back" and rest his cheeks in between his hands and say how it feels as if he's dreaming and how he "can't believe this moment is here." And then he will head to the Ritz to celebrate, still wearing his champagne-soaked T-shirt and shorts, a cigar protruding from his mouth, punch-drunk and pleased to take photos with all comers, no longer the child prodigy, no longer the petulant sidekick, no longer the selfish ball hog, no longer the Michael Jordan wannabe, but just Kobe Bryant, champion.
He dominated not only with baskets but with passes—he had nearly twice as many assists as any other player in the Finals.
It's 5:30, the morning after Game 4. The Lakers have a 3–1 series lead. Bryant is headed to the gym.
The best way for Bryant to stay relevant, since he can't do it through sheer force of personality, is by winning.