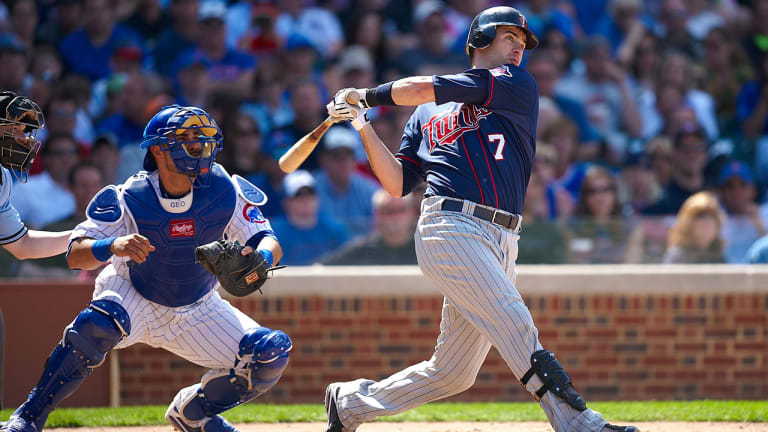 Publish date:
Joe Mauer Will Serenely, Politely Crush You
The Odds Are Stacked against Him, but Here's Why the Twins Catcher's Pursuit of .400 Could Be Different: a Singular Swing that Brings Bat and Ball Together in Perfect Harmony
The superior man is satisfied and composed; the mean man is always full of distress.—CONFUCIUS
Joe Mauer speaks in a buttery monotone, occasionally giving away his unmistakable Minnesota-ness, as when he turns so into two syllables, with a slight accent on the second one (so-OH). As a hitter, he watches pitches go by—good ones, not just the bad ones—with the patience of a twinkle-eyed fisherman. And when he does swing, often with two strikes, the wellspring of distress for inferior men, Mauer does so with a beautiful economy. What the abacus is to calculation and the sundial to timekeeping, Joe Mauer's swing is to hitting.
To be Joe Mauer is to be an irritant to pitchers. His serenity gives them no anxiety on which to prey, or as Oscar Wilde put it, "Nothing is so aggravating as calmness."
"He's a special breed," Pirates righthander Jeff Karstens said last week after Mauer, with two strikes, doubled off him on the sixth pitch of an at bat, a slider, the first pitch on which Karstens came inside. "He never seems tense up there. I'd say he's the best hitter in the American League. You have[Albert] Pujols in the NL and Joe Mauer in the AL."
Being Joe Mauer is about keeping his life and his swing as simple as possible, which is why,given a rare day off last Thursday, he drove an hour outside Minneapolis to the log cabin getaway he built in the Minnesota woods. "Real logs, real Lincoln logs," he says, though within those real-log walls are such creature comforts as a bowling alley and a batting cage.
To the log cabin is where Mauer also repaired immediately after last summer's All-Star Game at Yankee Stadium. The memory of coming home to the woods, not playing in the last big event at a baseball shrine, is what elicits a bigger smile. "I took a plane ride after the game," Mauer says, "and within eight hours I was riding a lawn mower up there. So you have New York City and the All-Star Game and all the craziness that goes on with that, and eight hours later I was sitting there cutting grass. Talk about your two extremes. And oh, yeah, I was happy."
Being Joe Mauer is being Joe Mower.
Since baseball instituted steroid testing with penalties in 2004, the sport has largely lacked a major national narrative to pull the game forward the way that the consecutive-games record of Cal Ripken and the (since devalued) 1998 home run race between Mark McGwire and Sammy Sosa did in the wake of the '94 strike.Since '04 no player has hit 60 home runs (it happened six times in the six years before that); no pitcher has won more than 22 games or struck out 300 batters; no world championship team has won 100 games; and no batter has carried a .400 average into July.
Here is where Mauer comes in. With home runs having gone the way of junk bonds, derivatives and no-document mortgages, the most iconic, captivating pursuits are of hitting streaks and a .400 batting average, in part because of their daily drama and the stirring of the ghosts that come with them. Not since the Reds' Pete Rose hit in 44 straight games in 1978 has a hitter come within 15 games of Joe DiMaggio's single-season record of 56 straight. Not since the Rockies' Larry Walker and the Padres' Tony Gwynn, in 1997, has anyone hit .400 even as modestly deep into a season as June 22—until Mauer.
At week's end Mauer was hitting a blistering .407, making him only the 10th player to hit.400 this far into a season since Ted Williams in 1941 became the eighth and last .400 hitter in the modern era. Mauer has been so impressive that his manager, Ron Gardenhire, cracked after his catcher had a 4-for-4 night against the Pirates last week, "Let's enjoy the heck out of it. Let's talk about.500. It's just amazing."
Mauer doesn't have to actually hit .400 to captivate the country. The mere possibility of it is the attraction. No other question hangs as tantalizingly over this season as this: Can a player, a catcher no less, hit .400? "Ah, I don't know,"says Mauer, whose stress-free approach doesn't change whether atop the batting race or a riding mower. "We've got a lot of baseball left. I think it's way too early for that [talk]. I'm trying to keep it simple. I've tried to have a good start. It's probably not going to last forever, but I'll try to hold on toit as long as I can."
The odds are heavily stacked against him. Only one player in the 68 years since Williams hit .406 has been at or above .400 after Aug. 3: the Royals' George Brett, who was hitting .400 on Sept. 19 and 13 games later finished at .390. (Honorable mention goes to the Rockies' Todd Helton, who entered September 2000 hitting .395 but went 8 for 40 over his next 10 games and wound up at .372.) Remember the excitement just last year about the Braves' Chipper Jones, who was hitting .400 on June 18? Perhaps not, because he hit a routine .320 the rest of the season to end up at .364.
Mauer's mission is made even more difficult because of the rigors of his position. No catcher has ever hit better than .367, and that standard, established by the Brooklyn Dodgers' Babe Phelps, has stood for 73 years. And while Mauer is a career .332 hitter before Aug. 1, he is a .305 hitter in the final two months, when the toll of catching comes fully due. Based on his current rate of at bats, Mauer would need to hit .397 over the Twins' remaining 91 games to become the first .400 hitter since Williams. Last week he admitted, "I'm starting to feel more aches than I normally would this time of year. I think it's the[artificial] turf, because I feel it even more when we're at home. I listened to guys like [former teammate] Torii Hunter who played on turf for a while, but it never got me until this year."
But then, Mauer already is a two-time batting champion, who only now is entering his prime and exhibiting the power long foretold for him. He also has the wisdom that accrues from more than 2,500 major league plate appearances, and his approach to hitting is as close to slump-proof as anyone's in baseball. Mauer undertook no baseball activities, weightlifting or running all winter and into spring training because of a blockage in a kidney that required surgery and inflammation of the right sacroilac joint, which connects the spine to the pelvis. When finally given clearance to play ball in late April, Mauer played in five minor league games before joining the Twins on May 1, whereupon he promptly homered on his first swing. He hasn't stopped hitting since. In addition to his .407 average, Mauer had already hit a career-high 14 home runs and led all big leaguers in on-base and slugging percentage. His batting average has been below .400 exactly one day this year, a hiccup at .397 on May 20.
"This may sound crazy," Twins shortstop Brendan Harris says, "but it's not like he's been hot. He hasn't. He's just so consistent. It's every day. He doesn't change. Every day, every at bat, he just stays within himself. So even if he has an 'off' day, that just means he's 1 for 3 with two walks."
"Yes, it's possible," says Minnesota outfielder Delmon Young of a run at .400. "His cooling off is everybody else's hot. It's amazing to watch, even for the rest of us. We have the best seat in the house and don't even have to buy a ticket. It would be something to tell your kids someday, 'I played with the last guy to hit .400.'"
Hitting .400 is so difficult that only two men alive even played with a .400 hitter: Bobby Doerr, 91, and Herb Hash, 98, the lone survivors among the 29 Red Sox who were Williams's teammates in 1941. So how can Mauer, at least in the small sample of this season, make something so hard look so easy?
Forget the math and the probabilities and the projections because the greatness of Mauer is sometimes better grasped anecdotally. Last week, on the Pirates' team flight to Minneapolis, Pittsburgh pitching coach Joe Kerrigan waved the advance scouting report on Mauer as if it were a white flag.
"Are these right?" Kerrigan said. "Are these misprints? They must be misprints!"
"The reports," Pirates coach Rich Donnelly explained, "basically showed he doesn't strike out, doesn't pop up and has no holes. It's like with Tony Gwynn, Barry Bonds and Albert Pujols. When you go over the reports on hitters like that, you basically just go, 'Next.' Why waste five minutes? And Mauer is putting himself in that class."
"I'll tell you how good a hitter he is," Harris says. "He almost never breaks a bat. He changes bats because they wear out, not because they break."
"I've broken a couple," Mauer says. "I don't know the number. Not that many. I try to hold on to them for as long as I can, but yeah, sometimes they fray. I've only broken maybe three or four."
Here's another measure of Mauer's excellence: the checked swing, typically the signal of defeat for a hitter in his one-on-one duel with the pitcher. Hitting is timing, the Hall of Fame pitcher Warren Spahn said, and pitching is disrupting that timing. The checked swing announces the hitter's surrender.
"Maybe five times in four years I've seen him take a checked swing," says bullpen coach Rick Stelmaszek, a Twins coach for 29 years. "I've seen it only once this year. He's a freak."
The secret to Mauer's success is his serenity, his minimalist movement and emotion. He is the Ben Hogan of hitters, bringing the sweet spot to the hitting area with no extraneous movement. "I think the biggest thing about my swing is I don't have a lot of stuff going on," he says. "Guys have different triggers for timing, and my timing is very simple." As a boy growing up in wintry St. Paul, Mauer pounded balls into a tarpaulin hung in the family garage. His father, Jake Jr., a salesman for a company that designs trophies, rigged up a contraption that would drop the balls through a coffee-can-and-PVC-pipe device, leaving time only for a quick, short stroke. By the time Mauer was a senior at Cretin-Derham Hall in St. Paul, his swing was so pure that he made contact nearly every time he swung (he, in fact, struck out only once in high school), though with little power at first.
"My coach, Jim O'Neill, took me out for batting practice one time," Mauer says. "He would just throw and pepper certain spots. And that's when we found out that middle in or middle a little up was my spot. I was consistently hitting balls over the fence.
"So after we were done, all he said was, 'Why don't you look in that spot the next couple of games?' I think I hit seven home runs in the next seven games. I took that and ran with it, not just for hitting home runs but hitting good pitches."
Mauer has grown into such a finicky hitter that he has swung at only nine first pitches in 202 plate appearances this year. He stands at the plate taking mental measurements of how the baseball behaves out of a pitcher's hand. "I just try to see how the ball moves, especially my first at bat," he says. "I always like to see a couple of pitches before I offer at one. I think ever since I can remember I've always felt pretty comfortable with two strikes."
With each strike pitchers jackhammer away at a hitter's leverage. It doesn't work as well with Mauer. Through Sunday, the average major league hitter this year had hit .186 in two-strike counts. Mauer had hit .253 in such spots. "When I get two strikes," he says, "I widen [my stance] a little bit and stay shorter to the ball. When things go bad, I joke with my coaches, 'I'm just going to go straight to my two-strike approach' because I'm comfortable with it. I don't like to get in that situation, but if I do get there, I don't panic or anything."
At 26, a Gold Glove catcher, batting champion, homegrown icon, and now, having closed the last loophole in his game by adding power, Mauer might well be the most valuable asset in baseball. Statistical analysis by the website fangraphs.comestimates that Mauer is giving Minnesota about $38 million worth of annual value this year. (Pujols is worth roughly $39 million according to the site's calculations.) Soon the Twins must put a real dollar figure on his worth. Mauer is scheduled to earn $12.5 million next season, when the Twins open Target Field, their publicly financed outdoor ballpark, after which he will be eligible for free agency. The Red Sox and the Yankees, each playing this year with a 37-year-old catcher and no obvious replacement inside the organization, will likely reenact last winter's bidding war over Mark Teixeira (eight years, $180 million) if the Twins don't sign Mauer to an extension.
To carry Mauer under a new contract, the Twins would most likely have to push their payroll from $65 million into the neighborhood of $90 million—in line with the average 37% first-year jump in payroll for the past six non-New York franchises that have moved into a new ballpark (the Brewers, Pirates, Phillies, Reds, Nationals and, the only such team to cut payroll, the Cardinals). "It would be devastating to Minnesota if he left," says longtime Twins radio announcer John Gordon. "To play one year in the new ballpark and be gone would be crushing. [First baseman] Justin Morneau said if [Mauer] ever left, he'd never speak to him again."
Says Mauer, whose grandparents attend virtually every home game, "To tell you the truth, I really haven't even thought about playing anywhere but here. But I think it's pretty early. Right now I'm just trying to stay on the field. All of that stuff will happen when it needs to happen."
There is a kind of natural, unhurried beauty in his game and in his life right now, not unlike the calm moments he cherishes at his log cabin in the woods, far, far away from the New York-Boston corridor. "My favorite thing," he says, "is just to sit on the deck and watch the deer and wildlife go by. I try to keep it a little hidden secret up there, just to get away and relax."
When it all goes right, which is what has happened most of this year, the batter's box is not too different from the deck of his cabin. Mauer is so calm he seems to change the physics of the game. Because his swing is so compact, he can wait longer to commit to pitches, which has the effect of stretching the 60 feet, six inches between the pitching rubber and home plate. "He sees the ball longer than any hitter in baseball," Stelmaszek says.
"Pitches seem to slow down a little bit," Mauer says. "When I'm up at the plate, it doesn't feel like anything is rushed. You see the ball coming in, and everything is nice and easy, and you put a good swing on it. And sometimes the field may look a little wider too. You try to hold on to that feeling for as long as you can."