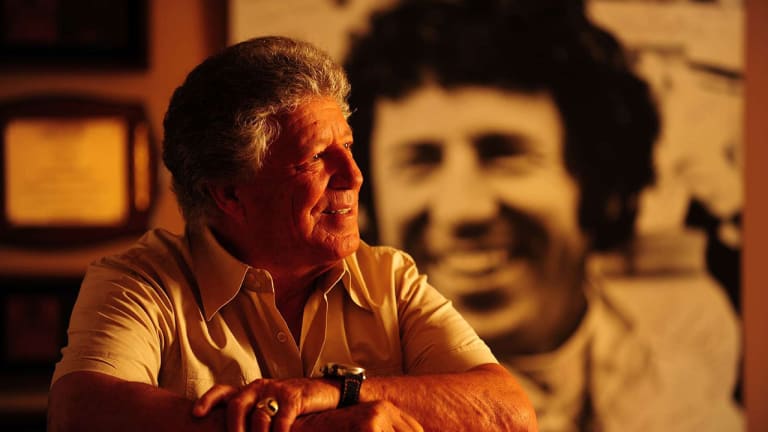 Leader of the Pack
The only man to win the Indy 500, the Daytona 500 and an F/1 title remains rooted in racing as patriarch of open wheel's first family
The term showcase home gets used a lot in real estate circles, trotted out to describe everything from town-house condos to Newport mansions, but it's hard to imagine a residence more deserving of the designation than Villa Montona, Mario Andretti's palatial place just outside of Nazareth, Pa. A 21,000-square-foot Italianate vision in tan stone and terra-cotta tile, it was built in 1998 by Andretti and his wife of 47 years, Dee Ann, and sits on a hill overlooking a working-class borough of 6,000 in the rolling countryside of the Lehigh Valley. As you motor up the long brick driveway past the big, burbling fountain, it's easy to imagine, despite the gray towers of the Nazareth Cement Company visible beyond the terrace, that you're somewhere among the hill towns of Tuscany. Yet as impressive as the architecture and landscape are, what's really showcased at Villa Montona is not the home, but the man. Abundant everywhere is evidence of a life rich in family and accomplishment, savored to the fullest.
There is, of course, the racing memorabilia. A long, elegant gallery lined from floor to ceiling with custom-built glass cases holds countless gleaming silver bowls and cups, crystal vases and ornate plaques. All are engraved with the names of races won during a 35-year career that stands as the greatest in American motor sports. (A four-time IndyCar series champ and the Associated Press's Driver of the Century, he remains the only person to win the Indianapolis 500, the Daytona 500 and the Formula One driving championship.) A sports bar in the lower level of the house is packed with more photos and hardware, including the immense copy of the celebrated Borg-Warner Trophy that Andretti's flamboyant car owner, Andy Granatelli, had made after Mario's Indianapolis 500 victory in 1969. In the garage, between a Corvette and a pair of wave runners, sits the Lola-Cosworth Indy car that Andretti drove in his final race, in 1994—"still up to spec and ready to run," he points out.
It is a collection that would have any racing fan's heart revving beyond the red line. But the place is no museum. There's far too much life in Villa Montona. "When we built the house, we realized we had a choice," Andretti says with a laugh and a gesture at the keepsakes. "Either throw it all out or hang it up."
Andretti is 69 and could pass for a decade younger. His once jet-black hair is streaked with gray but is as thick as ever. Tanned and fit, he looks as though he could slip right back into his old firesuit with only the slightest of aerodynamic adjustments. And indeed, he still occasionally takes customers of the Mario Andretti Racing School out for high-speed ride-alongs at Las Vegas Motor Speedway. (Another Andretti school operates at Lowe's Motor Speedway in Charlotte.)
For decades the man nicknamed Go Go Mario spent the month of May in Indianapolis, immersed in the carnival of practice and qualifying. "It was our Mecca," he says. "It's the best-known race in the world. When I won Indy, I got fan mail from Tibet!" Andretti would make 29 starts in the 500 between 1965 and '94 but win only once, in '69. Indeed, the heartbreaks and near misses at the Brickyard were so numerous that people began to speak of the Andretti Curse. In '81 Mario finished eight seconds behind Bobby Unser, was declared the winner the following day when Unser was penalized, then was relegated to second four months later when officials overturned Unser's penalty. In '87 Andretti led for 170 laps before an electrical failure ended his race with 20 laps to go. And while both of his sons, Michael and Jeff, would become drivers, neither would win Indy in a combined 21 starts. Yet despite the setbacks, Indy has become synonymous with the Andretti name. "As a family I think we have a lot to be proud of there," says Mario.
Continuing the Andretti tradition is Michael's son Marco, who in 2006, at the age of 19, matched his father, his uncle and his grandfather by being named Rookie of the Year at Indy. Marco, who drives for Andretti-Green Racing, the team owned by his father, took second that year in the second-closest finish in race history, but he too is still searching for his first win at the Speedway. In '09 he was caught in a first-lap accident that cost him any chance at victory. He finished 30th.
Mario made the trip to Indy this year for Marco's qualifying run and returned for race weekend, but these days his racing participation is limited to providing encouragement, though he admits, "It's hard to be a spectator." He does work for his longtime sponsors Firestone and Texaco/Havoline, and among his other interests are a string of gas stations and a Toyota dealership. Lately he has been pouring much of his time and passion into a pursuit as exacting, if not quite as dangerous, as racing. Together with former Kmart CEO Joe Antonini, he owns and operates a winery in Napa, Calif. Founded in 1996 as little more than a hobby, Andretti Winery is now a $3.5 million business that produces a range of award-winning wines under the Andretti and Montona labels. "Bob Pepi, our winemaker, and I agree about styles," says Andretti as he conducts a tour of his 3,500-bottle, climate-controlled wine cellar at Villa Montona. "Man, I love the process."
He goes on to talk about grapes and soil with the same gusto with which he speaks of racing, and as he does so, surrounded by his wine collection and next to a large framed photo of himself and his two sons in racing regalia, it becomes clear that Mario Andretti is about as far from cursed as a man can get.
PHOTO
Photograph by AL
TIELEMANS
RACER'S EDGE Though Mario's win in '69 (left and inset) was the Andrettis' only trip to Victory Lane at Indy, the family has a rich history at the Brickyard.
PHOTO
FOCUS ON SPORT/GETTY IMAGES (WINNER'S CIRCLE)
[See caption above]
PHOTO
TONY
TRIOLO (CAR)
[See caption above]