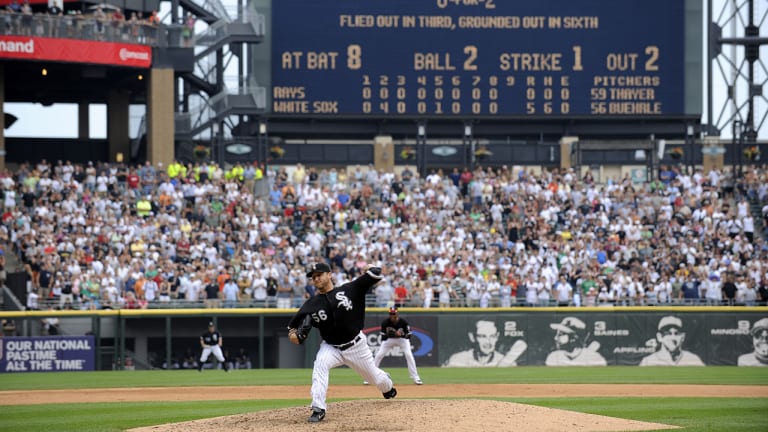 Miracle On The South Side
On an afternoon when everything could've—maybe should've—gone wrong, everything went perfectly right. Here's why Mark Buehrle's masterpiece goes down as this season's coolest moment
By baseball standards Chicago White Sox lefthander Mark Buehrle is not superstitious, but on the days he pitches at home, he always stops at the Shell station, the one where Kingery Highway meets Interstate 55 southwest of Chicago, and buys a Rockstar energy drink. Last Thursday, Buehrle was pitching at U.S. Cellular Field against Tampa Bay, but on the way to the park that morning from his home in Lemont, Ill., he forgot about his ginseng fix and drove right past the station. Only when he was 10 minutes from the stadium did he look down at the cup holder in his BMW and notice it was empty. "Oh s---," he muttered. He texted his wife, Jamie, "Forgot my drink. I'll definitely lose today."
The beauty of a perfect game is that no one ever sees it coming. When White Sox centerfielder Dewayne Wise showed up at the ballpark and did not find his name in the starting lineup, he didn't even bother to stretch. When backup catcher Ramon Castro showed up and did find his name in the starting lineup, he hurriedly went over signs with Buehrle—fastball, cutter, change. "You know," Buehrle said, "I throw a curveball, too." Castro, a May acquisition from the Mets who was catching Buehrle for the first time, had no idea.
With the White Sox playing a day game after a night game and facing a doubleheader the next afternoon in Detroit, they trotted out a lineup that looked more like a split squad at spring training. In addition to Castro, Gordon Beckham, who was in the minor leagues two months ago, was starting at third and regular third baseman Josh Fields was making only the seventh start of his career at first. Buehrle, meanwhile, was facing a batting order with four All-Stars in a ballpark that is surrendering more home runs per game this season than Colorado's Coors Field. A control pitcher, Buehrle's command was so poor in his pregame bullpen session that he told Castro, "Don't worry. It will get better."
It would become a perfect day, made more so by all its imperfect elements. Buehrle is a scruffy, doughy, sleepy-eyed, 38th-round draft pick who was cut twice in high school, was the No. 4 starter on his junior college team and rarely touches 90 mph. He's also one of the most underappreciated pitchers of his generation, a contemporary Catfish Hunter who won 122 games before his 30th birthday, yet goes largely unrecognized away from Chicago's South Side. He no-hit the Rangers two years ago and would have had a perfect game if not for a fifth-inning walk to Sammy Sosa, whom he promptly picked off. The difference between a no-hitter and a perfect game, as Buehrle discovered, is tissue-thin but significant. Including the postseason, the majors have had 263 no-hitters but only 18 perfect games. "Perfection is hard to reach," his pitching coach Don Cooper says. "Think of all the ways you can get on base." A walk, error, hit batsman, wild pitch on a strikeout, even catcher's interference can turn something that comes along about as often as a naked-eye comet into something fairly common.
In the clubhouse last Thursday, A.J. Pierzynski, normally the starting catcher, asked Buehrle, "Why don't you throw a no-hitter?" Buehrle answered, "For what? I've already done that." Pierzynski replied, "Then why don't you throw a perfect game?"
In October we are clustered around televisions from the first pitch of the first inning, awaiting history. But on a lazy Thursday afternoon in July we are at work, at camp, at the beach, and if there is history to be made, it will sneak up on you. John Buehrle, Mark's father, was driving from his home in St. Charles, Mo., to Mark's 1,500-acre ranch 90 minutes away in Louisiana, Mo. In the off-season Mark hunts deer on the ranch and rides four-wheelers with his wife, Jamie. He proposed to her there, on a deer stand, both of them in camouflage. ("Dad," John recalls his son telling him, "I love a girl in camo.") John was planning to watch the game on Mark's TV, then mow the grass and set up some food plots with corn and soybeans for the deer. But when he flipped on the television, the DirecTV satellite dish couldn't find a signal. He called his wife, Pat, for the first update of the day.
Buehrle had thrown 10 pitches in the first inning, eight for strikes, and no ball left the infield. His longtime agent, Jeff Berry, who was watching at the Creative Artists Agency office in Manhattan, said to himself, This could be an interesting day.
Buehrle has a suite at U.S. Cellular Field that he shares with reliever Scott Linebrink so their kids can crawl around together during games. The Buehrles have two children, five-month-old Brooklyn and two-year-old Braden, but day games conflict with Braden's nap schedule, so Jamie brought only Brooklyn. Since Jamie did not need a romper room for her newborn, she moved down to the scouts' section behind home plate, next to Lisa Dergan Podsednik, wife of centerfielder Scott Podsednik. Buehrle sent Jamie two texts early in the game to see where she had gone. He finally noticed Brooklyn in the same red dress she wore to the All-Star Game parade, with MY DADDY'S AN ALL STAR printed on the front. Buehrle is only 30, but he is already thinking of retiring after his four-year, $56 million contract expires in 2011 so he won't miss any more highlights of Brooklyn and Braden growing up.
In the first three innings a couple of trends started to develop. Buehrle, who usually throws about 40 cutters a game, practically abandoned his best pitch. He was relying almost exclusively on changeups and curveballs, the pitch Castro did not know he could throw. He was also managing the game as if he were Steve Nash leading a fast break. Buehrle is a famously quick worker, known to sometimes start his windup before a catcher flashes the sign. "There are times I've missed pitches," Fields says. "I'll be scraping the dirt and all of a sudden you hear the glove pop." The Rays allowed Buehrle to set the pace, and Castro allowed him to maintain it—catch the ball, fire it back, put down the sign, rinse and repeat. Buehrle never shook him off, and the Rays rushed through their at bats like a team in a hurry to get out of town. "Buehrle dominates you with tempo," Cooper says. "His rhythm and the rhythm of the game met. It was a perfect storm."
The drama of no-hitters and perfect games builds gradually, a slow boil starting in the sixth inning. Fields, who had snapped a 1-for-20 slump with a grand slam in the second, jogged out to his position for the top of the sixth, already thinking the unthinkable. A former quarterback at Oklahoma State, Fields plotted how he would tackle Buehrle in a celebratory dog pile while protecting Buehrle's left arm.
With two outs in the sixth Buehrle went to 3-0 on Tampa Bay shortstop Jason Bartlett, and he was confronted with the dilemma that faces any pitcher in the midst of a perfect game. He could walk Bartlett and sacrifice the perfect game for the no-hitter, or he could attack him and gamble everything against a hitter sitting on the fastball. Cooper has lectured Buehrle in the past to be cautious when behind in counts, but Buehrle despises walks, so he threw two consecutive fastballs to Bartlett for strikes and induced a grounder to short on a 3-and-2 count. As Buehrle walked to the dugout, he thought about texting Jamie again and telling her to have the neighbor wake Braden and bring him to the ballpark, but he was afraid of jinxing himself, so he held off.
Back in St. Charles, Pat Buehrle was being just as careful. John still could not get a signal at Mark's house, so he was regularly calling Pat, and she was answering the phone with the greeting, "Mark still has his you-know-what."
As the White Sox got ready for the seventh inning and Beckham went to retrieve his glove, Buehrle tried to catch the rookie's attention. Buehrle had noticed in the sixth that whenever Beckham threw the ball from third base back to the mound, he was averting his eyes and trying to hold back a smile. "Question of the day," Buehrle said. "Think I'm going to do it?" Beckham pretended not to hear.
Meanwhile, Wise had left the bench and gone down to the batting cage under the stadium to take a few cuts, unaware of what was developing outside. With one out in the seventh Wise heard over the radio "19 up, 19 down," but he was sure the announcer was mistaken. A frequent late-game defensive replacement, he checked the scoreboard for himself. "I'd better go get loose," he said, hustling to the weight room. When the Rays' Evan Longoria flied out to end the seventh, Cooper turned to manager Ozzie Guillen and said, "Now it's real. Game on." Castro ran to the dugout and told pitcher Jose Contreras, "He hasn't missed a spot all day. I think he's going to do it." Contreras replied, "Shut the f--- up." Castro's legs were starting to shake. Jamie's stomach was starting to churn. But the usually expressive Guillen was not getting emotional. He ordered reliever Tony Peña to be ready to face the second hitter in the eighth, Ben Zobrist, prompting some eye rolling in the bullpen.
Buehrle got Zobrist to foul out, at which point the satellite dish on the ranch in Missouri finally found a signal, and John was able to watch his son. Next up was Pat Burrell, who hit a ball so hard down the third-base line that it nearly struck umpire Laz Diaz. It took Diaz a moment to compose himself, but he ruled the ball foul, by about six inches. "I had a heart attack in 2000 and had a pacemaker installed," John says. "I'm glad I did that because I don't know if my heart could have made it through this game."
After Burrell lined out to third, White Sox announcer Ken (Hawk) Harrelson pleaded with viewers on CSN to "Call your sons! Call your daughters! Call your friends! Call your neighbors!" Harrelson wrote in his score book, "Perfect!!!" When Buehrle went to his clubhouse locker for a breather, Pierzynski pulled up the seat next to him, shaking his head. "One more!" Pierzynski said. "One more!" To break the tension, Pierzynski caught Buehrle's warmup pitches before the ninth inning and fired the first one back over his head.
Wise had worked up a decent sweat in the weight room by the time Guillen told him that he was going to play centerfield in the ninth; the starter, Podsednik, would shift to left. As Wise ran out to center, White Sox reliever D.J. Carrasco asked Linebrink in the bullpen, "How would you like to be DeWayne Wise right now? He's probably hoping the ball isn't hit to him." In fact Wise was thinking exactly the opposite. "I was hoping I could make a diving catch in the ninth," Wise says.
Wise has bounced around the major leagues for seven seasons, and when his batting average dipped under .200 this summer, he became a convenient target for disappointed White Sox fans. After the club demoted centerfielder Brian Anderson to Triple A Charlotte this month and kept Wise on the roster, Guillen received e-mails claiming the move was racially motivated because Wise is African-American and Anderson is white.
Since high school Wise has always played a shallow centerfield, and he crept a few steps closer because he could not bear the thought of Buehrle losing a perfect game on a blooper. The first batter of the ninth was Gabe Kapler, one of the few Rays who had made decent contact that day. On the 105th pitch of the game he hit a high drive deep to left centerfield. In the bullpen Linebrink bowed his head. In the dugout Guillen said, "Home run," and prepared to summon Peña. In the stands Lisa Podsednik asked Jamie, "Oh, my God, is that Scott?" Wise did not look at the ball. He turned and ran to the point where he thought it would land, to the mural on the eight-foot wall of Billy Pierce, the White Sox pitcher who had a perfect game ruined with two outs in the ninth 51 years ago.
Wise hit the fence as the ball hit his mitt, but because the collision was so violent, Wise didn't feel the ball enter his glove. He could only see it, a snow cone quickly spilling out of its wrapper. He fell and the ball fell, but in a motion reminiscent of the Giants' David Tyree in Super Bowl XLII, he stuck out his left hand and snagged it. Beckham put both arms over his head and leaped "like we won the World Series." It was the best play ever in a perfect game, trumping the ninth-inning diving catch that rookie Rangers centerfielder Rusty Greer made on July 28, 1994, against the Angels, snaring a sinking liner hit by Rex Hudler and preserving Kenny Rogers's perfecto.
Buehrle, who started the game throwing fastballs in the mid-80s, was at 90 in the ninth. Having gotten 26 consecutive outs and needing one more, Castro crouched behind home plate. You could make out his jersey number, separated by the strap on the back of his chest protector—27. When the last out was made, on a grounder to shortstop Alexei Ramirez, Buehrle placed both hands on his head. Fields rushed in for the tackle but, like a quarterback, pulled up. Cooper cried, as did Harrelson, as did Bob Dunahue, Buehrle's coach at Francis Howell North High, who was watching at the T.G.I. Friday's in St. Charles. Jamie came down to the field, and since she was shaking, Guillen offered to hold Brooklyn. The Rays stood at the edge of their dugout and applauded.
Forget the energy drink. Buehrle was the Rockstar. The President called, the commissioner wrote a letter, Letterman requested an interview. Buehrle's father asked him on the phone, "Do you realize what you just did?" "No, Dad," Buehrle said. "I don't."
On the 40-minute flight to Detroit that night he tried to figure it out. Buehrle sat on the plane with Jim Thome and Paul Konerko, and they calculated the percentage of major league games that have been perfect. According to baseball-reference.com, 779,118 starts had been made, which meant all but .0023% had at least the smallest of blemishes. Put another way, there's been a perfect game thrown once in every 43, 284 opportunities.
Not many sports allow for perfection. A football team could win 56--0, and the coaches would still pore over videotape finding flaws. Tennis players don't win every point, boxers don't land every punch, golfers don't birdie every hole. As Buehrle sat in the dugout at Comerica Park on Saturday, deconstructing his unforgettable afternoon and debating whether he still wants to retire in two years—"Maybe I won't," he said with a smile—Tigers manager Jim Leyland walked over and put a hand on his left shoulder. Leyland seemed to be searching for a word, a synonym for perfect. "Beautiful," he finally said. "Just beautiful."