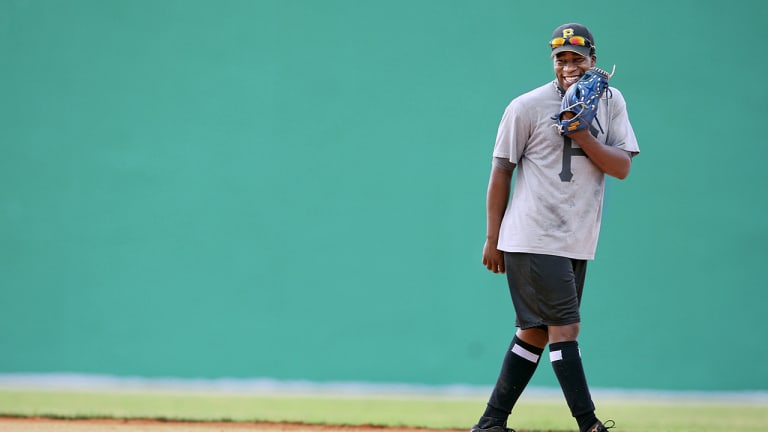 A Gift from Africa
How can the Pirates make Gift Ngoepe feel at home?
Word came down from above: Make the kid feel at home. Sure, said the clubbie ... but the clubbie always said sure. He bled Bucco black-and-gold, Pat Hagerty's superiors raved in reviews of his work as the Pirates' minor league clubhouse and equipment manager. He was master of a million chores, the guy who kept the radar guns juiced, the resin bags dry, the coaches' coffee hot, the lint out of the players' jocks and the alligators out of the pond at the team's complex in Bradenton, Fla.
But then he paused and pondered: How the hell does a white-haired 48-year-old Irish Catholic clubbie from Steubenville, Ohio, make an 18-year-old Sotho tribesman from Africa feel at home?
The tribesman walked into Pirate City wearing a thick bush of black hair and a hoodie studded with stars. No, he didn't walk. He hopped, he skipped; sometimes he danced. He could outleap, out-utulate and outlast all the other Sotho in the dawn-to-dark dancing ceremonies around their ancestors' tombstones back home.
His head swiveled, absorbing all the dorm rooms, all the emerald fields, all the bats, all the balls; more more than he had witnessed in his life. He headed toward the clubhouse, chafing to bust out his blue-and-red glove and get cracking on his dream of becoming the first African ever to play major league baseball.
The clubbie exited the laundry room that morning last October. What language, he wondered, would a black South African speak? Even if they could communicate, what would a Pat Hagerty and a Mpho Ngoepe have to talk about?
The kid extended his hand and flashed a glittering smile. "Hello, sir!" he sang out to the clubbie. "My name is Gift!"
Gift. That was a relief. So much easier than that mouthful, mm-POH nn-WEE-pay. Gift spoke English. That was double relief. The teenager's accent, singsong inflections and machine-gun delivery might be a challenge, but at least Pat wouldn't have to decipher the kid's four other tongues—two dialects of Sotho, some Zulu and Afrikaans—or play charades.
The clubbie escorted the kid down a hallway, past the framed photos of the Bucs gods, Pat's idols as a boy in Steubenville. Nope, Gift had never heard of Maz or Pops or even the Great One, Clemente; hell, he'd barely heard of the Pittsburgh Pirates before they offered him a minor league contract and a $15,000 signing bonus last August. Pat introduced him around, showed him where to chuck his dirty stuff and how a Pirate's locker should be organized, but his big challenge was keeping the kid corralled.Gift seized every bat he saw and swung it, fondled and flipped every ball; nope, sorry, the clubbie kept telling Gift, he could only get his physical today and learn the lay of the land.
The teenager peered at his competition: big boys, muscled from years in high school and college weight rooms, fresh from a decade of year-round AAU programs or seven-hour days on Dominican diamonds. Gift stood 5'8", weighed 178 pounds. Most of the mottled fields he'd played on were meant for rugby or cricket. His high school hadn't even had a baseball team.
He drifted through the Pirate City clubhouse, staring at the 225 lockers for players, the 70 for coaches, the nine for umpires and the 10 for Pat and his assistants. The kid entered the laundry room, studied the four big washing machines whirling suds, the three massive dryers ... and began bantering with the clubbie and his assistants as if they'd sat in the same Soweto barber shop all their lives.
Funny. They kept waiting for him to retire to his dorm room to revel in the 999-channel TV or join the other players in the rec room playing Ping-Pong, pool and video games. But each time Gift departed—for his physical, his lunch, his dinner—he bounced right back to the clubhouse and Pat. When the dryers finally fell silent that evening, the clubbie saw something he'd never seen, not in 15 years of working with American, Latin American, Canadian, Japanese, European, Australian and Korean professional ballplayers.
The switch-hitting Sotho second baseman began folding towels.
All of his 200 towels were folded wrong, so the clubbie and his lieutenants began giving Gift a raft of crap—about giraffes and lions and South African towel-folding—andGift sailed the raft right back at them, and their delight in each other was sealed. Pat had no idea why a tribesman from 8,000 miles away seemed more at home in a baseball clubhouse than any other Pirate who'd ever passed through, be it the 170-plus at spring training each year or the youngest prospects who stuck around to play for the Bucs' Gulf Coast League team. No clue why Gift was the first player in the clubhouse each day, chirping good morning; the one dozing off in a chair in Pat's office every afternoon; and the one staying late at night, talking, singing and dancing a blue streak, folding towels and distributing the laundered jerseys, pants, jocks, socks, T-shirts and shorts onto the hooks at each player's locker. But Pat never probed.
He'd never seen a ballplayer with less sense of entitlement or more joie de vivre, but the clubbie couldn't violate his bedrock rules: Never ask too many questions. Never get too attached. Sure, Gift would most likely return the next spring and summer to play for Class A Bradenton, but Pat had seen too many good kids sobbing on their dream's last day, had removed too many nameplates from their lockers and replaced them with new ones 15 minutes later. He'd go as far as he could, slip Gift a zillion bags of sunflower seeds or bubble gum to occupy his hyperactive jaws, help set up his bank account, walk him through the Pirates' media guide to identify the honchos and Buccos he needed to know, console him after a bad day ... and teach him American Baseball Culture 101.
The kid hadn't experienced the Tao of the Red Ass, the acidic coaching that every American, Latin American and even Asian ballplayer experienced at some stage of his development, eating away the exuberance and the flair and producing, far more often than not, the cool, contained, standardized specimens who arrived at this level. Baseball coaches in Gift's land couldn't afford to chew on players; the sport was too marginal there and the players too prone to telling such a coach to bugger off. Gift's coaches had been his pals, delighting when he sang, whistled, danced, filibustered or wore every color of the rainbow on the field. Nothing at all like these organizational men tsk-tsk-ing as they walked with him off the diamond—My word, he yelped, three of them!—admonishing him to lose the blue-and-red glove.
But Gift was irrepressible. He replaced the blue-and-red glove with a solid blue one whose long dangling strings he loved to watch snapping the air with every flick of his wrist. "It's very blue" was all that the Bradenton manager, Tom Prince, would say. Gift giggled and plunged his index finger into teammates' ears as he passed them in the rec room, took flying leaps onto their backs, knocked on their dorm doors and bolted. He hugged every cleaning lady. He balanced mountains of chocolate-chip cookies on two plates on his way to a cafeteria table, and when every passing teammate shook his head in disbelief, he bounced up for heaping plate number three. His alarm clock blaring 6:30 a.m. hip-hop sent his roomie, A.J. Fagan, packing. When players called Gift's white wool beanie with the red, green and yellow stripes and the white bubble at the crown—all the rage in the townships of South Africa—a condom, he'd just chirp, "It's a great day, buddy!"
He played cricket in the clubhouse, using the dustbin for a wicket, when Pat wasn't looking. He sprayed sunflower seeds across the clubhouse carpet, dropped his head like a guilty son when Pat upbraided him, dropped to his knees and cleaned them up. He plugged his cellphone into the laundry-room speakers to play his music instead of the clubhouse attendants' C&W, and he raided their pantry at night when his stomach growled. But no one minded. He'd earned those bennies by sweeping the clubhouse, taking out the trash, doing the laundry.
One night Pat found him curled up like a baby, sound asleep, inside a laundry cart. He could've rolled Gift to his room, poured him into bed and tucked him in ... but the kid looked as if he were already home.
He was, as a matter of fact. Mpho Gift Ngoepe was the first player in baseball history who'd lived almost his entire life in a baseball clubhouse ... and no one here knew how dearly he clung to this one.
The joy that he radiated was genuine, but it was camouflage too. Some days he doubted this whole crazy notion of playing baseball in America, the homesickness so sharp that he ached to scoop up the clothes that he'd dumped on his dorm-room floor and left there for a month, wrestle them into his bag and flee back to his mother and the clubhouse where he'd lived for the last 16 years....
But what was home, anyway? Was it the "native reserve" to which the Sotho were restricted in northern South Africa when the white government sectioned off tribes in 1913? Or the "homeland" that the Sotho were "given" nearly 50 years later so South Africa could wash its hands of the tribesmen's misery, lack of education and claims to full citizenship? Was it the thatch-roofed mud hut in Limpopo where Gift, whose father was not around, spent his first two years, living with his mother's parents? Or the tiny room inside a baseball clubhouse where he'd ended up?
His mother, Maureen, was 21, three months pregnant with him and weeping in a Zion Christian church in 1989 when a prophet materialized beside her. That's what Maureen called the woman, whom she'd never seen before and never would again. "Why are you crying?" asked the stranger.
"My second child is due in six months," Maureen sobbed, "and the father just left me." The implications were clear. Some of her neighbors survived by swatting locusts with a branch, drying them under the sun and eating them.
"Everything will be O.K.," the stranger informed her. "Your baby will be a boy, and you must call him Gift, because he is a gift from God."
Maureen named him Gift twice: in Sotho with his first name, Mpho, and in English with his middle name, so the white man would know too. A year and a half later, tears flowing once more, she packed her clothes into an old paper bag, left her two boys with her parents and took a bus to Johannesburg to find a way to feed them, one more in a sea of undocumented black migrants searching for work in a country disintegrating from the effects of apartheid. She crawled under a seat and hid beneath a jacket when authorities boarded the bus. In Johannesburg she stayed with a brother and then a friend, ever fearful of arrest, clutching the thin hope that the Tembu tribesman who'd recently been freed after 27 years in prison, Nelson Mandela, could alter her demoralizing existence.
She found her way to a baseball field in the suburb of Randburg. Like most of her countrymen, she'd never seen the game before, had no clue that American gold miners working in Johannesburg's Crown Mines had introduced the game to South Africa in the late 1800s or that the sport had survived at the club level. A group of young white Randburg baseballers, playing for an amateur club called the Mets, had sold hot dogs from a car trunk for years and raised just enough money to build a clubhouse consisting of a changing room for players, a small equipment room, a few toilets, showers and a "tuck shop," from which snacks, soda, beer and liquor were sold. No, the Mets couldn't afford to pay Maureen, but ... she could live in the tiny tuck shop in exchange for cooking, cleaning and working the cash register each game day—Sunday, her off day from cleaning homes elsewhere.
Maureen looked at the 7½-by-9-foot room. "Like putting people in a closet," Rory Vincent, a Mets coach, lamented later. But Maureen saw a bathroom of her own a few feet away, after a lifetime of slinking into the bushes. Shower faucets and hot water instead of a bucketful of goose bumps. Roof tiles rather than leaky straw from which cockroaches fell. Maureen leaped at the chance ... and became Maureen no more. Her cheery greetings to the regulars, her brightly colored head wraps, her exuberance about her new home turned her in no time into ... Happy! For what Met could utter that nickname without an exclamation mark?
And still, Happy would have remained a beautiful misnomer for a mother separated from her two children, and Gift never in a million years would have become a baseball player ... if not for the boy's boundless curiosity. Hoisting a bottle of cooking oil to his lips at his grandparents' house, the two-year-old didn't do what any other toddler would: blanch and spew at the first swallow. He downed the entire liter, and his bowels spasmed with diarrhea so dire that Happy, in a panic, scraped together 300 rand—just over $100, more than her weekly wage as a domestic—for a six-hour taxi ride back home to fetch her limp second son. She returned with Gift to Randburg, and once he'd rounded back to form, the coaches and ballplayers were so pleased to have a Happy and a Gift that they decided both could live in and light up their clubhouse. And six years later that Victor, the product of Happy's happiness with the club's Zulu groundskeeper, could stay too.
The family's quarters would remain that tiny room, so cramped by Gift's single bed, the thin mattress on the floor where his mother and brother slept, a small space heater, a two-plate burner that served as both stove and backup heater, a sink, a stool and a bucket for a chair, that there was barely enough floor space to plant a human foot. The changing room became Gift's living room and rec room. There he, Maureen and Victor would practice their new dance moves or drag their blankets and pillows at night to watch the TV on the shelf, to jump and scream and flap their arms like birds when their favorite soccer team scored, and to keep up with the news after apartheid collapsed, Mandela ascended to the presidency and their tribe became part of South Africa again in 1994. The Mets' shower became Gift's scrubbing room; their baseball field, 40 yards from his bed, his front yard. The new and larger tuck shop that was added later became Gift's kitchen, its refrigerator became his family's. Players tugging on their uniforms would sniff the meal that Happy often prepared—maize boiled and mashed into a kind of grits called pap—and say, "Smells good, Gift, what's for dinner tonight?"
The Mets adopted him as a tyke, taught him to play catch and swing a bat. He became their mascot, their water boy and their batboy, their most gifted young player as he climbed through age divisions ranging from T-ballers to adults ... and the only Met who was black.
When the others went home, he went right on playing, alone, using the fraying tennis balls that locals flung to their dogs in the outfield and the waterlogged balls uncovered by the mowers' blades. He fielded grounders he bounced off the clubhouse wall, launched pop-ups into the night sky to catch, flipped balls to himself to hit, ran base paths in the dark.
By age 10, if he played poorly or incurred someone's anger, he would climb onto a trash can and scramble onto the clubhouse roof, lie down and stare at the stars. When he saw a shooting star he'd make a wish, always the same one: to make a life of the foreign game he loved, the one he'd set his alarm at 2 a.m. to watch on cable television, beamed all the way from the States. To play major league ball.
But who could be angry at Gifty, as his teammates called him? He was the player who got everyone off the bench and cheering, the opponent whom every visiting side asked about as soon as it arrived. He was the life of every party in the clubhouse—a far more social place in South Africa than in the States—the kid queuing up the music and being summoned to center stage to dance. Try as those Mets might, they couldn't match Gifty on the dance floor or the ball field, and they couldn't help forgetting that he was black.
O.K., there was one person he could make unhappy: Happy. It drove her mad when he bounced balls off the ceiling and walls as she tried to cook in that little room. But Mommy, it's a baseball clubhouse! She'd want to wring the imp's neck when he used the outdoor passageway to practice sliding, set off firecrackers in the bathroom or soaked toilet paper and flung it so that it stuck to the bathroom walls just after she'd cleaned them, then answered her accusing glare with a joshing, "Probably was the white boys, Mommy." Sometimes, as she mopped the clubhouse, bathrooms and showers, he'd imitate her every move until she was just about to explode, then shower her with kisses and coo, "My word, you look beautiful when you're upset, Mommy! Oh, I love you, I love you so much, Mommy!" She had only one true deterrent when he'd balk at helping her swab the clubhouse: to hide his baseball gear and not relent when he cried all day.
She found the game silly and a tad boring, and was bewildered when her son, his school's cricket player of the year in seventh grade, abandoned both that sport and soccer to focus on baseball. There was no way to justify that to friends or loved ones back in Limpopo, where Gift—when he returned every Christmas—could explain his game to his cousins only by stripping the leaves off a branch and hitting fungoes with the biggest, fattest marula seeds he could find. "But I could have a big house if you played cricket or soccer!" Happy protested.
"I will be a professional baseball player one day, Mommy. You will see."
"I will be dead by that time," Happy groaned.
At least, she consoled herself, he'd found something that kept him off the streets, where he'd been mugged twice, head-butted to a bloody mess by one bully and fleeced of what little he had, twice even of his shoes. But the clubhouse wasn't much safer; thieves often removed roof tiles to shimmy inside, once stealing almost everything the family owned, leaving Gift's baseball glove, bat and spikes—who needed those? He'd alter his voice when he was home alone to trick the homeless people sleeping on the ball field, feigning conversations with his mother and his older brother, Christopher, who squeezed in three years ago.
The Mets, who'd often greet their clubhouse caretaker with a kiss when they arrived for games and join hands to chant, "One, two, three, Happy!" before taking the field, couldn't bear to see her or her son sad. They replaced most of what the family lost to thieves. They played Home Run Derby to raise funds when Gift, at 10, was chosen to play on a national team traveling to Brazil. They passed around the hat so that the boy whose mother couldn't afford to give him a birthday cake could play in Mexico for South Africa when he was 15 and in Cuba a year later, and so that he could take the most life-changing trips of all, to Italy in 2007 and 2008 to attend Major League Baseball's annual three-week European Academy for promising international players. Sure, Happy's blood boiled now and then when someone affiliated with the Mets would ask if she had washed her hands before serving a bacon roll. But mostly they'd given Happy and her son hope that South Africa, for more than one color of people, could be home.
It took about 30 seconds on Day One of the MLB academy in 2007 for Gift to catch the eye and ear of instructor Barry Larkin, the Reds' 12-time All-Star shortstop. Gift was the fireplug babbling at bewildered Germans, French, Dutch, Danes and Italians on the field. The one crowing, "Wow! Look at that wife and daughter!" as Larkin's family got into a car when the first day was done.
"I will shoot you," said Barry as his eyes—half twinkling, half glowering—sliced from his 16-year-old daughter to Gift.
"O.K., Coach, no problem, fella!" replied Gift.
Then Barry, charmed by Gift's spunk, taught him footwork to improve his throws and double play turn, showed him how to use his knees and elbows to knock the piss and vinegar out of barreling base runners, and persuaded him—when Gift returned to the academy last August—to take the riskiest step of all: over to the left side of the dish, to become a switch-hitter.
Major league scouts at the 2008 academy began querying Barry about his South African protégé. The second week, Gift was summoned to the office and handed a telephone. Two Pirates officials on the other end told him they liked his glove, his fluid swing, his energy. Yes, he was raw, but they wanted to sign him and see him become the first African in MLB history.
Gift felt his body temperature rising. He had no idea where Pittsburgh was, couldn't name a single Pirate, had never even glimpsed the team in all those years he'd awoken in the middle of the night to watch an MLB game ... but my word, wait till he told Mommy!
He rose from his bed with a hollow chest one Monday six months ago, his last day in South Africa. The Randburg clubhouse was empty. His mother and two brothers had departed for work and school. He cooked pap and chicken on the two-plate burner so they'd come home to a meal, cleaned the house and draped the wet laundry over a fence. He listened to the songs that he loved to sing and dance to with them. He thought of his girlfriend and buddies, whom he'd cried with and said goodbye to the day before. He looked at the baseball his mother had given him, covered with her tiny, neat scrawl: You know where you came from. You must stay away from drugs. You must do your best. And you must behave good. You know you are a great player and you deserve it. I'm proud of you and I miss you and I will be there for you even if you are far away.
The one-week visit to Pirate City last October had been all adrenaline and awe. This time he would be gone for nearly nine months, a boy just a month past his 19th birthday a half-planet away from everything he knew. He packed his clothes and Bible, walked to the doorway, gazed one last time at his ball field and clubhouse, his front yard and home, then closed the door on his childhood and climbed into a friend's car to go to the airport.
First stop: the World Baseball Classic in Mexico City. Gift hit two triples for South Africa—both batting lefthanded and both off a pitcher with 12 years of major league experience, Mexico's Elmer Dessens. He flew to Bradenton in early March after his overmatched team was dispatched from the Classic in two games, made his second entrance into Pirate City, headed straight for the clubhouse ... and leaped into the clubbie's arms. Pat, as untouchy and unfeely as the next clubbie, blinked, nothing much he could do with an armful of South African ... except hug him back. "Hello, Patty!" Gift sang; no more sir.
Ohmygod moments awaited him. If only, in those ticking $2-a-minute phone calls, he could make his mother understand what it meant that day in May when he saw his first big league game, his beloved Red Sox whipping the Rays, or better still, the day that Alex Rodriguez—A-Rod, Mommy!—was trotting toward second during his minor league rehabilitation from hip surgery and tossed a smile and a nod right to the second baseman: her son!
But his new world was harder than he'd dreamed. He hadn't had the expert tutelage that American players received, nor even the years of structure in baseball academies that the Dominican kids had. He'd have to learn plate discipline after a lifetime of the hack-at-anything-close approach necessitated by South African umpires' boxcar-sized strike zones. He sizzled out of the chute, hitting .381 as leadoff man through Bradenton's first 21 games, then slumped in late July to .259 through Sunday. On the field he's been nearly flawless, committing just one error. Still, all but the highest draft choices are long shots to make it to the big leagues; where did that leave Gift?
Off the field it was harder yet, even for a kid who'd spent all his life assimilating. The African-Americans didn't seem to get him—his clothes, his accent, his life experience, his pinball energy. The Latinos mocked his blue glove and rocking gait—Chimpanzee, they called him—and the language barrier was too thick for him to breach with his charm. The white Americans were polite but often kept their distance; Gift's roommates vanished at night in their cars. His coaches were good men, but at every turn he could feel their judgment crawling on his skin. Pirate City felt like Testosterone Town, each player trying to elbow the others out of his way, if possible with a smile, to scale the cruelest of pyramids.
Gift used his lifeline: He e-mailed Larkin, who'd just joined the MLB Network as a studio analyst. Language barrier with the Hispanics? Well, then, Barry replied, start learning Spanish, take everything as a challenge. Coaches fussing with his fielding style and carping about the color of his glove? If you want to keep your style, responded Barry, make all the plays, and you can do it with a pink glove. Loneliness? Sorry, buddy, said Barry. It's a lonely, lonely job, and there are ways to lessen that, but in the end you're a man on an island.
Thank God for the miraculous appearance in early April of his South African national teammate Brett Willemburg, a 24-year-old shortstop from Cape Town who would room with Gift for nearly two months before being assigned to the Class A State College Spikes. Thank God for the clubbie and the clubhouse, the one place where Gift could relax, complain, drop his guard and daydream aloud about the glove he'd really love to have one day, one that's lime green, baby blue and purple.
It's not until one April afternoon that Pat learns from a journalist that Gift grew up in a baseball clubhouse, in a home smaller than the clubbie's office. Pat shakes his head. It only becomes more important to help Gift send part of his paycheck home to his mother so she can build a house beside her parents' in Limpopo. Pat puts aside his million chores that afternoon and climbs on his golf cart to go see Gift hit in a simulated game against Pittsburgh pitcher Phil Dumatrait, who's rehabbing from shoulder surgery. Gift promptly grounds out for the third time that day.
"When am I going to see you get a hit?" Pat ribs him in the clubhouse after everyone's gone.
"I feel a lot more pressure when my father's there," sighs Gift.
Pat hears that. He just pretends he doesn't. "Honest to God," he says, "every time I come over to see you hit...."
"I'm done, I tell you," Gift deadpans. "I'm going home to South Africa."
"Can I take you to the airport?"
Gift, pretending to pout, grabs a broom and begins sweeping the equipment room. "Pat, can I have a lighter bat?" he asks. "I can't get mine around."
"I got a Wiffle ball bat for you."
"How we gonna get it on the plane today?"
"We? I'm not going anywhere."
"You wouldn't cope in Limpopo, Patty. It's a two-hour walk to collect the donkeys and cows. You can't walk that far. There are pythons there. Cobras, Patty." He drapes both hands over Pat's shoulders and jabbers at him in Sotho.
Pat smacks him in the gut. "You can clean the clubhouse toilets," he suggests.
"I left home so I wouldn't have to clean clubhouse toilets," says Gift. He drifts into Pat's office and stares at the number 9 jersey framed above Pat's chair, a gift from Bill Mazeroski, the one Pirate whom Gift has to get straight, the guy who grew up a few miles from Pat in Steubenville, the one who goes out with Pat for steaks and beers when he visits Bradenton, the legend who beat the Yankees in 1960 with the only ninth-inning, Game 7--winning home run in World Series history.
Gift's eyes light up as he hears the tale. He grabs a black bat perched against Pat's office wall. "Pirates have the bases loaded!" he announces. "One down in the ninth inning of the World Series! Gift coming to bat!"
"That's a little fast," says Pat, "considering you're still in diapers."
Gift ignores him. Gift swings. "Bang! It's out of here! Gift wins it! Pirates win the World Series! Again! Two thousand twelve!"
He takes two slow-motion steps and touches a spot on the wall: first base. He taps the corner of Pat's desk: second. He heads for the chair—third—eyes sparkling, eyes searching ... Who knows what might be home?