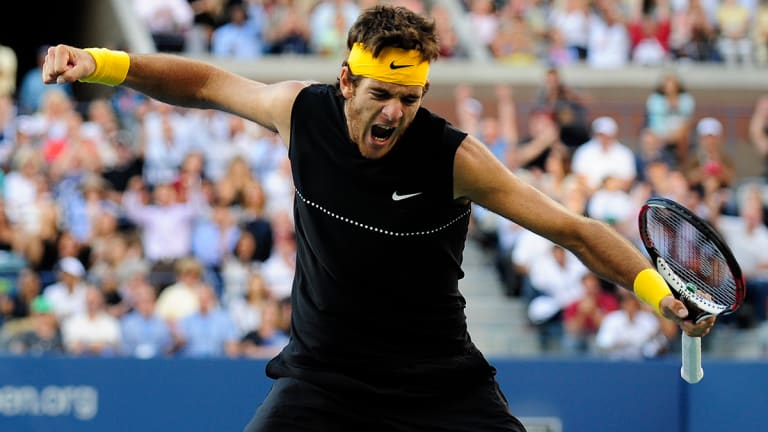 Publish date:
It's a Mad, Mad, Mad, Mad Game
Kim Clijsters and Juan Martín del Potro won the U.S. Open singles titles after a crazy two weeks that included big upsets, rain delays and a meltdown by Serena Williams
She clenched the ball in her left hand, pointing a forefinger at the woman in the chair. "You'd better be f---ing right!" Serena Williams yelled. "You don't f---ing know me! I swear to God I'm going to take this ball and shove it in your f---ing throat!" She strode over to the lineswoman and raised her racket high, brandishing it like a club. ¶ Boos filled the air inside Arthur Ashe Stadium. It was shocking, of course: Never in tennis history had such a celebrated player suffered such a graphic meltdown in such a high-profile match. Called for a second-serve foot fault that gave Kim Clijsters match point in their U.S. Open semifinal, Williams launched a tirade that sent her singular career to a new, sinister place. Within minutes she would be assessed a point penalty that would end the match, stain her name, put a bewildered Clijsters in the final and remind the world that tennis, at its lunatic extreme, can produce a circus like no other in sport.
But then, that has been easy to forget lately. Both the genial reign of Roger Federer—who, despite losing the men's final 3--6, 7--6, 4--6, 7--6, 6--2 to the soft-spoken, massive-hitting Argentine Juan Martín del Potro on Monday evening, remains solidly ensconced at No. 1—and the Hawk-Eye line-judging system have conspired to give tennis a kinder, gentler face. The brats of the 1970s, who railed against adverse calls without recourse to instant replay, now appear mostly as commentators and hangers-on, their antics reprised only during rain delays of the kind that shattered last weekend's schedule.
By the time Williams and Clijsters took the court Saturday evening, after a 1½-day rain delay, all the necessary elements for chaos had come together: a half-empty stadium of soggy, frustrated fans; the boozed-up alchemy of a night match in New York City; and a Serena who, in recent months, has seemed bent on proving her tough-gal bona fides. The game has long been torn between its country-club roots and the revitalizing energy of working-class players, but no one has carried a bigger chip of asphalt on her shoulder than the second-ranked Williams.
During a third-round match at the French Open in May, when María José Martínez Sànchez refused to admit having been hit by a ball from Williams (which would have won Serena the point), Williams snarled, "I'm going to get you in the locker room for that. You don't know me." In Flushing Meadow, Williams was called for a foot fault during her second-round match and glared at the linesman. "They do play that song Straight Out of Compton when I walk out [on the court]," she explained after the match, referring to having learned to play tennis in inner-city Los Angeles.
Still, until that incident Williams wasn't known for bullying officials or questioning calls, and her racket abuse was usually confined to quick swipes. Meanwhile, she cruised into the semi without losing a set. The only hint of prematch hostility came when someone asked Serena why she seemed to hold no grudge toward Clijsters after the Belgian beat her sister Venus in the fourth round. "I'm a really good actress," she said.
The 26-year-old Clijsters, who entered the match with a 1--7 record against Williams, had returned to the Open after a 27-month retirement during which she gave birth to her daughter, Jada, now 18 months old. But Clijsters seemed no worse for wear; in fact, she seemed to play better than ever. Williams, in contrast, played sloppily and hesitantly from the start of their match, and when she netted a weak backhand to lose the first set, she smashed her racket against the court and was assessed a code violation. Another transgression would result in a point penalty.
The racket mangling was nothing compared to what came later. At 5--6, 15--30 in the second set, Williams sent a first serve wide and then, as her second delivery dropped in good, heard the call, "Foot fault!" That made it match point for Clijsters, and Williams snapped. She approached the lineswoman, alternately thrusting her racket and a ball toward her, and unleashed the cascade of profanity that brought out tournament referee Brian Earley and Grand Slam supervisor Donna Kelso and ended the match. The next day Williams would be fined a paltry $10,500 and informed that her behavior was under "investigation." It was tennis at its spineless worst: Williams's threat alone warranted a lengthy suspension.
After Earley informed her of the point penalty, Williams tossed her racket at her bag and rounded the net to shake hands with Clijsters, who mumbled, "I'm sorry." Williams's father and coach, Richard, hurried out of the stadium, telling one reporter to "just get out of my goddam face." Serena's postmatch press conference was a study in sugared calm. "I don't know why she would've felt threatened," she said of the lineswoman.
Former Wimbledon champion Virginia Wade was dismayed. "It was awful," she said on Sunday night, "and what's worse is that [Serena] didn't acknowledge it and simply say, 'Listen, I just blew my top and it was totally inappropriate.' Take responsibility."
Williams finally did so with a statement released on her website on Monday morning: "I want to sincerely apologize FIRST to the lineswoman, Kim Clijsters, the USTA, and tennis fans everywhere for my inappropriate outburst." And after winning the U.S. Open doubles title with Venus that afternoon, Serena called the semifinal incident "humbling" and said she'd like to give the lineswoman "a big ol' hug." Regardless, there's little doubt that her actions—and grudging apology—will remain the tournament's signature moment.
Ironically, until Saturday, Williams had seemed to be one of the few women players capable of holding her nerve in New York. Since the May 2008 retirement of No. 1 Justine Henin, the women's game had spent nearly every major tournament apologizing for itself, and in Flushing Meadow a parade of top names again flamed out in a flurry of double faults and unforced errors. Yet this time the same top-down weakness that has lodged a flummoxed Dinara Safina in the No. 1 spot allowed the women's game to redeem itself.
Taking more than two years off and then, on the strength of just seven tune-up matches, winning the U.S. Open would be inconceivable for most players. But Clijsters did just that in Sunday's final, beating 19-year-old Danish starlet Caroline Wozniacki 7--5, 6--3 to become the first mother to win a major in 29 years—and the first unseeded woman to do so in the Open era. Still, for Americans starved for some sign of a next generation, even Clijsters's mom-on-a-mission saga couldn't compare with the run of unseeded upstart Melanie Oudin.
Romping in sherbet-colored shoes with BELIEVE stenciled on the sides, the 17-year-old from Marietta, Ga., barreled through the draw like something out of a cold war comic: PONYTAILED TEEN CUTS DOWN THE RUSSKIS! Two-time Grand Slam finalist Elena Dementieva, three-time major champ Maria Sharapova and perennial top-tenner Nadia Petrova won the first set against Oudin before succumbing to her speed and resolve.
After Oudin beat Petrova—with Oudin's parents, John and Leslie, sitting in different rows in the players' box; her coach, Brian de Villiers, urging her on; and her twin sister, Katherine, in tears—the excitement rising around her reached feverish heights. Few knew then just how tough she is: On Aug. 10, John had filed a sworn statement in his year-old divorce proceedings against Leslie in Cobb County, Ga., superior court alleging an affair between Leslie and De Villiers. Leslie denied the allegations in a separate filing; the truth is far from clear. But a tension clearly exists in the Oudin camp, and no one can predict the impact of instant celebrity.
"I've gone from being just a normal, like, tennis player to almost everyone in the U.S. knowing who I am now," Oudin said after her run ended on Sept. 9 with a quarterfinal loss to Wozniacki. "I love to play tennis—and all that comes with it if you do well. And I'm ready for that."
It didn't hurt the women, either, that Federer's run at a sixth straight U.S. Open title ended at the hands of the tall, deceptively agile Del Potro—and didn't include a showdown with Rafael Nadal. With Nadal clearly hampered by a strained abdominal muscle that left him impotent against Del Potro in the semis, and No. 2 Andy Murray and No. 4 Novak Djokovic quailing under the big lights, it's clear that a men's game that began the year strong at the top has developed exploitable cracks. That the No. 5 Del Potro, a 20-year-old from the town of Tandil, would be the first man in is hardly stunning. After Federer crushed him at the '09 Australian Open in straight sets, Del Potro found his form in dramatic fashion, beating Nadal in Miami, taking Federer to five sets in the French Open semis and then winning the Washington, D.C., title. Del Potro's win over Nadal on Sunday, despite little sleep the night before, said much about his focus and self-belief, but to dismantle a healthy and motivated Federer is another thing entirely. Wielding a formidable flat forehand, Del Potro overcame early jitters and reduced Federer to a double-faulting, groundstroke-spraying and, in an exchange with chair umpire Jake Garner, cursing mess.
"[Del Potro] should enjoy it; he deserves it," said Federer, who won two of four major finals this year. "This one is easy to get over because I had the most amazing summer."
His one consolation? If the women's side of the Open will be remembered most for one loser's foot fault, maybe it's appropriate that the men's will be for one loser's shot: Up two sets, 6--5, 0--30 in Saturday's semifinal, Federer lasered a back-to-the-net, between-the-legs pass by Djokovic to set up match point. "She foot-faults at 15--30, I hit one through the legs," Federer said of Serena. "How crazy tennis goes sometimes: completely for you or against you. But I don't think it should take away from what Kim has achieved. That's the story here."
Who's going to argue with the sport's ringmaster? Lost in all the nonsense was the fact that Clijsters had pushed Serena to that breaking point. Before her retirement she had been known as a sweet, fragile talent who'd won one Grand Slam title (after losing three finals); now, seemingly past her prime, Clijsters had played the match of her life and rolled to a nearly effortless second major. She figures on playing the major tournaments next year but isn't sure yet about her long-term commitment. But of this she's certain: Motherhood made her better.
"I was the one dominating the points," Clijsters said. "I felt like it was in my hands. That's the biggest reward I've had in this tournament: The result is nice, to win, but mentally it's been a big change for me."
So as she climbed into the players' box and gave her husband a long kiss, and then as little Jada gamboled on court and cuffed at the big, shiny trophy, it was easy to see Federer's point. A circus can be mesmerizing, disappointing, thrilling, dull, even scary. But given the right mind-set? You'd be crazy to leave with anything but a big smile.