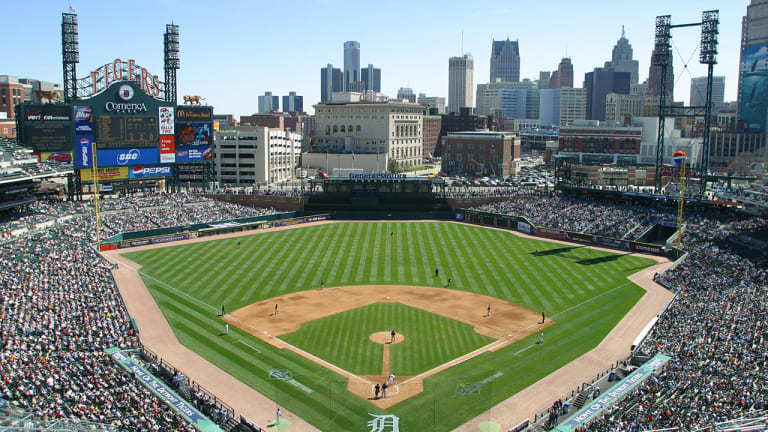 Publish date:
Tiger Town
No city has been harder hit by the economic downturn than Detroit, and that forced Tigers owner Mike Ilitch to take a most drastic measure: He raised the payroll and reinvested dramatically in his franchise. What's unfolded this summer, one year removed from a last-place finish, has lifted a city
They overlap before home games on Thursday afternoons, the thousands rushing into Comerica Park and the hundreds filing into Central United Methodist Church one block over on East Adams. The crowd streaming into the yard is drawn by a baseball team in first place, a pennant race on full blast, one final taste of summer. The group headed to the church is drawn by a free lunch. In the auditorium on the second floor of the church, the folks sit on metal folding chairs at wooden tables, wolfing down sloppy joes and talking about their neighbors, the Detroit Tigers. "You see the Twins blow that lead last night?" asks Willis Snead, who lives in a trailer park nearby. "That was great for us. I really think we're going to win it all this year," says Robert Montgomery, who sells beer at Tigers games. "But after that I'm moving somewhere with more jobs."
A man wearing a Tigers hat and a bushy white beard, who goes by Papa Smurf, sits on an upstairs windowsill of Central United, gazing at the human traffic jam on Woodward Avenue. "Look at them!" he howls. "They're coming in droves!" It is a cloudless Thursday afternoon in early September; the Tigers have taken the first two games of their series with the Indians; and Papa Smurf cannot contain himself. He rushes outside, charges up to a pack of alarmed fans and hollers, "Are you ready for a sweep?" They holler back that they are. Papa Smurf raises his arms in delight. "Detroit is like two different cities," says Papa Smurf, who lives in a downtown apartment now and volunteers at the church after six years of being homeless. "But this team—and this ballpark—is a bright light for all of us."
The sweetest image of this baseball season is the sight of Comerica Park, filled from the box seats to the bleachers. At the end of spring training, the unemployment rate in metro Detroit had climbed to 23%, the average home price fell below $12,000, and the Tigers calculated that season-ticket sales were down 13,000. Corporate sponsorships and luxury-suite sales were also taking a hit. "I was here in 2003, when we lost 119 games, and a lot of nights this stadium felt like an empty cathedral," says third baseman Brandon Inge. "I expected it to be like that again." Anybody familiar with the economics of baseball could envision how the summer would play out: Paltry attendance would lead to slashed payroll and a second straight last-place finish. "My only hope," says centerfielder Curtis Granderson, "was that people wouldn't go on vacation to Orlando or California and would come to our games instead."
The financial forecast in Detroit has not necessarily brightened, but in a development as unexpected as Chevy's unveiling of the Volt, the Tigers have provided a jolt—electrifying for much of the summer, slightly terrifying recently—for the city. They rank fourth in the American League in attendance, at 31,360 per game; are fifth in the majors in payroll, at more than $115 million; and, through Sunday, were still in first, albeit tenuously, thanks to a September skein of nine losses in 12 games. They were also 48--26 at Comerica Park, a record they attribute to the overwhelming responsibility they feel playing in front of their home fans, many of whom are presumably using what little discretionary income they have to watch the team play. In his first spring training meeting manager Jim Leyland told his players, "People are going to be spending some of their last dollars to come to these games, and we need to give them our best effort. This is not the year not to run out a ground ball."
Projected by many media outlets to finish in the lower half of the division race, the Tigers, at week's end, had been in first place since May 10, thanks to a pair of All-Stars at the top of their starting rotation (Justin Verlander and Edwin Jackson), Gold Glove candidates sprinkled throughout their infield (Inge, shortstop Adam Everett, catcher Gerald Laird and second baseman Placido Polanco) and a collection of hitters who really do run out ground balls. The Tigers might not win a home run derby against the Yankees or the Angels, but that doesn't mean they can't beat them in a playoff series. "We know there are families in the stands who are fighting to keep their houses and feed their kids," Inge says. "We take that seriously. We can't lollygag our way through a game. We have to give them a show. I really believe they are the reason that we are where we are."
Comerica Park may be located in the heart of the majors' most depressed market, but you wouldn't know it on game days. Former Tigers outfielder Willie Horton, who used to deliver newspapers as a boy on Woodward Avenue, walks the street before games and gets chills as he sees buses full of fans rolling in from as far away as Toronto, Toledo and Michigan's Upper Peninsula. At CZ's Sports, a souvenir shop bordering the stadium, part-owner Ernest Carr estimates that his profits are up almost 40% from last year due to the team's improved record. At the Tiger Pro Shop, the city's most vocal ambassador whips out his credit card and charges four hats, a sweatshirt, a T-shirt and a jacket commemorating the 1984 World Series. "I could probably fill a closet with all my Tigers hats," says Kid Rock, the Old English D tattooed on his forearm. "That D stands for more than the Tigers. It stands for Detroit."
Like most organizations, the Tigers are focusing less on their rock-star clientele and more on their blue-collar base. Duane McLean, senior vice president in charge of business operations, studied ticket-buying patterns closely this season and found that more fans were buying tickets to games one or two weeks in advance and fewer were buying tickets one or two months in advance. They might have been skeptical of the team's long-term prospects, but more likely they were skeptical of their own. The Tigers responded with more $5 tickets, new $5 meals and two extra $5 parking lots. Season-ticket holders were offered month-to-month payment plans and partial-season-ticket holders were allowed to pick all their own dates. Many clubs have implemented similar programs in light of the recession, but in Detroit the effects of the downturn are more severe, so the programs are more important. Elaine Lewis, vice president in charge of community and public affairs, says the team has given away more than 80,000 tickets this year and worked with more than 2,000 nonprofit organizations, even inviting them to use Tigers home games to conduct 50-50 raffles.
The most stunning example of community outreach did not involve a nonprofit organization but a bankrupt one. At the end of last season General Motors decided it could no longer afford to sponsor the fountain over the centerfield fence at Comerica Park, which shoots great plumes into the air whenever a Tiger hits a home run. The fountain is the most valuable piece of advertising space in the stadium, and two corporations quickly expressed interest in taking GM's place. One offered to pay $1.5 million for three years. Mike Ilitch, the Tigers' owner, considered the offer seriously. Then he rejected it in favor of a deal that would pay him nothing at all. Ilitch kept the GM name where it was, free of charge, and added the Ford and Chrysler logos on each flank, over the message: THE DETROIT TIGERS SUPPORT OUR AUTOMAKERS. To emphasize the point, the Tigers invited one employee from each of the embattled car giants to throw out the first pitch on Opening Day. Before GM inspector Loretta Abiodun went into her windup, she turned and looked at the fountain. "It was breathtaking," she says.
The deal made perfect sense to Ilitch, a pizza mogul who was born in Detroit, whose father worked as a tool- and die-maker for Chrysler and who still refers to Ford as Ford's, as if it were a neighborhood drugstore. He is a businessman by trade, but he is consumed with two causes that don't always lend themselves to profit. "Turning around our city," he says, "and winning the World Series." Ilitch, who is 80, wants to see those goals realized in his lifetime, which helps explain how the Tigers have managed to keep payroll high, ticket prices relatively low and the community-relations budget constant in a period of plummeting revenue. As one major league executive puts it, "Their owner doesn't operate from a profit-and-loss standpoint. He treats the team more like a public trust."
Ilitch has won four Stanley Cups as owner of the Red Wings, but you get the sense he'd trade one or two of them for a World Series trophy. Before Ilitch started Little Caesars Pizza, he played shortstop at Detroit's Cooley High, and when he graduated, the Tigers tried to sign him for $5,000. A tough negotiator even then, Ilitch insisted they double their offer. When the team balked, Ilitch joined the Marine Corps. After a four-year tour of duty he finally reported to the Tigers' minor league affiliate in Tampa, but he hurt his knee catching a pass in a recreation-league football game and lost his greatest asset, his speed. "That still haunts me," Ilitch says. "I often wonder, Could I have made it to the major leagues if I had never hurt my knee?" He took a different route to the majors, buying the Tigers in 1992, eight years after their last World Series title, but the team went on to have 12 straight losing seasons under his stewardship, and his pride hurt as badly as his knee.
Mr. I, as he is called, stands in the plush Tiger Club overlooking rightfield at Comerica Park. He has just held a press conference to announce that the Motor City Bowl now will be named the Little Caesars Bowl, since Ilitch agreed to sponsor the game when the automakers no longer could. He is still as slender as a shortstop, and he pumps his fist when he makes a point, specifically when he expresses his disdain for salary caps. Other teams in the Rust Belt, like the Indians and the Pirates, would likely rejoice if baseball ever ratified a salary cap. It would theoretically level the balance of power and help clubs in cash-strapped areas compete. This summer the Indians pared their payroll by trading starting pitcher Cliff Lee, catcher Victor Martinez, first baseman Ryan Garko, leftfielder Ben Francisco and setup man Rafael Betancourt; the Pirates peddled veteran shortstop Jack Wilson, second baseman Freddy Sanchez, first baseman Adam LaRoche and centerfielder Nate McLouth. The Tigers, meanwhile, added veteran starting pitcher Jarrod Washburn at the trading deadline and lefthanded bat Aubrey Huff shortly thereafter at a cost of roughly $5.5 million.
"The economic realities and challenges in our city have changed the operating paradigm for us and for many other small-market teams," says Indians general manager Mark Shapiro. "We still have a chance to win and are still playing for that year when everything clicks, but our windows are smaller and our margin for error is smaller." When Tigers president and general manager Dave Dombrowski was asked if he felt similar pressure to cut back this season, given the economic realities in his city, he shook his head. "Our owner is unusually aggressive," Dombrowski says. "His philosophy is, Never assume the answer is no."
Ilitch can be too agreeable at times. He shelled out $38 million to Jeremy Bonderman, $29 million to Dontrelle Willis and $21 million to Nate Robertson, and not one of those pitchers currently has an ERA under 5.00. But he has also shown a willingness that other owners don't share to deal with Scott Boras, having signed Ivan Rodriguez, Magglio Ordoñez and Kenny Rogers in consecutive seasons earlier this decade; each was a crucial building block in the franchise's ascent from the 119-game losers in 2003 to a World Series team in '06. And in '07, when high school pitcher Rick Porcello nearly fell out of the first round of the draft because Boras represented him and teams feared he would be difficult to sign, the Tigers picked him 27th. Now, Porcello, masterfully handled and developed this season by Leyland and pitching coach Rick Knapp, is 13--9 and the team's No. 3 starter. "I go to owners meetings, and you get the feeling that some could take it or leave it," says Ilitch's son, Chris, the president and CEO of Ilitch Holdings Inc. "It's a hobby for them. You win some, you lose some. My father just isn't that way."
Detroit has always had its showbiz side, dating back to the Roaring '20s, and Ilitch believes that live entertainment is integral to a renaissance. That's part of the reason he bought the Fox Theatre in 1987, hired welfare moms and recovering drug addicts to help bring it back to life, then built, largely with private funding, Comerica Park across the street and helped persuade Lions vice chairman Bill Ford to put his football stadium next door. In a city famous for blown-out buildings, the Fox has not sustained so much as a broken window since its renovation, a testament to the love the old playhouse engenders. Even the homeless say they discourage panhandling beneath the Fox marquee.
When you come downtown only for a show or a game or a $9.95 filet mignon at The Detroit Pub, you can get fooled into thinking that things aren't so bad here. It's like going to New Orleans and never leaving the French Quarter. "The seats are full, the restaurants are full, and you start wondering if it's really not as bad as everyone makes it sound," Granderson says.
Major leaguers can escape most financial realities, but over the winter the Tigers held an auction for their foundation at the Motor City Casino and offered fans a chance to buy blocks of time with Verlander, Leyland and Carlos Guillen. "That's when it sunk in," Granderson says. "Nobody was bidding. It was really awkward. Players had to bid on each other to get the price up to $5,000." One item up for auction was a painting of Granderson and Ordoñez. Miguel Cabrera, the Tigers' $152 million first baseman, ended up with the winning bid.
Granderson thought the climate might be improving this summer, when his foundation held a wine tasting and auction at Big Rock Chophouse in the upscale suburb of Birmingham. With prodding from a few Tigers, a woman paid $12,000 so her son could take Cabrera and Guillen to school for a day. Granderson's mother, Mary, was in Detroit for the event, staying at the Greektown Casino Hotel. Granderson walked to the hotel after a game one night and was overjoyed to see the streets abuzz. Then he took the elevator up to his mother's room on the 27th floor and looked out her window. "I didn't see a single light on in any of the other buildings," Granderson says. "It was depressing."
If he can imagine, 42 years ago it was worse. In July 1967, local police raided an after-hours drinking club in northwest Detroit, igniting a smoldering discontent into five days of rioting and looting. Forty-three people died, 1,189 were injured and more than 7,000 were arrested. After a doubleheader, outfielder Willie Horton drove to 12th Street in full uniform, hopped on top of his car and, with fires raging around him, pleaded for peace. A year later the Tigers won the World Series. "For us, it was all about overcoming the riots," says Al Kaline, star of the '68 World Series, and now a special assistant with Horton in the front office. "Today, it's about the loss of jobs. We can't get anybody a job, but we can give them something good to watch on TV and read about in the papers."
Michigan State's basketball team made it to the national title game in Detroit in April but lost. The Red Wings made it to Game 7 of the Stanley Cup finals in June but also lost. Leyland knows what a championship would do for the locals. He grew up 70 miles south in Perrysburg, Ohio, and his gray mustache and gravelly voice would fit as well on an assembly line as they do in a dugout. "We have to be careful because we make a lot of money and these people have lost jobs and homes," Leyland says. "I know what that money means. I know how much it costs for that ticket and beer and hot dog. It's tough for these people. You can tell. You can feel it."
On a warm evening in the first week of September, 20-year-old Victor Moore is walking on Woodward Avenue, asking for spare change. He is beneath a Fidelity Investments billboard that reads, JOBS CHANGE/DREAMS DON'T, when a passerby turns him down. "Then how about a ticket to the game tonight?" Moore shouts after him. "You and I could go watch the Tigers together."
Down Montcalm Street, on the sidewalk that rings Comerica Park, Steve Nelson is kneeling down and peering at the field through a row of green bars. Nelson has not really slept in four days, and because his view of the game is obstructed he cannot see the pitcher, the catcher or the hitter. "But I've got everything else," he says with a grin. The infield dirt, the outfield grass, the ball flying, the crowd rising, the centerfielder chasing and that priceless fountain over the fence spitting a stream of water into the sky.
Now on SI.com
Joe Posnanski on the magic of Ernie Harwell (left) and Joe Lemire on the heat of Justin Verlander at SI.com/bonus
"Ilitch doesn't operate from a profit-and-loss standpoint," says one exec. "He treats the team like a public trust."
In his first spring meeting Leyland told his players, "This is not the year not to run out a ground ball."
PHOTO
Photograph by JOHN
BIEVER
CIVIC DUTY The Tigers have played close to .650 ball at home, a result, Inge says, of "knowing there are families in the stands fighting to feed their kids."
FIFTEEN PHOTOS
GREGORY SHAMUS/GETTY IMAGES (ILITCH, KID ROCK); MARK CUNNINGHAM/MLB PHOTOS/GETTY IMAGES (TOP LEFT); ANDREW HANCOCK (8); JOHN BIEVER (4)
HEAR THEM ROAR Unemployment soared to 23% and home prices sank, but an entire city, including megafan Rock (top right), followed the lead of Ilitch (left).
PHOTO
MARK
CUNNINGHAM/MLB PHOTOS/GETTY
IMAGES
SIGN OF THE TIMES Winning is a tonic, but Granderson (above) & Co. get personally involved with fans too.
PHOTO
RICK
OSENTOSKI/CAL SPORT MEDIA
[See caption above]
PHOTO
REBECCA
COOK/REUTERS (HARWELL)