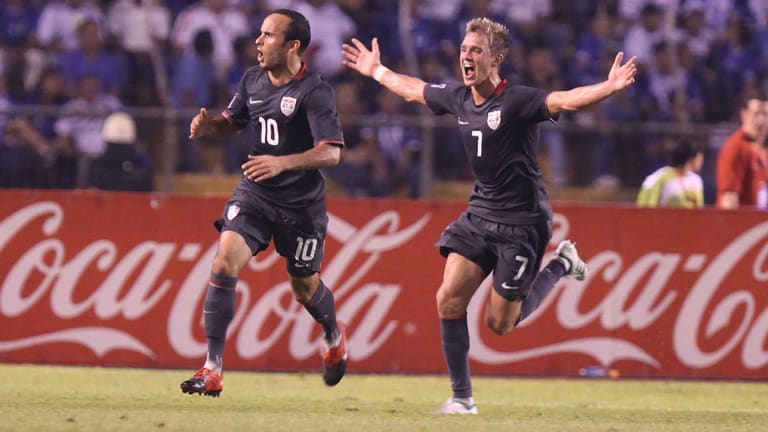 Ready for The World
In a roiling Central American cauldron, the U.S. men earned a berth in the 2010 World Cup. Now come eight months of hard work to prepare for the biggest stage in sports
Last Saturday, on a sweat-soaked night in Honduras, the World Cup futures of two nations rested on a white dot on a patch of grass in San Pedro Sula. In the 87th minute of one of the wildest U.S. games in years, forward Carlos Pavón stood over a penalty kick that could have given the host a 3--3 tie and kept the Americans from clinching a 2010 World Cup berth until a gut-tightening final qualifying game against Costa Rica on Wednesday. U.S. midfielder Landon Donovan shook his head.Hadn't the Yanks been leading 3--1 just 10 minutes earlier? "I can't believe we're in this spot," he thought as Pavón advanced on the ball.
An overflow crowd of 45,000 at the Estadio Olímpico prepared to unleash a rare burst of joy in a country that has been beset by political turmoil since president Manuel Zelaya was deposed in June. "Soccer unites all Hondurans," his chief rival, de facto president Roberto Micheletti, said of the national team, which was looking to reach its first World Cup since 1982. (Micheletti had predicted a 4--0 win for the Catrachos.) Pavón pitched forward, planted and—with Honduras's sporting dreams resting on his right foot—airmailed his spot kick over the crossbar and into the night sky.
United States 3, Honduras 2.
With a classic,pulse-pounding victory, the U.S. did more than advance to its sixth straight World Cup. By scoring three goals in 16 minutes to erase a 1--0 deficit and win in a notoriously difficult venue (Honduras was 8--0 at home in 2010 World Cup qualifying), the Americans showed the kind of heart and firepower that will be crucial if they are to go on a deep World Cup run next summer in South Africa.The U.S. is not a collection of superstars, so it has to depend on teamwork, a few stalwarts (including Donovan, goalkeeper Tim Howard and midfielder Clint Dempsey, who missed Saturday's game with a sprained right shoulder) and a revolving door of capable role players. On Saturday the most important of those was 28-year-old forward Conor Casey, who got a surprise start ahead of Jozy Altidore, the team's leading scorer in qualifying, and netted the first two goals of his national team career.
Coach Bob Bradley's inclusion of Casey, who had a scant nine appearances for the U.S.before this year, looked like a masterstroke in hindsight, but it was also a reminder of the importance Bradley attaches to match readiness. Although the 19-year-old Altidore has a bigger upside, he hasn't logged many minutes recently for Hull City of the English Premier League. Casey, meanwhile, has the sharpness, confidence and timing that comes from playing regularly. Starting for the Colorado Rapids, he's second in MLS this season with 16 goals. "His play week in and week out for the Rapids has shown he's a big guy who moves well and can score goals in a variety of ways," Bradley said after the Honduras win. "All of that paid off for us tonight."
Altidore isn't the only U.S. player languishing overseas. Probable World Cup starters such as center back Oguchi Onyewu (AC Milan), midfielder Michael Bradley (Germany's Borussia Mönchengladbach) and right back Jonathan Spector (England's West Ham United) are lately seeing little of the field with their clubs. It's no small concern. Indeed, the U.S.'s prospects in South Africa may hinge on the lineup choices of European coaches.
"The biggest factor for our team will be having guys playing regularly," says Donovan."Every camp we've come into, there's been a few guys who end up starting or playing who haven't played a lot of minutes [for their club teams]. It makes a difference in sharpness and fitness. If we can have 16 to 20 guys playing regularly at their club teams, we'll have a good chance to do well."
Another issue critical to American fortunes next summer will be the schedule of pre--World Cup friendlies. Before the U.S.'s run to the quarterfinals in 2002, it tuned up against strong sides such as Italy, Germany, Ireland, Holland and Uruguay. In the six months before the U.S.'s disappointing first-round exit in '06, it played the likes of Norway, Guatemala and Jamaica, and its final three opponents in the crucial late-May exhibitions were Morocco, Venezuela and Latvia, hardly a preview of the pressure cooker to come. Don't look for that this time around: Since Bradley took charge in late 2006, he has scheduled games against such powers as Spain, Argentina and England. "I think they're going to do a great job of setting up the right friendlies so we're ready,"says Altidore. "We'll be playing teams we could face in South Africa,high-class opponents. We're confident we can play against the best."
[youtube: https://www.youtube.com/watch?v=3Kr8_KfdybU]
The U.S.'s run to the final of June's Confederations Cup in South Africa certainly aided that outlook, considering that the Americans upset then world No. 1 Spain 2--0 and built a 2--0 lead on Brazil before losing 3--2. In that tournament the U.S.'sfirst-round group (Italy, Brazil, Egypt) was harder than any they will face at the World Cup. And yet the wide variability of the draw (to be held on Dec. 4 in Cape Town) means the Americans will be hoping for some luck, not only among their first-round foes but also among the teams they could face in the second round and beyond. "Certain draws are better than others to try and navigate our way through the first round," says Howard, who was the backup to Kasey Keller in Germany in 2006. "I hope we go down there not afraid of what they'll throw at us."
What should be reasonable expectations for the U.S. in South Africa? That depends on whom you ask. When 23-year-old forward Charlie Davies said last week that he thought theU.S. could win the World Cup, some observers no doubt snickered. But it's hard to blame a player for having high aspirations. (You play to win the game,right?) With the benefit of two World Cups under his belt, Donovan has a slightly different view. "Aside from the top five or six teams in the world, getting out of your group is a big accomplishment," he says."That would be the goal, and then you see what happens. If you face Brazil or Spain at that point, then your expectations are tempered a little bit. If you face a more beatable opponent, you think, 'You know what? We should advance.'"
On Saturday night,though, as the U.S. players sprayed champagne and sang Hava Nagila, of all things, in the visitors' locker room, you could forgive them for wanting to focus on the achievement of winning at Honduras and qualifying for the greatest sports show on earth. It's never easy. Now the work starts anew. Kickoff in Johannesburg is eight months away.