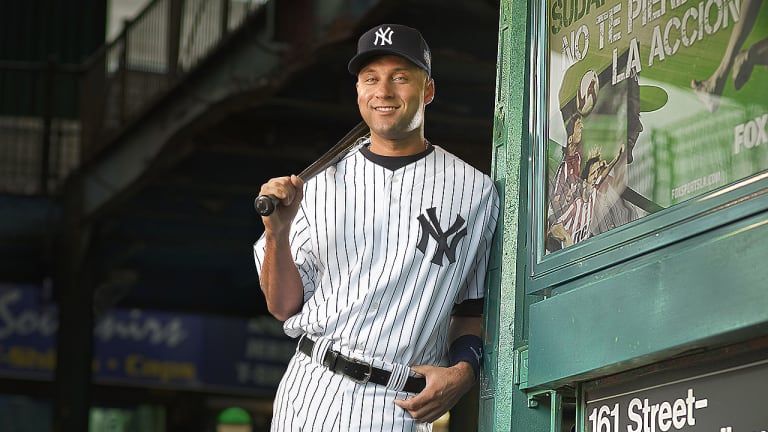 Derek Jeter: 2009 Sportsman of the Year
It is not so much what he accomplished at 35—a fifth World Series ring capping a historic season, to be sure—as how the Yankees' shortstop arrived at his iconic place. Being the ultimate team player and a role model synonymous with winning has brought him still another title
Every sunrise is a fresh shot at victory for Derek Jeter. Every day is an invitation to compete with the same smile and delight of that boy in the mirror who looked back at him on the eve of Little League opening day in Kalamazoo, Mich. Young Derek would gaze upon himself for the first time in his new jersey—a T-shirt actually, with a sponsor's silk-screened name, such as D.M. BROWN CO.—then race to show his mom, Dorothy, and his dad, Charles. There would be a parade the next day, each kid in his new shirt marching a few blocks to the Little League field. A quarter century later Dr. Charles Jeter can close his eyes and still see his boy walking in Kalamazoo, "smiling ... his chest is out ... looks like his mom."
There is something even better now, though. Charles can open his eyes wide and see that same boy playing shortstop for the New York Yankees. "I still see that same joy," Charles says.
The need to win for Derek Sanderson Jeter knows neither rest nor discretion. Whether he is pulling a prank or a base hit, he pursues victory with the Shakespearean conviction that "things won are done; joy's soul lies in the doing."
This was a very good year for the soul of the Yankees' shortstop, whose pursuit of victory crested anew at 11 minutes to midnight on Nov. 4, when he became a World Series champion for the fifth time. After the Yankees closed out the Phillies in six games, the players, executives, trainers, batboys, friends, girlfriends, family members and hangers-on filled almost all 3,344 square feet of the team's celebratory clubhouse. Charles and Dorothy Jeter, however, were nowhere to be found. They have been in the Yankees' clubhouse only once, back in 1995, when Jeter first reached the big leagues, and even then they had to be coaxed in by one of his teammates and stayed only briefly.
"They think, This is where you work. They don't want to get in the way," Jeter explains, "but you still want to share it with them."
So Jeter stepped outside the clubhouse into a service concourse, where Dorothy and Charles stood. Each hugged their son and told him how proud they were of him. "Thank you," he told them.
It had been nine years since New York won the world championship. Jeter was just 26 years old then, the young prince of the city. Now he is 35, coming off perhaps the most impressive of his 15 big league seasons, bearing the patina of a man in full. Last summer, as their son chased the franchise record for hits, held by Lou Gehrig, Dorothy and Charles told Derek to take time to savor what was unfolding. "I'm always moving on to what's next," Derek says, "so they make it a point to tell me to appreciate things as you experience them."
"I think I was speaking to him when I told him that, but I was also speaking to myself," Charles says. "I've been very proud of him, on and off the field. He's a grown man now. The way he's grown up ... this year has had me reflecting."
Two days after winning the Series the Yankees were honored with a parade through the Canyon of Heroes in Lower Manhattan. Most of the Yankees were flanked by wives, girlfriends, children or celebrities. Jeter rode along Broadway on a float with his mom, dad and sister, Sharlee. "I pretty much said, 'You're coming on the float, right?'" says Jeter, who was also joined by his girlfriend, actress Minka Kelly. "And they said, 'Yeah, we'd like to.' I always like sharing things with my family. They're the reason why I'm here. They're as much a part of it as I am."
The good son loved the parade. He was smiling the whole time, his chest out.
It was a year in full for Jeter. In addition to winning his fifth World Series and breaking Gehrig's team record for hits (and Hall of Famer Luis Aparicio's record for hits by a shortstop), he won his fourth Gold Glove, his fourth Silver Slugger as the premier hitting shortstop in the league, the Roberto Clemente Award for his humanitarian service and the Hank Aaron Award as the fans' choice for the best hitter in the American League.
Jeter batted .334—among shortstops in the last 100 years, only Honus Wagner has hit higher after turning 35—and accumulated 200 hits and 30 stolen bases for the third time; no other shortstop of any age has reached those standards more than once. He hit .407 in the World Series, playing his best baseball at the end of a 10-month, 190-game odyssey that spanned the World Baseball Classic, spring training, the regular season and three rounds of the postseason. Jeter captained the U.S. team in the WBC, after which commissioner Bud Selig sent him a letter of thanks in which he called him "Major League Baseball's foremost champion and ambassador."
"You embody all the best of Major League Baseball," Selig wrote in the March 30 letter. "As I mentioned to you in our recent telephone conversation, you have represented the sport magnificently throughout your Hall of Fame career. On and off the field, you are a man of great integrity, and you have my admiration."
For those achievements, but most especially for the principled, selfless manner in which he earned them, Jeter is SPORTS ILLUSTRATED's 2009 Sportsman of the Year. He is the first Yankee to win the award in its 56-year history and only the third baseball player in the past 34 years to win the award alone, joining Orel Hershiser (1988) and Cal Ripken Jr. (1995).
Jeter is an anachronism if you believe that manners and humility, the pillars of sportsmanship, are losing ground in an increasingly stat-obsessed, self-absorbed sporting culture in which the simple act of making a tackle, dunking a basketball or getting a base hit calls for some burlesque act of celebration, a marking of territory for individual purpose. Jeter is the unadorned star, and not only in the literal sense in that he is free of tattoos, piercings, cussing, posses and the other clichés of the big-time-jock starter kit. The actress Kim Basinger once captured the essence of Jeter as well as any scout, telling SI in 1999, "He's a hunk, and I don't even like that word. Women like guys who have a big presence but sort of play it down. It's very appealing."
Such uncalculating humility, alloyed to his formidable skills, is the same attribute that makes Jeter so appealing to teammates and foes alike. There is a natural fluidity to the way Jeter moves about, on the job and off, that puts people at ease. Even at 18, when the Yankees sent him to Instructional League to work on his fielding, Jeter had the ability to establish himself as an alpha male in a pack of ballplayers without having to be muscular about it.
"Right away the players gravitated toward him" says Brian Butterfield, his instructor then and now a Blue Jays coach. "He was well-liked, had a great disposition, a good sense of humor and a smile on his face, but when it got to working, that grin would melt into a serious look. He also had the best aptitude I've been blessed to be around. The stuff we worked on, he picked up so quickly."
Jeter's rare gift as a superstar athlete is that he doesn't so much inspire awe as he engenders comfort. To be around Jeter is to truly believe that things are going to turn out well, whether you are a fan who still wants to believe in the inspirational quality of sports and the people who play them, or a Yankee who wants to believe there is some way back from three runs down, five outs from elimination, against Pedro Martinez in his prime.
"Everything he does has such a grace about it," A's general manager Billy Beane says. "Even now, this last postseason, people would say to me, 'You must be rooting against the Yankees.' But you know, maybe because of Jeter, the Yankees know how to win. It's not an act. The Yankees' brand name in this era is that it is Jeter's era. It's similar to what DiMaggio was in his era."
Eight years ago, to his recollection, Beane watched Jeter run out a routine ground ball to shortstop in the late innings of a routine game in which the Athletics were beating the Yankees. Jeter ran down the first base line in 4.1 seconds, a time only possible with an all-out effort. Beane was so impressed by the sprint that he ordered his staff to show the video of that play to all of the organization's players in spring training the following year.
"Here you have one of the best players in the game," Beane says, "who already had made his money and had his four championships by then, and he's down three runs in the seventh inning running like that. It was a way of showing our guys, 'You think you're running hard, until you see a champion and a Hall of Famer run.' It wasn't that our guys were dogging it, but this is different. If Derek Jeter can run all out all the time, everybody else better personally ask themselves why they can't."
Told the story, Jeter says, "It makes you feel good whenever anybody appreciates how you do things. My whole thing is, you're only playing for three hours a day. The least you can do is play hard. You have what, four or five at bats? O.K., it's not difficult to run, to give it a hundred percent. It's effort. You don't have to have talent for effort."
The idea of Jeter as a template stretches beyond 90 feet. He is a role model not only for how to play baseball but also for how to remain atop the wobbly pedestal of fame. DiMaggio never swam in the dangerous currents Jeter has known. Jeter has played through the Steroid era, through 15 seasons under the watch of the New York tabloids and through the rise of the Internet, bloggers and cellphone cameras and made it through, as far as notoriety goes, untainted in that way as well. When Jeter broke Gehrig's franchise hits record, against the Orioles on Sept. 11, former All-Star righthander Curt Schilling wrote in his blog, "Derek Jeter has always been above the fray. As someone who's wallowed in it, 'foot-in-mouthed' it hundreds of times, said dumb things and backed up dumber ones, it's refreshing. He's shown up, played and turned in a first-ballot Hall of Fame career in the hardest environment in sports to do any/all of the above.... I know competing against that guy, for the decade or so we matched up, was what made the major leagues the major leagues for someone like me."
How has he done it? Jeter was thrown into the Gotham maw at the age of 21, less than four years removed from his graduation from Kalamazoo Central High, but even then he understood the navigational charts of fame, the big city and success. Former teammate David Cone says that for months during that 1996 season, Yankees veterans would look for any of the typical openings to jump on a rookie—the way he dressed, the quotes he gave reporters, "anything," Cone says—but found nothing. They finally gave up. By the second half of Jeter's rookie season his teammates stopped looking for a reason to humble him and started looking to him to lead them.
It was during that season that Jeter told his father in a hotel room in Detroit while sharing a pizza, "Dad, I want to start a foundation to help kids."
"There are a lot of ways you can give back," replied Charles, a substance-abuse counselor who has a Ph.D. in sociology. "If you want to start a foundation, you've got to put in a lot of work. You can give back without a foundation."
"No, this is what I want to do," Derek said, "and I want you to help."
That year Jeter established the Turn 2 Foundation to create and support programs in western Michigan, New York City and Tampa, where he lives in the off-season, to help young people live a drug- and alcohol-free lifestyle. "I thought maybe we could raise fifty-, a hundred-thousand dollars," Jeter says. The foundation raised $300,000 in its first year. Since then it has awarded more than $10 million in grants, including $500,000 recently to launch the Derek Jeter Academy in Tampa, an outpatient counseling center for teens seeking individual or family substance-abuse treatment. The foundation is run principally by Charles, Dorothy, Sharlee and Derek.
If you imagined a man's life as an ever-growing ball of string, with his experiences and attributes represented by thousands of strands gathered along the way, virtually any string you pull in the life of Derek Jeter leads you back to his parents, the white daughter of a New Jersey church handyman and the black son of a single mother in Alabama. It is because of the lessons of Dorothy and Charles that Derek is the rare star athlete known as much for who he is as for what he has done.
Dorothy, an accountant, and Charles met in Germany, where both were serving in the Army. Upon returning to the U.S., the couple settled in New Jersey, where Derek and Sharlee were born, before moving to Kalamazoo when Charles enrolled at Western Michigan University to pursue his master's degree. Dorothy and Charles required Derek and Sharlee to sign a commitment every August regarding rules of behavior, such as avoiding alcohol and drugs and respecting others.
"He was brought up to respect his environment and respect himself," Dorothy says. "When you like who you are, you're going to respect others. It's very simple."
"You've got to have strong values because there are people who don't want to see you attain or achieve," Charles says. "I don't think you magically get those values when you're successful. If you don't have it by then, you're going to be in a lot of trouble."
"I would be the same person regardless of what I was doing or where I was playing," says Jeter, who still talks to his parents each day. "It's not like I'm trying to act a certain way to make people happy. I'm just who I am. But again, it's something that I learned at a young age."
The first time Jeter found himself one win away from his fifth world championship was on Nov. 3, 2001, in Game 6 of the World Series against the Arizona Diamondbacks. The night went horribly wrong for the Yankees, to the point that manager Joe Torre, with his team losing 15--0, pulled Jeter, catcher Jorge Posada and first baseman Tino Martinez from the game in the fifth inning as an act of surrender. Jeter walked into the clubhouse to change out of his spikes and into a pair of more comfortable turf shoes. In the training room he saw Jay Witasick, a journeyman reliever for the Yankees who in 1 1/3 innings had given up nine runs, eight of them earned, a Series record for a reliever. As Jeter walked by, he heard Witasick say, "Well, at least I had fun."
"Derek just jumped all over him," Posada says. "Derek couldn't believe what he was saying. He was really, really hot. That was the angriest I've ever seen him."
Last week, sitting in an airport hangar in Long Beach, Calif., surrounded by a small army of people to shoot a commercial for Gillette, Jeter nodded when he was asked about the episode with Witasick. "I remember," Jeter said. Slowly, he began to get agitated again. "Fun? I can't relate to it. I really can't relate to it. I'll never forget that. At least you had fun? I'll never understand it. I don't want to understand it."
Anger is an emotion Jeter rarely displays. "Oh, yeah," he continued. "Everybody gets angry. What makes me angry is when people don't care—not when they fail; everybody fails—or when people act like they don't care. You have one opportunity to do something, and you never know if you're going to get that opportunity again."
After that night's loss to Arizona, and a 3--2 defeat in Game 7 one night later, it took Jeter and the Yankees eight more years to get it right, to win the last game of the baseball season, which is the only way Jeter defines a successful season. "I forgot how good it felt," he says. "We've been in the playoffs every year except 2008, and every year you think you have a chance. Then when you lose, it's so hard. I think it should be hard on everyone. I don't know if everyone feels the same way I do, but you put in all that time and work and effort to win a championship, and then you lose? You don't ever forget that feeling."
Every alltime great ballplayer establishes a brand, a shorthand identifier that captures what makes him iconic. For Ruth, for instance, it was the home run. Mays was a thrilling body in motion, Aaron represented strength of character, Mantle a comic-book heroism, Koufax the curveball, Ryan the fastball, Rose all-out hustle and Reggie the month of October. Jeter is unique this way. He has forged an identity as the ultimate team player in a team sport.
Of the 2,138 regular-season games Jeter has played in his major league career, only one was meaningless—that is, a game in which the Yankees had been mathematically eliminated from a shot at the postseason and the subsequent possibility of winning the World Series. He has won 60.3% of the games in which he has played, the highest percentage among active players who have appeared in at least 1,000 games.
Pull on this thread, this need of his to win, and of course it takes you back to his parents. Derek attended afternoon kindergarten. He knew it was time for school when The Price Is Right ended. He watched the show with his father. They would bid against each other while playing along with the show's finale, the showcase showdown. "He never let me win," Jeter says. "He never let me win anything, checkers or whatever."
Kalamazoo has given the world Shakespeare fishing rods, Gibson guitars, Checker cabs, and Jeter's will to win, in that order of rigidity. If you were to draw up a list of Jeter's dislikes, most all of them would be what he regards as obstacles to winning:
1. Individuals who don't care about winning.
2. Self-promoters. "I never liked people who talked about themselves all the time, gloat," he says. "If you're accomplished and have done things, people will talk about it for you. I don't think you have to point it out. I'm not judging anybody. That's just the way I am."
3. Measuring success by individual statistics. "In this day and age, not just in baseball but in sports in general, all people care about is stats, stats, stats," he says. "You've got fantasy this, fantasy that, where you pay attention to stats. But there are ways to win games that you don't get a stat for."
4. Injury talk. "You either play or you don't play. If you're playing, nobody wants to know what's bothering you. Sometimes it's a built-in excuse for failing."
5. Negativity. Jeter wants nothing to do with negative questions from reporters or negative talk from teammates. He once went 0 for 32 and refused to admit he was in a slump. "We weren't allowed to use the word can't—'I can't do this, can't do that,'" Jeter says of his childhood. "My mom would say, 'What? No.' She's always positive. I don't like people always talking about the negative, negative, negative, because once you get caught in that mind-set, it's hard to get out of it."
Last week, the day after the commercial shoot with Gillette, Jeter did a Gatorade spot at Angels Stadium. As Jeter and Jack Tiernan, one of his agents at the Creative Artists Agency, walked toward an SUV for their ride to the stadium, Jeter snickered at a stretch limo parked next to the SUV. "Somebody going to the prom?" he joked. As Jeter went to enter the SUV, its driver waved him off, pointed to the limo and said, "That's yours." Jeter was disappointed. The transportation company had tried too hard.
Watching Jeter shoot a commercial is like watching him play for the Yankees: He exudes a down-to-earth charm and boyish enthusiasm that make him a star without acting like one, but he is out to win. "One moment he can be joking with somebody in the stands while on deck," says Casey Close, his primary agent, "asking them, 'What do you think they're going to throw me here?' And then it's like with a snap of his fingers, he gets lost in the moment of the at bat and his focus is incredible. One of the most impressive things about him is a calm sense of self, a complete confidence in exactly who he is."
"I don't think I've changed," Jeter says. "I think people around you change. The way they react when you're around. My closest friends I've had for a long time." His inner circle is small, populated by friends he met before he got to the big leagues, including teammates Posada, Mariano Rivera and Andy Pettitte; two longtime friends, Douglas Biro and Sean Twitty; and former teammate Gerald Williams, who Jeter says "always looked out for me" in his first major league training camp (1993) and who lives near him in Tampa.
"There are a few reasons why teammates look to Derek and respond to him," Posada says. "He doesn't make any excuses—about anything—and whenever he hears anything negative, he's going to prove you wrong. That fuels him to get better."
For the Gatorade commercial, Jeter was shot in super-slow-motion high definition by a camera moving along a track as he made his trademark jump throw, a leaping throw to first base deep from the shortstop hole. The shot was spectacular to the point of artistry, a kind of Baryshnikov meets The Matrix. "It's almost perfect," gushed the young, enthusiastic director, Adam Berg. Almost. The director tried more takes. Jeter finally presented Berg with a proposal.
"I told you I would do five jumps and three slides," Jeter said, referring to another scene in which he slid into second base. "But I'll make you a deal: I'll do 10 jumps and six slides, and all you have to do is swallow one spoonful of cinnamon. If not, five and three. Just one spoonful."
"With water?" Berg asked.
"Only after you swallow it."
Jeter's jump throw ranks with the basket catch of Willie Mays as one of the signature plays in baseball history. Still, Jeter's defense, especially his range, has been an object of derision by statistical analysts. "There is no possible way you can measure it," Jeter says of defensive skill, which he said includes too many variables that cannot be quantified. "There's just no way. It's impossible. Everybody is entitled to their opinion, but ... no way."
After the 2007 season, at 33, Jeter hired a personal trainer, Jason Riley, to improve his leg strength and agility. As a young player Jeter didn't work out at all in November and December. "What I found out as you get older," he says, "is it's a lot easier to stay in shape than get back into shape." He worked with Riley throughout the winter, waking at 5:30 a.m. to finish by 7:30, even before spring training workouts. He worked with Riley again last winter. The results became obvious this year, when Jeter pleased even the statistical analysts with his improved range and footwork.
And he showed no evidence of decline at the plate. Only three shortstops have hit .300 in the season in which they were 36 or older, but Jeter appears to have the staying power to join them. Indeed, Jeter, with roughly the same number of hits (2,747) as Pete Rose had at 35, could join Rose and Ty Cobb as the only players to reach 4,000 hits if he plays through his early 40s, and perhaps he will even challenge Rose's record 4,256.
"I want to play as long as I'm having fun," Jeter says. "If I'm not having fun, I'm not going to be out there just to be out there. Right now I'm having as much fun as I've had since Little League. People say, 'How long do you want to play short?' I don't think about where I'll be playing six years down the road. I don't see any reason why I can't play it for a long time."
Somebody fetched a plastic spoon and a jar of cinnamon. Jeter allowed Berg to examine them, then loaded the spoon with the spice, doing his level best to maintain an air of seriousness. He had arranged similar wagers earlier this year with teammate Brian Bruney and then one of the clubhouse attendants, not to be confused with his other favorite wager that involves asking someone if they think they can eat five saltines in one minute. Berg couldn't believe his luck; all he had to do was swallow the cinnamon and Jeter would have to give him 10 takes toward getting the perfect jump-throw shot.
As soon as Berg shoved the spoon in his mouth, Jeter jumped away laughing. Quickly, Berg gagged, his cheeks puffed, his eyes watered and cinnamon smoke began spewing from a crack in his pursed lips. He looked like a man about to burst. Berg grabbed a bottle of water and began gulping from it.
"That's it!" Jeter shouted. "You lose! The deal was no water until you swallowed it."
After several minutes to recover, Berg asked Tiernan, "He's not serious, is he?"
"Oh, he's serious," Tiernan replied.
Another victory, however small, for Derek Jeter, today's superstar most synonymous with winning. But none of the accoutrements of his success—the five rings, the $189 million contract, the national endorsements and the starlet on his arm—capture the essence of his success. In the difficult days of the Philippines campaign during World War II, General Douglas MacArthur wrote A Father's Prayer, which begins, "Build me a son, O Lord." MacArthur prayed for a son with, among other traits, "humility, so that he may always remember the simplicity of true greatness." Therein lies true victory. The great wonder is not that Jeter has won so much but that he has won so well. He is the good son, the good winner.
"You are a man of great integrity," Selig wrote to Jeter in March, "and you have my admiration."
"You know, maybe because of Jeter, the Yankees know how to win," Beane says. "It's not an act."
"Competing against that guy," Schilling says, "was what made the major leagues the major leagues for me."
"When you like who you are," says Dorothy, "you are going to respect others. It's very simple."
"If you're accomplished," Jeter says, "people will talk about it for you. You don't have to point it out."