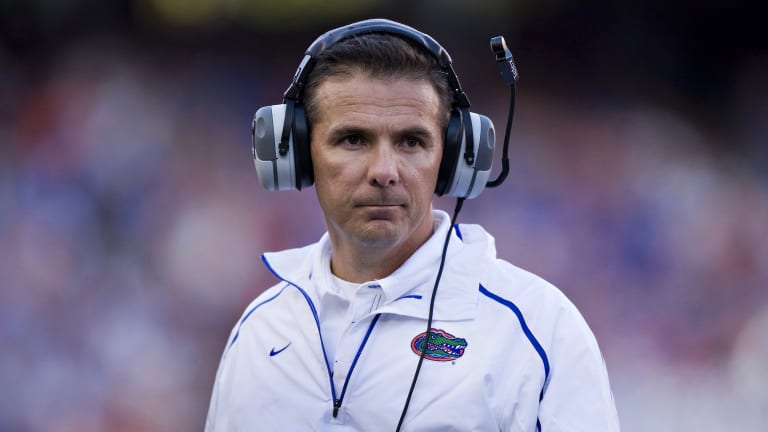 Urban Meyer
The Florida coach is alternately a hard-ass and a softy, cocky and calculating, smug and sentimental. But there's no inconsistency in his football program, which is, as usual, on track for a national title.
The first one struck 11 years ago, amid the chaos of a Notre Dame sideline. Urban Meyer was a 34-year-old whirl of activity then, an assistant coach on the rise. Big-name coaches had marked him; boosters were taking note. The guy was coming. The guy was brainy and disciplined and ravenously aware of what he didn't know. The walls of his boyhood home had been plastered with photos of America's coaching legends, and he already had that sideline act down: the steely Tom Landry gaze, the Don Shula chin jut, that awful, exhilarating Woody Hayes temper primed and ready to blow.
"Get cord!" Meyer would snap at the staffer tasked with trailing him on the sideline, headset wire in hand, as Meyer tried to keep up with his receiving corps. "You're not giving me enough cord!" It didn't matter that the wire was stretched to the snapping point; Meyer was a leashed Doberman, straining to get kitty. He always needed more.
Any football game is a hurricane of ego and testosterone, but a Notre Dame-Michigan showdown has a way of ratcheting the tension to mind-bending levels. Meyer loved the storm; hell, he was the storm. His players dubbed him the Lunatic because he made the usual coaching martinets seem sane. He head-butted his helmeted charges before games. He wailed "Nooooo!" as if facing ruin, when practice got rained out. He sprinted 40 yards down the practice field to get in the face of a player who ran the wrong route. As Irish flanker Joey Getherall remembers it, one time Meyer even punched him in the shoulder pads, bare-knuckled.
Film sessions were no calmer: Meyer shattered one remote against a wall, fired another right through the TV screen. "The second time, a guy missed a block and [Meyer] just lost it," says Getherall. "We'd lost in the last second to Michigan State, and he went berserk—screaming, ready to cry almost. That's how intense he was."
Getherall, raised by a loud and proud Marine, learned to shrug off such tirades. He even thought it funny, at first, when late in that 1998 win over Michigan he saw Meyer reeling: eyes saucered, face gone pale, knocked nearly unconscious by a blast of pain. "My head!" Meyer roared. He was holding the earflaps of his headset, sinking to a knee as if his usual storm—all that furious ambition and energy—had backfired at the source. "Agggghhh!" Meyer bellowed again. "My head!"
It felt, Meyer would later say, like his skull was being split by an ax. He moved to the bench, caught his breath, got back up. He'd had headaches before but nothing like this. Any movement might bring back the pain; he felt it hovering. He was scared. As the clock spun down, every play, every twist, felt like a threat.
But he kept coaching.
Normal isn't supposed to do this. Normal doesn't produce greatness or the manic need to reach it—at least that's what we've come to believe. The artist, the champion, has to have some crack in the porcelain, some hole to fill, some "Rosebud!" moment to explain that superhuman drive. Maybe Mama died or Dad left; maybe it was poverty or shame. Freud and Dickens and Dick Ebersol so often linked childhood trauma to accomplishment that today the rise of a figure like Urban Meyer almost comes off as odd.
Because at first glance the premier college football coach in the land, whose Florida Gators have won two of the last three national championships and have another in sight—depending on the outcome of their SEC title game against Alabama on Saturday—grew up in a home so stable that it's a near caricature of normal. His parents, Urban Jr. (known as Bud) and Gisela, were married 38 years and raised their three kids in Ashtabula, Ohio, insulated from the Rust Belt town's economic decline by Bud's job as a chemical engineer and Gisela's as a gourmet chef. They lived on Lake Erie, and when young Urban III wasn't playing baseball, he spent his summers tacking between a country club and a yacht club. He wanted for nothing; he'd stop at the hotel kitchen where his mom worked for a sandwich before football practice. "He was ordinary," Bud likes to say.
The children were close. Asked what she wanted for her 19th birthday, Urban's older sister, Gigi, requested only that he hit his first professional home run for her. "You're getting something in the mail," he said to Gigi on the phone from the minor leagues nearly a year later. The ball sits on her mantel today.
Bud never missed a game Urban played or coached, no matter how far away; when Urban was a lowly football assistant at Illinois State in 1988, he recalls, "we go play Indiana State. There's maybe 500 people in that stadium. My dad and mom drive to Terre Haute, nine hours, watch the game and drive home. How many would do that—to watch you coach?" Gisela was sure her boy was bound for glory. She would tell him, "You're going to be head coach at Notre Dame someday."
Gigi, now Gigi Escoe, 46, says the Meyer household was "warm and loving," but love, like "normal," is a relative term. Gisela's love was unconditional, Bud's cool and flinty, and the pair performed an unending good cop/bad cop routine. Mom scrambled to glue a broken lamp back together or shush a sibling feud before Dad got home. The kids regarded their father with an awe that was growing rare in the Me decade: Bud was God, smarter and more powerful than anyone alive.
"We literally thought he knew everything," says Urban's younger sister, Erika Meyer Jones, 43. "I was probably a junior in college when I realized he wasn't perfect: Wait, he isn't the omnipotent force I thought?"
Such a force, of course, provided a vivid role model for a future coach, old-school division, and if there was a tendency to explain away any inconsistency with the catchall "Because I said so," well, the son picked up on that too. The same Urban Meyer who mercilessly chased off 22 members of his Bowling Green team in 2001 has time and again welcomed lawbreaking players into his family circle in the hope of saving them. The same Urban Meyer who pledged to recruit players whose character was in "the top one percent of one percent" waves off the fact that in his four years in Gainesville, some two dozen Gators have been arrested, and vows to keep giving his players second "or third chances—absolutely. Any human being would. You know why? It's the right thing to do."
Indeed, since 2005 Meyer has been a bundle of contradictions—at times unaffected and warm, at times calculating and smug, at times all of the above. This season, though, the most striking paradox has been the one on the field: Meyer, who made his name with inventive high-octane offenses, owes Florida's 12–0 record during the regular season and its No. 1 ranking in the BCS poll to the heroics of the Gators' defense. "It might look a little different, but deep down when you cut that thing open, good teams are tough," Meyer said after Florida beat LSU 13–3 in Death Valley in October. "That team wearing blue jerseys is tough."
That he cites toughness as the defining element of his best teams might surprise those who don't know that Meyer is a product of classic down-the-throat Midwestern football. It has always been easier to focus on the inventiveness—the breathtaking spread offense, the triple option and that bottomless bag of trick plays—that seemed inevitable in a chemist's son. Bud lectured his kids each Saturday on Latin and ethics and German, and when they hit, oh, eight years old, he introduced trigonometry.
Still, Dad was no absentminded professor. His expectations were "almost unachievable," Urban says: The kids were to get straight A's, skip grades, be impeccable. Any success was greeted with the barest of praise, and any failure, any transgression, with the command to run hundreds of laps around the house or play fierce games of pepper.
Although Urban (Bud) Meyer Jr. was named, like his father and son, for a pope, and spent three years at seminary and would remain a staunch pre-Vatican II Catholic, he cursed like a stevedore. His idol was Woody Hayes. "Some kids in Ashtabula were scared of him because he's no-bulls---," says Gigi, a former economics professor who is a vice provost at the University of Cincinnati.
"He's a nasty ass," says former Ohio State coach Earle Bruce, Hayes's successor and an unrepentant hard-liner, who chuckles as he speaks of Bud. "That's what I like about him."
There's a reason, during games, that Florida players rarely find themselves awash in praise. "I tell our coaches all the time, 'Let's not act surprised,'" Meyer says. "These guys are gifted athletes; that's their job. I don't want every four-yard play to be, Ohmygod!"
And why should it? When Meyer won his first national title, after the 2006 season, it was as clear a moment of arrival as football had seen in years. Meyer had grown up worshipping Ohio State, wearing number 45 in honor of Archie Griffin; he had teared up the first time he touched a Buckeyes jersey. Now, on a perfect January night in Phoenix, this son of Ohio had just crushed Woody's old school 41–14. Meyer was 42 years old, in just his sixth year as a head coach. He shook hands with Buckeyes coach Jim Tressel at midfield, walked to the sideline and found his father was waiting.
"Well," Bud said. "It's about time you did that."
Urban III was four years old that September day, old enough to know he was in big trouble. He had broken a rule, crossed the street in front of home without permission, and his mom had seen, so he'd bolted—back across Lake Road West, right under the wheels of a speeding car. He sprawled on the pavement, limp, his left leg broken at the hip and his head, Gigi says, "bleeding like crazy."
His memories of the accident and its aftermath blur and shift: Bud comforting him, his mom terrified. Father and sisters don't recall the injuries as life-threatening, but Gisela's grave accounts allowed Urban to cultivate the self-image of a survivor, unstoppable even as a child. "They said I'd never walk [again]," he says. "I almost died on the table."
The family spent Halloween trick-or-treating in the hospital. Urban's lower body was immobilized in a cast, and after he went home in November, he spent another two months scooting around on his butt, imprisoned legs extended, before he took his first step. He emerged from the cast with a long scar, a stronger upper body and a harrowingly reinforced respect for the house rules.
"If I ever lied to my dad? Just tell him and I'd run my laps," Meyer says. "If I ever [hurt] my sister or did something to a female? God forbid. If you ever quit something? The sun's not coming up the next day."
When Urban was in second grade, Erika came home crying because two of his classmates had mocked her clothes. Bud told Urban, "Go to school and beat the living crap out of them." Urban rode the morning bus full of dread, "but he did it," Erika says. That night Bud sat his seven-year-old boy at the head of the dinner table and announced, "You became a man today."
That may not have been an exaggeration. "Yeah, it kind of changed him," Erika says, "from the little guy he was then to the man he was in junior high school, this cocky, arrogant guy. He could do no wrong. He was God. He became the most popular kid in class. All the guys were intimidated by him, and all the girls wanted to date him."
His dad, though, wanted results. He'd sit in the stands, taping his thoughts on Urban's at bats and carries into a portable recorder. Sports was Urban's job, and Bud controlled the purse strings: a dollar for home runs, 50 cents for an RBI. Early on he demanded 25 cents back for every strikeout, but by Urban's senior year at St. John High such a refund seemed piddling. So after Urban took one curveball for a called strike three, Bud made him run home. "About eight miles," Urban says.
He was a two-sport king—a fullback and defensive back in the fall, a strong-armed shortstop in the spring—but football spoke to him like nothing else. It wasn't just the scoring and the winning: He was mesmerized by the sight, at a University of Cincinnati game, of a Wichita State defensive coordinator, his hat twisted backward, snarling commands. Ohio high schools still had plenty of Woody wannabes in the early 1980s, and the sight of a player getting kicked in the ass or the balls for going offside seemed, well, normal to Urban. A coach wrenching a face mask? The way it should be. Urban worked out constantly, pushed his teammates to join him. He loved the getting ready as much as the game.
But by his senior year the Cleveland Indians were sending scouts to watch him, and colleges were offering only baseball scholarships. The Atlanta Braves selected Urban in the 13th round of the 1982 draft, and a week after graduation he boarded a Pan Am jet for rookie ball in Bradenton, Fla. He was 17, the youngest player taken in the entire draft, and soon miserable. He was homesick and hitless when a rogue grounder smacked him in the face. One eye swollen shut, he found a pay phone and called Ashtabula in tears. He told his dad that he was through with baseball.
"You're never welcome in this house again," Bud said. "There's no such thing as a quitter in the Meyer household. Do you understand me?" Urban was speechless. "Your mother will want to talk to you," Bud added. "Make sure you give her a call at Christmas."
Urban hung up—and tried harder. He took extra infield and batting practice. He slept with his arm wrapped in a sweatshirt to protect it from the air conditioning. He was in bed by 9 p.m.; if he'd forgotten to do his nightly 300 push-ups and 400 dips, the guilt would wake him and he'd do them bleary-eyed. But nothing helped. He finished his season of rookie ball hitting .170, and the next year told him all he needed to know.
One of his Gulf Coast League roommates in 1983 was a hall-of-fame carouser whose nightly diet consisted of alcohol, women and four hours of sleep. The day after hearing him stumble in at 3 a.m., Meyer struck out three times and made two errors. His roomie bombed two home runs, then plopped down on the bench. His eyes were slits, and in the 100-degree swelter the stink of booze rose off his skin. "Hey, man," the roomie said, "you ought to try what I do. That other stuff isn't working."
By season's end Urban's arm was shot. He left baseball with little to show: a release letter signed by Hank Aaron, some epic Ping-Pong wins over future big leaguers Fred McGriff and Mark Lemke, and his first taste of failure. Mostly, baseball taught Urban what he missed. At the first hint of autumn those two years, he longed for the feel of pads cracking, even the punishment of two-a-days. He wasn't playing football, and the very idea broke him. So he'd cry.
Everyone knows: Bud was the tough one. In all the retellings, Gisela is the cream puff, the one who sneaked Urban meals when he was sent to his room, who doled out all the affection her husband didn't, the sloppy hugs and warm encouragement. Ever since Urban became famous, Gigi has seen stories about her parents harden into cliché: "The hard-ass and the softy," she says.
But at his core, Bud had nothing on his wife. He wasn't the one whose father was arrested in his small Bavarian town of Muppberg and shipped to Siberia, to return a torture-wracked, 80-pound shell. Bud's family wasn't the one advised by a Soviet guard to leave behind all their possessions, immediately, before East Germany was sealed off for good and they were sent to a work camp. "If you're going," the guard said to Gisela's mother, "you should leave now."
It was 1949. Gisela Gumpert was 13, and her world had been crumbling for years. First came Germany's crushing defeat in World War II, then the extension of the U.S.S.R.'s footprint all the way to Muppberg. The Gumperts had been one of the region's most prominent families; their mansion was seized and Gisela's papa, the town's mayor, was hauled away. Gisela cried so often, so heavily, that for a time she became cross-eyed.
Escape from Soviet occupation was easier then. The heavy fortifications on the frontier between East and West Germany had yet to be built. To flee, all Gisela and her remaining family—her mother, brother and sister—had to do was wait until dark, swallow hard and wade across a stream into the West. They spent a few weeks in a refugee center in Coburg, and within months Gisela's mother became lady-in-waiting to a duchess.
Gisela graduated from culinary school in Switzerland in 1954, moved to London and then to Paris. She sailed for New York City on the SS Bremen in November 1959, an immigrant expecting the fabled streets paved with gold. But the city was plagued by strikes; garbage piled up in streets roamed by rats the size of raccoons. She would never forget the smell.
Gisela met Bud two years later, at the five-star restaurant where she worked in Cincinnati, and in one way the two weren't all that different. She, too, had no use for self-pity. Erika first sensed that at 12, when Gisela dismissed any adolescent insecurity about her appearance as self-indulgent. But Erika saw it most clearly in her mid-20s when, after mustering out of the Air Force as an officer, she wondered if she'd just wasted prime years seeking Bud's approval. "He wanted me to join the military," she says. "Then I woke up one day in Okinawa and thought, Is this who I'm supposed to be?"
Gisela didn't want to hear it. "Your father loves you very much," she said. "Whatever problems you have are your own. Don't ever try to put them on us or anybody but you." The words stung, but the message was received: You take what life gives, and you make something of it. Anything else is just whining.
"I never said anything about that again," Erika says.
When baseball died for him, Meyer enrolled at Cincinnati, planning to salvage his football dreams by walking on. He made the squad as a defensive back, lifted and ran to exhaustion—but failed again. The Bearcats were terrible, and Meyer still wasn't good enough to start. He kept switching majors, but by his junior year he'd met his future wife, Shelley Mather, at a fraternity bash, and found his true course of study, when tradition-laden St. Xavier High called in search of a coaching intern.
After graduating from Cincinnati, Meyer spent 1986 and '87 as a graduate assistant at Ohio State, where he weathered his first blast of Earle Bruce. Another two-year stint as an assistant, making about $6,000 at Illinois State, nearly forced the newly wed Meyer into selling insurance, but then he got his break: In 1990 Bruce, by then at Colorado State, had an opening for a receivers coach; he remembered Meyer and gave him the job.
It didn't take long for Bruce, whose coaching progeny includes Tressel and USC's Pete Carroll, to see that Meyer had a "brilliant football mind," he says. "I've never seen a coach so deep into [the game]. Some coaches bitch about the hours you put in, but the guys who like football don't; they only bitch about wasting hours. When it came time to recruit? He brought in more good players than anybody we had there."
But Meyer joined a staff headed for a cliff. Within two years Bruce would be fired, accused by the Colorado State administration of creating "a climate of intimidation and fear" and of having hit at least nine players "with a closed fist in unprotected areas of their bodies." Bruce admitted to the physical contact and to having broken NCAA rules against off-season coaching, but he made no apology for the "climate" he created: coats and ties at dinner, no earrings, ironfisted rule by the coach. Meyer fit right in.
The young assistant wasn't known for hitting his receivers, but he prepared them less like wideouts than like offensive linemen; there might be 45 minutes of blocking drills, which players called Vietnam, before a single ball was caught. "He wanted us to tear each other apart, and it would just go on forever," says former Rams wide receiver Matt Phillips. "He'd make you go and go and go."
In meetings, says Gators assistant and former CSU wideout Billy Gonzales, any mistake could make Meyer flip a table or throw a playbook. Bruce's ignominious exit did nothing to curb Meyer's admiration for him; in his estimation only one man ranks higher. "My dad is first, Earle is second," he says. "He's the ultimate man's man, the ultimate person of integrity and character, doing what's right, teaching you how to be faithful to your wife, being a good father."
The Rams cut Meyer loose, too, but Bruce's gentler replacement, Sonny Lubick, brought him back. Grateful as he was, within days Meyer wondered if they would win a game. Curfews were loosened, and players were allowed to wear flip-flops to dinner, hair at any length; Lubick insisted that his staff treat the players as adults. The team jelled nonetheless, worked hard and behaved. When one receiver quit because of Meyer's verbal abuse, Lubick sat his assistant down and—softly—made it clear that he'd have to change. "Hit me right between the eyes," Meyer says.
Colorado State won five games in 1993, 10 the next. Meyer credits Lubick with saving his coaching career—he learned the value of relating to players, of talking instead of screaming, of letting a kid know that his coach cared—and describes his pre-Sonny self in the half-horrified, half-proud tone of a reformed partyer recounting the wild days. "Out of my mind," he says. "I took my job so seriously that it was nuts."
His remorse is so emphatic that Meyer watchers speculate that after the crusty influence of Bud and Bruce, Lubick had freed Urban to follow Gisela's warmer example. The resulting combination resonated more with a generation of players that had replaced Yessir! with Why? Meyer made an effort to encourage his receivers as well as harangue them. "He did change his style," Phillips says. "To some extent."
In truth the players joke that the arrival of his daughters—Nicole in September 1990 and Gigi in March 1993—saved them more grief than anything Lubick did. The new father discovered his softer side, touching off an internal tug-of-war between coaching styles that has yet to end. Indeed, when he moved to Notre Dame as wide receivers coach in 1996, his new players hardly felt coddled; Meyer brought Vietnam with him, screamed for ever-harder hits, loved it when gold paint chips flew off the helmets.
Off the field, though, he began reaching out. "He would put his players through the wringer," says Mickey Marotti, then Notre Dame's strength coach (and now Florida's), "then in summer they were over at his house every night playing cards." If anything, his intensity had deepened: Now Meyer would also care harder than other coaches. Shelley and the kids became part of his players' lives. The job became even more consuming; after a weekday snowstorm dropped 19 inches on South Bend, closing his daughters' school, a distracted Meyer dropped them off there anyway. "Not one car in the parking lot, and he takes off to work," Marotti says. "Kids are trying to get in, there's nobody there, a neighbor had to come over. He didn't even notice."
After that siege of head pain during the Michigan game in 1998, doctors discovered an arachnoid cyst on Meyer's brain. It wasn't life-threatening, but the doctors warned that the attacks would continue to flare up under high stress. Urban wasn't nearly as concerned as Shelley. "I know you want to be a head coach," she told him, "but if it's going to make you sick and old and crazy? I don't want you to be a head coach."
Questions about family and mortality arose from another flank, too. Gisela was found to have breast cancer in 1987 and began years of treatment. In 1989, the same month the Berlin Wall fell, Gisela's mom died in West Germany, and Gisela returned to Muppberg for the first time in four decades to bury her mother next to her father. People squinted, recognized her. There was a frayed East German flag flying on a pole in her old yard. Her daughters had it hauled down and brought it back to Cincinnati.
Gisela returned again in the summer of '91, this time with Urban and Shelley, and they went to the mansion he'd been hearing about all his life, made shabby by years of hard use. Gisela led them past the place where the Christmas tree once stood, upstairs to her parents' old bedroom. There, on the doorjamb, were her heights marked in pencil, GISELA, 8 YEARS OLD. GISELA, 9 YEARS OLD.... Tears filled her eyes.
These were the days before everyone had a cellphone. By the end, Gisela had gone through chemotherapy a half-dozen times, and Urban had set up a routine before each Notre Dame game: After the speeches and the final warmups, with exactly 7:30 left before kickoff, he'd sprint off the field, through a door the trainer would hold open, and dial Ashtabula. "Hi, Mom!" he would say. "How you doing? I love you. Are you watching?"
Gisela died in June 2000, 64 years old. "She never saw me coach a game as a head coach," Meyer says. "That was her dream. That was all she talked about ... all she talked about ... all she talked about." Told that he must miss her, Meyer doesn't hesitate. "Horribly," he says.
The second one struck six years ago, just as the nation was seeing what Urban Meyer could do. It was his fifth game as coach at Utah, a program long known for gagging against ranked opponents. No. 19 Oregon had come to town, and ESPN2 was beaming the game from Salt Lake City to the masses, so Meyer unleashed his whole repertoire—not just the shovel passes and quarterback draws that had gotten him through the first third of the season, but also long downfield throws, the option, reverses, even a squib kick after a field goal. The Utes took a 17–13 lead early in the fourth, 44,000-plus fans howling in the night at Rice-Eccles Stadium. All that was needed to seal one of the biggest wins in school history was for the defense to hold, no mistakes, no panic....
Then it hit. The pain stampeded through his skull, near-blinding, far worse than the time in South Bend: "It was killing me," Meyer says. The Utes won, the game ended in a roiling riot of celebration, and, Lord, Meyer tried. He took his ecstatic players into the locker room and led them in prayer, grinning to show he was happy, though the grinning hurt too. He stumbled into the training room, and the men there laid him out on a table.
This time Meyer didn't blow it off. He went to a doctor the following week, and when he was shown the CAT scan, he could see the big, dark mass. "That's a tumor on my brain," Meyer said. "Oh my gosh...." He felt a flash of terror, saw images of Shelley and the girls and four-year old Nate, and at 39 he realized that he just might die.
But no: It wasn't a tumor but the same arachnoid cyst, inflamed again by stress, rage, excitement. Again, a doctor told Meyer he had to ease up. This time he listened. "Ever since that day, on the sideline you'll see me—I'm trying to stay very composed," he says. "I have headaches, but not like that. I've changed."
It helped, of course, that by then Meyer was well on his way to the coaching elite. His stop before Utah, Bowling Green, had all the handicaps of a mid-level program gambling on a first-time head coach: a 2–9 record and a roster full of, Meyer says, "drugs and misfits." A week after his hiring, in 2001, 27 players skipped study table, so Meyer summoned the team to the training facility at 5 a.m. Garbage cans stood along the sidelines, and for the next three hours Meyer ran the players without mercy. Some walked out, never to return, and about half vomited. "It went forever," says Ryan Wingrove, then a senior defensive end.
That session came to be known as Black Wednesday, but those who stayed noticed a startling shift in atmosphere. "Everything was team," Wingrove says. "Everything was together. On Thursday coaches' wives and their kids were there after practice handing out candy. [Coach Meyer] had us over to his house. Whether you were a starter or a last-string guy, you felt part of it."
But on the eve of his first game, at Missouri, Meyer wasn't sure love and toughness would be enough. His roster was depleted. He asked Shelley, "How many years do you think they'll keep us if we don't win a game?"
Bowling Green won 20–13 that day and went 8–3 to complete the most startling turnaround of the 2001 season. Nine wins the following year brought Utah to Meyer's door, and though the challenge in Salt Lake City wasn't nearly as extreme as at Bowling Green, Meyer had to build all over again. He ran the Utes through another infamous conditioning drill—chains on the doors and garbage cans awash in vomit—but the worst part was the four months he spent away from his family. Shelley, the only person he fully trusted, was back in Ohio with the kids, finishing out the school year.
"It doesn't matter if I get home at two in the morning, she's up," Meyer says. "She knows I need that 15 minutes of decompression; we're going to discuss the children, whatever. I need that 15 minutes. And every morning, whether I get up at 4, 3:30, 5, she'll get up and we'll have a cup of coffee and those 15 minutes. That's 30 minutes of husband-and-wife time. If I don't get that? It's not good. Some people have vices, some people have magic pills. I have the woman I've been married to for 20 years."
The Utes went 10–2 in 2003, and Meyer's reputation soared; top-tier programs began to circle. Twelve years after coaching with Meyer at Colorado State, Chuck Heater joined the Utah staff as cornerbacks coach for the 2004 season. It took a week for him to realize how much Meyer had grown. "I marveled," says Heater, now Florida's assistant defensive coordinator. "It's like a guy reads a manual and jumps behind the wheel of an F-16 and somehow knows how to fly it. He combined it all: intelligence, great work ethic, great personal skills."
Meyer's approach to troubled players, though, was still evolving. Utah tailback Marty Johnson had one drunk-driving conviction before Meyer's arrival, and the new coach at first tried supporting his sobriety by including Johnson in family activities, such as his daughter Gigi's softball games. But when Johnson was arrested for another DUI in the fall of '03, all the old-school instincts kicked in and Meyer thought, I hope he goes to prison for a long time. No one would have blinked had Meyer cut him loose.
But Shelley, trained as a psychiatric nurse with a specialty in addictions, wouldn't hear of it. She insisted that they not push Johnson away: He needed guidance, not a door slammed in his face. They visited him during the nearly one month he was in jail, and Gigi even exchanged letters with him. Urban suspended Johnson indefinitely but dangled a chance to return if he adhered to a strict program: community service, regular drug tests, a phone call to Meyer each weekend night, good grades and alcohol counseling under Shelley's supervision.
It seemed to work, too. In some ways Johnson became Meyer's greatest Utah success story, greater than the megawatt offense or the astonishing assault on the national rankings. He returned to the team clean in 2004 and ran for 802 yards and 14 touchdowns as the Utes went 12–0 and finished at No. 4. He graduated with a degree in sociology. "It was unreal," says his father, Myron Johnson. "Coach Meyer treated Marty like he would his own kid. Football wasn't the main issue. He cared about Marty for the person Marty was."
The Meyers kept tabs on Johnson long after they decamped for Florida, calling his cellphone, making sure he stayed straight. His name cropped up whenever Meyer came under criticism for keeping a troubled Gator around too long. But by the time the 28 Florida football arrests on Meyer's watch became a hot message-board topic last summer, the family had lost touch with Johnson. He was arrested last April in Roseville, Calif., for his third DUI since leaving Utah, and in August pleaded guilty to two counts of felony DUI. He is serving a two-year sentence in California state prison.
In the summer of 2005, while most observers were still digesting the fact that Meyer had turned down Notre Dame for Florida, Ryan Wingrove happened upon an Alabama sports talk radio show. Two men were dismissing the Gators, asserting that Meyer wouldn't have an impact for years. Wingrove dialed the station. He had never called a radio show before, and he hasn't since.
"Watch out," Wingrove told the show's hosts. "You don't understand the kind of coach this guy is. You think Florida is going to be easy? Just get ready."
But first, of course, Meyer would be miserable. As at Bowling Green and Utah, he hated the team he'd been handed—a mediocre crew that, in three seasons under Ron Zook, had gone 1–5 against Miami and Florida State and failed to win a bowl game. Meyer took subtle shots at Zook's management and recruiting and decried the program's divisive practice of hazing freshmen. He got the players' attention by having them lug boulders and chains up the steps of the Swamp.
The '05 season, in which the Gators finished 9–3 and ranked 12th, remains "one of the worst experiences I've had," Meyer says. He came off in public as cool and cocky but inside was a wreck. A loss to Alabama meant the usual postdefeat night of Meyer sitting inconsolable, unable to hug his kids. But losses to LSU and to former Gators god Steve Spurrier at South Carolina were worse: The Gators didn't play the following Saturday. "Then you've got to deal with that for two weeks," Shelley says.
But even wins didn't help much. Too often Meyer would call Shelley, distraught after watching film or facing down a disgruntled player, and say, "I need you right now." She would race over and meet him at a picnic table on the other side of the stadium and talk him down, tell him that he was a great coach, that it would just take time. That was only one of her unofficial duties.
Even before Urban took the job, it was clear to Florida officials that Shelley would be more than a helpmate. She sat in on all of his negotiations during the hiring process and quickly became the program's go-to resource for gray-area discipline problems. "It's not uncommon for me to have a player meet with her, because she believes in counseling and I still don't know if I believe in it yet," Urban says of Shelley, who is a clinical instructor at Florida's College of Nursing. "All the way from learning disabilities to behavioral disabilities to substance issues, she is an absolute proponent of counseling. I'm more, Let's get 'em up at 5 a.m. and make sure that doesn't happen again. So there's a balance there. I trust her."
That balance has been a delicate subplot of Meyer's tenure in Gainesville. Of the 28 run-ins with police that Florida players have had since his arrival, 20 involved students Meyer recruited. He has been quick to suspend players from games, as in last summer's cases involving cornerback Janoris Jenkins (resisting arrest following a street fight; the incident will be wiped from his record if he stays out of trouble for the rest of the year) and linebacker Dustin Doe (driving without a valid license; sentenced to a year of unsupervised probation, 24 hours of work detail and a $600 fine). There have also been players who violated what Meyer calls "our core values" and were tossed for good.
"What are our core values?" Meyer says. "Missing class? No. You miss class, we're going to get you. Stay out late, get in a fight, those are bad things, but we fix those; they're called mistakes. But core value Number 1 at Florida is honesty. Don't you lie to me. People tell fibs, and when I get you? I've had to dismiss a guy. Number 2 is: Treat women with respect. If you touch a female, I don't want to hear she hit you first. Number 3 is: No stealing. That's the foundation of who we are. No drugs, no firearms: If you have those, you won't play."
Sometimes, though, punishment isn't so swift. Offensive lineman Ronnie Wilson was suspended for Florida's 2007 season after firing a semiautomatic rifle in the air during a dispute, came back to play in '08 after a charge of misdemeanor possession of marijuana was dropped, and was kicked off only after his third arrest, for assault and battery, in October 2008. Defensive tackle Marcus Thomas, the Gators' best defensive player in 2006 and a future fourth-round NFL draft pick, was tossed in November of that national championship season, but only after repeatedly violating team rules against drug use.