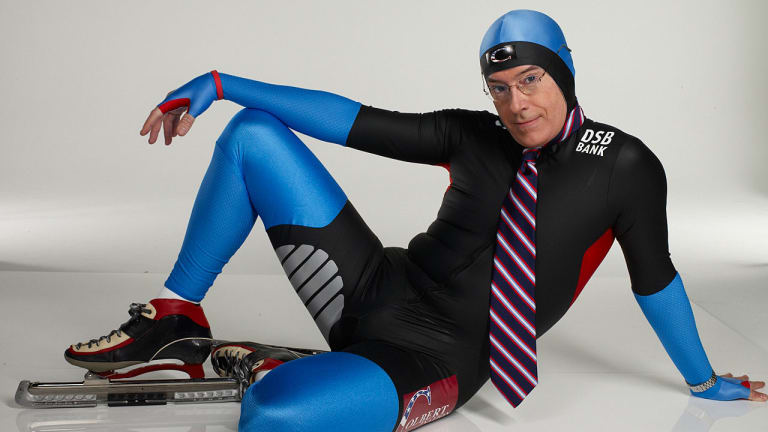 5th ANNUAL: The Year in Sports Media
The sports-entertainment crossover: It's good (Peyton Manning's ads), it's bad (Ron Artest's rapping)—and once in while, it's sublimely funny. Just ask speedskating savior Stephen Colbert
The Berlin Wall is long gone, but every four years, when the world's best winter athletes gather in some exotic snowy locale, a cold war still rages in the Brooks Brothers-enwrapped heart of Stephen Colbert. "My character is a patriot, and he believes that the Olympics are war," the comedian says of his TV alter ego, the self-aggrandizing, jingoistic spawn of Bill O'Reilly and Ann Coulter who hosts Comedy Central's The Colbert Report. "It's a way to prove who's got the best country. Only nobody gets hurt."
With that in mind, Colbert and his staff were brainstorming in late October, trying to figure out a way to work bits about the upcoming Vancouver Games into the show. Colbert was itching to make the Olympics important to Colbert Nation, an army of fans who, like NASCAR rooters and Obama campaign volunteers, march on that fine line between dedicated supporters and cult followers. "We wanted to get everyone focused on [the Games]," he says. "And saber rattle—in the nicest possible way, of course."
U.S. Speedskating was casting about too. With the Games four months away, the most successful U.S. Winter Olympics program (75 alltime medals, the most of any sport) was on thin ice. The Dutch bank DSB, the program's largest corporate cash sponsor, became a victim of the recession, going under just weeks after marketing staffers had called USS to nail down the company's Olympic ticket allotment. Suddenly, U.S. Speedskating was staring at a $300,000 shortfall in its Olympic budget. "We were stunned," says USS executive director Bob Crowley. "We were looking for a knight in shining armor."
That's precisely how Colbert—the character, not the person—sees himself. Over the years the host has mobilized his Nation to support causes both serious (the Yellow Ribbon Fund, a charity for military families) and ludicrous (a petition to name a node of the International Space Station after him). Colbert is no sports nut, but he had an appreciation for speedskating (Olympic medalist Joey Cheek has been on the show several times), and coming to the rescue of a team abandoned by a failed corporate behemoth presented irresistible comic opportunities. So Colbert called Crowley with a plan: The host would promote speedskating on the Report and encourage viewers to donate money to the Olympic team through the show's website. In return U.S. skaters would wear Colbert Nation logos on their skinsuits. "I don't know if he blinked," Colbert says. "It was long distance."
Colbert couldn't guarantee money would roll in, but Crowley jumped at the lifeline. True, he was desperate. But he also sensed a chance to create buzz for his sport, and he was struck by Colbert's sincerity in wanting to help the team, not make fun of it. "They look like members of Blue Man Group," says Colbert, "but beyond that there's nothing comedic about speedskating. These are incredible athletes. My character isn't ironically detached, he's ironically a-ttached—things are important to him. And right now we're here for speedskating."
On Nov. 2, four days after Colbert called, Crowley appeared on the show with former Olympian Dan Jansen to announce a deal. And the show's fans have responded. More than $200,000 was raised for U.S. Speedskating in the first week; as of Sunday the team was just short of the $300,000 needed to fill the void left by DSB. Nearly 9,000 individual donors (average donation: around $30) had contributed. And two months out from the Games—an eternity in the attention spans of most U.S. sports fans when it comes to the Winter Olympics—traffic on the USS website has doubled, and U.S. skaters are getting media interest that's usually nonexistent before the opening ceremonies. With one notable exception—for reasons he never explained, 2006 Olympic gold medalist and chronic malcontent Shani Davis called Colbert "a jerk" earlier this month—the skaters love it. "I'm so surprised that so many people have offered to help out," said Apolo Anton Ohno, who in Vancouver will be competing in his third Olympics. "I think it's great exposure for the sport."
It could also be a new funding model for the USOC and its individual governing bodies. With the pool of corporate sponsorship getting shallower in the recession, niche sports are searching for new revenue streams. Instead of relying on handouts from mammoth companies, why not appeal directly to small but passionate fan bases? Says Rob Prazmark, the CEO of 21 Marketing and an expert in Olympic sponsorships, "When Colbert did this, all of us in the business went, Why didn't we think of that?"
The deal has been so successful that Colbert hasn't had to lean on his fans for funding as strenuously as planned, leaving him more time for jokes and praising his athletes. When Katherine Reutter won a 1,000-meter silver medal at a World Cup event last month, Colbert gushed about how nice his logo looked on her "oak-hard quadriceps." He has also defended Team USA in its fight to get more practice time at Olympic venues in Vancouver, calling Canadians "syrup-suckers" and "iceholes." The rants were countered by a Canadian genealogy website; it turns out that Colbert's great-great-grandfather immigrated to Ontario from Ireland in the 1800s. "I believe it," the host says, "but I'm not sure my character does." Colbert's cold war rages on, and U.S. speedskating is the winner.—Stephen Cannella
THE MOST . . .
INSPIRING BOOK ON TAPE WE WISH EXISTED
Oh, to go downstairs on Christmas morning, look under the tree and find a copy of You're F---ing Out, I'm F---ing In, by Kenny Powers (narrated by Kenny Powers). The musings of the washed-up ex-pitcher played by Danny McBride are just one of the brilliant aspects of HBO's Eastbound and Down. One entry goes, "Kenny Powers has a sneaking suspicion that no matter what comes his way, he will always be great." Yeah, we feel that way about him too.
WELCOME NEWS FOR SOCCER FANS
After the misguided jingoistic ramblings of lead play-by-play man Jack Edwards left World Cup fans fuming in 2002, ESPN invited more grousing by hiring an even more out-of-touch announcer in 2006, self-confessed "baseball guy" Dan O'Brien. Looks like they might have gotten it right on their third try, though. In October the net announced that the mellifluous Martin Tyler, an Englishman widely regarded as the Premier League's best announcer, would call the 2010 Cup. Now ESPN might actually draw fans because of—not in spite of—its announcers.
WELL-ROUNDED RÉSUMÉ
Talk about a roving linebacker. Patriots star and 19-year NFL vet Junior Seau spent the off-season trying out behind-the-scenes gigs for Sports Jobs, on Versus. His tasks: stadium construction worker, Dodgers batboy, rodeo clown and Indy car pit member, among others. (He also worked as a reporter for SI.com.) Seau is entertaining, game—and surprisingly skilled at installing urinals, his contribution to the new Giants Stadium. Finding work when he finally quits football won't be a problem.
IMPRESSIVE ROOKIE SEASON
Any fears that the MLB Network, which debuted on Jan. 1, would be nothing but an apologist for the league were put to rest in February, when the network hit the Alex Rodriguez steroids story hard and unflinchingly. With programming that appealed to diehards (unprecedented live draft coverage) and sentimentalists (loads of vintage games), the network had an all-around solid debut. And by poaching Peter Gammons from ESPN for its already impressive MLB Tonight, it should put to rest any fears of a sophomore slump.
OVERMATCHED ANNOUNCER
It was a rough fall for Chip Caray, scion of a proud broadcasting family and TBS's lead baseball play-by-play man in '09. Caray was let go in November after botching calls in myriad ways—factual errors, missed plays, melodramatic proclamations—during the postseason. Caray gets credit for enthusiasm, but too often there was only one reaction to what he said: Holy cow!
THE YEAR
JAN. 27: GOLF LOVER JOHN UPDIKE DIES AT 76
FEB. 22: THE YANKEE YEARS BY JOE TORRE AND TOM VERDUCCI DEBUTS ATOP THE NEW YORK TIMES NONFICTION BEST-SELLER LIST
APRIL 13: PHILLIES BROADCASTER HARRY KALAS DIES AT 73
MAY 9: TWINS ANNOUNCER BERT PLYLEVEN EATS WORMS ON AIR FOR CHARITY
MAY 18: TONY KORNHEISER LEAVS MNF
JUNE 15: GUEST ARTIE LANGE DELIVERS A PROFANE, HOMOPHOBIC PERFORMANCE ON THE PREMIERE OF HBO'S JOE BUCK LIVE
AUG. 16: MICHAEL VICK APPEARS ON 60 MINUTES
SEPT. 16: FIRE JOE MORGAN BLOGGERS RETURN TO WEB TO GUEST-EDIT DEADSPIN
SEPT. 30: AT GIANTS STADIUM, BRUCE SPRINGSTEEN DEBUTS WRECKING BALL, AN ODE TO THE ABOUT-TO-BE-DEMOLISHED STADIUM
OCT. 16: MIKE TYSON AND EVANDER HOLYFIELD APPEAR ON OPRAH
OCT. 25: ESPN FIRES BASEBALL ANALYST STEVE PHILLIPS IN THE WAKE OF A SEX SCANDAL
NOV. 4: WORLD SERIES ENDS WITH RATINGS UP 39% FROM 2008, THE LARGEST INCREASE IN HISTORY
NOV. 20: THE BLIND SIDE, THE YEAR'S TOP-GROSSING SPORTS MOVIE ($150 MILLION THROUGH LAST WEEKEND), OPENS
The Brow Beat
HIGH
THE MASCULINITY of the matador is sacred in Spain, but in the PBS documentary Ella Es El Matador (She Is the Matador) we meet two women trying to break that gender barrier and open the sport to all. It's a gripping look at cultural trailblazers.
LOW
IF PLAYING fantasy football is the ultimate in male bonding, the boys' club has a signature sitcom. FX's The League, about five fantasy-obsessed guys, is often funny and always raunchy. Dirty jokes evidently make bad draft picks easier to take.