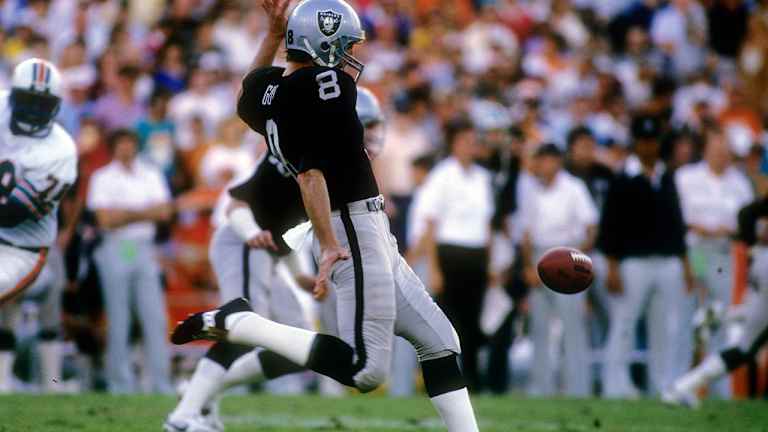 Hang 'Em High
Never, it seems, have punters been more valuable to NFL teams. So who are these guys—and why hasn't a single punter been voted into the Pro Football Hall of Fame?
Statistics suggest that this is the golden age of NFL punting. During the first 12 weeks of the season, the average punt went 44.3 yards, a half yard farther than the record set last year. Punters were on pace to drop 868 balls inside their opponents' 20-yard lines, 103 more than the league mark set in 2007. And the Raiders' Shane Lechler was on course to equal or break the season record of 51.40 yards per punt set 69 years ago by Sammy Baugh. Yet among fans, the punter may be the least appreciated man in the game. Even when he does his job well, placing the ball as close as possible to the opponent's goal line, he exits the field to tepid applause. More often than not, when he faces scrutiny, it is unwelcome, coming after a fumbled snap or a badly kicked ball that lands out-of-bounds just yards past the line of scrimmage. Once, after a game the Seahawks nearly lost because he shanked a punt, rookie Donnie Jones ran off the field to so many boos from the home crowd that he wanted to hide—or, better yet, vanish. "I could hear people yelling, 'Get a day job! You should be behind a desk!'" says Jones. The experience left him so devastated that he stayed in bed for 20 hours afterward.
But punters' recent successes, rather than their disappointments, should be examined before somebody at a year-end banquet hands a punter a trophy engraved with MOST VALUABLE PLAYER. Punters (yes, punters!) have become what coaches call difference makers, and the difference they're making has observers of the game wondering if the punter is a defensive weapon every bit the equal of a shutdown cover corner or a run-stuffing middle linebacker.
The Chargers' Mike Scifres dominated a playoff game against the Colts last January with six kicks that pinned Peyton Manning and his offense inside their 20-yard line. Scifres's performance, which led the Chargers to a 23-17 overtime win, rated among the most memorable put up by any player in the 2008 season. And this season, on Oct. 11, the Browns' Dave Zastudil was so brilliant against the Bills that the eight-year veteran practically won the game by himself (diagram, opposite). He punted nine times; seven of the boots forced the Bills to start from inside their 20, and three of those put them inside their five. The Bills have a fine return man in Roscoe Parrish, but Zastudil and the Browns' cover team limited him to seven yards. Zastudil's last punt traveled 57 yards to Buffalo's 16, where Parrish fumbled the ball, setting up the Browns' game-winning field goal seven plays later with 26 seconds left on the clock.
ZASTUDIL BEATS BILLS 6-3, the headlines should've read. But none did. For some reason that needs to be fixed, headline writers never think to immortalize punters. And how do you pronounce Zastudil, anyway? Is it zas-TOO-dull or zas-too-DILL? You never struggled with the pronunciation of Manning or Brady, did you? It's zas-too-DILL, and we should all be ashamed for not knowing.
Getting a Leg Up
Ray Guy, whose name was never mispronounced except by an occasional Frenchman, might have been the greatest punter ever. One day in 1977, at the Pro Bowl in the Louisiana Superdome, he kicked a ball so high that it struck the gondola holding a collection of video screens 90 feet above the field. A punter had never done that before. Guy was tall, skinny and long-limbed. He was so limber that he could pull his feet back behind his head from a sitting position. "Looked like a human pretzel" is how Guy describes the effect. Guy punted for the Raiders from 1973 through '86, and his kicking leg occasionally came up and punched him in the face mask. That blow was often the hardest one he took in a game. "Like to knock myself out," Guy says. "I'd walk around dazed afterward."
Today, Guy, who will turn 60 on Dec. 22, is still tall, skinny and long-limbed, but he has back problems that restrict his flexibility and keep his feet on the ground. He lives in Hattiesburg, Miss., and he works as a fund-raiser and special projects manager at Southern Mississippi, his alma mater. Guy's favorite watering hole is a place down near where the main drag intersects the interstate, and he was sitting in the establishment's courtyard one day talking about punting. He kept piling the stories one on top of the other. He seemed in high spirits until the subject of the Pro Football Hall of Fame came up. Guy still has not made it to Canton.
"I'd love to be the first pure punter voted in," he says, "but as the years have passed and I've been close so many times, I guess it's gotten me to think more about the position in general than myself in particular. You hear people make these statements about punters—that they're not really part of the team, that they're not real athletes. It's frustrating, but I'm not sure it's something that makes me furious. Well, O.K., sometimes it makes me furious."
The snubbing of Guy is yet more proof that for too long the position has not been given its due. Despite the punter's demonstrated strategic importance, he is often pegged as a pasty, emotionally challenged team pariah who stands by himself at the end of the bench with his arms crossed and his socks drooping to his ankles. In the 2009 draft a punter wasn't taken until the fifth round, when Kevin Huber of Cincinnati was chosen by his hometown Bengals with the 142nd pick. The next punter to go, Thomas Morstead of SMU, was selected by the Saints in the same round 22 spots later. New Orleans had to trade two picks to move up to get Morstead, and the decision was met by such an outcry from fans that coach Sean Payton was asked to explain the choice in a postdraft press conference.
If he intends to survive, the punter learns early on to take such treatment in stride, for he inhabits a small, isolated universe, and his ruination isn't usually his foot or his leg but rather his head. Punters obsess about mistakes like the boomerang (a kick that seems to make a U-turn and angle back in the wrong direction) and the ball hit too hard and driven into the end zone for a touchback when the defense was hoping to pin the opponent close to its goal line. A punter lives in terror of blocked punts returned for touchdowns and of having to make a tackle when he's the last defender between the return man and the end zone.
When such misfortunes occur, punters can unravel emotionally. "An offensive lineman misses a block, and it's not like he's going to need a sports psychologist," says Gary Zauner, a former NFL special teams coordinator who works as a kicking consultant. "But a punter hits it wrong and loses his confidence, and off to a therapist he goes."
Compounding their anxieties, punters are often treated like second-class citizens. At practice during the season most coaches dedicate only about 15 minutes to the punt team. This is true in the NFL and college, where punters, to add to the ignominy, are often given scout-squad duties. They hold dummies as the offense comes charging at them like bulls in the streets of Pamplona. "There aren't any practice fields at Cincinnati, so we practiced on the game field," Huber says. "During practice I'd have to stand around while everybody else was on the field getting their work in." To make sure he punted enough balls, Huber showed up early, but then "the rest of the guys would start coming out and have to demonstrate that they could punt too," he says. "Nobody could do it well, but they all thought they could."
Huber dreams of a long pro career and hopes to emulate Giants punter Jeff Feagles, who, at age 43, is in his 22nd season in the league. Feagles has played in an NFL-record 349 consecutive regular-season games and 11 postseason games, a streak that started in his rookie year, 1988. He also holds the mark for most career punting yards: 70,708, which translates to roughly 40 miles.
Like many other punters, Feagles fell into his career by filling a vacuum. In high school, at Gerard Catholic in Phoenix, he played baseball and basketball and didn't go out for football until his senior year. "It was a small school with only 58 or 60 kids in my graduating class," he says. "We didn't have a lot of kids on the team, so I went out to add another body. I tried quarterback but hardly played. There was a kicker, so I didn't kick. Finally the coach said, 'Who can punt?' And I got the job."
Feagles went on to play at Scottsdale Community College, which gave him a scholarship that amounted to course books and $50. Impressed that major colleges were recruiting his teammates, he dedicated himself to improving his game and enrolled at a kicking camp run by punting guru Ray Pelfrey. "I got noticed and ended up going to Miami," Feagles says. "Miami had recently come off a national championship, and all I'd had were two years of football—one in high school, one in junior college. So it's my sophomore year, and I'm lining up against the University of Florida. I go from 500 people in the stands to 75,000 in a stadium. It was a shock, but I did O.K." Feagles was a three-year starter at Miami and averaged 40.8 yards a punt in 1987 as a senior on the Hurricanes' 12-0 national title team. "I think this speaks to why I've done well as a professional," he says. "I've been able to block out distractions and not worry about the crowds and the pressure."
Steve Spagnuolo, who was the Giants' defensive coordinator before becoming head coach of the Rams last January, was one coach who appreciated what Feagles could do. "I used to tell Jeff he was our most valuable player on defense," Spagnuolo says. "He didn't worry about his yardage or net punt average. All he worried about was putting our defense in the best position. He's a tremendous directional punter. He was always trying to back the offense inside the 10, and nobody did it better."
Drop Everything
Like Feagles, Shane Lechler never imagined a future as a punter. He was competing for the starting quarterback job during his sophomore year at Texas A&M when he tore a quadriceps muscle during two-a-days. His coach, R.C. Slocum, sat him down after practice. "He was like, 'You know what? You're not going to want to hear this, but I want you just to be a punter,'" says Lechler. "That was hard to stomach because, quite frankly, I found it boring. There just wasn't enough going on. You go out to practice and you kick, and then you call it a day."
Sometimes Coach knows best. Now in his 10th season with Oakland, Lechler is a hero to many other punters because he's demonstrated year after year that he might be the best player the Raiders have. In February he signed a deal that finally paid a punter real money: as much as $16 million over four years, $9 million of it guaranteed. In the first 13 games of the 2009 season, Lechler has justified the contract by averaging 44.3 net yards (tops in the league) and fattening career stats that should add fodder to the argument that a punter belongs in the Hall of Fame.
Lechler learned how to kick the ball as a four-year-old in East Bernard, Texas, a town of about 1,700 an hour's drive southwest of Houston. His father, Dale, was a coach at the local high school, and Shane liked to attend the football team's afternoon practices, at which the players offered him instruction on how to punt. Later, as a five-sport star at the same school, Lechler received scholarship offers from some of the top college programs in the country, including Texas, Notre Dame and LSU. Recruiters tagged him as an "athlete," meaning he excelled at more than one position. Lechler had potential; to devote that potential exclusively to punting seemed a waste. Nevertheless, that's what he did in College Station, where he averaged 44.7 yards a punt, then an NCAA record for punters with 250 or more career kicks. His gaudy numbers and booming punts prompted the Raiders to pick him in the fifth round in the 2000 draft.
The 6'2", 225-pound Lechler, 33, might be the most athletic punter since Ray Guy and Rohn Stark were in the league. Guy had starred as a defensive back at Southern Miss, intercepting 18 passes in three years, and he'd also handled the Golden Eagles' placekicking duties, once hitting a 61-yard field goal on a snowy field in Utah. Stark, who played on four pro teams over 16 years, 13 of them with the Colts, had been a decathlete at Florida State.
A four-time Pro Bowler, Lechler has a career average of 47.3 yards—the best in NFL history. He's always been able to kick the ball for distance, but early in his career he did so with less control and struggled with touchbacks. He became more accurate six years ago after learning how to drop punt from Darren Bennett, a former Australian Rules football player who was punting for the Chargers. The Raiders were in San Diego, and during pregame warmups Lechler stood back and watched Bennett hit punt after punt that fell close to the goal line and stuck there. Until that day, Lechler had pooch-punted the traditional way. That is, he'd taken his regular steps and struck the ball at a higher point in his leg swing, thus giving the ball more hang time and limiting the distance it traveled. Bennett was using a different technique. He was holding the nose of the ball downward and punching it with the top part of his foot. In flight the ball spun end over end and looked more like a kickoff than a punt, and when it hit the ground it either bounced straight up or chipped backward. Lechler asked Bennett for a lesson. "He went through it with me really quick, like in five minutes," says Lechler, who would start using the technique in game situations only a week later.
The drop punt has produced dramatic results for Lechler. In 2002 he finished the season with 18 punts inside the 20; in '08 he had 33, third most in the league. This year 25 of his 82 punts have been downed in the red zone. (Zastudil, now on injured reserve, has put an astonishing 25 of his 49 there.) "At the Coliseum," says Lechler, "I can make the ball do what I want about 80 to 85 percent of the time."
"This type of punting is taking over," says Chris Sailer, a kicking instructor and former All-America punter and kicker at UCLA. "It's something you almost have to do if you want to punt in college or the NFL. Over a third of punts now require the punter to pin the opposition deep, and [the drop] punt, which gives you more control, is the best way to do it."
The NFL single-game record for punts planted inside the 20 is eight. It's shared by Mark Royals (Steelers, 1994) and Bryan Barker (Jaguars, 1999), both of whom played before the drop punt became commonplace. Feagles, another traditionalist, has placed 551 punts inside the 20 in his career, the most since the NFL began keeping the statistic in 1976. "You've got to have the touch," says Feagles. "It's like a golfer who has touch around the green. Young [pros] and college punters will try to kick the ball as high and far as they can, but the NFL game today is more about field positioning and eliminating returns. Just 10 years ago there were probably only a handful of returners who could take a punt and run it back; the athletes covering the kicks were much better than the returners. But the tide has turned. Nowadays the returners are much better than the guys covering. What does that do to the punter? It puts more pressure on him to directional kick and to keep the ball out of the returners' hands."
Foot School
These days there is no shortage of instruction in the punting arts. The nation's oldest kicking camp was started in River Falls, Wis., in the mid-1970s. Held at a satellite campus of the University of Wisconsin, its staff included pro placekickers Jan Stenerud and Jim Bakken. Stenerud is the only kicker who didn't play another position who has been voted into the Pro Football Hall of Fame. Today the River Falls camp has only about 50 participants, 250 fewer than it attracted at its peak in the early years, but other camps around the country are thriving, and kicking consultants offer individual instruction to amateur and pro players. Punting has become big business, and competition among coaches isn't always friendly. Even Ray Guy is a partner in a kicking-camp business, American Football Specialists.
But as recently as 30 years ago, there was little scholarship on how best to kick a ball. When Bill Renner began research on his master's thesis in exercise physiology at Virginia Tech in 1982, he discovered that there was no consensus on the most effective way to punt. "The prevailing attitude then was simply that the more flexible you were, the higher and farther the ball went," says Renner, a kicking consultant and former Hokies and Packers punter who retired last year as the coach at West Springfield High in Virginia.
Renner's studies led him to believe that punting well depends more on the plant foot—or "accelerator," as he calls it—than on the foot that strikes the ball. "The more force you apply against the ground," he says, "the more speed you generate with your body."
Renner concluded that a punter could be taught how to get off a good kick every time. He titled his thesis The Relationship Between Selected Physical Performance Variables and Football Punting Ability, and he later expanded it into a book, Kicking the Football. "The book examines the importance of the right drill sequence—the drills a punter should do to strike a ball at the most efficient point in his swing with the most efficient technique, so that he has repeatable results," says Renner. "It's all very basic. Anybody can coach somebody how to punt."
But to succeed, the punter has always had tricks. "Some guys would put their kicking shoe in a bucket of water and walk around with it outside in the sun so the leather would shrink," says Gary Zauner. The tighter shoe provided a harder surface with which to strike the ball. To make their feet fit snugly in these shrunken shoes, some punters wore socks coated with motor oil or petroleum jelly. Still others ripped the tongues out of their shoes, not wanting anything soft or spongy to come in contact with the ball.
"The only trick I do is to work harder than the next guy," says Feagles. "My son C.J. is a punter in college, and I tell him this all the time. To be the best, you're going to have to do things you don't want to do. If that means going outside when it's cold and doing 100 drops, you do it." A drop is the simple act of releasing the ball from the hand to the foot, and most punters say it's the key to getting off a good kick. "Your hands will freeze, but they're going to be freezing in a game one day too," Feagles says. "It's the mind. The punter's mind is a lot more powerful than his leg."
Top Guy
In 1973 Raiders owner Al Davis and head coach John Madden did a remarkable thing. They selected a punter in the first round of the NFL draft, making Ray Guy the only pure punter ever chosen that early, a distinction he still holds. Guy's reputation was built on hang time—an ability to kick soaring punts that seemed to defy gravity and get caught in the ether. Guy quickly became a sensation. Fans arrived at stadiums early just to watch him punt before the game. Awed by the sight of his booming kicks, people accused him of filling the balls with helium. Davis and Madden told interviewers that Guy was as important to the team as any other defensive player.
Guy had learned how to punt by competing with his older brother Al, who enjoyed kicking the ball over Ray's head. "When I started, I was just trying to make the ball do what Al did with it," Ray says. "I'd experiment: how to hold the ball, how to drop it. I had no clue what the hell I was doing. I just knew that one day I was going to kick it over Al's head and make him go chase after it."
Despite his impact on the game, Guy doesn't hold any NFL punting records. In his day he was criticized for outdistancing his coverage with long, driving punts, thus making returns easier. But Guy says he always let the situation on the field dictate how he kicked the ball. "I was a position punter," he says. "Before the punt team would even go out on the field, we'd meet on the sideline on third down and talk about what I needed to do. There were times when I could've hit the ball 70 yards, but if that wasn't going to help us I wouldn't do it. I loved running out on the field and thinking, Yeah, we didn't make a first down, but I'm going to put your butt in a hole."
The NFL didn't start recording the number of times a punter planted the ball inside the 20 until Guy's fourth season in the league. "Oh, God, I won a lot of games doing that," says Guy, who punted for three Raiders Super Bowl winners (the seasons of '76, '80 and '83). "There was this day I remember when I had 11 or 12 punts—I think 10 of them were inside the 20, and I had six inside the 10."
Guy once spent hours talking about punting with Sammy Baugh, the late TCU and Redskins great. Guy was impressed by how much he and Baugh had in common. Baugh had grown up on a farm in central Texas, Guy on one in rural Georgia. Baugh told Guy he used to place a bedsheet on the field and practice dropping kicks on it. Most of Baugh's punts had come on third down when, as his team's quarterback, he quick-kicked after the safeties came up to defend against the run. Because the ball was rounder then, it covered more ground on the roll, and Baugh used the roll to pin opponents near their end zones.
Quick kicks are virtually extinct in today's game. Quarterbacks don't punt anymore, and the ball doesn't roll like the soft pumpkin of Baugh's era. Besides, coaches are too covetous of every offensive down to sacrifice possession with a third-down giveaway. "A coach has to trust his offense to get a first down," says Spagnuolo. "With the passing game now, you feel you can get those seven or eight yards."
What Baugh and Guy didn't have in common was membership in the Pro Football Hall of Fame. Baugh, who died last December at age 94, was enshrined as a quarterback in 1963. Guy's omission, pro punters and kicking coaches argue, is evidence that even people close to the game, such as some of the 44 media representatives who make up the Hall of Fame's Board of Selectors, minimize the punter's importance. "This is the man who paved the way for the rest of us," Lechler says of Guy. "He played 14 seasons without much drop-off in performance. But forget the stats. Ray did things that nobody had ever seen a punter do before. I can imagine how cheated he must feel."
One Hall voter, washingtonpost.com columnist Leonard Shapiro, says, "I've often sat in the final meeting and wondered why Ray Guy can't get enough votes. There seems to be some feeling that because he's on the field so infrequently, how do you put a part-time player in the Hall with guys playing regular positions?" Shapiro says Guy routinely makes it to the final 25 names on the ballot—as he has this year—and occasionally to the top 15, "but when it comes to cut-down time, for many of my colleagues it seems easier to scratch the special-teamer than a starter on offense or defense."
Peter Finney, a New Orleans Times-Picayune columnist and longtime voter, says he has supported Guy for years. "But the opposition against him always comes down to this: 'He's a punter,'" says Finney. "You could put a better measuring stick on a placekicker, who won X number of games, see? But Ray Guy.... How many games did he win by dropping the ball in the coffin corner and putting a team in bad field position? The toughest position to sell is punter."
Take a Hike
Being unappreciated, any punter will tell you, is only one part of the job description. Another, apparently, is being disposable.
Last year Donnie Jones, now with the Rams, led the league in gross average with 50.0 yards per punt, a remarkable total that fell less than two yards shy of Baugh's record. But only four years before, as a rookie with the Seahawks, he was almost run out of the league after a weak performance against Miami that included that infamous shank. "I had a 27-yard net average that day," he says. Jones left the stadium and drove home with his fiancée, who tried in vain to comfort him. His mother and father called and made an effort to cheer him up, but he was inconsolable. "I didn't want to go out again," he says. "I knew that as soon as I got to the facility they were going to cut me."
Jones arrived for the team's first meeting three days later and spotted the pro personnel director. "He says, 'Hey, Donnie, you got a minute? We need to go upstairs and talk,'" Jones says. He was cut from the active roster and placed on the practice squad. He didn't play in another game that year, and the next summer the Seahawks released him. He might've been done with football had Dolphins coach Nick Saban, who'd coached Jones at LSU, not claimed him off waivers.
"My first three years in the league I was way too hard on myself," says Jones. "I watched way too much film. I overanalyzed and nitpicked. I'd do as many as 300 drops a week. Then these last few years I've taken on a different attitude. Now it's like, You know what? Screw it. And I just go out and kick."
If All Else Fails...
Greg Montgomery, who punted for three teams in a nine-year NFL career that ended after the 1997 season, offers his own story as testament to what the punter must endure. Before his last full season as a pro Montgomery learned he had bipolar disorder, an illness marked by extreme emotional highs and lows. It's hard enough for punters without health problems to withstand the psychological horrors that come with the position. Montgomery struggled. "I'd even get stressed out in practice," he says of his time with the Oilers, Lions and Ravens. "When they'd blow the whistle for punt team, my heart would start beating. I'd say to myself, Dude, you've got to relax. These guys want you to do well. But it didn't help."
In 1997, while he was playing for the Ravens, Montgomery had a full-blown panic attack. It happened at a preseason game with the Eagles. "I'm talking about a complete lockup," he says. "In pregame I couldn't catch a single [snap]. I was the holder for PATs, and I dropped every snap. [Kicker] Matt Stover kicked my hand. The game starts, and I'm pacing the sideline, taking deep breaths. I finally go out there and hit a 65-yarder, my first punt. It was that whole white-knuckle thing of squeezing life too hard. This is what punters do. You have to learn that the only way to gain control is to let go."
Today Montgomery, who lives in suburban Detroit, is an advocate for mental health awareness and suicide prevention. He is also a punting consultant, putting his charges through drills such as drop exercises and punting in a swimming pool. He tries to find language to explain how to perform an activity that he admits he never completely conquered until his playing days were over.
"Remember the movie Days of Thunder?" Montgomery says. "What did Robert Duvall teach Tom Cruise to do when there's a spinout and there's smoke on the track in front of him? Duvall taught him to go to the top of the wall and gun it. A driver can't see anything when there's a spinout, but he knows that the way the track is tilted, all the cars will be bunched up together at the bottom. Basically the story is the same for the punter. You go through the smoke and trust what you know. Don't be scared. Just trust it and go."