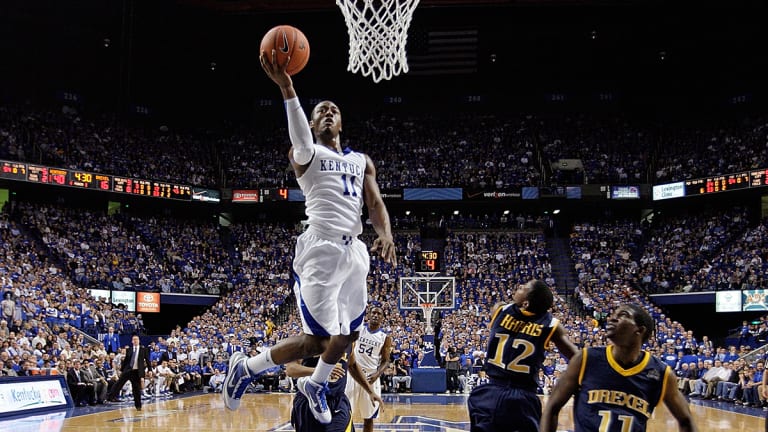 He's The Shizz
Overflowing with talent, Kentucky freshman guard John Wall is dominating college hoops as few others have ever done
The names come tumbling out of his mouth steady and true, as if John Wall wants you to know exactly how much thought he has put into what he's about to say. First come the all-timers: Magic, Isiah, Pistol Pete, Jason Kidd. Then Wall lists today's gold standard: Chris Paul, Deron Williams, Derrick Rose. "There are so many great point guards," says Wall, the Kentucky freshman who bestrides college basketball, circa 2010. "I know it's not going to be easy, and it's going to take so much work in the gym and studying the game, but my goal is to be the greatest point guard ever."
It's the sort of statement that, voiced by any other 19-year-old on the planet, would draw eye-rolls and maybe even laughter. But halfway into what will almost surely be his only college season, Johnathan Hildred Wall of Raleigh, N.C., is persuading people who know the game that those aspirations shouldn't be dismissed as mere youthful bravado. "I've been around him, and I watch how he works," says Kentucky assistant coach Rod Strickland, who played point guard in the NBA for 17 years. "He wants to be great. When he tells you that, I believe that's seriously on his mind."
Also not laughing is North Carolina coach Roy Williams, whose Tar Heels fell to Wall's Wildcats 68--66 on Dec. 5. "A lot of guys say things, but I believe he has the hunger to do that," says Williams, who calls the 6'4", 197-pound Wall the finest point guard he has seen emerge from high school since Kidd, nearly 20 years ago. "He has great size and speed for a point guard, tremendous lateral quickness and an ability to defend, make big plays at crunch time and make other players better. I think the sky's the limit for him."
In the fourth season since the NBA's age-minimum rule forced most players with pro aspirations to spend at least a year in college basketball, Wall is the clearest example of a must-see freshman talent (for both college and NBA fans) since Texas's Kevin Durant, who in 2006--07 became the first freshman to be named national player of the year. Wall is on track to be the second, not least because his 17.2 points and 7.3 assists a game had led No. 3 Kentucky to a 15--0 record at week's end. But unlike Durant, who was famously taken behind Greg Oden in the '07 NBA draft, Wall isn't the subject of any debate.
"Everybody in the NBA will tell you he's going to be the first pick in the draft," says an Eastern Conference player personnel director who considers Wall the clearest No. 1 pick since LeBron James—due in part to Wall's lack of competition at the top of the draft board but just as much to his overflowing skill set. "Fundamentally and athletically he's a special talent," says the NBA evaluator. "And he can adapt during a game. If he needs to get others involved, he does that. If he needs to make a play, he does that. If it's a fast break or half-court situation, he's able to push the right buttons."
Wall was transcendent during Kentucky's 71--62 win over archrival Louisville at a sold-out Rupp Arena in Lexington on Saturday. In one of college basketball's most highly anticipated showdowns so far this season, he overcame early turnovers and missed outside shots—his two occasional bugbears—to inflict a deathblow on the Cardinals as soon as they had taken their first lead of the game, midway through the second half. You can tell when Wall decides to forget about passing the ball and to create the baskets his team needs. He lowers his head just a bit, cocks his blue-and-white-sleeved right arm behind the ball and accelerates with such a terrifying whoosh that his poor defender, like a soccer goalie facing a penalty kick, can only guess which way he'll go.
On three successive possessions beginning with 9:29 left in the second half, Wall thundered through the lane, converting a preposterous double-clutch teardrop; pulled up for a bloodless 17-foot jump shot; and triggered a Kentucky steal before leading the fast break, drawing a foul (the only way to stop him at times) and sinking a pair of free throws. Game over. Afterward Louisville coach Rick Pitino said Wall's ability to shake off a subpar performance and deliver in the clutch reminded him of Michael Jordan and Kobe Bryant, whose teams Pitino faced in his NBA coaching days. "He never lost focus, he stayed with it, and he made two killer plays," Pitino said. "That's the sign of a great one."
So pervasive is Wall's influence on Bluegrass culture these days that it wasn't even the first time he'd stolen the show from Louisville. During Kentucky's Big Blue Madness celebration to kick off practice in October, Wall riled up the Rupp faithful with an arm-flexing, wrist-twisting dance routine. No matter how many times Wall says he got the idea from watching Louisville hip-hop king Kenzo's video for Do the Shizz, everyone keeps calling it the John Wall Dance ("Not my dance!" Wall vows). Do a YouTube search, and you'll find it being performed by smitten UK fans atop the Great Wall of China, above the carcass of a deer and even in a scene on the TV show Cougar Town.
But it was one thing to swipe Louisville's dance. On Saturday, in a two-minute tour de force, the Great Wall of Kentucky took something even more prized: the Cardinals' basketball swagger.
Wall broke a Fisher-Price rim at age three, dunked for real at 14 (over a teammate of current Wildcat DeMarcus Cousins in a summer-league game) and could have taken his 43½-inch vertical leap straight from high school to the NBA (had he been allowed), but that hardly means his rise has been a linear, ordered progression. He attended three high schools in five years, repeating his sophomore year. And like his boyhood hero, Jordan, Wall was cut from his high school varsity team as a sophomore, a snub that was due in part to his admittedly poor attitude at the time.
According to Wall it took years for him to channel his anger productively after his father, also named John, died of liver cancer when the younger Wall was nine. "It was tough because I didn't have a father figure," Wall says. "If anybody made jokes in middle school, you wanted to fight, so that's what I did. When I played basketball, it was hard for me to trust people. I didn't trust my coaches, didn't trust my teammates with passes. I was trying to do my own thing."
Over time, Wall's friends and family say, the game helped turn him around. "Picking up that basketball was his way of grieving after his father passed," says his older half sister Tanya Pulley. For his part Wall credits three coaches with helping him mature: Brian and Dwon Clifton, the brothers who ran the North Carolina--based D-One Sports summer-league team, and Levi Beckwith, Wall's coach at Raleigh's Word of God Christian Academy. In one of his first games there, Wall recalls, he snapped at Beckwith about his substitution patterns, only for the coach to bench his star for two games. "It showed me I had to change my attitude if I wanted to play," says Wall.
After an epic recruiting battle among a half-dozen colleges, Wall finally chose Kentucky last spring, casting his lot with new coach John Calipari in his attempt to resurrect the nation's winningest program after it failed to reach last year's NCAA tournament. So far, so good. Wall missed the season's first game—part of an NCAA suspension for accepting recruiting-visit expenses from Brian Clifton when Clifton was still a registered agent—but his legend was born when he hit a game-winning buzzer beater in his debut against Miami (Ohio) and grew when he scored 25 points (and 12 of UK's last 15) in a 64--61 win over Connecticut on Dec. 9 in Madison Square Garden. "As soon as the ball goes up, John's a different person," Strickland says. "He's a killer out there."
Calipari knew he had the nation's top recruit, but there were some things about Wall that he couldn't learn until the season started. "I did not know his will to win was this strong. I had no idea," says Calipari. "I did not know his work ethic. And I've been surprised." Wall goes through a daily practice routine that includes drills that will help him even more at the next level: 10 post-up moves on each side of the basket, pick-and-rolls and a reverse layup that Calipari calls "the Ginóbili" after the Spurs guard. What's more, the coach says Wall picked up his Dribble-Drive Motion offense even faster than Derrick Rose and Tyreke Evans, Calipari's most recent one-and-done point guards who've gone on to star in the NBA.
Predictably, Lexington is more atwitter than Twitter itself. Whenever Wall joins freshman teammates Cousins and Eric Bledsoe for some late-night grub at the campus dive Tolly-Ho, camera-phone-clicking admirers pounce on the self-proclaimed Three Amigos. "We can go buy deodorant," Wall says, "and suddenly there's like 30 people behind you in the store." Why, the popular Two Keys Tavern on Limestone Street has even started serving a bar shot called a John Wall, made with blue raspberry vodka, Sprite and sour mix.
And Wall says he's genuinely enjoying his college classes, especially his freshman English course (favorite assignment: a paper on President Obama and Martin Luther King Jr.) and a public-speaking class called Communication in Small Groups. "It's a lot of group projects," Wall says. "We did one where all of us went bowling and to some German restaurant that we'd never eaten at. Then we talked about the experience in front of the class." Granted, it's not exactly like studying atomic supercolliders, but he feels it's important to show he can also succeed as a student. On Saturday, Wall flashed his widest smile of the day when he revealed that his grade-point average during the first semester was a 3.2, the highest among the starters.
As Wall departed into the cold Kentucky air after beating Louisville, you half-expected him to leave a jet contrail in his wake. After all, it may be fun to dance the Shizz, but life's even better when you are the Shizz.