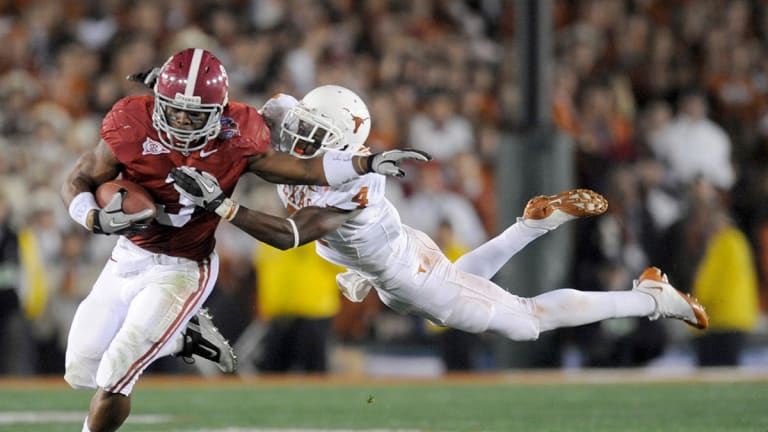 Staying Power
With an earnest coach, a wealth of returning talent, unparalleled recruiting and its chief rival in flux, national champion Alabama is just starting to roll
For the second time in six years the stern-looking coach stood on a stage surrounded by overjoyed athletes, holding a crystal football over his head. As Nick Saban dutifully went down the list of dignitaries he needed to thank, the expression on his face could best be described as a kind of semigrimace. At the pinnacle of his sport after leading Alabama to its first national title in 17 years—a 37--21 victory over a wounded Texas team in the BCS championship game last Thursday night at the Rose Bowl—Saban reminded us that those best equipped to win championships are often the least equipped to celebrate them.
"I guarantee you," said a smiling Terry Saban, as she watched her spouse of 38 years, "he's already thinking about next week."
Did the couple have plans? "He said he'll give me two days," Terry said, "and then he has to meet with some of the players about going out for the [NFL] draft."
Two days? "Two days," she repeated. "And I'll take it."
Maybe they'd go to the movies, she said. On Christmas Day they saw Avatar.
"He loved it," said Terry. "He was on the edge of his seat." In James Cameron's epic the hero leaves his "team" for a superior civilization, whose army he then leads to a climactic victory over his old one. It's not much of a stretch to see why the flick might appeal to the 58-year-old Saban, who has been known to switch allegiances. "It was a great escape for him," said Terry, who also swore that Nick's cellphone was turned off for the entire two hours and 40 minutes.
Asked if her husband ever totally lets go of his job—lately a hot topic in his line of work—Terry answered, "Not really enough. The 32-day preparation for this game: [He was] burning the candle at both ends." Then, unprompted, she expressed concern for her husband's biggest rival. "I really feel for [Florida coach] Urban Meyer, and understand and empathize with him and his family. Because I see what happens."
What happened this season? The defending national champion Gators went into the SEC championship game on Dec. 5 as solid favorites to beat Alabama and continue their march to a third national title in four seasons. But there was Tim Tebow with two minutes left, weeping on the Florida bench, his team on its way to a crushing 32--13 loss. At 4:27 the following morning, Shelly Meyer dialed 911, calmly explaining to the operator that her husband, Urban, had awakened with chest pains, then fallen to the bedroom floor, where he was breathing but unresponsive.
Could Florida's fall have been more precipitous? The last time a burgeoning dynasty was taken down this quickly and efficiently, Michael Corleone was attending his nephew's baptism. No doubt the Gators have circled Oct. 2 on their calendars; that's when Florida visits Tuscaloosa for the first regular-season meeting between the schools since 2006.
But who will be calling the shots on the Florida sideline that afternoon? In the days after Meyer retired, then went on "indefinite leave" in the wake of his medical emergency, we learned that even though his heart was healthy, he'd been experiencing chest pains for two years. At a Sugar Bowl press conference before the New Year's Day game, the 45-year-old Meyer revealed that his gut told him he'd be back coaching next season, a vow he has repeated to recruits. Those assurances appear to be helping the Gators hold on to what is shaping up to be one of the nation's top classes.
As it happens, Saban is on a pretty fair recruiting streak himself.
After persuading Saban to ditch the Miami Dolphins in early 2007, Alabama athletic director Mal Moore gave his new coach a lift to Tuscaloosa on the university's private jet. "We were just climbing out," Moore recalled last week, "and he looks over at me and says, 'Well, Mal, I guess you think I'm a hell of a coach.'"
Absolutely, came the reply.
"Well, there's something you need to understand. I'm not worth a damn without players."
"Thank God you realize that," said Moore.
No coach has had a better recruiting run over the past three years than Saban, whose latest class is in everyone's top five. Again.
"We had [Alabama] ranked Number 1 in 2008 and '09," says Allen Wallace, publisher of SuperPrep Magazine. "Right now, Nick Saban is probably the smartest coach out there. With his grasp of X's and O's, motivational skills, program discipline and just knowing what it takes to get to the [championship] game, he combines all the most important aspects of what kids are looking for. In a way, he's become the new Pete Carroll."
The old Pete Carroll—the guy who on Monday bolted from Los Angeles to take the Seattle Seahawks' coaching job after nine seasons at USC—happened to be one of ESPN's College GameDay analysts at the BCS championship. The set was in the northwest corner of the Rose Bowl, a hundred yards from where Carroll's Trojans dynasty had begun to unravel four years earlier. With 19 seconds left in the 2005 national title game, Texas quarterback Vince Young raced across the corner of the southwest end zone, robbing USC of its third straight championship.
The Trojans haven't been back to the big game since. When Saban joined the talking heads some 40 minutes after the game ended, Carroll's very presence on the set seemed to serve a cautionary purpose: a reminder to the Alabama coach that it's easier to reach the summit than it is to stay there. After the segment the two coaches made small talk. Asked later what Saban had said to him, a bemused Carroll smiled and replied, "Nick mentioned that the toughest year he's had coaching was the year after he won the national championship [the first time, as LSU coach in '03]. I don't know why he'd go to a negative thing like that, because this is a great moment for him."
With 'Bama Nation kicking into party mode all around him, Saban ... channeled Eeyore. Back in Alabama's nearly deserted locker room, he made another rather downbeat observation. "The adage that 'success breeds success' is not necessarily always true," he said. "The challenge to our returning players will be: Is this the beginning, or the end? Do you want to build on this and have more success, or are you guys going to be satisfied and take the easy way out and not make the commitment necessary?"
The man hadn't showered the Gatorade out of his hair, and he was already rehearsing his next speech to the team.
At the far end of the room—and the emotional spectrum—was his quarterback, Greg McElroy, sky-high despite modest stats against the Longhorns: six completions in 11 attempts for 58 yards. The junior was the last Alabama player out of the showers, partly because he'd so patiently answered reporters' questions and partly because it took him so long to get out of his shoulder pads and flak vest. After the game, McElroy revealed that he had cracked two ribs during the SEC title game and received a pain-killing injection before kickoff against Texas. Still, he managed the game competently, committing zero turnovers despite taking five sacks.
McElroy wasn't apologizing for the Crimson Tide's sometimes butt-ugly play on offense. "Go back and look at our history—that's how we've won championships," he said. Nor did he feel inclined to attach an asterisk to this title because Texas's best player, quarterback Colt McCoy, lasted all of five snaps before Alabama defensive end Marcell Dareus knocked him out of the game with a clean shot to his throwing shoulder.
"I don't write the script. I just play it out," said McElroy. "On my ring, it's not going to say BEAT TEXAS WITHOUT COLT. It's going to say NATIONAL CHAMPIONS."
The following morning Saban bristled at the suggestion that his team is sure to be a consensus preseason No. 1 next summer. He noted "all the players we're going to lose on defense"—as many as eight starters, including All-America linebacker Rolando McClain, who on Monday declared for the NFL draft.
But look who the Tide brings back. There is Dareus, the sophomore from Birmingham who followed up that lick on McCoy with a 28-yard return of an intercepted shovel pass in the closing seconds of the first half—a dash that stretched the lead to 24--6 and featured one of the more artful spin moves you will ever see from a 6'4" 296-pounder.
There is McElroy, who hasn't lost a game as a starter since middle school but who may be pushed this spring by rising sophomore A.J. McCarron.
There is Julio Jones, an elite wideout who this season was nagged by a bum right knee. A healthy Jones could easily double his '09 stats of 43 catches for 596 yards and four touchdowns.
There is the nation's scariest tailback tandem: sophomore Mark Ingram and freshman Trent Richardson, who combined for 225 yards and four touchdowns against Texas's top-ranked rushing defense. Ingram, of course, became Alabama's first Heisman Trophy winner last month. Richardson, for his part, was known as Mr. 407 at Escambia (Fla.) High after opening his junior season with 407 yards rushing against Tate High. "If we had blocked somebody," his high school coach, Jimmy Nichols, told the Mobile Press-Register, "he may have had 600." Richardson's 49-yard scoring burst put the Tide up 14--6 in the second quarter. As Ingram noted postgame, "It's going to be nothing but headaches for [defenses] the next year or two."
After their prolonged drought between national championships, a purgatory marked by four coaching changes and a series of NCAA violations, Crimson Tide faithful expect a long reign of superiority from Saban. Considering Meyer's health scare, it seemed fair to ask the Alabama coach how he gets out from under the stress of his job.
Aside from movies—"My favorite way to escape," he says—Saban is refreshed by visits to a family hideaway on Lake Burton, in northern Georgia. "It's where they made Deliverance," says Saban. "That's where I go in the summertime."
He mentioned the lake house at his introductory press conference in Tuscaloosa three years ago. "As long as the people here are committed to trying to win, I'm going to want to be the coach here," he vowed then, "and at some point in time maybe somebody else can do it better. Then that's where I'm going, Lake Burton. They don't have a football team there."
Rest easy, Alabama fans. Right now, no one else is doing it better.