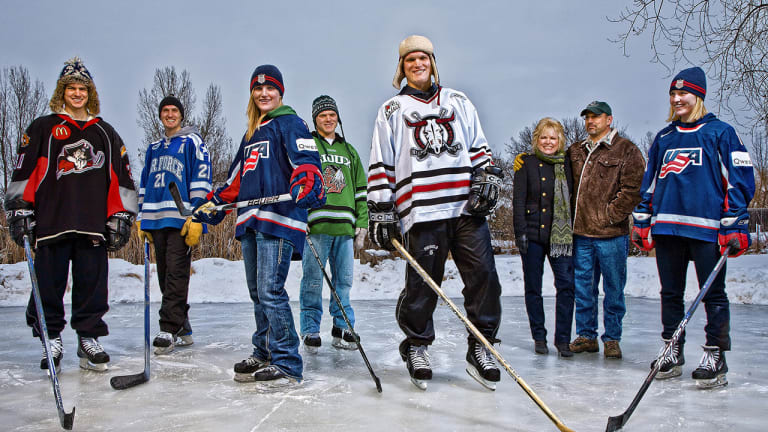 House of Hockey
Pierre and Linda Lamoureux of Grand Forks, N.D., didn't set out to breed a full hockey team, but that's what they got: six college players, including two Olympians who will skate for Team USA in Vancouver
Maybe, if you were lucky, you had one too. Maybe you had your own patch of earth where your legs and mind might roam and you could make a sport your own.
I once had such luck. It came in the unsightliest of forms, a crater bulldozed in a field of weeds where workers at the cemetery behind our house dumped the browning wreaths and flowers that had been left upon the graves. What else, to my 12-year-old eyes, but a baseball stadium?
The embankments created by the earthmover became my backstop, my bleachers, my outfield walls. The wreaths became my bases. I cleared away the stones and withered sorrow, burrowed a hollow in the dirt wall along the first base line and roofed it with scrap plywood: my dugout.
No parents or pressure ever approached my ballpark, no meddling or minivans, just me and a buddy and our imaginations.
What follows is the story of a family, someone else's, perhaps the most remarkable sporting clan in the United States.
But it's really an ode to a ditch.
Maybe you have children. Perhaps, if you're a sports fan, you've daydreamed of spawning your own brood of athletes, stud running backs or receivers, scholarship shortstops or pitchers, maybe even—if you were feeling frisky enough for five—a basketball team all your own.
It's a young man's dream, before he understands all the circumstances and genes that must align for even one of his seed to become a big-time college athlete ... let alone a half dozen of them.
Meet the Lamoureux family. If only someone, in the spirit of Little House on the Prairie or The Happy Hollisters, had thought to chronicle the Lucky Lamoureuxes in a series of books, he'd have made a killing. Their prairie is North Dakota. Their sport is hockey. Their number is eight: two parents and six children, all six of whom have reached college hockey's highest rung and three of whom have gone beyond it. What would it take to go six for six, to have two All-Americas and two Olympians ... to have that many of your kids end up that skilled and that hungry for excellence in the same narrow endeavor?
It's 8 a.m. on a Grand Forks summer day seven years ago. The Lamoureuxes' neighbors awaken to a thooomp ... thooomp ... thooomp overlaying a whap-whap-whap intermingled with a ch-ch-ch-ch and a tat-tat-tat. Again.
Eighteen-year-old Philippe, who'll become a record-setting goalie at North Dakota and then the 2008--09 Goaltender of the Year in the East Coast Hockey League, is in the yard whipping a tennis ball against the back of the house, just one in his daily series of hand-eye drills.
Jacques, a 16-year-old sniper destined to lead the country in goals as an All-America center at Air Force in 2008--09, is blasting pucks off a Plexiglas sheet toward a target on a tarp hanging between the garage and a shed.
Pierre-Paul, 15, who'll play brick-wall defense in the highest-level juniors and at the University of Manitoba, is stickhandling a wooden ball through an obstacle course on the garage floor and urging his siblings nearby, Go harder!
That muffled clang? Fourteen-year-old Mario, clenching the already scar-webbed jaw that he'll thrust anywhere when he becomes North Dakota's scrappiest Sioux, is bench-pressing a barbell in the basement.
Just about then, when the neighbors are wondering where exactly their own children went wrong, they catch sight of two little blonde dervishes in the garage. Monique, 13, is pistoning up-two-down-ones and in-in-out-outs through the rope squares of the family's agility ladder, honing the thighs and calves that'll make her the nation's third-leading goal scorer and a second-team All-America as a freshman at Minnesota in 2009. Her identical twin, Jocelyne—she'll be fourth in the country in total assists and points as a freshman at the same school—is a blur hopping on and off a stack of cinder blocks, each sister pushing the other so hard that seven years later they'll both be on the U.S. women's Olympic hockey team, which you'll be watching next month in Vancouver.
Six teenage sibs on a summer morn: Three forwards, two defensemen, a goalie. A royal flush.
There goes the man who drew the hand from the deck, Dad rattling off in his pickup with the 32-foot ladder to climb onto four-story roofs and install audio systems he had designed. And here comes Mom in her visor, back from her 10-mile run—a light day.
Whooo. Way too much grunting and gung-ho at that house, Grand Forkers cluck. Nobody's got a family like that. Something's got to give. They're absolutely right ... and all wrong. They're not factoring in the ditch.
Let's get this straight: Both you and your spouse are going to need the right double helixes to have even a prayer of hatching your ubertribe. Not that Pierre Lamoureux went trolling for blue-ribbon eggs or plotted to beget a hockey team. He left home on the outskirts of Edmonton, Alberta, to walk on as a goalie at North Dakota in 1979, ended up as a backup on two of the Fighting Sioux's seven NCAA championship teams ... and got lucky. He fell in love with a Grand Forks girl, a coed named Linda Soli who was just as good in water as he was on top of it. Pierre married the former North Dakota high school state champ in the 200 and 500 freestyles and the 100 backstroke and butterfly on a Saturday in 1983, graduated from UND the following day, started his new 12-hour-a-day job a few months later ... and then got really busy: He and Linda had six kids in five years. "This place is a zoo!" Pierre's mother, Henriette, yelped when she visited to help Linda with yet another newborn.
"I prefer to call it a circus," replied Linda, who promptly took the show on the road. Double-checking her day planner and the master hockey schedule that Pierre carefully etched each month, Linda would funnel the runts into their red "hillbilly" van—a used Fighting Sioux team vehicle, appropriately—and settle in for a half-dozen hours a day behind a car dashboard pocked with sticky notes reminding her where in hell to go next to get all those kids from hockey to baseball to soccer to football to taekwondo to swimming, only to discover that left too much idle time for the Missies, as Linda christened the twins. And so, along with those sports, the girls added nine years of dance and gymnastics lessons, five years of piano, a splash of figure skating, a dollop of track, a dash of oboe and sax and ... why couldn't they take violin, they sobbed, until Mom relented, crisscrossing town so many times that she'd meet herself on the way.
Then, as each child reached age seven, the weekly travel-team fire drill grew fiercer, Mr. and Mrs. Lamoureux jamming coolers and sleeping bags into the van and driving for hours to get Phil to Minot, Jacques to Jamestown, Pierre-Paul to Moorhead, Mario to Fargo and the Missies to Bismarck—no, Grafton! How did Linda remain so impeccably dressed, made up and coiffed, so implausibly cheerful ... so sane? While the Lucky Lamoureuxes were practicing for their Mites, Squirts and Pee Wees teams at North Dakota's old Ralph Engelstad Arena, she'd affix a Walkman to her ears, crank up Abba or the Bee Gees and run the stairs or laps around the concourse, mile after mile. A minister, you see, had made the mistake of asking her, "When are your twins due?" three weeks after they were born, a remark that hotfooted her through 25 marathons, including five Bostons—her annual spring break, Mom Gone Wild.
Both Mr. and Mrs. Lamoureux utterly and unblinkingly bought into the American premise: Sports cultivate children, infuse them with the values they need to Make a Success of Themselves. Mom made the refrigerator, cupboards and kids' bedroom walls disappear beneath inspirational sporting poems, articles, exhortations and seven-point creeds. So odd were her children: They actually read those things. Actually took them to heart.
Linda was the one flickering spirit fingers at the children and picking them up off the floor. Pierre? He was the one who floored 'em, with the explosion of his finger snap if they misbehaved, the heat of his glare if they coasted for a single shift. He wasn't the tyrant people presumed from a distance; he was a likable jokester once you crossed the moat of the fierce silence with which he studied his kids at play and flashed them signals. Rolling his arms meant Move your feet! Pressing one open palm against the other meant Keep your stick on the ice! Pointing his index finger like a pistol meant Shoot the damn puck! Yet he never interfered with their coaches. He worked monstrous hours to buy their equipment and pay their team fees, ran shuttle relays to Play It Again Sports and Hockey World, made sparks fly from his skate sharpener and from his blowtorch as he attached new blades to the broken hockey sticks his sons scavenged from the trash cans at local rinks.
But to go six for six you'll need more than a blowtorch national champ pa and a marathon-running and chauffeuring state champ ma. You'll need your eldest child to not only sign on completely, the way Phil did, but also offer his siblings a slightly altered model for success, so he's not just Dad doubled, or the rest of the flock might've said Screw it. A kid can grow his hair long and sleep in till 10 and still outwork everyone else: That's the message Phil sent rippling down the ranks, allowing Dad to take a half step back and watch the Lamoureux intensity spark from child to child.
It was, their coaches marveled, as if they'd come off a conveyor belt, rink rats who never bitched or big-timed anyone, throwbacks who unloaded on everything that moved, who took a stick in the stomach or a puck in the teeth to win, kids to whom the coach could hand his house key if he left his wallet on the kitchen table. There was only one way that many Lamoureuxes could play the game at that level of aggression and skill, some Grand Forkers grumbled: Those children had no choice, they were overscheduled robots. Why, their father was planning to ship the boys to Russia and the girls to Winnipeg to master the game. He beat them if they didn't play and work out hard went the wild rumors heard by the kids. He made them do drills and box each other in their basement.
The Lamoureuxes shook their heads and tittered. How could a kid explain that the fire inside him burned on love, not on fear? How could he explain a ditch?
Here's what you can't arrange when you're designing your dynasty: an ice age. The one that began 30,000 years ago, creating a massive glacial lake containing more water than all the lakes on Earth today, covering much of the land that would one day be Canada and creeping all the way down to North Dakota until it began receding 10,000 years ago and the glacier's melting waters began carving gullies in the land. Coulees, the French fur trappers who fanned out across the Dakotas in the 1800s called these drainage ditches where slow-moving streams sometimes formed, and when a family of English-speaking settlers was slaughtered by a band of renegade Sioux on the banks of one such ditch in 1824, it became known as English Coulee.
Such a weedy, scummy excuse for a stream it was ... except for one serendipitous patch, on Grand Forks' southwest flank, where a contractor named Craig Tweten—standing on the property he'd purchased in a new subdivision—had an epiphany one day in 1987. He rolled his backhoe into English Coulee, knocked out a bank of dirt 12 feet long and six feet wide, watched water pour through and fan out into a marshy depression 70 feet wide and 200 feet long, and then waited.
In late autumn came the freeze, and then the children with scarves and skates and sticks, and the floodlights and the light snowfall that turned the scene into something you might see on an old holiday greeting card. Pierre Lamoureux didn't notice this gem tucked behind the houses across the cul-de-sac when he moved in a year later. He got lucky again. Four-year-old Phil hit the frozen lagoon that winter in full stride, and everywhere that Philippe went, the Little Lams were sure to go.
One freak year the shallow coulee froze in late September, and a few other times at Halloween. But it almost always congealed by mid-November, a month or more before the local rinks opened, allowing the Lamoureuxes—who spent 20 hours a weekend at the coulee and another dozen during the week—to amass thousands more skating hours than their peers.
They'd bundle up in long johns, extra socks, sweatpants, snow pants, sweatshirts, winter jackets, bomber hats, two pairs of gloves and sometimes, at 20 or 30 below, when the prairie winds hurled a mix of snow and dirt that locals called snirt, in wool face masks that made them look like frosted fiends. They'd stuff their pockets with pucks from the bin Dad kept filled in the garage—a dozen a day might be lost in the cattails and snowbanks till the spring thaw—and join the Tweten and Howe and Delisle boys. They'd shovel off any snow that had gathered since Dwight Howe, the neighborhood's Keeper of the Coulee, had run his snowplow across it and filled in any cracks or valleys by flooding it with a garden hose and letting it freeze overnight.
If the Howes' or Twetens' nets weren't there, two shoes would mark a goal. The kids would launch practice shots at Phil, who'd begun goaltending in his diapers using a rubber stick and, for a net, his playpen turned on its side. Then they'd play free-for-all, a cacophony of chirps over big saves and takeaways, until someone shouted, "Sticks in the middle!" At that they'd fling their sticks into a heap, one boy wading into the pile with his wool hat pulled over his eyes, blindly grabbing two at a time and tossing one to either side again and again till none remained, divvying up the group into two teams. All but the twins, who'd always be assigned to opposing squads once they joined the fray at age five; c'mon, there couldn't be two girls on the same side!
When they raced along the railroad ties girding the embankment on the Howes' side, they were flying along the boards at the Montreal Forum. It was their Forum, no adult eyes on them, emboldening Phil to call out, "I'm Richter!" and Jacques to yelp, "I'm Messier!" and Pierre-Paul and Mario to turn into Leetch and Lemieux, and all of them to try the wriggles and whirls and between-the-legs sorcery they saw on TV. The first layer of the heart—that's what the twins' coach in high school, Gordie Stafford, would call that deep-down-in-the-tissue love for the game that was being implanted at the coulee. That's what no organized version of a sport could implant in the chest of a child, what no dynasty dad or minivanning mom could ever arrange. That's what made the Lamoureuxes lucky.
They'd play right through hunger and frostbite till someone slashed someone's fingers or tripped someone so egregiously that the game disintegrated in tears, accusations and howls for penalty shots. No hitting was permitted, but who could resist burying an opponent face-first in a big snowbank and eliciting the laughter of all? Not Jacques or Pierre-Paul, for damn sure.
The other kids would begin to peel away—the Delisles when their parents called them to dinner, the Howes when their dad rang his cowbell—but the Lamoureuxes would often slog on, three-on-three, right past Mom's first blast on her whistle ... then her second blast ... then five minutes more and O.K., let's go before she sends down Dad! If their hands were too frozen to pull on their skate guards, they crawled home.
By golly, the coulee needed a locker room befitting Gretzky and Lemieux, so Phil and Pierre-Paul made one, taking the shelves from the garage and placing them vertically in the basement: stalls, each with a bench and hooks to hang clothing and racks to stow sticks. The scented candles Mom lit down there had no prayer against all the testosterone, armpits, sweat-soaked hand-me-downs, iron-pumping and Ping-Pong wars in the locker room, which commingled to buckle Grandma Edith's knees every time she descended and make her gasp, "Whooo, I'm going to pass out!"
"Aw, Grandma," the boys retorted, "that's what gets us going!" Where? Back to the coulee at ungodly hours. One night, after their three-hour bus ride home from a night game at Jamestown, Phil, in 10th grade, and Jacques, in eighth, looked at each other. It was 1:30 a.m. They had to be up at 7:30 for school. The house was silent. Dad and Mom would never know. "Wanna go to the coulee?" Phil asked. Yep.
Full moon. Cloudless night. One-on-one, best of seven, gotta hit both posts and the crossbar to win a game. Jacques, the family's most gifted player, already possessed astonishing vision, uncanny hands, holy-crap creativity. Phil, a goalie whose short, slender physique Jacques had already surpassed, would have to pester, pokecheck and detonate his short-fused brother to have a chance against him on open ice. They began playing, battering each other under the stars, each game growing grimmer. Jacques took a high stick to his nose, which spurted blood and would've sent anyone but a Lamoureux home. Tied at three games apiece, they grunted and bitched more fiercely, bodies diving to block shots, nets shoved out of the way to prevent game winners.
They trudged home at 4 a.m.—game finally called on account of blood—collapsed onto their mattresses down in the basement locker room and awoke a few hours later with the perfect alibi for the scar that remains on Jacques's mug a decade later. Took a stick in last night's game at Jamestown, of course.
Okay, so Daddy Lam hit the jackpot. Four sons dominating rec teams, travel teams, school teams, state-championship games and the Grand Forks Herald's sports section, and now those two little dynamo daughters coming right on their heels, the two best players on every boys' team they played on. But Pierre wasn't crazy enough, Grand Forkers muttered, to think those two could keep playing with boys once checking was permitted in Pee Wees and puberty kicked in at Bantams ... was he? They'd get chewed up!
Just wait, thought Pierre. Mr. Howe, the Keeper of the Coulee, had an inkling of what was coming. He'd never forget the evening he entered the Lamoureux home just as one of the girls—who could tell which?—tumbled head over heels down the entire staircase. He stared, stunned, as she bounced to her feet, blurted, "Didn't hurt!" and bounded away.
The twins grew up getting knocked silly by their brothers in street and coulee hockey and swallowing their screams so the boys would let them keep playing. When Jocelyne, in third grade, finally broke and ran home sobbing to Mom after a Jacques slash that produced a lifelong scar on her left calf, Linda shrugged and said, "If you're going to play with boys, that's what you've got to expect."
There are girls on their team! Every rink they entered, the moment that cry was raised, the stakes went up, and humiliation, like a scythe, hovered overhead. Above opposing boys who got flattened by the twins and then serenaded by players on both sides, "You got freight-trained by a girl!" Above the twins' teammates, not to mention their parents, who had to watch two girls dominate play and playing time. Above the twins themselves, who had to keep proving they belonged, physically and emotionally, or get jeered off the ice.
By age six, the Missies had plans. They were going to play on the North Dakota hockey team—the men's team—and be Olympians. Theirs wouldn't be the lonely quest that it might be for some other girl: They had each other. Same friends, interests, opinions, tastes. "Remarkable," Grandma Henriette would say as they finished each other's sentences, "it's the same person twice!"
Head up, mouth shut. That was the code their father taught them before they ever laced a skate in a male locker room. Just before their first Pee Wees tryout, when checking at last would be allowed and all eyes would fix on the twins, Dad had another heart-to-heart with them in the kitchen. Jocelyne, he didn't worry so much about. She played forward and goalie, positions that wouldn't require the same machismo Monique would need as a defenseman. Don't wait, Pierre told Mo. First one-on-one drill, make a statement. Etch it on the alpha male—he told her who that was—even if it means butting in line to pair off with him. When he brings the puck up, Dad said, face him up, force him to the outside, then make your move. Lead with your shoulder, don't lunge, head up, skate right through him, knock him on his rear end. She did precisely that. Holy crap, thought Pierre.
"They can't do that!" parents screamed when it happened, again and again, during two years of Pee Wees and a year of Bantams. "Kick 'em out of the game!" Even the surgeon whom Grandma Edith assisted as a nurse said, "You could tame those two girls down."
Could she? They were high school all-state in soccer in eighth grade. They led their boys' 12-year-old hockey team, the Wheatkings, to the state championship, Mo scoring twice and Jocelyne blanking Grafton for two periods of the final in goal, then switching to forward and scoring on her second shift. But at 13 the Missies were becoming targets of punctured adolescent male pride, punches being thrown at them, and Grandma Edith couldn't hold her breath a minute more ... so, at last, entering ninth grade, the twins accepted scholarships to Shattuck--St. Mary's Prep, the Minnesota private school where Sidney Crosby had played. They left home at a young age just like their brothers and with trepidation entered the no-checking world of female hockey.
The girls at Shattuck had never seen anything like it: The twins hit the ice at 6:15 for 7 a.m. practices, hit the weight room seven days a week when only two were required and, after they finished the preseason mile run as freshmen, circled back to run the last lap again and urge the gasping junior backup goalie to the finish line. They were so damn humble and yet shoved everything so close to the edge, or beyond it—as Mo would rue, "Some things we learned in boys' hockey have really come back to bite us in the ass in girls' hockey"—that at the end of their freshman season Shattuck's two captains collected $50 from the team to induce the twins to make it through the national tournament without a penalty minute.
No more were the Lucky Lamoureuxes the royal-flush hockey family after Coach Stafford shifted Mo from defense to wing on a line centered by Jocelyne and let their telepathy wreak havoc. The twins carried Shattuck--St. Mary's to three national titles and then, because the Fighting Sioux women's program was a shambles in 2006--07, having just fired a coach in the midst of a 3-31-2 season, they accepted full rides to—horrors!—the Sioux's hated rivals, the powerhouse Minnesota Gophers.
The Missies' brothers branded them "wanted for treason." Their father refused to wear the Gophers hat the twins gave him till he had slipped inside their rink. Yet when Minnesota came to Grand Forks to play North Dakota, the Lamoureuxes had all the Gophers over for dinner, and the first thing they wanted to do after eating Mom's Scotcharoos was traipse through the snow in their sneakers and launch slap shots in the frigid ditch.
Be forewarned, should you still be brave and stubborn enough to think you can alchemize a dynasty: You're playing with fire. All that scheduling and striving, all that excellence and expectation rubbing under one roof is wonderful as long as all your foals are ascending Mount Olympus at roughly the same rate, radiating all their angst and energy outward. But if just one of them....
This episode of The Lucky Lamoureuxes is nothing like The Happy Hollisters or Little House on the Prairie. It comes from the blind side because that's exactly how it came at Mr. and Mrs. Lamoureux.
Jacques was the child least like his father, the most sensitive and self-critical, and the one most like him, so organized, precise and driven. So, of course, he was the one who rebelled, the disrupter whom Dad yanked by the ear out of Holy Family Catholic Church on Sundays. His rebellion never spilled into hockey, but his need to be perfect did. It could devour him, transform him from the hat-tricking hero of title games to the white-knuckled ghost skating back and forth, strangling the abracadabra right out of his stick.
All his near-perfect report cards, his girl-melting good looks, the years of leaving friends behind after school to lift weights, making high school varsity by eighth grade and finishing top five in the state in scoring as a sophomore as his team took the state title ... they weren't enough. Two goals should've been three. Three should've been four. Phil had already moved to Lincoln, Neb., to play in the highest-level juniors in the U.S.—why not Jacques? He turned anxious and surly in 10th grade, broke up with his girlfriend, lost 15 pounds in two weeks. A teenager, a broken heart, his parents kept thinking. It'll pass.
He bolted from classrooms sobbing. He entered the garage one day, found a piece of scrap metal and burned a crucifix on his shoulder and two crossed hockey sticks on his chest. The creeds of his childhood—Never quit! and Didn't hurt! and Head up, mouth shut—weren't working, and the only way he could make it through each day was to identify something near at hand that he could use to kill himself.
One Sunday night in April 2003 Jacques was curled up on his mattress in the basement. Mario lay on one side of him. Dad's shotgun on the other. Jacques crept up the stairs, slipped into his parents' bedroom and woke his mother. If he didn't get help, he told her, something bad was going to happen.
She took him to an emergency room and then to a psychiatrist, who started him on anxiety medication and antidepressants. Two weeks later, when Jacques broke down at school again, his parents picked him up. Instead of going home, he was astonished to find they were taking him to a hospital, into a green room with a white-tiled floor ... and he couldn't leave. He wept and begged his parents not to go. He pressed his eye to the slit in the door, watching them leave. It was the first time he'd seen tears stream from his father's eyes, and to this day Pierre can't speak about what he or his son went through.
The family's nectar had somehow turned to poison, the paradox only sharpened when Phil's snap-dragon goaltending took the Lincoln Stars to the Clark Cup, the United States Hockey League championship, that same week. Phil drove home from Lincoln anticipating a conqueror's welcome—unaware of Jacques's plight because his parents hadn't wanted to unsettle him before the title game—but instead arrived at an empty house and learned that his entire family was at a psychiatric ward with his brother.
For three hours a day, in his green patient's garments, Jacques worked out to stay ready for the big tournament in two weeks: push-ups, sit-ups, wall-sits, crunches, lunges, squats, knuckle push-ups, sprints in the hallway. He was discharged after eight days and eventually accepted an offer to play in a lower-level junior league the following autumn in Bismarck. Pierre-Paul, a year younger, made the Bismarck Bobcats as well, so Mom and Dad—worried that Jacques would feel worse if he stayed home and abandoned his hockey quest, and thankful that his brother could keep an eye on him—swallowed hard as the boys moved in with a family four hours' drive away and began the 10th and 11th grades in a new high school.
Back home for Thanksgiving Day that year, 2003, Jacques headed out the door to see his ex-girlfriend before his family sat down to dinner. He left her house—he still can't remember what happened there—and headed to the parking garage next to his old high school. He was 40 pounds overweight from the medication, his hockey dreams slipping away. He composed a suicide note, left it on the dashboard of the car and climbed onto the ledge of a ramp on the fifth floor. A mix of rain and wet snow pelted his face. Memories and images tumbled through his mind.
He waited and waited for the twitch of calf muscle. It didn't come. He climbed down, finally, drove home through the slush and flushed his medication down the toilet, telling no one. It was the riskiest thing he could do, but he'd just stared down oblivion's barrel, and something inside him began shifting. Perhaps it was his next big decision that allowed him to get away with it. The boy from the family raised to eat pain wrote a long paper spilling his pain for English class and assented when his teacher, sensing its significance in a state where the youth suicide rate was four times the national average, asked if he'd submit it to the Bismarck Tribune. The Trib and the Grand Forks Herald ran stories on Jacques's crisis. A judge in Pennsylvania, a volunteer in a suicide-prevention program named Yellow Ribbon, was so taken that he had Jacques fly in to speak to thousands of students in his county, with powerful effect: If that strapping, handsome hockey star could ask for help, maybe they could too.
After Jacques graduated from Bismarck High in 2005, after he was shocked to have his application to Air Force rejected because he'd been treated for depression, after Air Force changed its mind a year later, after he led the country in scoring as a sophomore and carried the Falcons to the 2008--09 Atlantic Hockey Association title and was named All-America, after he was a finalist for the Hobey Baker Memorial Award as college hockey's finest player and was nominated for the Hockey Humanitarian Award for speaking out to youth about depression and urging those on medication not to stop taking it as he did, he still thought back to what flashed in his mind that Thanksgiving six years ago as he stood on the ledge. It was images of the Lucky Lamoureuxes playing together as little kids on the coulee, the joy on all their faces: If he'd felt that much happiness once, somehow he might again. That's what saved him.
But how sweet it must be, you're thinking, when your dynasty finally comes of age. How lovely life must've become for Mr. and Mrs. Lamoureux once they made it through the valley of the shadow of excellence, once all the children were flourishing on full or partial scholarships, once Mom and Dad didn't have to live behind the steering wheel of a minivan anymore: once they could breathe.
But you don't know what it's like trying to watch four or five hockey games in a single night. What it's like, when the first puck drops at 6 p.m. CST, to peer at a fuzzy webcast of the twins dominating the ice at Minnesota during the first period, then to race to UND to throw spirit fingers at Mario mucking something out of nothing for the Sioux while you keep an eye on the twins on a screen perched on your lap, then to hurry home and fire up adjacent computers to whoop at Pierre-Paul scattering bodies for the University of Manitoba and at Jacques undressing goalies for Air Force, then to swallow yawns till 1 a.m. watching Phil make everyone forget the stigma of the little goalie during his record-setting rookie ride to the ECHL finals with the Alaska Aces.
You don't know what it's like to try to get some work done on a Friday when the cellphone keeps pulsing in your pocket, the entire family firing off text messages in advance of that weekend's games: Good luck everyone! ... Kick some ass! ... Play your butt off for 60 minutes! ... Lamoureuxes don't get outworked! ... Leave it all on the ice! ... Love u!
You don't know what it's like waiting to find out if both your identical twins will make the U.S. Olympic team, knowing what heartbreak it'll be if only one does. What it's like when your daughters are packed into a bone-silent conference room in Blaine, Minn., with 39 other young women, the most nerve-wrenching moment of their lives, as U.S. coach Mark Johnson begins calling out the roster, the Missies' hearts rising when he utters Monique's name and freezing when he calls Gigi Marvin's next—surely the twins' names would be lumped together if they'd both made it, right?—then gasping in relief when Jocelyne's name comes from his lips. Otherwise one or both girls would have had to face the unthinkable, a year without hockey, because their dramatic decision to transfer back home to their beloved Sioux—once its program had stabilized and the coach they knew from USA development camps, Brian Idalski, had been hired—carried the price of sitting out NCAA hockey for a year.
You don't know what it's like to have your third-eldest son's college career at Manitoba come to a sickening halt from a shoulder injury as a freshman last year ... only to see Pierre-Paul leap right back to his feet by transferring home to finish college as a Fighting Sioux, securing a student-assistant coaching job and stepping toward his new dream: to be an NHL general manager.
Or what it's like to lose all control of your children, to be a 48-year-old dad walking into his house just before Christmas 2008 and walking straight back out after seeing a stranger tattooing his sons' thighs. Only to find out that the tattoo—a massive family crest that Pierre-Paul designed, with half a blue star fused to half a red maple leaf to represent the family's mixed heritage and with wings sprouting from it and six hearts encircling it, one for each child—is going onto the bodies of his two daughters too.
But then, holidays at the Lamoureuxes' never resemble those at other homes....
Darkness falls on Christmas Day three years ago. All six children are back home, and the house is a wreck again, gear bags and clothes strewn everywhere. The kids are bloated from Mom's turkey and mashed potatoes and Grandma Edith's apple and pumpkin pies, weary from all the road trips and weightlifting and isometrics and practices with their far-flung teams.
They look across the table at each other. Someone says, You wanna...? and someone else says, Sure, why not? Off go the Lamoureuxes, clutching their shovels and sticks beneath the stars, down the embankment to the place where they first snatched life with their own hands. They're old enough now. They know how rare this frozen playground is.
It's the same as it was. It's completely changed. Where are all the kids?
Don't ever, ever attempt to spawn an athletic dynasty. But just maybe, when no one's looking, dig a ditch.