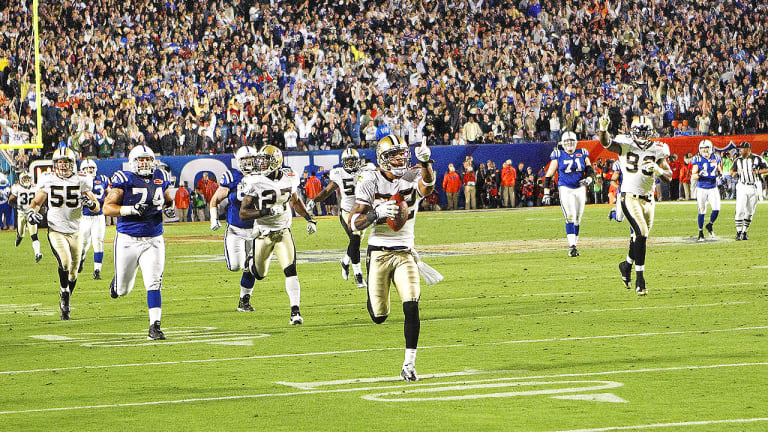 For You, New Orleans
Riding the spirit of a city renewed, the Saints stormed past Peyton Manning's favored Colts to bring a once-forlorn franchise its first championship and set off a party that promises to last a lifetime
At a rollicking house party in the Ninth Ward, a 24-year-old security guard named Timothy Washington danced a two-step in the living room. On the first floor of the Superdome, a 59-year-old electrician named Bruce Bruder sat in silent astonishment in a quiet control room. At an overflowing restaurant on Bourbon Street, a 43-year-old sous-chef named Charles Emery raised a glass of champagne with his coworkers in the kitchen. And in the middle of the field at Sun Life Stadium in Miami, 31-year-old quarterback Drew Brees held one-year-old son Baylen in his arms, looked up at the night sky and felt confetti falling down on him like raindrops. Brees's wife, Brittany, wiped tears from cheeks already stained with her husband's eye black. "My only wish," she said afterward, "is that everybody from New Orleans was here with us right now."
They would have seen coach Sean Payton lifting the Lombardi Trophy to the stands behind the end zone so that fans could touch it; safety Roman Harper donning black-and-gold Mardi Gras beads as big as grapefruits; and cornerback Reggie Jones modeling boxer shorts in the locker room—"The official drawers of tonight," he called them—emblazoned with the ubiquitous WHO DAT. Players took turns shouting names of towns in the Gulf region, from big ones like Baton Rouge to tiny ones like Taylorsville, Miss. The celebration was under way in those places and so many others, punctuating a 31–17 Super Bowl win over the favored Colts and a season that at times felt more like a fairy tale. "I'm going to be drunk for a month!" said linebacker Scott Fujita, proving that the Saints really do have a common bond with their bibulous fan base. "I don't know that people in New Orleans are going to go to work for a month," Brees said with a grin. "Not that I condone that."
The best victory party was in the French Quarter, where it was a veritable Fat Sunday, but the runner-up had to be on the second floor of the InterContinental Hotel in Miami, where the Saints were greeted by a blues band when they arrived near 1 a.m. The crowd was supposed to be confined to a ballroom, but when several thousand people showed up, the party spilled out onto the breezeway and into the lobby. Running back Mike Bell sipped red wine—"This is the first taste," he said—while honorary captain Deuce McAllister, the longtime Saints running back, now retired, stood nearby in disbelief. "Did that really just happen?" he asked.
After 43 years of brown bags at the Superdome and ostrich races at Tulane Stadium, of Archie Manning on his backside, Tom Benson under his parasol and Ricky Williams in his wedding veil, it happened. The parades will be marching in, and the big glass box at the Saints' Hall of Fame, which collects tissues wet with Tears of Joy, will soon be full. If there was a moment at which this beleaguered franchise crossed the threshold, it came with 10:39 left in the game, when Brees jogged onto the field trailing by a point, the best quarterback in the world fidgeting on the opposite sideline. The first time Brees gathered the Saints in a huddle, when he was a freshly minted free agent with a surgically repaired shoulder, receiver Joe Horn said the new QB let his teammates know: "I'm here to lead you to a Super Bowl, and anything else is despicable." This time he said only, "Let's be special."
The line was borrowed from New Orleans native and former NBA coach Avery Johnson, who spoke to the Saints during Brees's first training camp in the summer of 2006 at Millsaps College in Jackson, Miss., and returned again on Sunday morning to address them in a meeting room at the InterContinental. A video played that morning, highlights from the 2009 season, nifty catches and devastating hits, spliced with footage from Hurricane Katrina—homes in ruins, families crowding through the doors of the Superdome to seek shelter. "It placed us in history," said cornerback Greg Fassitt. "It gave this game a context. The room was dead quiet. You could hear people breathing hard. You could hear sniffling. Those were the only sounds." When the video ended, players started yelling as if they were ready to charge out the tunnel. "If anything," said running back Lynell Hamilton, "I was worried it would make us peak too soon."
With that one sentence—"Let's be special"—Brees brought the Saints back to that meeting room, and then took them to a place they'd never been. If it was not the best game-winning drive in Super Bowl history, it was the most democratic. Brees threw seven passes to seven receivers, completing every one of them. For the two-point conversion he threw an eighth pass, to an eighth receiver, Lance Moore, and completed that one as well. He will never have Tom Brady's height or Brett Favre's arm or Peyton Manning's pedigree, but in the four years since Brees joined the Saints, he has been more accurate than any of them. After the first quarter on Sunday, when Brees's stomach finally settled, he completed an unfathomable 29 of 32 passes. He made his Super Bowl debut look like a seven-on-seven drill and the Colts' defense look like a fraud. "If Drew Brees has not been in the discussion of the best quarterback in the league," said Saints tackle Jon Stinchcomb, "he is now."
Brees was MVP, but with the Saints the story is never one person or one game or even one season. Said injured defensive end Charles Grant, the longest-tenured player on the team, "You have to look at how far we've come." This odyssey began 4½ years ago in San Antonio, when, in the weeks after Katrina, the Saints practiced on a high school football field, dressed in a baseball team's locker room, lifted weights under a tent in a parking lot and bused across town to the convention center to watch film. Their facility in Metairie served as local FEMA headquarters. Their stadium had a morgue in the basement. When the Saints won the first game of the 2005 season, at Carolina, the loudest Who Dat? chant might have been inside the Reliant Center in Houston, where evacuees were watching on television.
The 2009 Saints were born in the wake of disaster, when general manager Mickey Loomis turned a last-place team into what would be a division winner in a span of four months. In January 2006 he hired Payton; in March he signed Brees; and in April he drafted running back Reggie Bush, safety Roman Harper, guard Jahri Evans and receiver Marques Colston. When Harper first drove to New Orleans from his home in Prattville, Ala., he crossed over the Twin Span Bridge and saw a wrecked Walmart, a church missing its spire and rooftops covered with blue tarps, laid out in front of him like an ocean. "This," he thought to himself, "is home."
Loomis built the league's best offense in a single spring, but it would take three years to create its complement. When defensive coordinator Gregg Williams arrived after last season, he greeted his new charges by making them all do 40 up-downs after each minicamp practice. He ordered them to pick up every incomplete pass and run it back like a fumble. He installed an 11-man blitz and called it during training camp. And when it came to voluntary workouts, Williams had an ironclad philosophy: "If you voluntarily choose not to be here, then I'll voluntarily choose to pick other people."
Williams is tough but flexible. On Oct. 25 the Saints trailed the Dolphins 24–3 in Miami when Grant ran to the sideline and told his coordinator that the defense needed to change schemes. "Fine," Williams said. "Then do it." The players made the switch, and the Saints rallied for a 46–34 win. As Brees looked around the locker room after that game, he thought to himself, This is the feeling we want a couple months from now, on Super Bowl Sunday.
The term happy to be here has a negative undertone in sports, implying satisfaction and complacency. The Saints and their supporters were happy to be here, and it did not hurt them in the least. After the NFC championship victory over Minnesota, one fan in New Orleans brought Colston a fruit basket, another hung a sign outside center Jonathan Goodwin's house that read, THANKS FOR EVERYTHING THAT YOU'RE DOING FOR US, and another walked up to receiver Robert Meachem on the street and started to cry.
When the Saints arrived in South Florida on the Monday of Super Bowl week, Payton and his Pro Bowl players—Brees, Evans, Goodwin, Harper and Stinchcomb, plus safety Darren Sharper and linebacker Jonathan Vilma—dressed as bellhops to greet the rest of the team, a nod to the late Bill Walsh, who did the same before his 49ers won Super Bowl XVI in Pontiac, Mich. At breakfast on Tuesday, Payton asked a waiter to bring saltine crackers and two jars of peanut butter for Williams, hoping to silence the loquacious defensive coordinator who'd made headlines by promising to get some "remember-me shots" on Manning. Payton did not impose a curfew on the Saints until Friday, kickback compared with the buttoned-down Colts, who were under curfew starting on Tuesday. New Orleans defensive tackle Remi Ayodele cruised down South Beach wearing a hat that read WIERDOZ. Payton was confident in his weirdos, telling them in a meeting, "It's a coach's dream to be an underdog when you've got the better team."
He did not waver when the Saints fell behind 10–0 in the first quarter, or when they failed to convert a fourth-and-goal from the one-yard line in the second. Instead, down 10–6 to begin the second half, Payton became the first coach to call an onside kick before the fourth quarter in the Super Bowl. He asked his defensive players how they would feel if the play backfired and they had to protect a short field. "Coach, we've got your back," one piped up, and others nodded. Thomas Morstead's kick bounced off the face mask of Indy's Hank Baskett and into the arms of Saints backup safety Chris Reis, prompting a dog pile that lasted so long Reis said his "forearms were burning." The decision to onside kick revealed the fundamental difference between the Saints and the Colts: One team was playing it loose, the other playing it safe.
Super Bowl settings can often be sterile, no doubt due to the many corporate ticket holders, but the Saints changed that. Men showed up to Sun Life Stadium in wigs, bras and dresses in homage to the late New Orleans talk-show host Buddy Diliberto, who once pledged to wear a dress and strut down Bourbon Street if the team ever made the Bowl. For the Saints, this was a slice of the Superdome. As Manning lined up in the shotgun with 3:24 left, down 24–17, the energy in the stadium reflected the mood in the rest of the country, anything but neutral.
New Orleans cornerback Tracy Porter, positioned across from receiver Reggie Wayne, saw Austin Collie go in motion. Porter recognized from his film study what that meant: Manning was going to Wayne, and because the Saints were bringing six and possibly seven pass-rushers, he'd have to get rid of the ball quickly. Porter remembered Williams's words—"I don't want robots; I want players who aren't afraid"—and decided to jump the route. "Everything slowed down," Porter said. "The spiral on the ball slowed down. The guys around me slowed down. The crowd noise stopped. It was just me and the football." Wayne ran a turn-in, but Porter got the better break on the ball. Manning's pass hit his hands so hard that even Saints defensive linemen heard the smack.
Porter had flown his barber to Miami, and two hours before heading to the stadium he asked for a custom trim: an image of the Lombardi Trophy, the Superdome and SB 44 carved out in tonsorial topiary. As he ran 74 yards for the clinching touchdown, the Saints' sideline erupted. Said cornerback Mike McKenzie, "It was crunk. It was crazy. It was off the chain. It was off the meter. It was off the meat rack." To the Colts the effect was the opposite: "A dagger in the heart," said linebacker Clint Session. "Peyton is always 100% in those situations. I guess it shows that no one is perfect. Even him." As Manning dressed slowly in the locker room after the game, younger brother Eli stood next to him, gently rubbing his back. They'd grown up in New Orleans, sons of a Saints legend, and used to throw balls of tape on the Superdome floor. None of that diminished the sting.
Some say there's no karma in sports, but the Saints were the team of a battered city, and the Colts were the team that stopped trying to win when they hadn't yet lost. At the end of the night Brees walked out of the stadium with a black trash bag slung over his shoulder, filled with treasures he'd collected from the day, to replace 43 years of garbage. Now Joe Lombardi, New Orleans's quarterbacks coach, gets to touch the trophy named for his grandfather. A championship banner will be raised at the Superdome, under the spot where Katrina had torn holes in the roof. Mardi Gras may run all the way to Jazz Fest. Saints be praised.