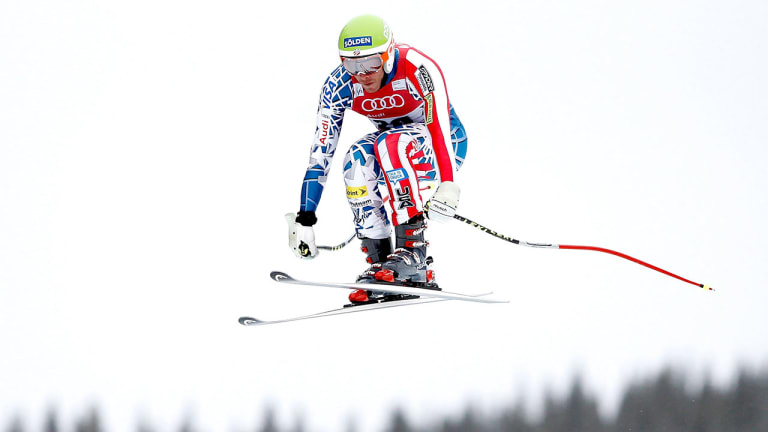 American Flyers
The brilliant and often baffling Bode Miller roared from behind in the combined to win his first gold ever, leading the U.S. Alpine team to a record number of medals
A long time ago, Samuel Bode Miller was just fast. This was before he "retired" last March at age 31, before he ran his own international ski team out of a motor home for two years (because he didn't like the way U.S. ski team officials were running theirs) and before he failed to win any medals at the 2006 Olympics (because, he says now, he wasn't inspired to do so). It was before he began routinely humbling Austrians and Swiss and whoever else pulled on a race bib, before he began turning postrace press conferences into complex and often contradictory soliloquies on the relative values of victory and daring, and before some of his early coaches tried to change his instinctive approach to skiing to make him more like everybody else.
It was before all that. "He was always thinking about how to get down the mountain faster than anybody else," his high school ski coach, Chip Cochrane, told SI eight years ago. And that was the fundamental truth.
Miller was fast when he was a little kid bombing down trails at Cannon Mountain, near his family's home in Franconia, N.H. "This tiny guy, just flying," family friend John Ritzo once said. He was fast when, at age 18, he put on the first generation of shaped skis in 1996 and won three Junior Olympic titles as an unknown. He was fast when he flamed out of the 1998 Olympic slalom in Japan and hiked gates to complete the experience. He was fast when he won two silver medals at the 2002 Olympics. "I've never seen anybody ski so fast," Norwegian great Kjetil Andre Aamodt said back then, after narrowly beating Miller for the gold medal in the combined event. "He's revolutionized the way of skiing."
Miller was fast when he won the overall World Cup title in 2005 and then again in 2008, and fast when he won more career World Cup races (32) than any U.S. skier of either gender. But the speed was always lost in the haze of discovering whatever else Miller was besides fast: ingenious, petulant, drunk. "My career will be judged however it's judged," Miller said just last week, punctuating his assessment with the classic Miller shrug that says definitively, And I don't care (although it's always possible that he does).
When the week ended, Miller was in possession of his third medal of the Vancouver Games (and a U.S.-record-breaking fifth Alpine overall) and the first gold of his career, a dramatic victory in Sunday's two-run (downhill-slalom) super-combined event in the mountains of Whistler, B.C. Miller was the most prolific member of a U.S. team that through six Alpine events had won eight medals, a record haul for any Games. (The previous high was five, in 1984, although that American team won three golds and this one had just two through Sunday, with four events remaining.) And Miller was scheduled to ski both giant slalom (Tuesday) and slalom (Saturday) this week.
Lindsey Vonn, 25, who bore most of the pre-Olympic hype, won a gold in downhill and a bronze in Super G; Julia Mancuso, 25, got silvers in downhill and super combined; and Andrew Weibrecht, 24, won an unexpected bronze in Super G. The performance was starkly different from Turin in '06, when the U.S. took just two medals, golds by Ted Ligety in combined and Mancuso in giant slalom.
But of all the medals won on Whistler, Miller's Sunday gold was the most resonant. He was seventh in the morning's downhill, further back than he expected. As he stood in the start house, facing a steep slope and 69 gates, Miller needed to be fast again and he needed to be fast again in slalom, the most artistic and technically demanding of the Alpine disciplines. It is the one in which he first achieved broad success, but also the one in which he has struggled competitively for years. (Three days earlier Miller had crashed spectacularly in slalom training.) "He loves slalom, that's how he broke in," says Forest Carey, a U.S. ski team coach and a friend of Miller's for nearly two decades.
He was back to the beginning, once again trying to get down the mountain faster than everyone else.
They all get back to the beginning, because ski racing is not merely a sport, it is also a culture and a lifestyle. It is endless early mornings, long drives, cold feet and waiting until weather clears. When Vonn won the downhill on Feb. 17, she found herself thinking back more than a dozen years to a summer training camp on the glacier at Oregon's Mount Hood with youth coach Erich Sailer. "Pouring rain, we had to hike up to the course through the mud," said Vonn. "And I loved every minute of it."
Vonn had come to Canada as the U.S. face of the Games, a threat to medal in four events and a solid favorite for gold in two. Then she was compromised by a shin injury 10 days before opening ceremonies, a news development that focused additional attention on her. She cried for 30 minutes when the downhill ended and ran on dwindling emotional reserves the rest of the week, through her crash in the slalom portion of the super combined and her bronze medal run in the Super G.
Last Saturday night Vonn sat in a quiet corner of a U.S. hospitality suite, while family and team officials readied a celebration in her honor. "I was surprisingly O.K. with all the pressure," she said. "But all that emotion coming out after the race, that caught me by surprise. I'm empty right now. Completely exhausted."
When Mancuso earned her second silver medal with a terrific and surprising slalom run on the back end of the combined, she remembered skiing in the Mighty Mite program at Squaw Valley at age four. "The only thing that kept me in skiing was all the fun I had when I was little," said Mancuso. "I love the Olympics, but skiing is cool."
She was in an odd position in Whistler, deep in Vonn's shadow despite her victory in Turin as a 21-year-old. "It really feels like not many people know about my gold medal," Mancuso said on Sunday. "Why does the media have to have just one star? When I got my silver in the combined and Lindsey fell, all the headlines were like VONN FALLS, MANCUSO SECOND. Why couldn't the stories say VONN LIVES UP TO GOLD EXPECTATIONS; MANCUSO SHINES TOO? It seems like a popularity contest."
She could have shined even more. In the Super G she drew the No. 1 start spot and, racing blind, badly misjudged a turn and finished ninth. "Bummer," Mancuso said, "I was going really well." She was scheduled to defend her title in Wednesday's giant slalom.
Weibrecht, whose all-out style reminds everyone in the sport of a young Miller ("You watch Bode, and you see what you can accomplish by pushing the limits," says Weibrecht), grew up in Lake Placid, N.Y., and learned to race on the tough, icy slopes of Whiteface Mountain, host of the Alpine events at the 1980 Olympics and home to hundreds of other races at all levels through the years. The northern Adirondacks are a beautiful and unforgiving place. Weibrecht remembers, "January on Whiteface, 20 or 30 below without the windchill. Maybe you ski one run and go get warm. But you definitely keep skiing."
Miller's redemption (he would hate hearing it called that) began when he rejoined the U.S. ski team in late September. In a cheery press conference at the time, he referenced the ultimate can't-quit athlete when he said, "I can relate to Brett Favre. You walk away, and there's obviously a big hole left where that sport was. Especially in my case; it's my main form of expression." He said he also looked forward to working with younger athletes on the team.
But getting in shape to compete for months would be a challenge. "The skiing was not going to be an issue," Miller says. "I had thousands of races of muscle memory. It was a matter of getting equipment dialed in and staying injury-free. Which I really didn't." Miller had arthroscopic surgery on his left knee in October and then severely sprained his right ankle in December.
Mike Kenney, Miller's uncle and a super-combined coach with the U.S. team, says, "He's the best all-around skier in the world. My question was whether he was prepared mentally, and it turns out he was. But he was marginally prepared physically, and it was a battle."
It was no less a battle on Sunday. Like Vonn, Miller was drained by his early races—and beaten up by his training fall, which launched Miller at least 30 feet. (Carey described it as "the kind of crash you see with 15-year-olds.") Awakened by coaches at 5:45 a.m. on Sunday, Miller said he was already "on fumes." Unlike the straight downhill, at which he was visibly nervous to the point that other skiers found it odd, this time he struggled to summon up any sort of energy.
After the downhill run he trailed Super G gold medalist Aksel Lund Svindal of Norway by .76 of a second, a wide gap, and five other skiers by smaller margins. Miller had won a super-combined race in Wengen, Switzerland, but he did it by easily winning the downhill portion and hanging on despite finishing 16th in the slalom. Before leaving the slalom start on Sunday afternoon, Miller smacked his poles together once and exhaled forcibly, blowing out his cheeks.
Miller confounds the press by forever insisting that his goal is to ski passionately. "Unfortunately," he would say after Sunday's race, "I tend to get medals when I do that ... so people get confused." He skied one of the best slalom races of his life, third best among 34 qualifiers for the slalom leg. (Ligety was fastest and Will Brandenburg of the U.S. second.) "It was an amazing feeling to go out and ski that way," he said after the race. "I was skiing very free and going 100-percent full gas."
It was also a cathartic moment, bringing his career full circle. The young Miller was forever being told to mitigate his speed (and his passion) to lessen his chances of crashing. Here, caution was not an option because there was too much time to make up. "It's how I used to ski when I was little," he said. "It's how I skied when I first came onto the World Cup." And sure enough—unfortunately, he might say—Miller finished .33 in front of Croatia's Ivica Kostelic (Svindal didn't finish) and got a gold medal to go with his inspired run. That will probably confuse people terribly, as will Miller's expression shortly after he finished that the run was "something I'll be proud of for the rest of my life."
Says Carey, who was on the ski team at Carrabassett Valley Academy in Carrabassett Valley, Maine, when Miller arrived there in 1991, "He skied so well for all those years, hell, really in the shadows in America, because all people know about are gold medals in the Olympics. Now he's got a gold medal in the Olympics."
But now there will be history and there will be Miller's history. He has explained that while the 2006 Olympics smothered him with expectations, these Games freed him to perform. The difference is far greater in his mind than the rest of the world can grasp. After the second of Miller's three medals, his father, Woody, said, "He's been very happy and very relaxed."
The question was put to Bode: Are you happy, or is that too simple?
"Usually," said Miller, "the simplest answers are the most accurate in cases like this."
There's no disputing that Miller is the greatest ski racer in U.S. history, with Olympic medals to back up his World Cup wins. Yet it is far more appropriate that the biggest victory of his life came in the manner that measures his career: He just skied fast.