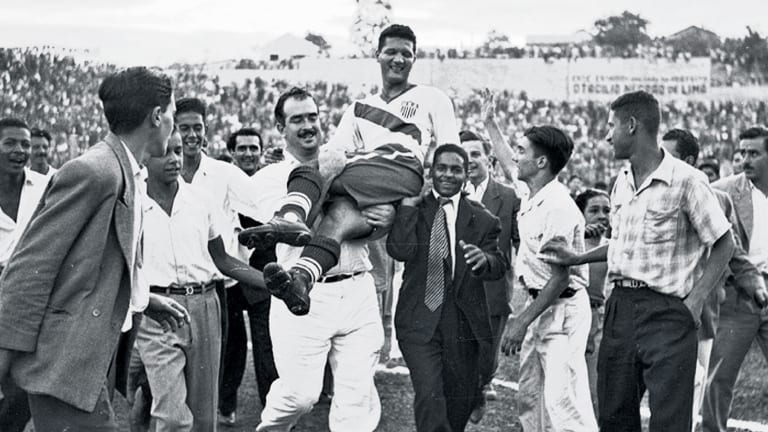 The Hero Who Vanished
Sixty years ago, the U.S. upset mighty England in the World Cup on a single goal by Joe Gaetjens. In most countries Gaetjens would have been idolized. But in the U.S. he was ignored, and in his native Haiti he was marked for death.
The men running at Joe Gaetjens wanted to grab him and make him theirs. Terrified, Gaetjens and other members of the 1950 U.S. World Cup team at first looked to flee, not realizing that the mob wanted only to hoist them on its shoulders.
After the Americans defeated England 1—0 that June evening in Belo Horizonte, Brazil, there seemed to be nothing but beautiful horizons before soccer in the U.S., and before Gaetjens himself, a Haitian émigré who had played the game, studied accounting and worked as a dishwasher in New York City before scoring the lone goal in perhaps the greatest upset in World Cup history.
Thirty-seven minutes into a first-round match in which no one gave the Americans a chance, Walter Bahr of the U.S. sent a shot toward the far post, shoulder high, from about 25 yards on the right side. As English goalkeeper Bert Williams moved to his right, he kept the ball in his sights for what looked to be a routine save. That's when Gaetjens laid himself out in a dive around the penalty spot.
Flouting the buttoned-up ethos of postwar America, Gaetjens liked his jersey loose-fitting and untucked, with his socks shoved down around his ankles. Relatives and former teammates remember him as a carefree, gregarious bon vivant. Whether they're playing dice or putting money on a fighting cock, it's characteristic of Haitians to double down on even a remote chance of the big payoff. Gaetjens made the goalmouth a stage for what Haitians call l'esprit magique, a determination to court the long shot.
If Gaetjens had struck the ball square with his forehead, it would have caromed harmlessly toward the corner flag. Instead, only grazing his head, the ball took off as if with a mind of its own. Williams didn't have a chance. When the goal stood up after another 53 breathless minutes, the 15,000 or so fans at Independencia Stadium, their numbers swollen as word spread of the brewing upset, gloried in the humiliation of Brazil's great rival, the team then regarded as the world's best.
A year later Bobby Thomson would hit a home run for the New York Giants that provincial U.S. sportswriters popularized as the Shot Heard 'Round the World. But Gaetjens's goal truly was a broadside with global reverberations, even if only one U.S. journalist, Dent McSkimming of the St. Louis Post-Dispatch, made the trip to Belo, paying his own way at that. The newspapers burned by fans in the stands to celebrate the Americans' victory could have symbolized the way news of the achievement would go up in smoke back home.
One afternoon in Port-au-Prince 14 years later, other men wanted to grab Joe Gaetjens and make him theirs. Only this time it was no delirious mob sprinting toward him. There were only two of them, both Tontons Macoute, the hard men of Haitian dictator François (Papa Doc) Duvalier. They walked up to Gaetjens as he pulled to a stop in his car. Then they took him to a place from which he never returned.
It took another eight years for Gaetjens's family to find out what had happened to him. His brothers Gérard and Jean-Pierre, who lived in exile in the U.S., established a foundation to determine his fate and that of other former athletes around the world facing political persecution. Clive Toye, the first general manager of the New York Cosmos, took up the Gaetjens's cause in 1971 and publicized Joe's plight at a match at Yankee Stadium. After pressure from the Inter-American Commission on Human Rights, among others, an answer finally came in early 1972: The Haitian government confirmed to the U.S. Embassy in Port-au-Prince that Joe Gaetjens had died.
But when and how remain a mystery. Indeed, from the moment that ball struck the back of the English net, it's as if a multinational conspiracy had been joined to obscure or distort the man who sent it there. The wire report the day after the match credited the U.S. goal to Gaetjens's teammate Ed Souza. Eduardo Galeano, in his 1995 classic, Soccer in Sun and Shadow, called the goal "the work ... of a black Haitian center forward named Larry Gaetjens," although Gaetjens was neither Larry nor black, but a milat, a member of the light-skinned social elite. The 2005 feature film about the 1950 World Cup team, The Game of Their Lives, makes Gaetjens out to be a voodooist, when in fact he was raised Catholic and remained a weekly communicant until he disappeared. And today, if you go to waitingforgaetjens.com, the home page for Greg Lalas's podcast commentaries on U.S. soccer, and click on "Who Is Joe Gaetjens?" you're greeted by the message, "Coming soon." Gaetjens as Godot.
Such are the wages of obscurity. Sixty years on, as the U.S. and England prepare to take the pitch in Rustenburg, South Africa, on June 12 for their first meeting in World Cup play since the miracle of Belo, Gaetjens remains the where-have-you-gone Joe least likely to inspire a song lyric—the sports hero Americans scarcely noticed had gone missing.
Joseph Nicolas Gaetjens was born in 1924 in Port-au-Prince, the great-grandson of Thomas Gaetjens, who had left Bremen for the Haitian capital in the mid-19th century to serve as a trade representative for the king of Prussia. Joe was the third of seven children of Edmond and Toto Gaetjens, and by early lights the least likely to become a soccer star. His headlong style may have confirmed a suitability for the game he loved, but he was asthmatic. A cure came to Toto in a dream, in which she heard her mother-in-law prescribe hearts of soursop, a West Indian fruit. When a peasant came by the next day with some to sell, Toto took it as a sign, and for several weeks she fed Joe soursop each morning. Every day he would cough up black phlegm, and eventually he was cured.
Joe shared a room with his three brothers in a concrete house their father had built in the Turgeau section of Port-au-Prince. A few doors down lived Daniel Beauvoir, who became one of Joe's best friends and a teammate on the local soccer club L'Étoile Haïtienne. By the time Joe was 20 he had already helped lead L'Étoile to two Haitian championships.
By then the family had moved into a wood-and-brick structure in Bois Verna, which Toto Gaetjens turned into a L'Étoile clubhouse. Players would go there to take a meal, get a rubdown or do their laundry. On game days hundreds of people from the neighborhood strolled the 20 minutes downtown to Parc Le Conte, laughing, singing, arguing the respective merits of their favorite teams. Afterward players used the half-dozen outdoor showers the Gaetjenses had installed in their backyard. The entire family hung on Joe's fortunes: Once, after he missed a penalty kick, everyone stayed up all night commiserating; when the diving header became his signature play, Joe's sister Mireille fashioned belted padding for him to wear under his jersey.
In 1947 Joe lit out for New York to see what he could make of himself. "After high school, after the war, everybody went," says Joe's youngest sister, Matho. Washing dishes in a German restaurant gave him access to the ethnic network that ruled U.S. soccer at the time, and Gaetjens soon hooked on with Brookhattan of the American Soccer League. "He was a flier, fantastic in the air," recalls José Lorente, a teammate who also worked as a dishwasher and remembers comparing paychecks with Gaetjens. "He asked me how much I made. I told him $30 a week. He said, 'I make a little bit more.'"
Playing Sundays for Brookhattan, Lorente guesses, Gaetjens collected no more than $50 per game. The players would dress in the basement of an uptown Manhattan tavern belonging to Brookhattan's owner and grab a drink upstairs postgame. Gaetjens pulled off a hat trick early in the 1947-48 season and went on to place second in the ASL in scoring by netting 14 goals, including a bender off a corner kick. Two seasons later he led the league with 18 goals, more than half of Brookhattan's total. "Joe," says Walter Bahr, who played for the ASL's Philadelphia Nationals, "could make a goal out of nothing."
Gaetjens was "a last-minute addition" to the 1950 U.S. national team, Bahr recalls, "because of the question of citizenship." Before the team's departure for Brazil, Gaetjens had filed "first papers" declaring his intent to become a citizen, thereby satisfying the rules of the U.S. federation. According to Peter De Waard of the Dutch soccer magazine Hard Gras, soccer's international ruling body, FIFA, would later indicate that Gaetjens and two other non-nationals on the U.S. team should have been ineligible. But any protest had to be filed before the competition in order to be considered, and none was. There did seem to be something clandestine about Joe's participation, however, for the Gaetjens family did not know he had even made the U.S. team until a dentist in Port-au-Prince said he had heard the goal against England on the radio.
As for British opinion of the goal, the report in the Daily Mirror was typical: Gaetjens, "trying to duck out of the way, felt a stinging blow on his left ear." Bahr and another teammate, Harry Keough, laugh at that characterization.
"Joe made an honest attempt to head the ball in traffic and got a piece of it," Bahr remembers. "He left his feet and landed on his belly. He could never duplicate what happened. But it was luck, not an accident."
The English revisionism may have been a means of coping for a nation so sure of its status as master of the game it had invented that it hadn't even condescended to compete in the three previous World Cups. As for the Americans, apart from a win and a draw against Cuba that qualified them for Brazil, they had been outscored 51-8 in formal international play since the end of World War II. If no picture of Gaetjens's goal exists, it's because most photographers had sensibly chosen to set up behind the U.S. net. Joe's cousin Guy Laraque says today that, whenever asked about it, Joe would say, "I had the honor, and especially the luck, to score that goal."
Gaetjens went to France the next season and hurt his knee after four games with Racing Club de Paris. A year later he dropped down a few divisions, playing 15 games for Olympique Alès and scoring two goals. The most-told stories from his time in France—that after one of those seasons he returned part of his salary because he didn't believe he had earned it, and that he needed female companionship the night before in order to produce on game day—confirm the picture former teammates paint of a good guy who loved life.
Gaetjens had been gone from Haiti for six years when he returned to Port-au-Prince in 1953. A chanting, dancing crowd met him at the airport with a banner that read THE BEST PLAYER IN HAITI, THE USA AND THE WHOLE WORLD. Well-wishers followed him through immigration and lined the road into town, and by popular demand Joe suited up for L'Étoile's game that night, playing through his exhaustion from the travel. He went on to represent Haiti in its World Cup qualifier against Mexico that December. But, almost 30, he suffered from chronic nosebleeds as well as that bum knee.
When the U.S. squad came to Haiti a few months later for a Cup qualifier of its own, Gaetjens, by now retired, had Bahr, Keough and other former teammates over to the family house. He correctly assured them that they would have no trouble beating their hosts. His reasoning was classic Joe: The Haitian coach, he said, had the players in lockdown.
Gaetjens moved gracefully on with his life after soccer. In 1955 he married Lyliane Defay, his first cousin, and in the backyard of their house on a corner lot in the Christ Roi neighborhood he planted rosebushes and fruit trees. Two dry-cleaning shops and a sales job with Colgate-Palmolive, both successes with the help of his celebrity, made him prosperous, and he would hand out money freely to friends—a habit, his nephew James says, "that drove Lyliane nuts." He coached youth teams as well as L'Étoile and, briefly, the Haitian national team. And he remained close to Daniel Beauvoir; each had been best man at the other's wedding, and as the years passed, they became godfathers to each other's children. Joe and Lyliane had three boys in three years, and she would one day say, "[Joe] wanted a football team." But life in Haiti had already begun to change.
In 1957 Duvalier, a self-described country doctor, emerged from a violent presidential campaign with a dubious victory. The Gaetjens family had supported a rival candidate, Louis Déjoie, a milat businessman to whom they were distantly related and whom Joe's brother Gérard had served as an adviser. Within months of Duvalier's taking office opponents began plotting coups and invasions, and the new president blamed the election's losers for each unavailing assault on his rule. Soon he formed the Tontons Macoute, a citizens' militia named after the bogeyman of Haitian folktales, who stuffed children into his macoute, or straw satchel. With their sunglasses, pistols and machetes, they menaced civilians with impunity, seizing property, kidnapping and killing.
In July 1958 an exiled army captain named Alix Pasquet boarded a launch in Florida with seven other men and made for Haiti with plans to attack the National Palace. A former soccer star and president of the Haitian Football Federation, Pasquet had tipped off some of his old soccer connections to his plans and had expected one, Joe Gaetjens's friend Daniel Beauvoir, now an army captain, to join the cause or at least remain neutral. But after Pasquet's men improbably seized the barracks adjacent to the palace, Beauvoir led a detachment of troops that helped lay siege to the invaders and ultimately kill them. The dictator blamed his old opponent Déjoie, now in exile, for the assault, and sentenced him to death in absentia.
In the aftermath Duvalier came to rely on the Macoutes even more. Each failed invasion or assassination attempt fed his aura of invincibility and caused him to lash out more indiscriminately. Over nearly three decades Papa Doc and his son and successor, Jean-Claude (Baby Doc), brutalized Haiti. Hundreds of thousands of people would flee the island, and tens of thousands more would be murdered or made to disappear during that period—"[a] night," in Graham Greene's phrase, "impossible to deepen."
A favorite tactic of Duvalier's was to target an extended family for even the suspicion of a rebellious act by one of its members. Round them up, shoot them, slice them up, women and children first, so the men would have to watch. Or—perhaps a worse fate—imprison them in the regime's temple of human misery, Fort Dimanche, where tuberculosis, typhoid, diarrhea and/or malnutrition would kill them slowly if a summary execution didn't.
"Two years after Duvalier came to power, a group of military officers came close to overthrowing him," says Gérard Gaetjens's son, James, 64, who lives in Miami. "They said that [Joe's brother] Jean-Pierre was part of the plot." By 1963 Duvalier had begun to personally interrogate and torture prisoners, and more than half the national budget, some $28 million, was being spent on the Macoutes and related agents of repression. In a declaration pitched to the poor, voodoo-believing Haitian, Duvalier said that year, "They cannot touch me.... I am already an immaterial being."
On June 14, 1964, Papa Doc made himself President for Life. Around the same time exiles in the Dominican Republic, including Jean-Pierre Gaetjens and another brother, Fred, launched a guerrilla campaign. Duvalier called them the Camoquins, after a foul-tasting antimalarial drug, and the insurgents wore the name as a badge of honor. Over the ensuing weeks a wave of arrests and reprisals washed over the country, some supervised by Duvalier himself. "Everyone was just waiting for their turn to come," says Matho, the only one of Joe's siblings never to settle outside Haiti. "It was constant terror."
Members of the family pleaded with Joe to flee, none more insistently than Gérard, who had served time in Fort Dimanche. No, Joe replied, I'm not political. I'm well-known, keep my nose clean and teach soccer to kids. Besides, Daniel—by 1964 Beauvoir had cycled through a turn as the Port-au-Prince police chief—will protect me.
Beauvoir wasn't the only well-placed friend on whom the Gaetjens family counted. A police captain named Edouard Guillot, a cousin of Matho's husband, Jean-Claude Flambert, had his orders but also his family ties. He would noisily make his way up Gérard Gaetjens's driveway on his motorcycle, then shout that he intended to make an arrest, in case Gérard needed time to scramble into a hiding place.
On the evening of July 7, 1964, Guillot warned his cousin that the entire Gaetjens family was to be arrested the next day. Having heard this, Mireille swung by her brother's house at six in the morning to make one last attempt to persuade him and his family to join hers in hiding. Again, Joe refused. Meanwhile the police captain had gone ahead with his plan: to return to headquarters pleading a variation on his usual story that Monsieur Gaetjens could not be found.
Shortly after 10 a.m. Guillot appeared with two Macoutes at the dry-cleaning shop on Avenue John Brown. "Where's Joe?" he yelled at the manager, Lyliane's mother. He knew Joe wasn't there but hoped his manner would induce her to warn him. "Wait here!" he loudly ordered the two Macoutes. "Arrest him!" But Joe's mother-in-law didn't understand. When Joe pulled up in front of the shop shortly after 2 p.m. in his blue station wagon, she yelled to him frantically—and Joe, oblivious, stopped to see what she wanted.
Most family members describe an endgame in which the Macoutes draw their guns and slip into Joe's car, with one taking the driver's seat and the other a seat in back. Laraque, who had dashed desperately around town that day trying to find and warn his cousin, says he reached the shop only to catch a glimpse of Joe through the barred back window of a gray Macoute paddy wagon. Either way, Laraque and Joe's mother-in-law were the last family members to see him alive. Joe was never charged, much less tried or convicted. "He was just a Gaetjens," says Gérard's daughter Mary. "The only one they could find."
For weeks after Joe's disappearance relatives tried to appeal to Daniel Beauvoir, but he refused to speak to them. "My father and mother sent messages," says James Gaetjens. "Lyliane called to tell [Daniel] he hadn't done anything to help Joe or the family. And he just laughed."
Before dawn on New Year's Day in 1965, Toto Gaetjens asked her daughter Mireille to drive her to the National Palace. Once a year the Haitian dictator would take requests and petitions from citizens, and on that day the two women waited him out. Mary Gaetjens picks up the scene in her forthcoming book A Summer with My Father: "Ti Toto and Tante Mireille were fifth in line when Duvalier announced he was finished for the day. Ti Toto ... desperately [pleaded] for the life of her son. Duvalier said he would look into it. He said, 'Tomorrow you will have your son' and waved her away."
Mireille says, "My mother had a lot of hope. When the president said something, you believed it. But the day after, nothing happened."
A few weeks later a coworker of Mireille's husband, Daniel Cassagnol, indicated that he knew a guard at Fort Dimanche and that $4,000 would buy Joe's freedom. The family came up with the money, and at the appointed hour Daniel and Mireille huddled at the edge of the prison grounds, wearing sunglasses and hats, like Macoutes, so as not to be recognized. The plan was to take Joe straight to an embassy to seek asylum. Hours later the two went dejectedly home. The next day at work the go-between returned the money to Mireille's husband and said, "He's dead."
Joe Gaetjens had once played soccer on the grounds of Fort Dimanche, a collection of ochre-colored concrete buildings thrown up in the '20s as an ammunition depot and riflery range. Soon after coming to power Duvalier turned the complex into a center of detention and death. Gaetjens was one of some 3,000 people to go in and never come out.
As many as 33 prisoners would be wedged into each of 10 communal cells, which measured about 10 by 12 feet. When a cell hit capacity, the prisoners would sleep in shifts. They breathed the stench of their waste and dressed their sores with urine. The dead would be rolled up in a mat of banana leaves, which served as both "our beds and our coffins," in the words of Bobby Duval, a former prisoner whose youth development program L'Athlétique d'Haïti teaches soccer to 1,500 of the poorest children in Port-au-Prince. Knowing that each corpse would be thrown into the mass grave among the cactuses out back, inmates would etch the names of the dead on the walls to remember them. Years later, in a visit to Fort Dimanche after its closing, Matho found her brother's name.
The Gaetjens clan has sifted endlessly through the teledjol, Creole for rumors, of what became of Joe: that within a few days of his arrest he had been lined up with other prisoners and shot. That he had languished in Fort Dimanche for months, ultimately dying from diarrhea. That Duvalier had shown up one day and, hearing Joe ask him why he was incarcerated, shot Joe himself. Indeed, Mireille says that Elois Maitre, the notorious head of the Macoutes, told her husband that Joe had died one night after Duvalier, learning of another plot, stormed into Fort Dimanche in a rage. "He went into the jail saying, 'Open this cell! Open that cell!' and took the men from several different cells and killed them," Mireille says. "It's another story I don't know is true."
In 1972, after returning to Haiti, Gérard's son, James, was summoned to a meeting with Léon Baptiste, a former senator who had worked on the Déjoie campaign. "He said he had spent a night at Fort Dimanche with Joe," James says. "Léon was released the following day, and the guy who released him said later, 'You're lucky, the night after you left Duvalier came personally to kill everyone at Fort Dimanche.'
"Now, Léon Baptiste had paid that guy to release him. So did the guy tell Léon this because he wants Léon to be more indebted to him? Or because it's true? We'll never know. There's a lot of hearsay." Teledjol. "Half of my family believes one thing, half the other," James continues. "Myself? I'm an engineer by trade, and I cannot tell you what happened to Joe."
In the early '70s, after Beauvoir had fled upon learning that he was on Papa Doc's hit list, Gérard Gaetjens confronted him in New York City. "I couldn't do anything," Beauvoir insisted. "Duvalier was waiting for me to make a move so he could kill me. He was after me. He wasn't after Joe."
That explanation didn't sit well with most of the Gaetjens family, least of all Jean-Pierre, whose son Jean recalls joining his father at a soccer match in San Juan between Haiti and Puerto Rico almost four decades ago. Spotting Beauvoir in the crowd, Jean-Pierre picked up a two-by-four, went over and began to beat him. This man did nothing to keep my brother from being killed, he told the police. That seemed to have been good enough for the cops, who sent Beauvoir to the hospital and let Jean-Pierre go.
Word would reach the Gaetjens family that Papa Doc had learned of that incident, and that it had pleased him. Over the years Joe's cousin Guy Laraque heard further teledjol: that Duvalier had targeted Joe not so much because of his Gaetjens family connections but as a means of torturing Beauvoir. Laraque finds the story plausible. If it's true, he says, "there was nothing Daniel could have ever really done for Ti Joe."
The 1972 confirmation of Joe's death at least resolved for Lyliane the question of whether she was a widow. By the end of 1965 she had brought her boys to join Mireille in exile in Puerto Rico. She eventually remarried and divorced, and today lives in Florida.
Jean-Pierre Gaetjens continued to devote himself to liberating Haiti from the Duvaliers. Standing trial in the U.S. Virgin Islands in 1973 on a charge of conspiracy to harm foreign property, he admitted to hiring three individuals to invade Haiti and foment an uprising by blowing up a power plant, contaminating the water supply and seizing a radio station. The court must have been sympathetic, for he received only a three-year suspended sentence and a $5,000 fine.
When Gérard Gaetjens was murdered in 1990, soon after returning to Haiti to work on a presidential campaign, Jean-Pierre took over the Joe Gaetjens Foundation, which he ran until his death from cancer in December 2008. "Somebody politically active watches his apolitical brother get arrested," says Jean-Pierre's son, Jean. "Then that brother is never seen again. You can see how Joe's disappearance sent [Jean-Pierre] over the edge. It's my layman's psychology, but I think my father felt a lot of guilt. Joe was his symbol, his martyr."
Today the remnants of Fort Dimanche lie abandoned on the mudflats that fringe the slums called La Saline and Cité Soleil. Pigs troll through the garbage and feces that stew in the sun. The scrawlings of former inmates are still visible on the walls, though Gaetjens's name can no longer be found.
There is a Haitian proverb: Se lè koulèv mouri ou wè longèl. Only when the serpent dies can you take its measure. And only in February 1986, with the overthrow and exile of Baby Doc Duvalier, did it become even possible to speak of Gaetjens in Haiti again.
On April 26 of that year Matho Gaetjens, joined by Bobby Duval and scores of unarmed others, helped lead a march on Fort Dimanche to urge the prison's immediate closure and dedication as a memorial to its victims. The military fired on the marchers, killing six and wounding 51. The next day Gaetjenses from all over the Haitian diaspora nonetheless gathered at the family's church in Port-au-Prince, L'Eglise de Sacré-Coeur, for a mass in Joe's memory. More than 1,000 worshippers held candles that were intended, Matho says, "to ignite the flame of hope" at the service's conclusion. As it happened, one of Port-au-Prince's frequent blackouts plunged the church into darkness, pressing those candles into service earlier than planned.
In the early 1990s, as Haiti's minister of social affairs, Matho, known formally as Mathilde Flambert, created a youth soccer team in her brother's memory. The team no longer exists. "The last time I went to a game I could see all my brothers on the field," says Matho, who now teaches ceramics. "Now they're all dead. It's even hard for me to watch my grandchildren play now. I stayed in this country alone, and it was very hard to be without my brothers and sisters."
Over 21 years as a phys-ed teacher at a high school in Washington, D.C., Lesly Gaetjens, one of Joe's two surviving sons, has coached basketball, baseball, softball, volleyball, tennis and track, but never soccer. Part of the reason is his exile as a boy to Puerto Rico, where the game had little standing. While his daughter Ekaterina is a sixth-grade goalie, he says, "I've blocked a lot out because of what happened. When people call my mom, she doesn't want to talk about it. It's too painful."
As the pain persists, so does Joe Gaetjens's obscurity. Last summer Haitian soccer commentator Jean (Zenono) Baptiste was in New York City visiting the headquarters of Concacaf, soccer's governing body for North and Central America and the Caribbean, where he watched on TV as the U.S. upset Spain 2--0 in the Confederations Cup. When Haitian-American striker Jozy Altidore scored the decisive goal, "I told everyone in the room, 'Hey, we did that in 1950,'" says Baptiste. "No one knew what I was talking about."
Upon hearing that The Game of Their Lives might include a postscript in which Joe Gaetjens receives U.S. citizenship in tribute to his goal, Jean-Pierre howled, for if Joe had been a U.S. citizen, Duvalier wouldn't have dared to seize and kill him. According to Matho, the U.S. offered her brother citizenship after the 1950 World Cup, but he declined it, heeding his mother's admonition, "Always remember, you are Haitian." After Joe's abduction, his exiled brothers begged the U.S. government to honor the spirit of his "first papers" and intercede on his behalf. But their pleas went nowhere.
As Americans look across the water to an island they have alternately feared, subjugated, scapegoated and, since the Jan. 12 earthquake, poured their hearts and money into, it's worth noting how much Haitians have given the U.S.: the city we know as Chicago, thanks to its first nonindigenous permanent settler, Jean Baptiste Point DuSable; a valiant stand at the siege of Savannah, thanks to more than 700 islanders who fought alongside Washington's army; the Louisiana Territory, thanks to the Haitian slaves whose uprising curtailed the colonial ambitions of Napoleonic France. "There should be monuments to Haiti all over the United States," says Duke professor Laurent Dubois, a historian of both Haiti and soccer.
A modest beginning is the 18-inch-high sculpture that stands in Clive Toye's home office in Ossining, N.Y. A gift from Jean-Pierre Gaetjens, the statue features two players, one leaping to head a soccer ball in a pose for posterity. The inscription reads, JOE GAETJENS, FOOTBALLEUR HAITIEN, HÉROS DE LA COUPE DU MONDE, BRéSIL 1950. MORT POUR LA PATRIE. Died for his country.
That Gaetjens's immortal achievement came in the service of a country that wasn't his—a nation as bountiful and blessed as his native land is impoverished and star-crossed—highlights what soccer, every universalizing quadrennial, has a knack for reminding us: that next to humanity, nationality is trivial.
"I had the honor," Joe Gaetjens would say, "and especially the luck...." The luck of a teammate's shot glancing just so off his head. The luck of his head attracting the business end of a Macoute's pistol.
The luck. Especially the luck.