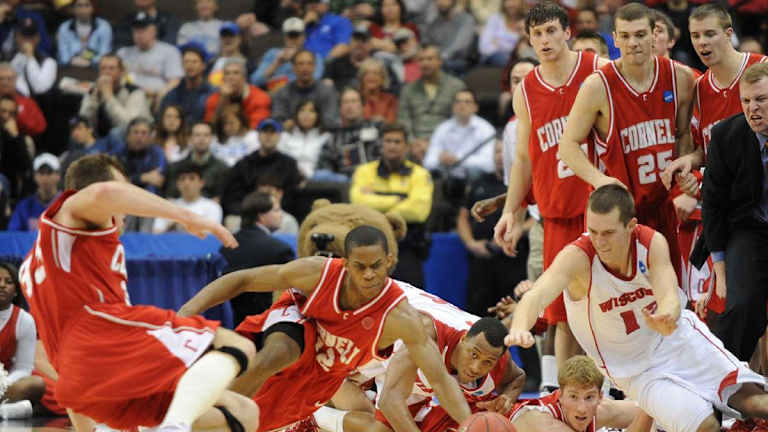 As Good As It Gets
Packed with first-rate hoops, last-gasp heaves and earthshaking upsets, the NCAA tournament is demonstrating more clearly than ever why it's the country's best sporting event
This is what could happen: In some distant future the NCAA tournament will have grown too large. It will have been expanded and transformed into a test of playing and viewing stamina, devoid of charm, leaving fans exhausted long before some as-yet-unborn pop star sings some as-yet-unwritten ballad while confetti streams from the roof of a football stadium as a new champion is crowned. Television ratings will have crashed, public interest will have cratered, and earnest bodies will gather in pristine conference rooms to ask themselves in desperation, Where did we go wrong?
And then old souls will flip back through digital history until they reach March 2010. When they come to the third weekend they will tap the screen with withered fingers and purse their lips in recognition. Because that's when the tournament was perfect. That's when it was as good as it could be.
There were two shots at the center of that weekend, launched five hours and 1,630 miles apart on Saturday, the first day of spring. The first was in Providence, where junior point guard Mickey McConnell of St. Mary's in Moraga, Calif., briefly lost Villanova's Reggie Redding with a crossover, squared up and accidentally banked in a 25-footer with 76 seconds to play. McConnell's heave gave the 10th-seeded Gaels a three-point lead they would not relinquish in taking down a second-seeded Big East power that had been to the Final Four a year ago and ranked among the nation's top teams for most of this season.
The next shot was more accurate, less prudent and indisputably seismic. Throughout most of the second-round game in Oklahoma City, Northern Iowa had dominated Kansas, the tournament's No. 1 overall seed, but with 42.8 seconds left the Jayhawks had rallied to within one point. The Panthers, a ninth seed, successfully inbounded under their basket against withering pressure. Four passes later 6-foot senior guard Ali Farokhmanesh came to a stop with the ball, alone just outside the three-point line with a deafening chorus of basketball common sense dictating that he keep his dribble and kill as much of the clock as he could. Instead Farokhmanesh let fly and swished a finishing three. Suddenly Kansas was dead. And the tournament had never been more alive.
In the weeks leading up to the 2010 tournament, reports were widespread that by next year the field would expand from 65 to 96 teams. Rumors about expansion have heated up because between now and July 31 the NCAA can opt out of the final three years of its 11-year, $6 billion television contract with CBS. The NCAA is already considering multiple bids—all predicated on there being a larger field—for as long as 14 years and for what it hopes will be significantly more money. The tournament is by far the organization's largest source of revenue; the more games there are, the bigger the TV contract. So once the field grows to 96 teams, why assume it would stop there? (Why not a round of 128? Or 256? Why not all 347 schools in Division I?)
Yet between last Thursday and Sunday the tournament screamed out to remain untouched, with daylong demonstrations of why it is the most pitch-perfect sporting event in America. Nineteen of the 48 games were decided in the final minute of play, and of the 16 teams that advanced to this weekend's regionals, eight were seeded fourth or lower and four were seeded ninth or lower. Three No. 1 seeds and three No. 2s remained, but when the anonymous star of an unknown entry, in this case 6'11" senior center Omar Samhan of St. Mary's, said with conviction, "We believe we're the best team in the country," it was perilous to dismiss him.
The Big Dance provides a perfect storm of one-game competitive balance (if not quite parity) that allows Ohio Valley Conference champion Murray State to knock off SEC stalwart Vanderbilt on the first afternoon of the tournament, when senior forward Danero Thomas hits a pull-up 15-footer at the horn. And that allows Ohio, the ninth seed in the Mid-American Conference tournament, to thrash Big East beast Georgetown later that same night, behind freshman point guard D.J. Cooper and 23-year-old, three-college (Indiana, UAB, Ohio) junior guard Armon Bassett, who said the next day, "I've been playing against guys like [the Hoyas] my whole life." Even if the Bobcats were gone by Saturday, they had taken some big names with them.
Not only was last weekend one of the best in the 71-year history of the tournament (and in the quarter century of the 64- or 65-team field), but it also kept such diversity alive. Five mid-major teams remain standing, and 11 conferences are represented in the Sweet 16, which feels almost like a second first weekend.
No team better represents the appeal of the underdog than Cornell, at No. 12 the lowest seed remaining, but that's a bit of a con. The Big Red gets to revel in the love afforded a brainy Ivy League school while knowing this squad is something much more substantial. Cornell has six seniors in an eight-man rotation, 72 wins in the last three years and three NCAA appearances under 10-year head coach Steve Donahue. "Coming into this year," says senior Ryan Wittman, the Ivy League's player of the year, "we expected to do some damage."
Wittman & Co. are 29--4, including a narrow December loss at Kansas, and they've trounced Temple (78--65) and Wisconsin (87--69) in the first two rounds of the tournament. Wittman (the son of former Indiana and NBA player Randy) is a 6'7" small forward who can shoot—and create space to shoot—as well as the best players in the power conferences. Senior center Jeff Foote is 7-footer who landed in Ithaca largely because he grew from 6'4" to 6'9" after his junior year at Spencer--Van Etten (N.Y.) High and his coordination caught up much later. "There was stuff I couldn't do that I used to be able do well," Foote says. "Like dribble, shoot, run."
The point guard is 5'11" senior Louis Dale, recruited out of Birmingham with 1,300 on his SAT and no major scholarship offers, who tweaked the media on Sunday, quoting the film version of Friday Night Lights—"After this, it's nothing but babies and memories"—only because he had promised his teammates he would slip in the line from one of their favorite movies. Thirteen Big Red players and a team manager live in a scruffy, creaky old house near the campus known as the Dog Pound.
In the East region, Cornell will travel just over an hour to Syracuse to take on a top-seeded Kentucky team that is now the tournament favorite. The Wildcats—like fellow No. 1 seeds Syracuse and Duke—have ignored sentimentality in pounding East Tennessee State and Wake Forest by a combined 59 points. They are the anti-Cornell: A-list recruits, led by point guard John Wall and fellow freshman DeMarcus Cousins, both of whom are most likely NBA-bound after just one season. Kentucky is coached by John Calipari, whose two previous Final Four teams, at Massachusetts (1996) and Memphis (2008), had their finishes vacated for NCAA violations. (Calipari was not directly implicated either time.)
Kentucky was not the only top seed to humble its opponents. ACC champion Duke, which hasn't reached the Elite Eight since 2004, smothered play-in winner Arkansas --Pine Bluff and California with defense—if not offense—reminiscent of coach Mike Krzyzewski's better teams. Offense was no problem for Syracuse as junior forward Wes Johnson torched Gonzaga for 31 points in the second round. The return of 6'9" center Arinze Onuaku, who missed the first two games with a quadriceps injury, will make the Orange even tougher.
For more drama, go back to the East, where dogged Big East champion West Virginia meets No. 11 Washington, which won the maligned Pac-10 conference's tournament and then ousted Marquette and No. 3 seed New Mexico. The Huskies' leader is 6'6" senior Quincy Pondexter, whose father, Roscoe, played at Long Beach State and was a pro in Europe and South America, after which he became briefly famous in a different way. In 1999 Pondexter, a correctional officer in California, testified for the prosecution during an investigation of abuses in the state's prison system and, in scathing stories in Esquire and the Los Angeles Times, admitted to his part in punishing inmates. He was called the Bonecrusher.
Northern Iowa has much in common with Cornell. The Panthers play six juniors and seniors extensively and have won 30 games. "That's not a Cinderella team," said Kansas coach Bill Self the day before falling to UNI. "They can beat anybody in the country on any night." Farokhmanesh leads the Panthers in minutes (30.3 per game) and three-point field goal attempts (201), a surprising turn for an undersized shooting guard who was not recruited out of West High in Iowa City and attended two junior colleges. (His athletic pedigree is solid, though: His father was an Iranian Olympic volleyball player, and his mother is the volleyball coach at Luther College in Decorah, Iowa.)
"Nobody wanted him," says Ali's mother, Cindy Fredrick. "He was a 5'11" white boy. All my life I've said it's not the size of the dog in the fight, it's the size of the fight in the dog. And he is a fighter and he's a hard worker. From the time he was just a baby, he'd drag us to the gym. Every single day: 'Let's shoot baskets, let's shoot baskets.'"
Farokhmanesh has been launching 600 to 700 shots a day since junior high. Last summer Northern Iowa assistant coach P.J. Hogan would open the gym at 6 a.m. so that Farokhmanesh could shoot before class. Asked what player Farokhmanesh reminds him of, Hogan says, "He reminds me of a towel boy."
The Panthers face Michigan State, which reached the Sweet 16 for the ninth time in 13 years because sophomore Korie Lucious made a 22-foot three-pointer at the buzzer to beat Maryland on Sunday afternoon, yet another of the weekend's dramatic finishes. The Spartans made an emotional run to the Final Four in Detroit a year ago, but struggled throughout this season and earned only a No. 5 seed. In search of unity a month ago, sophomore forward Draymond Green persuaded the team to sleep in the Breslin Center in East Lansing. "It was high school--ish," says coach Tom Izzo. "I think too many times in college we want to make everything pro-ish. I'm going the other way a little bit." The Spartans' road got a lot tougher after senior point guard Kalin Lucas suffered a torn left Achilles tendon on Sunday.
St. Mary's McConnell has followed only a slightly more glamorous path than Farokhmanesh. The 6-foot McConnell signed with New Mexico, the only college that recruited him, as a junior at Dobson (Ariz.) High, in 2006. However, when Lobos coach Ritchie McKay was fired a year later, McConnell was granted a release from his letter of intent and signed with St. Mary's, one of only two schools to offer him a scholarship. He spent two years chasing Gaels star Patrick Mills, who is now with the NBA's Trail Blazers.
That background makes McConnell positively vanilla on the multicultural St. Mary's roster. Three of the starters are—like Mills—from Australia, and Samhan, who had 32 points on 13-for-16 shooting against Villanova, is the son of an Egyptian father (Hassan Samhan) and an Irish-American mother (Marianne Fleming Samhan), who have been divorced since Samhan was a teenager.
It is Samhan who leads the Gaels, both by force of his circa-1965 post moves (shoulder fakes, drop steps, baby hooks—Walt Bellamy would be proud) and his straightforward talk before, during and after games. Late in Saturday's win over Villanova, Samhan was next to Wildcats guard Corey Stokes on the foul lane and recalls saying, "You impressed me, man. Did I impress you?" When Stokes didn't respond, Samhan said, "I'll take your silence as a yes."
Samhan's personality can distract from his game, which is actually quite sublime for a late-blooming big man who was cut from his high school freshman team as a 6'8" 270-pounder. He transferred and subsequently played three years of varsity at San Ramon Valley High, but as a senior he weighed 310 pounds and was lightly recruited. St. Mary's coach Randy Bennett took a chance and told Samhan, "You can play, but if you get in shape, you can really play."
Samhan was redshirted as a freshman, common in football but rare in basketball. He has since lost more than 50 pounds and gained quickness and a wide array of moves. It is rare that a functional big man remains in college for his full career, but Samhan says he will graduate in May with a degree in communications and a full college career's worth of memories.
"Some guys get cheated on this basketball deal," says Samhan. "I got the most out of it I could possibly get: Great friendships I'll remember for the rest of my life, a degree that I actually worked for and playing in the NCAA tournament. That's a pretty good deal."
If Kentucky's Wall is one and done, think of the Gaels' Samhan as five and done. The beauty of the tournament is that there is room for both, intersecting in one March. Only here. Only now. That's a pretty good deal, too.