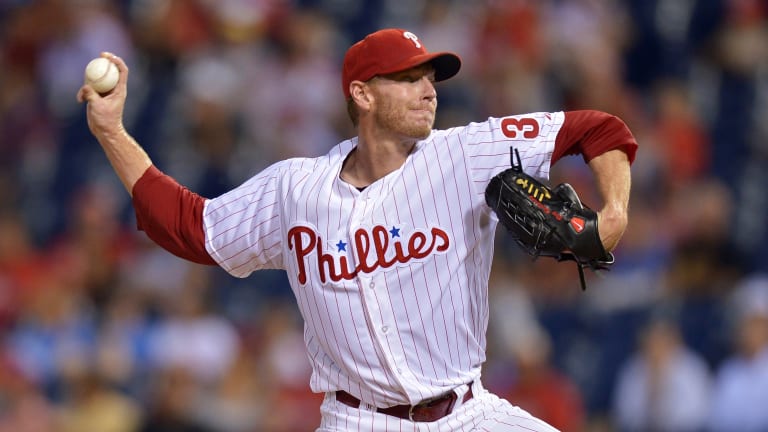 What Makes Roy Run
Why is baseball's best pitcher also the hardest worker in the game? Because his dad taught him that's how things are done. Because Roy Halladay knows what it's like to fail—and doesn't like the feeling one bit. And because, after 12 seasons, he's finally pitching for a contender.
Brandy Halladay happened to be holding her car keys when her husband talked about jumping out the window of their third-floor apartment near Dunedin, Fla., nine years ago. "I would jump out the window," Roy told his wife, "but with my luck I would only break my leg, and I'd still have to go back out on the mound." The macabre crack followed a declaration by Roy Halladay, a 23-year-old pitcher freshly demoted by the Blue Jays all the way to Class A ball, that he was too embarrassed to ever go back home to Colorado.
The couple and their sixth-month-old son, Braden, would have to make Florida their permanent home. They wondered if they had saved enough money for Roy to quit baseball and go back to school.
Brandy believed in following her instincts the way ancient sailors once did the moon and stars. Such a belief had served her well four years earlier, in 1997, when one of her girlfriends practically dragged her to play racquetball at a Denver-area gym to cheer her up—she had just changed jobs, moved back in with her parents and was driving a disagreeable Tercel. There she saw a tall, handsome young man lifting weights. He was wearing a T-shirt that said, WILL FISH FOR FOOD. She gave him her phone number, sensing, correctly, that he was too shy to ask for it. "Mom," she told her mother as soon as she got home, "today I met the man I'm going to marry."
Brandy was right about that. Now it was time to trust her gut again.
The car keys. Her gut told her to use them, to just go ... someplace for help. She jumped in the car and drove, thinking, We're done with baseball; but also thinking, Just give me one reason to keep him going. Just one reason.
She wound up at a Books-A-Million on U.S. 19. She started filling her arms with books. Books about depression. Books about self-esteem. Books about self-help. Anything that might pull Roy back from the brink.
And then she walked into the sports section. All the books stood obediently on the shelf, spines out, except for one that was lying down, cover up, as if it were waiting for her. When she saw its title she laughed out loud: The Mental ABC's of Pitching, by H.A. Dorfman. "That's amazing," she said to herself. "I can't believe there are enough people out there who would need a book like this."
She bought that book and nine others. Two of them were blank. Having been raised Mormon (though they are now nonpracticing), Brandy and Roy were encouraged to put their feelings in journals. She gave the books to Roy and explained why there were two journals. One was to be a repository of his personal feelings, the other a professional journal. In those blank pages Roy Halladay could define and track his goals. The Mental ABC's of Pitching would be his instruction manual.
Roy called his father back home in Colorado that night and said, "Dad, I'll work as hard as it takes to get back up."
At 4:45 a.m. one day in February a BMW with tinted windows pulled out of a driveway in Odessa, Fla., and headed south on U.S. 19. George Poulis, the trainer for the Blue Jays, happened to be driving the same road when he pulled up next to the BMW at a stop light. They were the only two cars on the road. Though he was unable to see the driver behind the darkened windows of the car, Poulis had a strong premonition.
"You on 19, Roy?" he texted Halladay.
Halladay is 32 years old, has two sons, has earned $73 million and is due another $75.75 million over the next four seasons. He has won 148 major league games and has a .661 winning percentage—only four pitchers since 1900 have had a better winning percentage with that many wins: Whitey Ford, Pedro Martinez, Lefty Grove and Christy Mathewson. Halladay is widely accepted as the best pitcher in baseball. And this spring he made darn sure he was the first one to arrive for work each morning at the Clearwater spring training complex of his new team, the Phillies. Halladay reported at 5:30, 90 minutes before sunrise, four hours before the Phillies were required to be in uniform, and 15 minutes earlier than when he first showed up in camp in early February. He moved up his arrival once pitchers Kyle Kendrick and Chad Durbin tried to beat him through the clubhouse door. "We had to give him his own swipe card at Rogers Centre," says Kevin Malloy, the clubhouse manager in Toronto, where Halladay played from 1998 until his trade to Philadelphia in December, "because he would get in before anybody else. If you saw all the work that Roy put in for the four days before every start—all the conditioning, all the video work, all the studying—you would cry if he didn't come out of that game with a win."
Roy Halladay is the Lance Armstrong of pitchers. His capacity for work—both his physical endurance and his obsessive need to train his body—is freakish. Before the Phillies were required to be on the field this spring, Halladay had already worked out for 90 minutes nonstop: lifting weights, fielding a multisided rubber reaction ball, sliding laterally on a slide board, using the elliptical machine, running on the treadmill, pulling on rubber tubing and tackling other assorted exercises, capped off by stretching and then soaking in metal tubs, alternating between 110° water and 50° water to open and close his blood vessels, which helps his body recover more efficiently. In Toronto many of his teammates tried the lower-body regimen Halladay does on the day after starts. "None of them made it halfway," says former Blue Jays pitching coach Brad Arnsberg.
Roy Halladay is the Peyton Manning of pitchers. "That's what I call him," says Yankees starter A.J. Burnett, a former Toronto teammate. "No one is more prepared." Halladay, following Brandy's encouragement, has cataloged every start, every hitter, every side session, every workout, every nut and bolt of his professional life—at least since the Dunedin crisis—in notebooks and computer files.
Roy Halladay is the Babe Ruth of pitchers. In 1920 Ruth hit more home runs, 54, than each of the other seven American League teams. Since 2002 Halladay has thrown more complete games, 46, than 10 AL teams—needing fewer than 100 pitches in 11 of them. He has thrown nine complete games in a season three times in those eight years; all other active pitchers combined have only done so only twice.
Roy Halladay is the Cy Young of pitching. Only two men in AL history have had the combination of power and control to strike out 200 batters in a season while having fewer walks than starts. One was Halladay in 2003, when he won the Cy Young Award. The other was Cy Young himself more than 100 years ago. Talk about your control freaks.
Nobody today executes the craft of pitching better and works at it more diligently and ferociously than does Harry Leroy Halladay III, a.k.a. Doc. With fiendishly late-moving sinkers and cutters as his primary weapons, Halladay attacks hitters with brutal, clinical efficiency, having almost no use for waste pitches, setup pitches, "pitching around" hitters or, for that matter, modern bullpen strategy.
Hitting may be the root of offense, but never does the martial art of wielding a two-pound hunk of ash or maple appear so defensive as when Halladay is on the mound. His philosophy of pitching is predatory: "I try to go after them as quickly as possible." He does so with nary a smile or a spoken word until the job is done, for the fox barks not when he would steal the lamb.
"I actually believe he's underrated," says Orioles second baseman Brian Roberts. "I would pay him three years, $240 million. No disrespect to CC Sabathia and any of those guys. But he's the best there is by far."
"He's got top five leg strength in all of baseball," Arnsberg says. "He's got the stamina of a mountain climber, and he's got the willpower of a 20-year-old kid trying to make a team. We used to call him TP: Total Package. Doc is the total package."
One night last month, after blowing through the Braves for three innings in Orlando, Halladay changed out of his spikes and into running shoes and headed for a back field at Atlanta's training complex. Many veteran pitchers, given a road spring training assignment at night, might have been in a car by the fifth inning. But there was Halladay, just beginning a two-hour poststart workout.
Alone, lit by the ambient lights from the main stadium, did he run. It raised a simple question: What makes Roy run?
When Roy Halladay Jr., a commercial pilot, and his wife were looking to buy a home in the Denver suburb of Arvada, they had one special requirement: a basement at least 60 feet, six inches long. They found one, bought the place and built a batting cage in the basement complete with a pitching mound for their son, Roy III, a middle child with two sisters. Roy would throw off his mound and whistle fastballs through a tire and into a mattress propped up behind his steel-belted strike zone.
When Roy was nine his father took him to listen to a local pitching guru and part-time major league scout by the name of Bus Campbell. After the clinic Roy's dad introduced himself and his son. "This is my son, Roy," the elder Halladay said. "He really wants to learn how to be a major league pitcher someday."
"Well, that's good," Campbell said. "Work hard, be careful you don't throw curveballs so young and call me later on when things get going."
At 13, Roy got his hands on a copy of Nolan Ryan's Pitcher's Bible, and he began following the weight training program outlined in the book. If there was one word to describe the boy it was persistent. "He was very similar to what he is now," his father says. "He didn't lose his temper much, and he just went about his business. He reminds me of a golden retriever. Just a pleasant demeanor, get down to business, and when you're through with that it's on to the next thing."
Says Roy III, "My dad played high school baseball. But the biggest thing I got from him was his approach to life. We were always going to do something productive, always go the extra mile. The extra things that were done, that's what separates people."
When he was a high school freshman, Roy was ready for Campbell, who years earlier had helped develop a Colorado flamethrower named Rich Gossage. The old man loved working with young pitchers and never took a dime for the countless hours he gave them. "I'd go see him once or twice a week," Roy said. "He almost became part of our family. It was just a special relationship."
Say his father, "Roy would call him his second grandfather."
By Halladay's senior year of high school, in 1995, he was as perfect a pitching prospect as you could find: a tall power pitcher who was athletic (a junior college offered Roy, a 6'6" center, a partial basketball scholarship) and threw straight over the top, a symphony of long levers. There is an adage among scouts that the shape of a player's butt helps project what the prospect will become. Kids with flat butts generally don't fill out much. Kids with a curved butt will add strength to their frame—what the scouts call good weight. "Roy looked like he could easily carry another 15 to 20 pounds," says Mike Arbuckle, who ran the draft for the Phillies then and now is a senior adviser to the general manager in Kansas City. "That kind of frame with good arm speed, those are two rare elements."
The Phillies loved Halladay. They also loved Reggie Taylor, a high school outfielder from South Carolina. As luck would have it, both were still available when it was Philadelphia's turn to pick with the 14th overall selection. It was time to choose. Arbuckle chose Taylor.
"We thought Reggie Taylor would be an All-Star centerfielder and Roy would be a top-of-the rotation starter," Arbuckle says. "It came down to we wanted the position player over the pitcher. We didn't have high-ceiling centerfielders in the organization, and we had some pretty good arms.
"Not one of my better decisions."
Taylor wound up hitting .231 in 260 major league games. He was last seen playing in Mexico and for the independent Sioux Falls Canaries. With the next two picks Boston and San Francisco chose pitchers, but not Halladay—the forgettable Andy Yount and Joe Fontenot. Now it was Toronto's turn. Eight pitchers had been drafted, but Halladay was still there. The Blue Jays took Bus Campbell's pupil and gave him an $895,000 bonus. When Halladay made the big leagues three years later, Brandy says, "We still had his bonus money."
Well, he did make one purchase upon signing: He bought a grandfather clock as a thank you gift for Campbell. Later, when Roy reached the big leagues, he bought Campbell a satellite dish so he could watch his pupil pitch. After the 2007 season Roy brought his two sons to Colorado so Bus could look at their pitching mechanics. Months later Campbell died after a fall at his home, at age 87. To this day Halladay can hear Bus's voice on the mound. "All the time," he says. "We talked at different points of the season. Early on it was more instructional. As time passed, it became a comfortable feeling to talk to him. He was more than a coach."
From the basement up, quite literally, Roy Halladay had been perfectly constructed to be a big league pitcher. In his second major league game, in 1998, he came within one out of throwing a no-hitter. He spent the entire next season in the big leagues, going 8--7 with a 3.92 ERA, and after that the Blue Jays signed him to a three-year, $3.7 million contract extension. He was just 22.
His was a charmed baseball life. Until it wasn't.
Doc, sit down," the crusty former big league pitcher barked. "Don't say a word. Keep your mouth shut, and just listen to me."
Halladay took a seat in the manager's office of the Double A Tennessee Smokies. It was 2001, and the shine to his career had dulled. He hadn't gotten anybody out in 2000, putting up a 10.64 ERA in 67 2/3 innings. It was, and remains to this day, the worst ERA in history among pitchers who threw at least 60 innings in a season. He was so bad that the next spring the Blue Jays shipped him to Class A Dunedin. So emotionally lost was Halladay that the club used someone from its Employee Assistance Program, not baseball operations, to break the news to him. "He was so depressed and embarrassed," Brandy says. "The pressure put on him since he was a child to be a pro athlete was enormous. He said, 'I can never go home.'"
The Blue Jays owed Halladay $3.15 million for the 2001 and '02 seasons. Privately, the organization wanted to fix him just enough to be able to trade him. The Toronto G.M., Gord Ash, telephoned one of the organization's pitching instructors, Mel Queen, in the spring of '01. "You've got to fix Halladay," Ash said.
Queen was the Blue Jays' pitching coach from 1996 through '99. He had watched Halladay throw in his first big league camp and called him Iron Mike because his slow, over-the-top delivery looked as measured as those old metal pitching machines.
"O.K., where's he at?" Queen said.
"Dunedin."
"Good. Send him to Knoxville, and put him on the DL. I can't fix him if he's pitching in games."
That's how Halladay wound up sitting in the Smokies' manager's office. Queen, then 59, sat across from him and lit in: "Look at you! You're stupid! You're an idiot with no baseball intelligence and no guts! You're a pussy!"
Halladay, following instructions, kept his mouth shut. Queen kept insulting him. "I don't think I ever talked to anybody I hated worse than I talked to him, and I liked him," Queen said. "It was unbelievable how bad it was. He should have knocked my head off and walked out."
Queen finally cooled down.
"Now," he told Halladay, "you can walk out of here if you want. You have a guaranteed contract worth millions. You can walk right out of here, and you're not going to pitch in the big leagues ever again. But if you want to pitch in the big leagues again, you will do everything I tell you without question."
"O.K.," Halladay said. "I'm ready."
"Good. Let's start. How are you doing, Doc?"
"I'm good."
"What?! That's why you're so stupid! You're in Dunedin with a 10 ERA, and you're telling me you're good? No! You're not good!"
Queen paused.
"O.K., now we're going to start."
Queen had a technical term for this kind of belittlement: vigorous leveling. It was a technique he had borrowed from Bobby Mattick, a legendary Blue Jays instructor.
Queen brought Halladay to the bullpen for a throwing session, except he began so rudimentarily that he refused to let Halladay use a baseball. Queen lowered Halladay's release point and speeded up his delivery, all without a ball in the pitcher's hand.
Halladay threw phantom pitches for 20 minutes. The next day they did the same thing. At the end of that session Queen let him actually throw a ball. The coach showed him two grips for a fastball: one that caused the ball to run away from a righthanded hitter and another that sent it away from a lefthander. "Aim for the middle of the plate," Queen said.
What happened was amazing. The improvement was immediate.
"It was one day," Halladay says. "The first day it was good. And the next couple of days it just got more comfortable and more consistent. It just made it so much easier to move the ball."
In 2001 Halladay pitched five times for Tennessee and twice for Triple A Syracuse with dominating results before the Blue Jays brought him back to the big leagues. He went 5--3 with a 3.16 ERA. He was a completely different pitcher, with superlative sink, late movement and command.
There are wise old men like Queen and Arbuckle who have spent their entire adult lives in professional baseball and never seen anything like what Halladay did: A big league pitcher goes all the way to A ball to relearn how to throw a baseball—and not because of injury—and comes back not just a better pitcher but, in time, the best in the game.
"I think it says a lot about his mental toughness," Arbuckle says. "What Roy did says a lot, to take not one step backward but multiple steps backward. A lot of kids would have folded their tents."
Something else changed with this 2.0 version of Halladay besides his grip and release point. It is often said that a baseball player dies twice: once when he has the game taken away from him and once when he draws his last breath. What happened to Halladay in 2001 was, in baseball terms, a near-death experience, one that profoundly changed him. "After being sent to the minors," Halladay says, "I vowed that if I was going to be out of baseball I would be able to look back and say I did everything to the best of my ability."
That is why Roy runs.
The democracy of baseball is overthrown by the dictatorship of Halladay on nights he pitches. He will speak to no one—not teammates, not the trainer who stretches him in the clubhouse—save for when he runs the pregame meeting to review opposing hitters. (On nights when others pitch, the meeting is run by the pitching coach.) He will throw the exact same pregame bullpen session: 35 pitches done mostly in five-pitch sequences of cutters, sinkers, changeups and curveballs, extended by a pitch or two only on the rare occasions when he misses a location and takes a mulligan. Every pitch is thrown with the exact same release point with his feet landing in the exact same spots.
"He perfected everything around his delivery to work around his arm slot," Arnsberg says. "I watched Nolan Ryan throw bullpens years ago. He'd have three marks in the dirt: his anchor [foot], where his landing foot came down and then where his finish foot would land. That's Doc. Most guys, you'd go out there after they threw a bullpen, and it looked like a mini rototiller went through there. Doc's would be perfect: A, B, C. Three marks."
Halladay then will sit in the same spot in the dugout, marked by his water bottle and towel. "I sat in his spot by mistake once," Blue Jays shortstop John McDonald says, "and he just stood there and gave me The Look. Didn't say anything, of course. My bad."
Halladay controls as much as he can, including his own body. He takes the ball knowing that he has run not one less mile, done not one less repetition of a leg press or worked out for not one day less than what he planned to do. Halladay takes off only two weeks out of the year, in October. When he works out he never allows his heart rate to drop. Instead of resting between sets he jumps on a treadmill or mixes in another exercise. One reason he likes to train before anyone else arrives is that he never has to wait for a piece of equipment.
"Everybody always talks about the workouts," he says, "but I really don't do anything different. I just try to be more consistent and pay more attention to detail. I do it every day. And if it's 15 reps, I do 15. Not 12 or 13."
All the training and analysis of hitters is designed to enhance his sense of control. Queen may have given him the right physical reengineering in a day, but the mental rebooting, Halladay says, "was the harder part. It took longer. It wasn't like, 'Think this, go out and try it,' and all of a sudden it works the way it did with mechanics."
Halladay devoured The Mental ABC's of Pitching, which preaches a simple, pitch-by-pitch approach. By 2002 Toronto had replaced Ash with J.P. Ricciardi as G.M. Ricciardi had worked with Dorfman when he was in the A's front office and the psychologist worked with the team. "You know him?" Halladay asked. Ricciardi put him in touch with Dorfman.
"And that's when I saw the biggest difference," Halladay says. "The first part was trying to rebuild that confidence, having a positive mentality. The second part was to simplify things. Sometimes you get caught up in the big picture—the seven innings, the three runs or less, who you're facing—and you get away from what makes you successful, which is executing pitches.
"Knowing when I go into a game that I had prepared the best I possibly could was a way to help build confidence. I didn't always need success on the field to feel like I was going to be good. I felt like I could create that on my own the way I prepared."
Says Brandy, "[Dorfman] really taught Roy to focus on one thing at a time. When he gave up a hit, he learned to think about the next hitter. He helped him deal with those mental stumbling blocks every person has to deal with. The book and [Dorfman] helped his pitching career, our marriage, the way we looked at life in general.... It absolutely saved his career."
The last piece under Halladay's control is the baseball. Facing Halladay is a maddening, disarming experience because he can make the ball move in either direction on both sides of the plate at virtually the same speed, generally between 90 and 93 mph. Until 2007 Halladay would throw cutters that broke into the hands of lefthanded hitters or sinkers that dived off the outside edge of the plate, a traditional menu. But that year he learned to throw both pitches to both sides of the plate, including sinkers that started at a lefthanded hitter's hip and broke back over the plate and backdoor cutters that nipped the outside corner. It created a scissors effect of movement to both sides of the plate.
"You see two different pitches coming at you the same speed from the same release point," says Baltimore's Roberts, "but you don't know which way it's going to break. Think how hard that is to hit."
"It's command and movement," Yankees shortstop Derek Jeter says. "You can't go up there thinking you're going to take some pitches and work the count because you'll be 0 and 2 before you know it. And you know you can't run up his pitch count to get him out early. His command is too good, and he never comes out."
Says McDonald, "He is the perfect pitcher to play behind because every pitch is going exactly where it's supposed to. I'll give you an example. With a runner at first and Alex Rodriguez up, I'm not playing normal double play depth. I know Doc is going to bury the ball inside on him, so I'm almost in the hole. If he hits a ground ball to second, there's no way we're turning two—we can't even get the out at second—because I'm too far from second base. But there's no way he's hitting a ground ball to second base. Doc is not going to miss location by that much. It's going to be on his hands and a ground ball to the left side."
Escalating the pressure on a hitter, Halladay works quickly between pitches and pounds the strike zone early, often and hard. Perhaps only once in every 60 pitches or so, Arnsberg says, will he throw a pitch that, out of hand, can be dismissed by the hitter as a ball. And instead of adding and subtracting velocity from his sinker and cutter, he throws both as hard as he can.
Every year Halladay aims to have fewer walks than starts. Last year he went to 3-and-0 counts only 16 times out of the 963 batters he faced. He was the first AL pitcher in 12 years to throw as many as 239 innings without an intentional walk.
Of course, the Blue Jays didn't sniff the playoffs—again. On Sept. 12, 2000, in his second full season, Halladay took the ball with Toronto three games out of the American League wild-card spot. It is the closest he's been to the playoffs when pitching in September.
There are some things, he knows too well, beyond the control even of a control freak.
The Phillies tried to trade for Halladay early last July but could not work out a deal with Toronto. They traded for Cleveland lefthander Cliff Lee instead. (The Phillies made another failed run at Halladay even after getting Lee.) Philadelphia resumed its pursuit of Halladay in December and, 14 years after passing on him in the draft, finally got their man. The Phillies sent three prospects and cash to Toronto in exchange for Halladay. (In a separate deal they then sent Lee to Seattle for three prospects.) They handed their new ace a three-year extension that will pay him $20 million a year starting next season.
As someone who has never been a free agent, never pitched in the postseason and, until now, never pitched a home game in the U.S., Halladay has a remarkably low profile for being the master of his craft. But his lack of personal renown is his preference. "It's definitely by choice," he says. "For me the satisfaction is always the competition, and the self-gratification knowing you did something to the best of your ability. It's not ever going to be who knows me and what they think about me."
He is a modern Stoic, the Marcus Aurelius of the mound. "Confine yourself to the present," Aurelius said, and so Halladay does. Former workhorse pitcher Jack Morris once told him, "I'm just a robot. I just go out and make pitches, and that's all I do until they take me out." Halladay liked the sound of that. He has pitched with the purpose of a giant tunnel boring machine, grinding the hardest of rock, otherwise known as the AL East, into muck. His career until now has been spent smack in the heart of the Yankees--Red Sox axis of power, with Tampa Bay developing into a third power in the past two years.
His winning percentage is all the more remarkable considering the Jays' failings. Since 2001, for instance, Halladay has a .685 winning percentage for a team that played .496 baseball otherwise. Last year Halladay made 14 of his final 18 starts against the Yankees, Red Sox and Rays. He had a 2.98 ERA in those 18 games, averaged almost eight innings per start, struck out more than five times as many batters as he walked—and still went 7--9.
Says Halladay when asked about pitching in Yankee Stadium and Fenway Park, "To me there's nothing better than having it go from loud to silent. That's one of my favorites. It's such a calming feeling when you get the last out and the place goes dead silent."
In those moments, with no next pitch needed, Halladay will allow a rare smile. "Whatever he does, he's very intense," his father says. "It's like he puts on a different face. He actually is a funny guy."
Funny? Halladay? Well, there was the elementary school talent show—he did a stand-up comedy routine. Right before his high school baseball state tournament was to begin, and right after his coach told the team to make sure they didn't do anything stupid to get hurt, Halladay showed up for the team bus with a cast on his pitching arm. Before they had to call in a defibrillator for the poor coach, Halladay ripped off the prop cast.
Brandy still gets nervous when she opens car doors, kitchen drawers and dressers, a reaction to the firecrackerlike noisemakers Roy rigged up around the house one Fourth of July. And if you show up in the clubhouse about seven hours before a game, you might find Halladay gleefully flying remote-control helicopters in, out of and around lockers.
But nothing would give Halladay the same kick as getting a chance to pitch in the postseason. He has, by far, logged the most wins of any active pitcher without getting to the playoffs. "It's one of those things," Halladay says, "you have to do."
That is why the BMW pulls out of the Odessa driveway at 4:45 every morning. Every night, even when Roy was five or six years old, just learning to throw a baseball, his father would tuck him in at night. Before the lights went out, father and son would spend a little time talking—mostly about baseball. "Can you imagine," the father would say, "what it would be like to be in the major leagues? Can you tell me what that would feel like?"
And the boy would imagine it.
On another night the dad might ask, "Can you imagine what it would be like to stand on the mound at Yankee Stadium?"
And the boy would imagine it.
"But the big one," the father says, "was always, 'Can you imagine what it would be like to be on the mound for the World Series? Can you tell me what that would feel like?'"
The boy is now the best pitcher in baseball and finally on a team that can play deep into October. All these years later the question still makes him dream.
See Roy run.
"I actually believe he's underrated," says Baltimore's Roberts. "I would pay him three years, $240 million. He's the best there is by far."
At age 22 Halladay had a stellar rookie season under his belt and a multimillion dollar contract extension. His was a charmed baseball life. Until it wasn't.
Working with Dorfman taught Halladay to focus on one thing at a time. "It helped our marriage, the way we looked at life," says Brandy. "It absolutely saved his career."
PHOTO
Photograph by AL
TIELEMANS
GRIPPING TALE Halladay prefers to stay in the background, but this year he'll be front and center as the ace of the defending NL champions.
SEVEN PHOTOS
CHUCK
SOLOMON
MAN OF DAWN Halladay is such a workaholic that he arrived at camp every day before the sun rose.
PHOTO
AL MESSERSCHMIDT/GETTY IMAGES
[See caption above]
PHOTO
AL
TIELEMANS
[See caption above]
PHOTO
AL
MESSERSCHMIDT/GETTY IMAGES
SPECIAL DELIVERY Halladay's command is linked to his ability to hit the same landing spot every time.
PHOTO
SCOTT HALLERAN/GETTY
IMAGESPHOTORENE JOHNSTON/APPHOTOFRED THORNHILL/REUTERSPACK FOR OCTOBER After years in baseball purgatory Halladay has a real shot at his first postseason.